Last year, on December 17 (Sat.) and 18 (Sun.), 2022, the Institute of Whisky Culture hosted "JAPANESE FES 2022 in TOKYO", a two-day event featuring a large collection of Japanese whiskies, gins, and spirits. We went to the event to check the latest Japanese whisky trends and provide valuable information to Japanese whisky lovers. Here is a report of the event.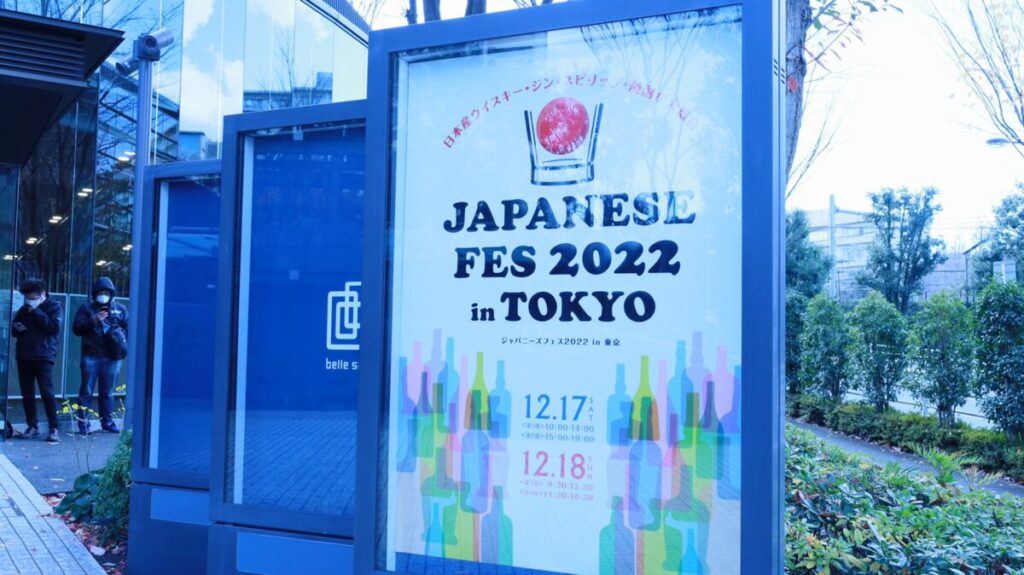 1. Highlights of the event
Many "spirit makers" and "bar food makers" exhibited their products, mainly from Japanese whisky distilleries. Admission is 4,400 yen (tax included).
Some of the more expensive whiskies were available for a fee, but this time many brands were offered as free tastings, which showed the exhibitors' enthusiasm and passion for the event and their whiskies.
At the exhibitor booths, the founders and managers of the distilleries and the blenders of the whiskies that actually became products were on site, and visitors were able to communicate directly with them while tasting the products.
The admission fee of 4,400 yen was so valuable that it was quickly paid off, and we were reminded that this is a valuable event where we can learn about the latest Japanese whiskies all in one place. We must once again thank the Whisky Culture Research Institute for hosting the event.
What stood out in particular as far as the situation of each booth was Ichiro's Malt Chichibu Distillery (Venture Whisky) and Akkeshi Distillery (Kenten Jitsugyo), who were offering free tastings of all their products.
Nagahama Distillery (Nagahama Roman Beer) offered festival-exclusive products, and Suntory offered paid tastings of Yamazaki and Hakushu, which are usually only available at distilleries. There were always long lines at these four booths.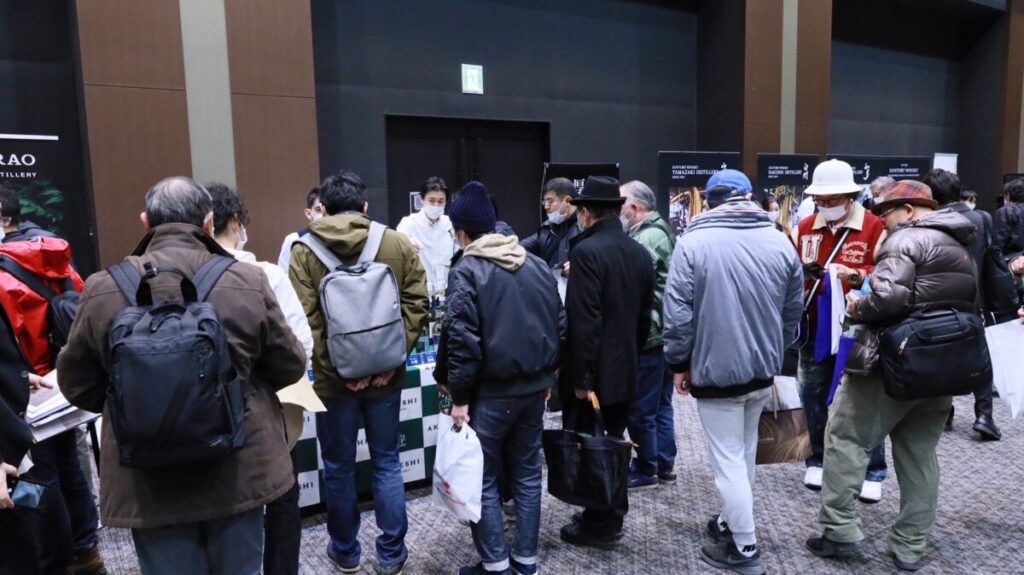 The Nagahama Distillery (Nagahama Roman Beer) brought limited quantities of festival-exclusive AMAHAGAN and festival-exclusive single casks, and whisky lovers who heard about them formed a long line immediately after the doors opened, selling out within 10 minutes for the second day in a row.
At the other booths, visitors were able to sample many of the first bottles to be unveiled in 2022, including New Pot, New Make, and New Born.
We believe that this was an event with much to gain for visitors, as they could feel the new faces and imagine what the future holds. I will now report on the 13 distilleries in total!


2. Introduction of Major Distilleries
2-1. Suntory Chita Distillery
Unlike the past events where Suntory Chita Distillery has been exhibited, this year's event was the most popular among the visitors as the distillery offered the original Yamazaki, Hakushu, and Chita wines, which are usually only available at distilleries, as tasting fee-based offerings.
The following are the sake that were available for tasting on the day of the event.
| | |
| --- | --- |
| Yamazaki composition unblended | White Oak, Spanish Oak, Wine Cask, Mizunara Cask, New Pot |
| Hakushu composition unblended | White Oak Cask, Spanish Oak Cask, Lightly Peated, Heavily Peated, New Pot |
| Chita composition unblended | Heavy Cask, Clean Cask, Wine Cask, New Make |
Other offerings included Suntory plum wine Yamazaki Barrel Aged. Suntory plum wine Yamazaki Barrel Aged is made by blending plum wine aged in the Yamazaki distillery's whisky barrels with grain and malt whisky post-aged in plum wine barrels. Visitors who are fans of Yamazaki enjoyed tasting it. In addition, the Suntory Chita Distillery booth was one of the richest in the venue, not only in terms of richness as branding, but also in terms of the uniformity of the staff's costumes, which could only be experienced at the event, giving visitors a special feeling as if they were visiting a closed bar while tasting the products.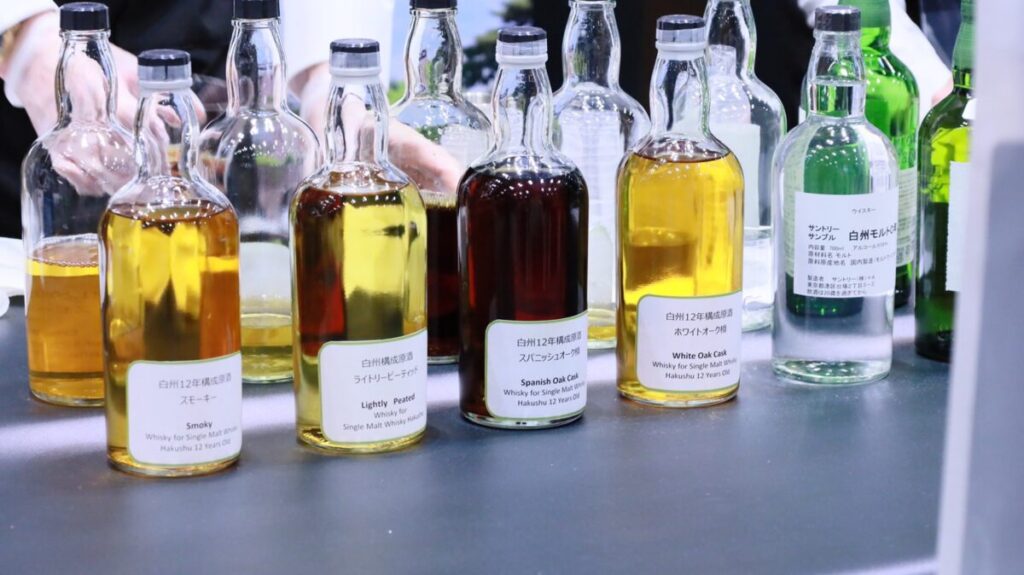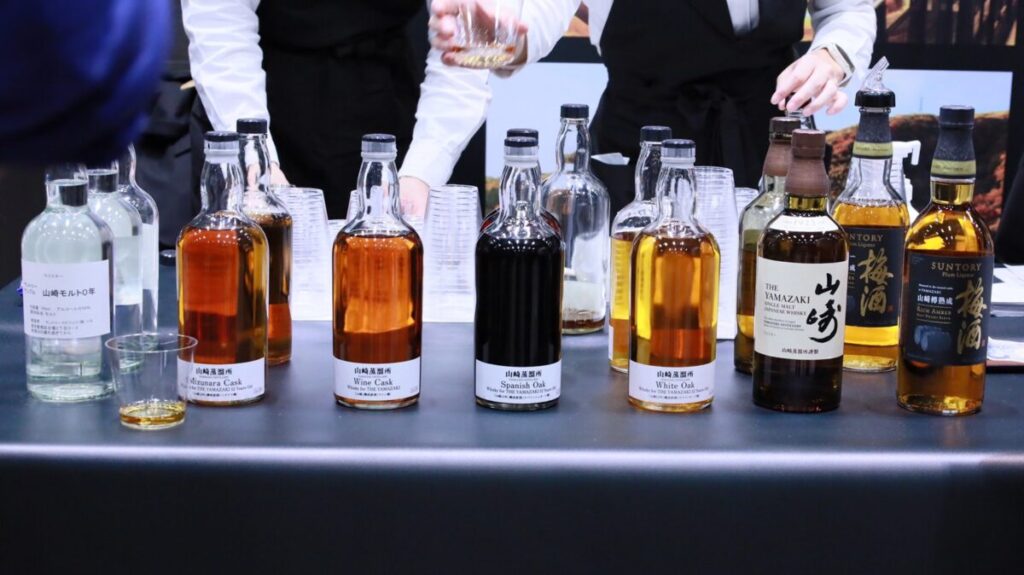 2-2. Kirin Distillery Fuji Gotemba Distillery
The Fuji Gotemba Distillery booth offered free tastings of all their products, including the Single Blended Japanese Whisky Masterpiece. Many visitors came to the booth for that reason and tasted the products.
We were able to talk with the distiller while sampling the Masterpiece, and we could sense the passionate ambition he has for Masterpiece. If there is room, we will reign supreme as the king of Japanese blended whisky! I felt that his confidence was even more impressive.
The spirit of service that the distillery offered free of charge for a bottle of Masterpiece, which costs 54,780 yen including tax, was very heartwarming, and I was able to enjoy it while feeling the seriousness of the distillery staff.
Fuji Gotemba Distillery has invested in new facilities in the last year, and they have cleaned up the distillery, built a new aging room, and added a new warehouse for flat storage. Tours are now available, so we look forward to seeing what the future holds.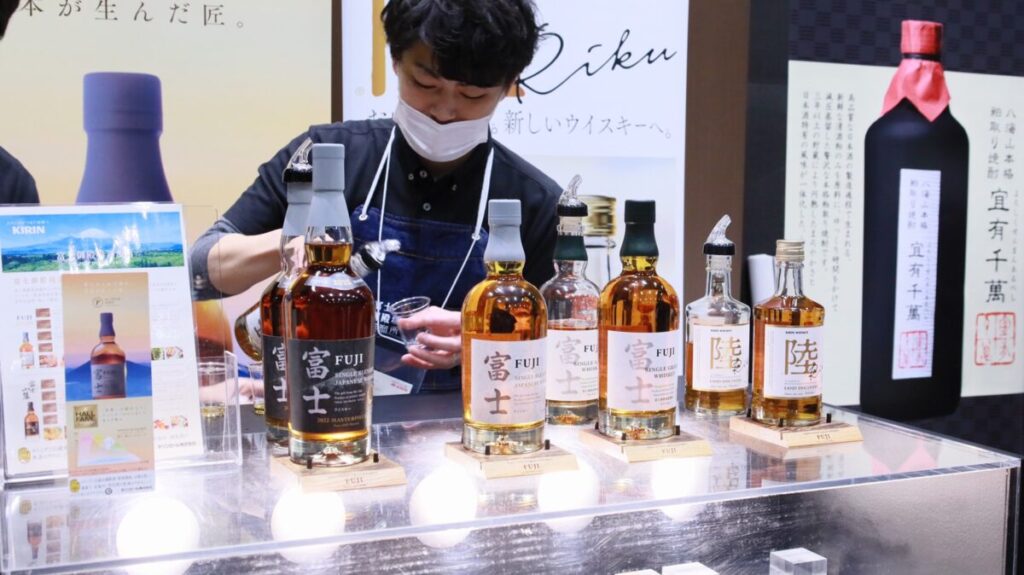 富士
¥4,974
(2023/03/20 22:45:09時点 Amazon調べ-
詳細)

2-3. Akkeshi Distillery (Kenten Jitsugyo)
As part of the Kamuy Whisky series, a free tasting of the event's limited edition "Kamuycikap" was being offered as part of the Kamuy Whisky series in a guide just before the event. Kamuycikap is a batting of foreign sake and Akkeshi sake. The actual tasting showed that the taste and aroma of the overseas sake was more pronounced, but it still had some of the typical Akkeshi-style flavor, making it an excellent product.
Kamuy means "god" in Ainu language and Cikap means "bird" in Ainu language.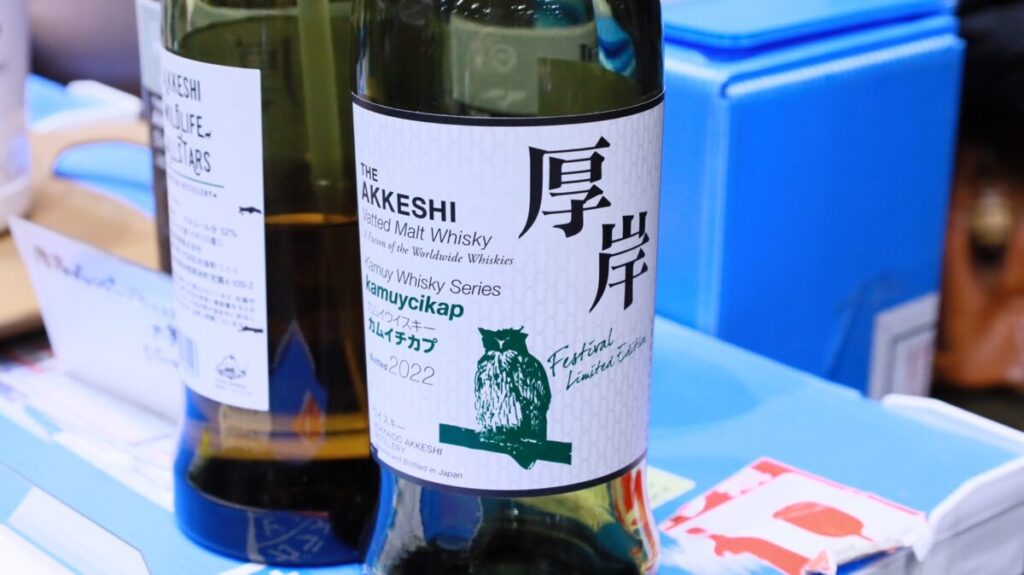 All the whiskies, including "Shosho," which won the World's Best Blended at WWA2022, were tasted free of charge, and there was a constant line of people waiting to try them throughout the event.
Many of our tasting customers ask, "Where can I buy it?" "It's hard to get it," or "I only got the Seimei one!" We could feel the rarity and mysterious popularity of Akkeshi Whisky.
The Twenty-Four solar terms series has reached its ninth release with the latest release, "Taisetsu". The Twenty-Four solar terms series is expected to be completed around 2026. As each new release surprises and uncovers more than expected, Bar Shinkai is always looking forward to putting new products on the store shelves and eventually having all the products available. (*We will definitely have them all.)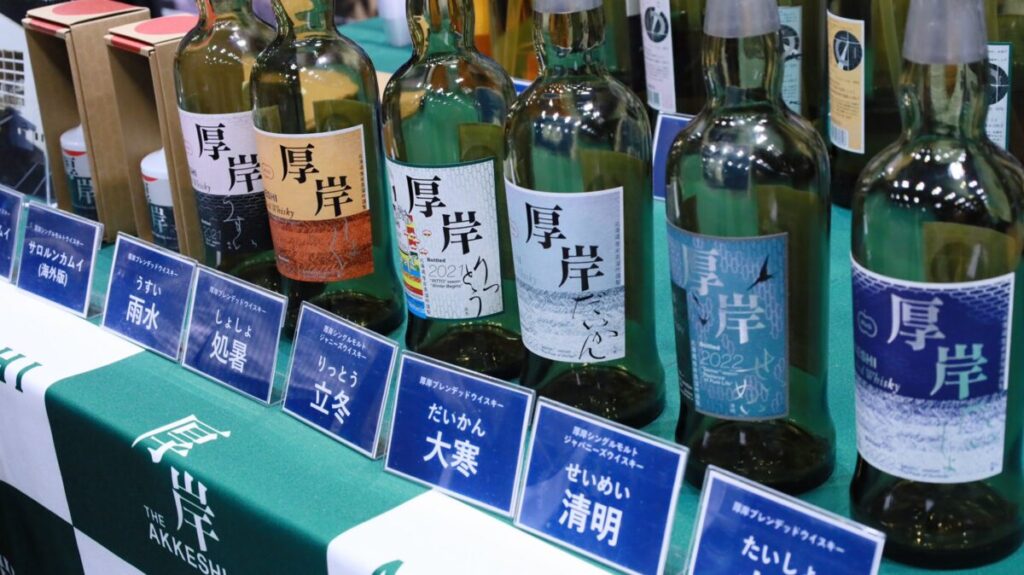 ノーブランド品
¥27,800
(2023/03/21 06:02:27時点 Amazon調べ-
詳細)
2-4. Nikka Whisky Yoichi Distillery (Asahi Breweries, Ltd.)
The Yoichi Distillery booth will offer free tastings of standard Yoichi, Miyagikyo, Taketsuru, The Nikka, Super Nikka, From the Barrel, Black Nikka, and Session.
At the booths, representatives from various departments were onsite, and visitors were able to ask questions and learn more about the products directly. Not only that, but the people there had their own personal perspectives, and the whisky I tasted while listening to their stories was deeply etched in my memory.
We were able to hear a very exciting story about their near future plans to make more and more of their own excellent whisky, and if the whisky is a beautiful color, they would like to use that color to create a truly beautiful picture (whisky). This is one of the best parts of the event.
As NIKKA celebrates its 90th anniversary next year in 2024, we look forward to the next lineup.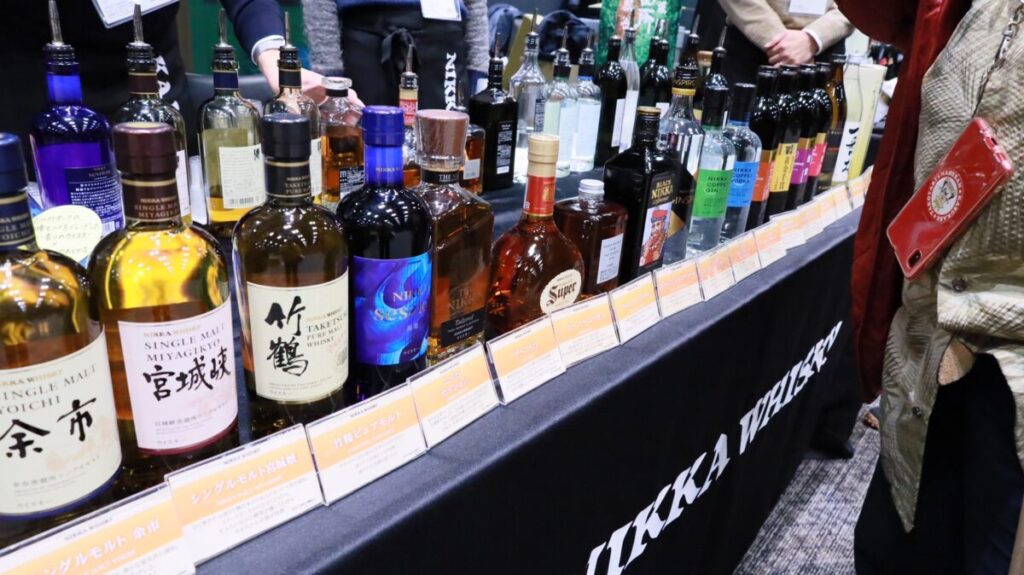 2-5. Kanosuke distillery (Komasa jyozo)
The Kanosuke Distillery booth unveiled its single malt Kanosuke, which will be a standard product to be released in January.
Of the craft distilleries, only the Sakurao Distillery is the only other distillery that sells a standard single malt that will become a flagship product. The distillers are very confident about the taste and said, "We definitely want you to try it."
The distillery is also looking forward to serving it at BAR Shinkai from the day it is released. (The single malt is a blend of the 1st, 2nd, and 3rd malts. (Shochu Licher, Bourbon, Sherry (Oloroso))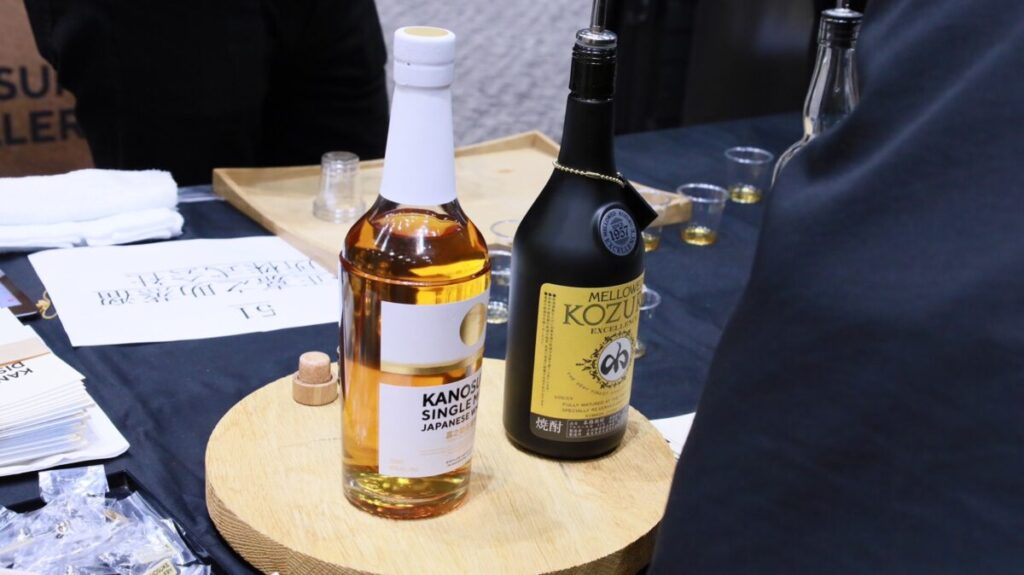 In addition, several sample casks and Hioki Grains were offered for free tasting.
Particularly shocking was the quality of the Hioki Grain. While ordinary grains are made from corn, Hioki Grain is 100% barley. Despite the material cost, the taste quality was exceptional compared to ordinary grains.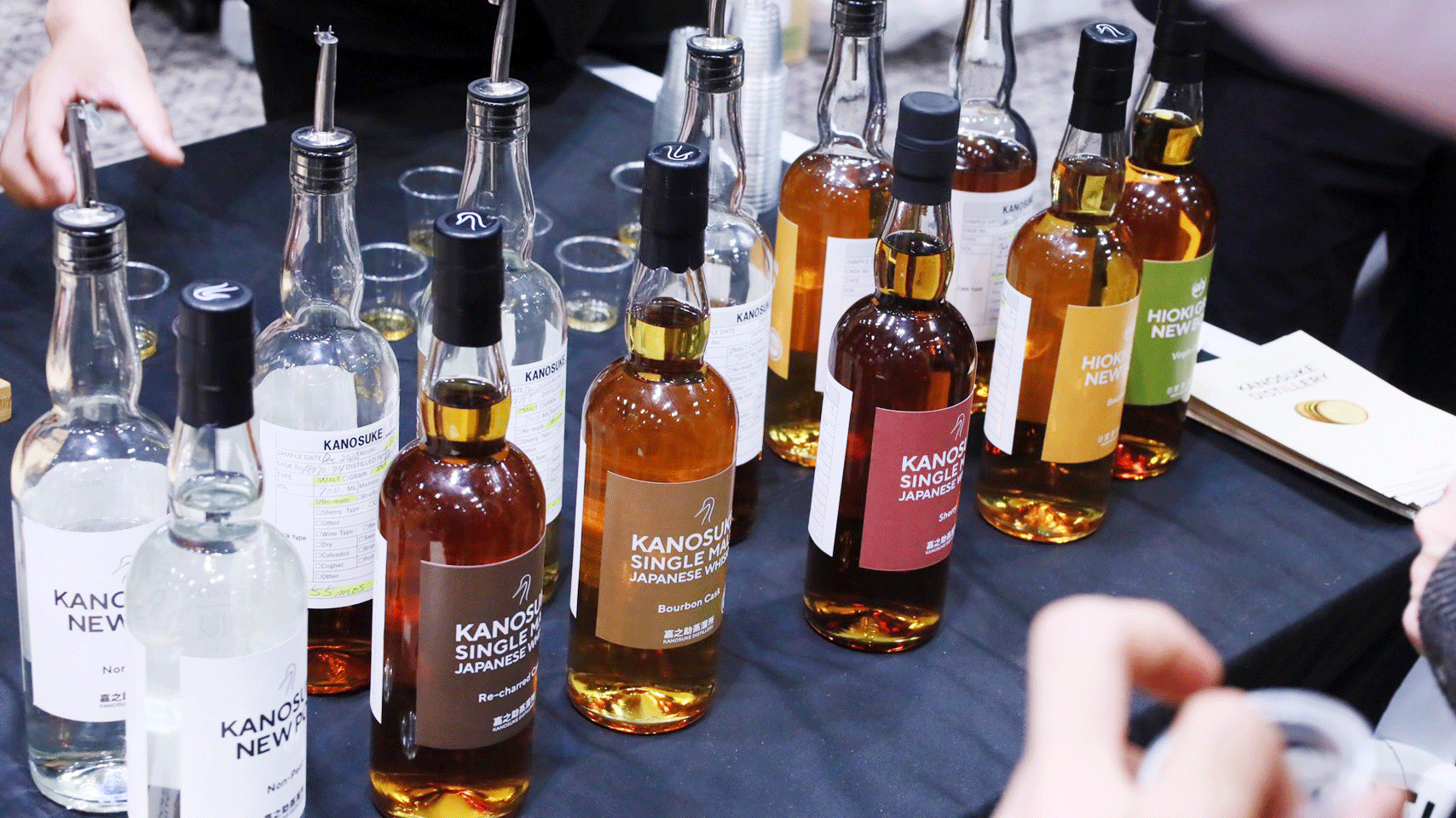 It remains to be seen whether Hioki Grain will be used in blends as "Japanese blended whisky" or released as "single grain whisky" focusing on the grain.
I also felt from talking with the staff that each and every one of them truly loves whisky and has a tremendous passion for it.
One of the staff members enthusiastically told us, "At the location of the Kanosuke distillery, the East China Sea stretches majestically in front of us, and we can watch the sunset from the very beginning of the day." I really felt the romance of drinking Kanosuke whisky while imagining the beautiful scenery.
I would love to visit the distillery and enjoy the whiskies I tasted at the event while taking in the scenery.
嘉之助
¥21,800
(2023/03/21 10:24:56時点 Amazon調べ-
詳細)
2-6. Yuza Distillery (Kinryu Co., Ltd.)
At the Yuza Distillery booth, Yuza First and Second were offered for a fee for tasting.
Fans who know Yuza Distillery were excited to see the free tasting of the new pot and the Yuza Single Malt Prototype, which will be the third product in the series. Fans who know about the Yuza distillery were very excited and said, "Oh, it tastes good after all."
The distiller told us the story behind the distillation of the first, second, and third bottles: the first bottle was made with an emphasis on impact and a high alcohol content, the second was made from carefully selected casks from the first bottle, and the third will gradually pursue and develop Yuza's unique characteristics. The third bottle will be developed gradually, pursuing Yuza's unique style.
The Yuza distillery has yet to be opened to the public. Whisky fans are eagerly waiting to see when the distillery will open to the public. Yuza Distillery (Kinryu Co., Ltd.), please consider taking a tour of the distillery!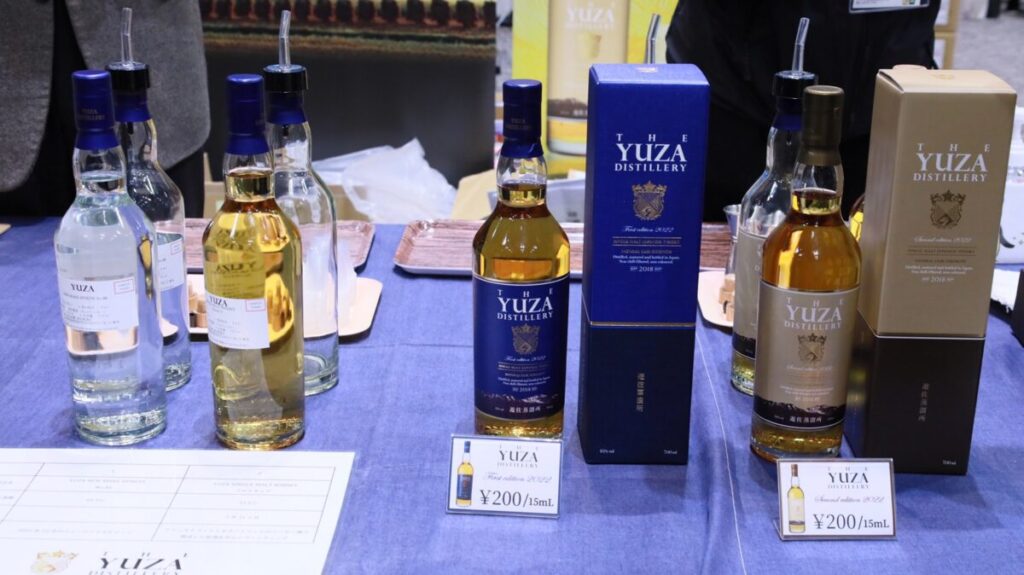 2-7. Wakatsuru Shuzo Saburomaru Distillery
Saburomaru Distillery has just released Saburomaru II. Various products were offered for free tasting.
The free tastings available were New Pot 2022 50PPM, THE SUN, Junenmyo Noir, UMESKY, and Saburomaru Distillery's Smoky Highball. In addition to single malt, they were vigorously releasing various products such as blended, umesky, and smoky highball cans.
Paid tastings included Saburomaru II , The Founder, and Saburomaru Cask Sample Spanish Oak 2019. In addition, Saburomaru T-shirts, stickers, and other goods were available for purchase. Saburomaru fans were also able to get a free Saburomaru clear file at the booth.
The Saburomaru distillery uses only heavily peated malt, and Takahiko Inagaki told a talk show about an episode in which the distillery faced a crisis in material procurement due to a fire at the importer, British Crisp, but was able to escape the difficulty by responding quickly.
He said that Sabromaru has been increasing its production volume since the beginning, and he felt hopeful that the number of units manufactured for future releases will come to a higher level.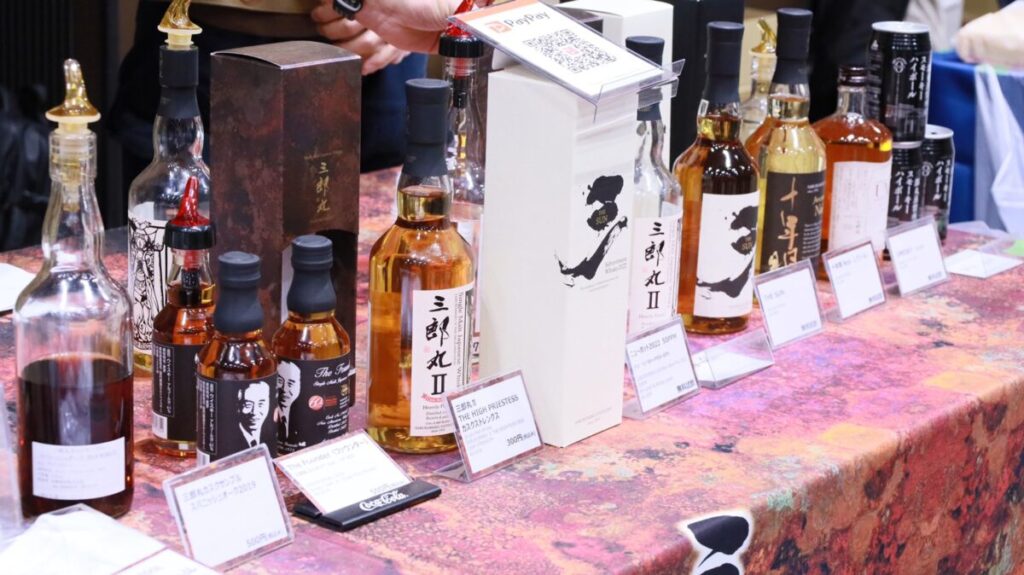 ¥25,000
(2023/03/21 02:03:21時点 楽天市場調べ-
詳細)
2-8. Yamaga Distillery Co.
A distillery in Kumamoto to which the Honbo Group provides technical support. New Make and New Born were offered for free tasting.
Newborn is aged for 5-7 months in bourbon barrels. We could feel the technical skill of the Hombo Group in the quality of the product, which did not seem to have been aged for a short period of time. I can't wait for the day when it is commercialized as a single malt whisky.
Yamaga Distillery also offers guided tours of their whisky production, and if you apply through their website, you can visit the barrel aging room, which is not included in the normal scope of tours. It is definitely worth checking out and researching the latest Japanese whisky situation.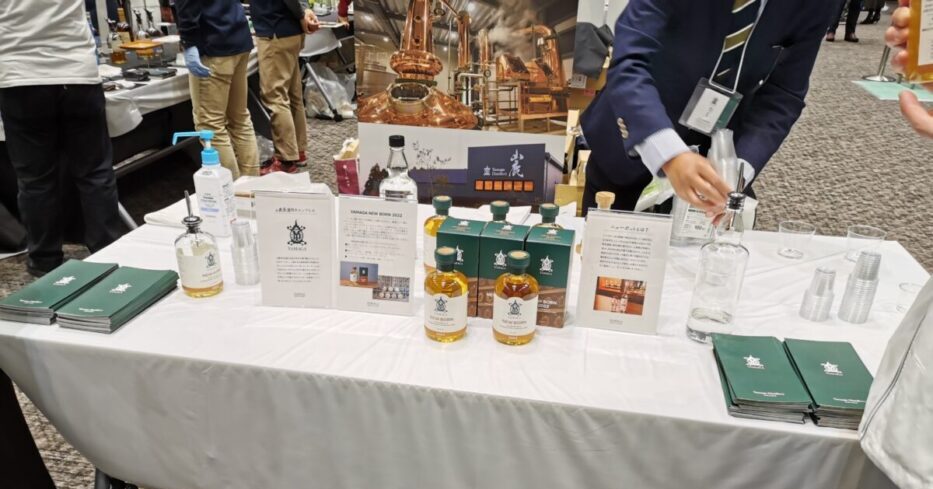 【久住蒸留所&山鹿蒸留所】九州新興蒸留所ニューボーン飲み比べセット 久住蒸留所 山鹿蒸留所 ニューボーン 熟成1年未満 1stリリース 小瓶 ジャパニーズウイスキー 新興蒸留所 
イチローズモルト
 本坊酒造 
津貫蒸留所
2-9. Yoshida Denzai Kogyo Co., Ltd. Yoshida Denzai Distillery
This distillery made a splash as a distillery specializing in grain. They were offering free tasting of new make of grain.
As expected, it was rare for a distillery specializing in grain, and many visitors came to the distillery for tasting while studying. We felt that the main focus will be on the sale of grain distilleries to Japanese malt whisky distilleries.
We would like to keep an eye on how they will develop their own grains in the future.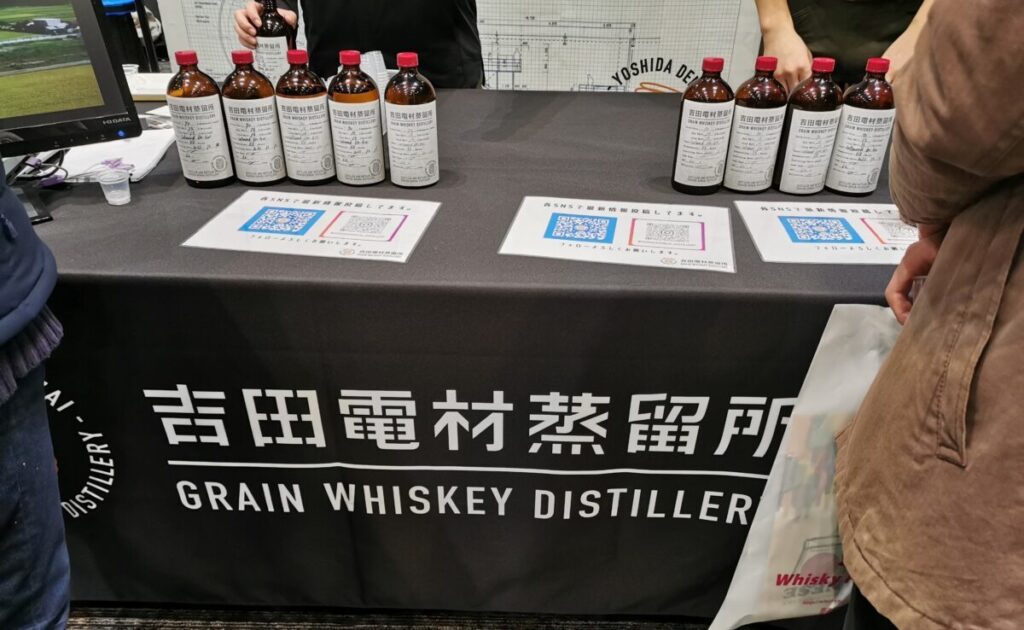 2-10. Chichibu Distillery (Venture Whisky)
Ichiro's Malt Chichibu Distillery is a popular whisky not only in Japan but also internationally, having won the world's top prize at the World Whisky Awards. This time, all types were offered for free tasting.
Also offered for free was the 2022 "Chichibu The Peated", a superb series of whiskies made by the Chichibu Distillery, which is made with a focus on peated whisky. What a grace! We should really be thankful.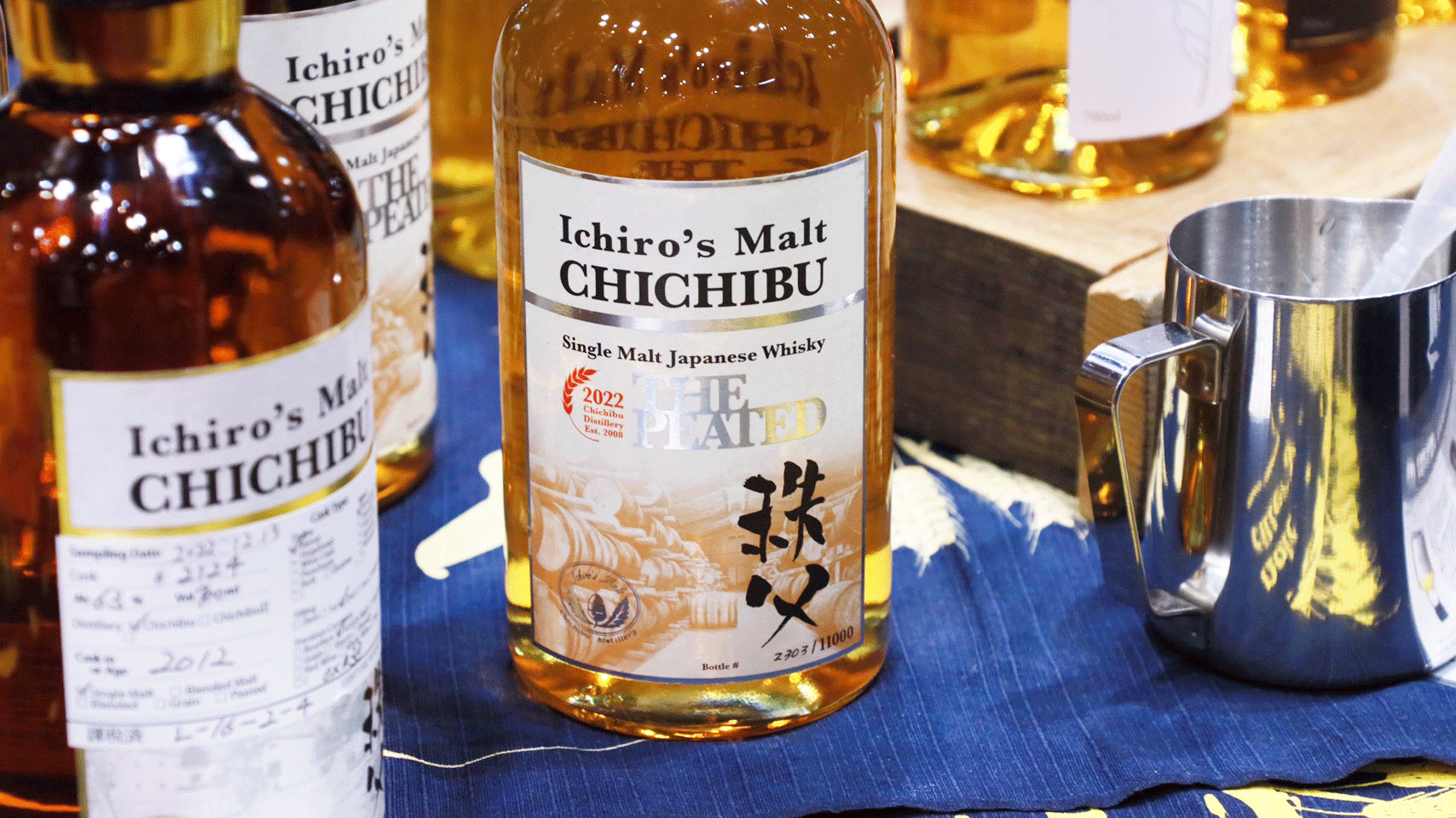 Other Ichiro's Malt Chichibu cask samples (Oloroso, Refill Bourbon, etc.) were also lined up, making this booth a must for Ichiro's Malt fans.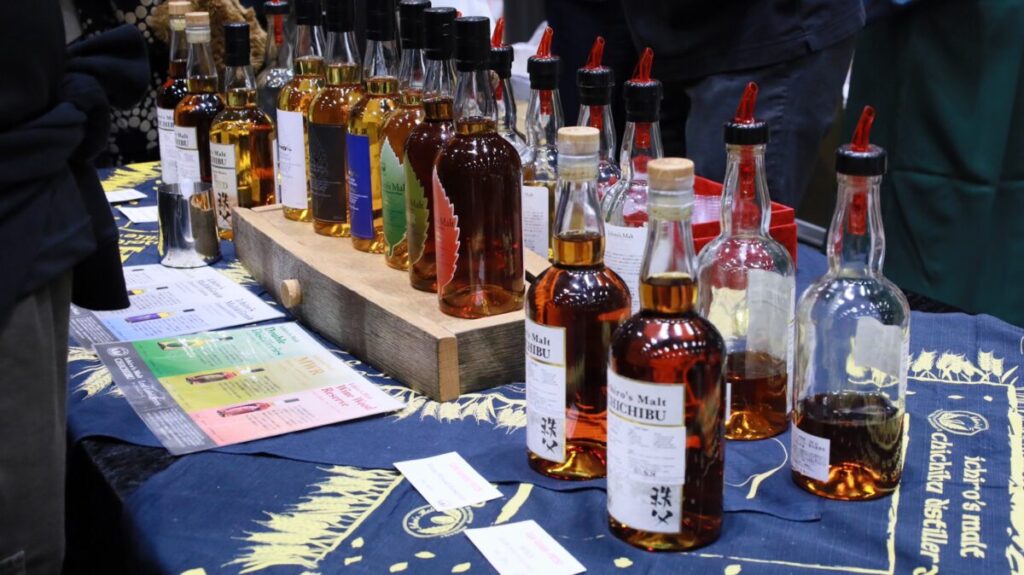 HK酒店
¥58,000
(2023/03/20 22:46:12時点 Amazon調べ-
詳細)
2-11. Honbo Shuzo Mars Shinshu Distillery / Mars Tsunuki Distillery
Mr. Inoue, the blender in charge of the Single Malt Komagatake 2022 Edition blend, was onsite to talk with us.
My image of the blender was that there was a lot of secret information, but Mr. Inoue was very flexible to talk to us about various things, which gave me even higher expectations for the future development of the product.
Last year's edition was made mainly from bourbon barrels and sherry casks, and this year's edition was made mainly from port casks, and the official age of aging is unknown; it is said to be more than 3 years, with 6 to 9 years being the average. He said that the aroma is the most important and that he aimed for a light but dense and full flavor.
Next year, they plan to use mainly bourbon and sherry casks. Another key malt is being selected right now and will be released next fall. Really looking forward to it!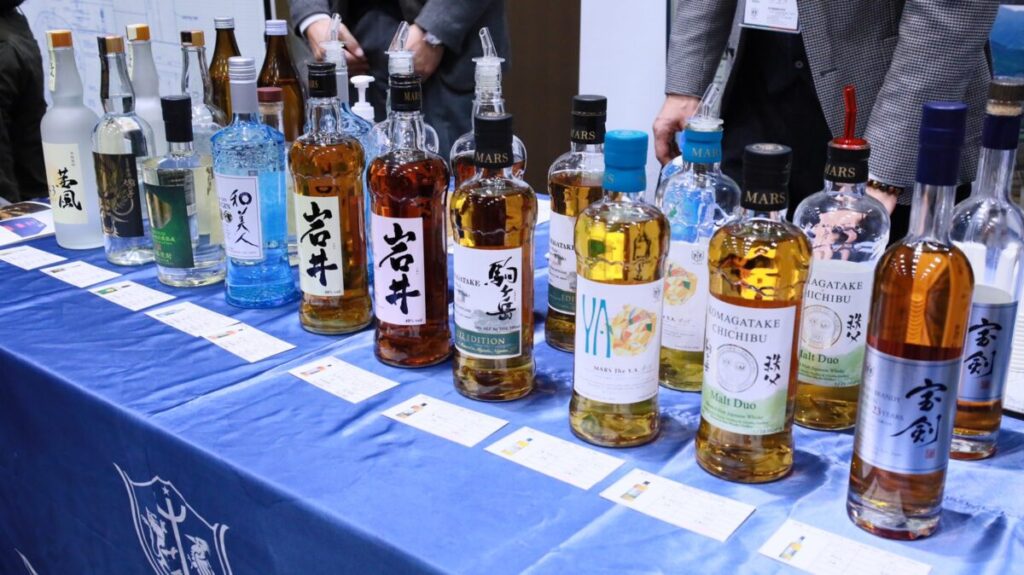 HK酒店
¥12,680
(2023/03/20 22:45:56時点 Amazon調べ-
詳細)
2-12. Sasanokawa Brewery, Asaka Distillery
World Whisky Awards (WWA) 2022, World's Best Blended Malt Whisky distillery, also offering the WWA award-winning YAMAZAKURA Blended Malt Asaka for free. Many participants were seen tasting.
YAMAZAKURA Single Malt Asaka 2022 EDITION was offered for a fee. It was already sold out by the latter half of the meeting. It was always a popular and crowded booth.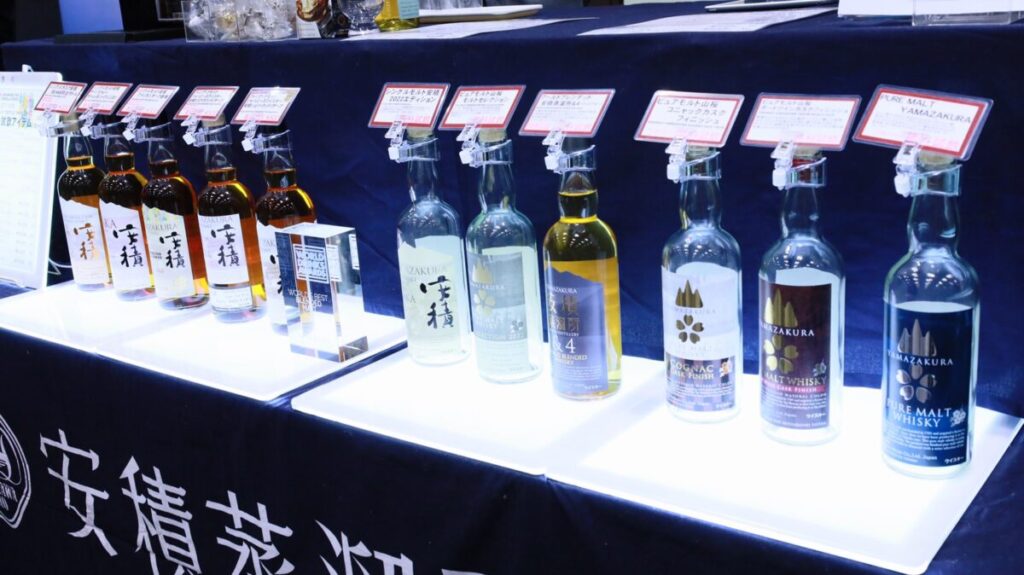 ノーブランド品
¥29,800
(2023/03/21 06:02:29時点 Amazon調べ-
詳細)
2-13. Nagahama Roman Beer Nagahama Distillery
Nagahama Distillery brought their festival limited edition AMAHAGAN and festival limited edition single cask in limited quantities.
Amazingly, for the second day in a row, the event limited products sold out within 5-10 minutes of the start of the event!
They plan to sell limited edition products at the next event as well!
As a fan, I am really happy that they are bringing this kind of project to the event.
I have a feeling they will sell out immediately at the next event as well, so be sure to check in advance and head to the venue in time!
Also, all Nagahama tastings at the booth are paid tastings.
All AMAHAGAN tastings were free, as was the AMAHAGAN World Malt Edition Peated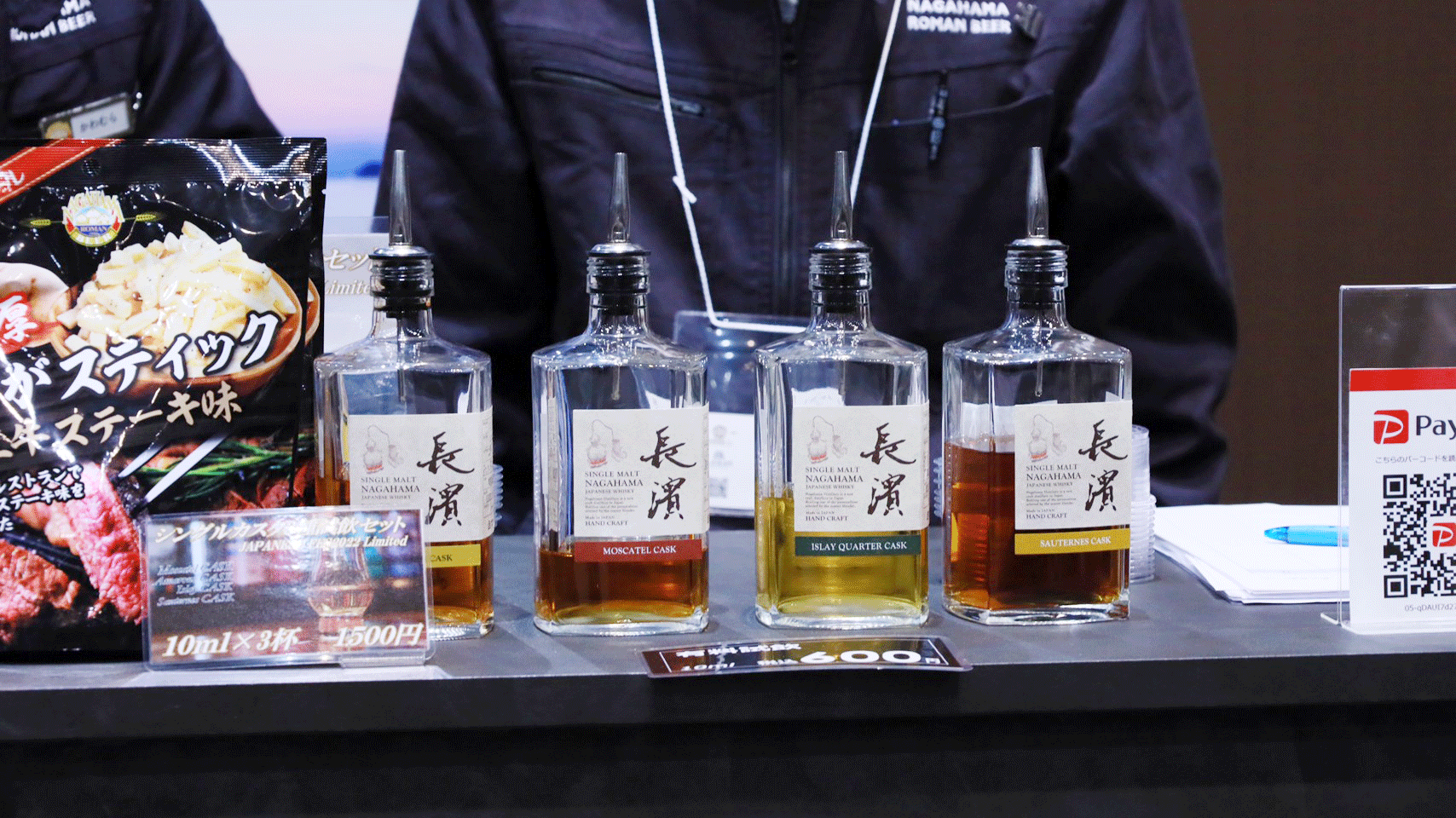 ノーブランド品
¥17,000
(2023/03/21 10:24:57時点 Amazon調べ-
詳細)
2-14. Sakurao Distillery
The booth also offered a free tasting of Sakurao's GIN.
"Single Malt Sakurao" and "Single Malt Togouchi", which were released in June 2022, were also lined up and offered numerous free tastings.