Ichiro's Malt Chichibu 10 Years The First Ten, the first whisky aged more than 10 years to be released from Ichiro's Malt, a venture whisky company.
It has been about 12 years since the Chichibu distillery started operation until the release of First Ten, and the bottles with the age statement will be available for sale after a full year. The number of bottled bottles is 5,000 bottles.
This is the dream whisky that Venture Whisky, which has a wide variety of original whiskies, has been keeping warm since the Chichibu distillery started operation.
1. Manufacturer
Venture Whisky Co.
| | |
| --- | --- |
| Established | 2004 |
| Head office location | 49 Midorigaoka, Chichibu-shi, Saitama 368-0067 |
| Distilleries owned | Chichibu Distillery, Chichibu No.2 Distillery |
2. Distillery
Venture Whisky Chichibu Distillery
| | |
| --- | --- |
| Location | 49 Midorigaoka, Chichibu-shi, Saitama 368-0067 |
| Start of operation | 2007 |
The single malt whisky production is rooted in the Chichibu climate.
The founder, Mr. Ichiro Akuto, takes pride in the fact that his malt whisky is Japanese whisky, and produces it by hand with a small mill, mash tun, oak fermenter, and pot stills made by Forsyth of Scotland.
The Chichibu distillery is surrounded by rich nature, clean air, good quality water, hot and humid summers, and cold mornings and evenings below freezing. The difference in temperature between the cold and hot in this harsh climate has a great influence on the maturation of the whisky, resulting in a fruity and well-balanced whisky despite the short maturation period.
Established in September 2004.
Chichibu distillery was completed in 2007.
In February 2008, a license to make whisky was issued and whisky production began at the Chichibu distillery.
In October 2019, the second distillery begins operations.

This distillery was established after Suntory Hakushu distillery and Kirin Fuji Gotemba distillery which were established in 1973. The distillery was established at the end of the whisky slump. First distillery established in Japan in 35 years The company's name was changed to "K" in 1976.
Annual whisky production is just two days of the Glenlivet distillery in Scotland.
The production volume of the second distillery, which has been in operation since the fall of 2019, is five times that of the first distillery. The malt to be prepared at once is 2t. Pot stills are the same straight shape, but have a fairly large pot still so that they can be distilled in five times the amount. Forsyth made by gas open fire distiller.
For more information about Chichibu Distillery, please see also here.  ↓
3. Product name and photo
Ichiro's Malt Chichibu 10 Years Old The First Ten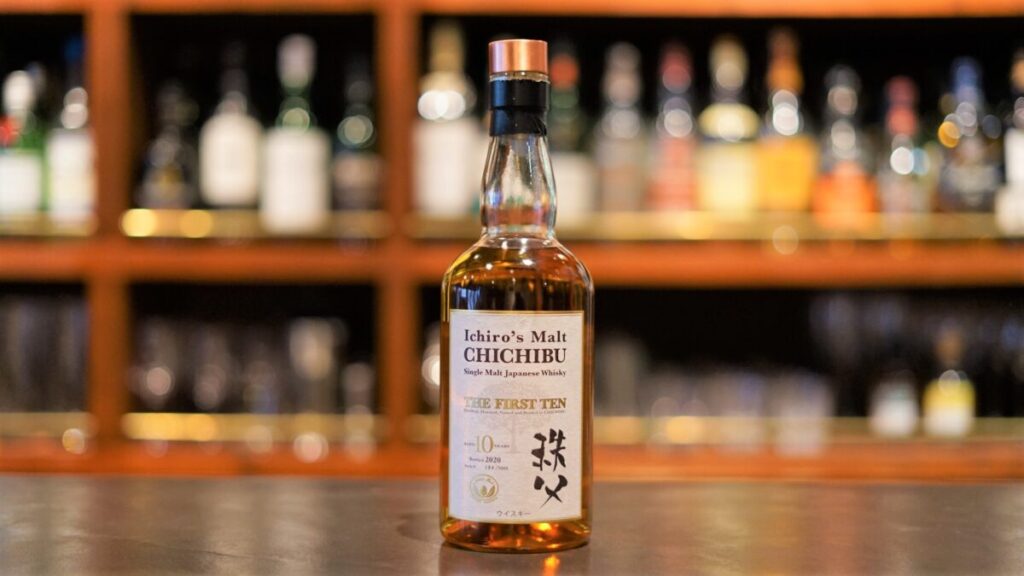 4. Features
The distillery has been in operation for 12 years.
It is one of our goals as a distiller to put the number of years on the label.
It is a precious moment to reconfirm the weight of the years.
We are grateful to be able to release a 10-year old bottle, and we are also grateful for the fact that we are able to release a 10-year old bottle.
Thinking of the smiles on the faces of those who drink it, we would like to continue to build up the time that will follow, one by one.
The aroma is filled with a gorgeous sweetness that leads to a smooth, honey-like taste.
The fresh impression of fresh greenery balances the long-lasting aftertaste.
This time, local barley grown in Chichibu also added depth to the flavor as part of the compositional base sake.
In order to take full advantage of these characteristics, we bottled it with a higher alcohol content, non-chill filtered, and natural color.
We hope you will take the time to enjoy this first decade, which is filled with a variety of thoughts and feelings.

(Source: Venture Whisky Co.)
4-1. Tasting Notes
| | |
| --- | --- |
| Aroma | After a slight smell of cemedine, a sweet aroma of vanilla opens up. Herbaceous aroma. |
| Taste | Smooth mouthfeel. Pudding sweetness, bourbon-type oak sweetness plus citrus fruit. Rounded and gentle image. Finally, mint and other herbal notes escape. |
| Aftertaste | Mellow, gentle and elegant sweetness lasts moderately long. |
4-2. Product Specifications
Alcohol content
50.5%
By Liquor
Single Malt Japanese Whisky
Cask type
–
Content Volume
700ml
Number of bottles sold
Limited to 5,000 bottles
Suggested Retail Price
19,800 yen (tax included)
Release Date
November

2020
5. Awards
No awards have been received at this time.
6. Price
6-1. Manufacturer's Suggested Retail Price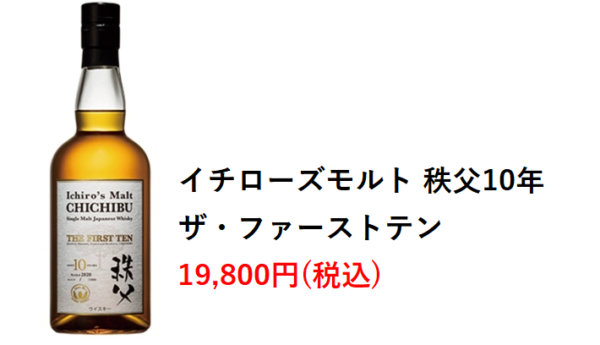 | | |
| --- | --- |
| Product name | Ichiro's Malt Chichibu 10 Years Old The First Ten |
| Capacity | 700ml |
| Suggested retail price | 19,800 yen (including tax) |
6-2. Resale price on Mercari
Resale price on Mercari is the 126,000 Around 200,000 yen to 200,000 yen The company's name is There is also an empty box only on display. (*as of  April 13, 2022)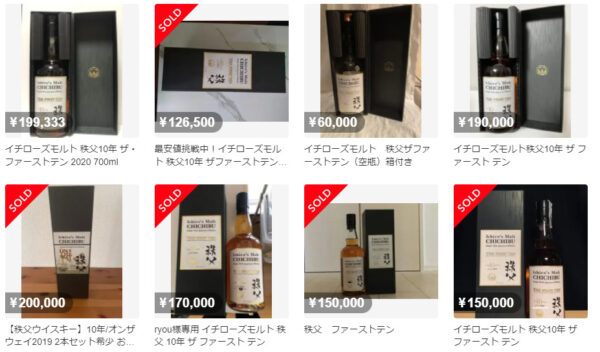 6-3. Yahoo Auction Sold Price
Sold price on Yahoo! Auction is the Lowest 6,750 yen, highest 168,000 yen, average 127,964 yen but the lowest priced listing was for a mini-bottle. (*Statistics for the past 180 days from April 13, 2022)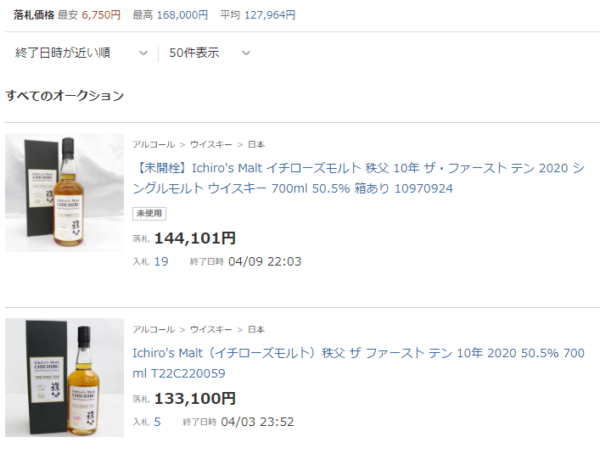 6-4. Rakuten, Yahoo Shopping, Amazon
On the mail order website, you can find 248,000 yen The product is sold at (*as of April 13, 2022)
6-5. Price offered at BAR Shinkai
At BAR Shinkai, which is operated by this website, we have 1 Cup, 45 ml: 6,930 yen 30ml: 4,620 yen, 15ml: 2,310 yen We also offer this service in small quantities such as.
7. Summary
The Ichiro's Malt age-stamped bottle was released in full force. The taste is elegant and worthy of its 10-year title. The aroma is a bit harsh with a hint of cemedine, but in the mouth it is elegant and mellow, with an angular sweetness that spreads over the palate.
The addition of water makes it even gentler on the palate and makes it even easier to drink.
Overall, you can feel the presence of the barrels due to the long aging, but the flavor of the barrels does not overpower the characteristics of the original sake, giving it a well-balanced taste.
It can be enjoyed not only straight, but also on the rocks, toasted up, with water, or with soda.
Of course, the "unique original sake" produced by Chichibu Distillery is attractive, but the long-aged original sake such as "First Ten" and "Japanese Blended Limited Edition" are also attractive to "Ichiro's Malt."
Please take a look at our other articles on Ichiro's Malt.