● Update (2021/1/28) Started operation in February 2021, added "Kuzumi distillery" in Oita Prefecture
Everyone knows that the first whisky distillery in Japan is Yamazaki Distillery, which started operations in 1924. Since then, many whisky distilleries have been built in Japan. In recent years, Japanese whisky has become a worldwide boom, and around 2016, many whisky distilleries were created through through through out in Japan. The newly founded distillery is called by various ways such as craft whisky, craft distillery, new generation distillery, etc., but regardless of size, we have listed whisky distilleries that are currently in operation. From Hokkaido to Okinawa, all 26 whisky distilleries are in operationthrough all over Japan, and one is planned to be built in the future!
1. Hokkaido Area
1-1. Nikka Whisky Yoichi Distillery
The distillery was started in 1936 by Masataka Taketsuru, the founder of Nikka Whisky, who is known as the father of Japanese whisky, in search of his own whisky-making utopia.
Masataka Taketsuru believes that a cool and humid climate similar to Scotland, rich water sources and dignified and clear air are essential for making ideal whisky, so he chose Yoichi, located west of Otaru and at the base of the Shakotan Peninsula, from among various candidate sites.
A whisky distillery that can be said to be the origin of Nikka Whisky.
Click here for Nikka Whisky Whisky Review
1-2. Akkeshi Distillery
Akkeshi Distillery launched as a new business separately from its main business. With a strong desire to make whisky like Isla malt using traditional Scottish methods, the facilities were designed by Forsyth in Scotland.
Like isla whisky making, water through peat layers is used for water, and it is matured every day in "Akkeshi", a place where cool, moist and sea breeze hits.
Click here for a thick shore distillery whisky review
1-3. Benizakura Distillery(Hokkaido Free whisky)
Benizakura Distillery is operated by Hokkaido Free Whisky in Sapporo
City, Hokkaido. It is now a hot topic distillery with craft gin, not whisky. Gin distilled using ingredients unique to Hokkaido has a unique taste and quickly became a hot topic.
The company name is "Hokkaido Free Whisky Co., Ltd.", but at present there is no information on whisky making at Benizakura Distillery, so we are paying attention to future movements.
2. Tohoku Area
2-1. Nikka Whisky Miyagikyo Distillery
It has been about 30 years since Nikka Whisky founder Masataka Taketsuru, the father of Japanese whisky, started the first distillery in Yoichi, Hokkaido. Masataka Taketsuru, who believes that "by blending multiple original sakes born in different distilleries, whisky becomes more tasteful and rich", began to move in search of a new distillery construction site.
Close to the prefectural border with Yamagata, this is a lush gorge blessed with two clear streams, the Hirose River and the Shinkawa River. When Taketsuru visited this place for the first time, he drank the black nikka he had in the clear stream of the Shinkawa River and checked the taste. It is said that they decided to build a distillery on the spot.
Click here for Nikka Whisky Whisky Review
2-2. Yusa Distillery (Kinryu)
From Yamagata, we offer the highest quality Japanese whisky that the world admires.
Kinryu Co., Ltd., which operates yusa distillery, was founded in 1950 as a joint venture between nine sake makers in Yamagata Prefecture, producing neutral spirits called brewing alcohol and kosan shochu made with continuous steamers.
Kinryu is yamagata's only manufacturer specializing in shochu, but when considering the decline in consumption of shochu and sake and the problems of the population of Yamagata Prefecture, the whisky business was a new business for the future.
At the Whisky Festival held in 2019, several new makeups from Yusa Distillery were unveiled.
2-3. Asaka Distillery (Sasanokawa Sake Brewery)
Sasanokawa Sake Brewery, which operates the Asaka Distillery, is a long-established sake brewery founded in Koriyama City, Fukushima Prefecture in 1765 and has been in production for about 250 years, and acquired a whisky production license in 1946 shortly after the war, and until around 1980, it stopped distilling raw sake due to the sluggish domestic market.
Following the resurgence of the whisky boom from the 2010s, in 2015 he decided to establish a full-fledged malt whisky distillery and purchased Miyake Seisakusho's stills, which can be delivered within a year. The following year, in 2016, we resumed raw sake distillation at the Asaka Distillery, which introduced facilities to sake breweries.  In December 2019, Asaka Distillery, tohoku's oldest craft whisky, launched its first single malt, "Azumi The First".
The products on display at the Whisky Festival 2019 were the Yamazakura series, which was made from barrels stored in the past, as well as new pots and new bones newly created at Asaka Distillery.
3. Kanto Area
3-1. Yasato Distillery (Kiuchi Shuzo, Kumita Brewery)
Founded in 1823 in Naka, Ibaraki Prefecture, Kiuchi Shuzo manufactures sake and kikumori, as well as shochu, wine, liqueurs, and craft beer Hitachino Nest Beer.
In 2016, we started making whisky unique to Hitachino, taking advantage of the revived Japanese phantom beer barley "Kaneko Golden" while making Hitachino Nest beer. In April 2019, the company commercialized highballs in cans, starting with offering them at directly managed stores after aging.
In order to further pursue Japanese whisky making, we built the Yasato Distillery at the foot of Mt. Tsukuba and started operations in 2020.
3-2. Venture Whisky Chichibu Distillery
Chichibu Distillery, which started operations in 2008, has become a whisky manufacturer attracting attention around the world as "Ichiro's Malt" in just a few years. Toa Shuzo, which was run by the father of the founder Ichiro Akuto, owned Hanyu Distillery and produced whisky. When Mr. Akuto took over in 2001, it was in poor management, and in 2003, it was transferred to "Hinode-Tsusho". At that time, it was decided to withdraw from the whisky business, and the whisky that had been stored was threatened with being discarded. I worked hard to find a taker, succeeded in obtaining cooperation from Sasanokawa Sake Brewery, and was able to rent a storage and move the whisky stored at Hanyu Distillery. After that, he sold whisky using the original sake of Hanyu Distillery with Sasanokawa Sake Brewery. Mr. Akuto established Venture Whisky Co., Ltd. in 2004, and in 2007 he completed a whisky distillery in Chichibu because it was his hometown and an environment suitable for sake brewing.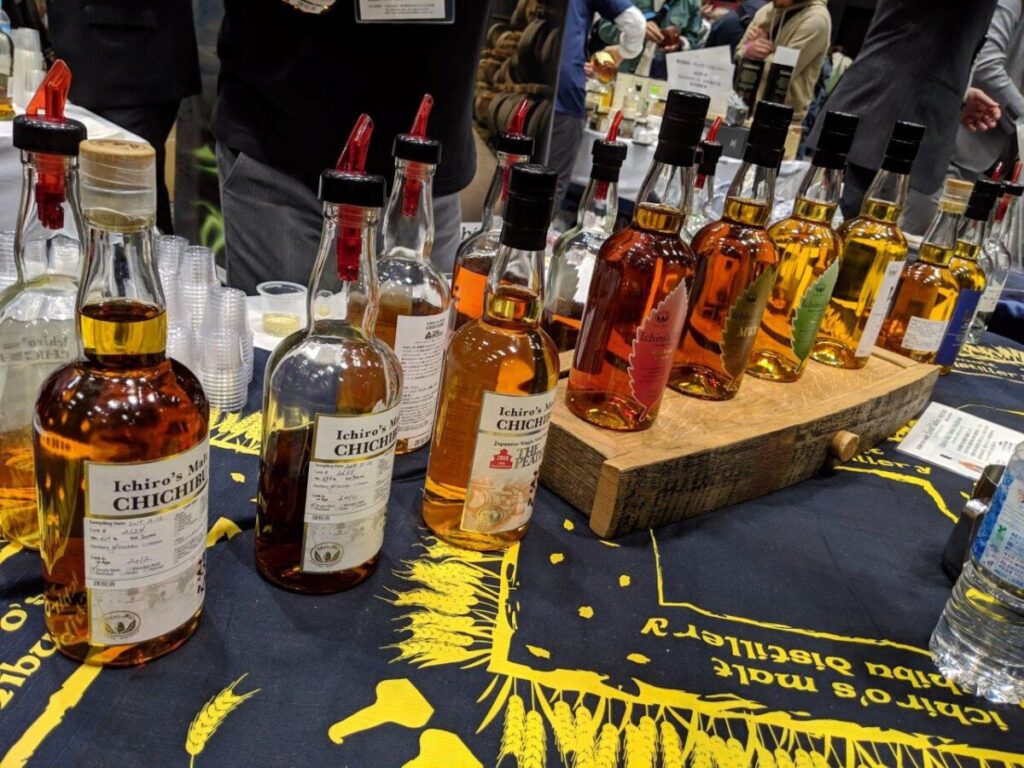 Whisky Festival 2019. I was able to sample some products from the products released so far. The booth always represented the popularity of Ichiro's Malt in the procession.
3-3. Venture Whisky Chichibu No.2 Distillery
In 2018, chichibu no. 2 distillery was operated about 400 meters away from Chichibu Distillery. At the second distillery, fermentors were changed from mizunara to French oak. In addition, pot stills have been changed from indirect heating with steam to open-flame heating with gas. Alcohol equivalent production is about five times that of 160 liters per day for the first distillery and 800 liters per day for the second distillery. Ichiro's malt is currently difficult to obtain, but with the start of operation of the second distillery, production volume is expected to increase significantly in the future, and the circulation of products is expected to increase.
4. Chubu Area
4-1. Shinobu Distillery (Niigata Beer)
Niigata Beer Brewery, a craft brewery in Niigata, obtained its first whisky distillation license in Niigata City in 2016 with the aim of providing high-quality whisky to spirits lovers using local shimizu.
While the distillery is under construction, we import raw sake aged in sherry and bourbon barrels from distilleries around the world and mix it at the Niigata Plant (Niigata City) to make whisky "Koshino Shinobu". Mizunara finish is characterized by a rich aroma that has been additionally aged in domestic mizunara barrels. 90% of the production is for export, of which 40% is from the United States. Pay attention to
future trends, including the construction of distilleries.
Image source: Shinobi Distillery Shinobu Distillery
4-2. Hakushu Distillery (Suntory Spirits)
Suntory sought a different type of malt whisky from Yamazaki Distillery, and continued to search for water that was of good quality and perfect for whisky preparation. And from the survey of various parts of The Country, you will encounter the land of "Hakushu", one of the most famous water areas in Japan. In 1973, exactly 50 years after the first whisky production in Japan, Suntory's second malt whisky distillery, Hakushu Distillery, finally started operation.
The feature of Hakushu Distillery is that it is the making of a variety of original sake that is unparalleled in the world. In the fermentation process, we are particular about wooden vat fermentors with excellent heat insulation, and create a unique flavor unique to Hakushu by the work of microorganisms such as lactic acid bacteria that live in the distillery. In the distillation process, various types of original sake are made in all processes from preparation to fermentation, distillation, and storage (maturation), such as using different types of distillation pots of different sizes and shapes, and using various barrels in the storage (maturation) process.
Image source: Suntory Hakushu Distillery
4-3. Mars Shinshu Distillery (Hombo Sake Brewery)
Masataka Taketsuru is known as the parent of domestic whisky. At that time, it was "Kiichiro Iwai" of Settsu Shuzo (the parent of Mars whisky) who entrusted the dawn of authentic Japanese whisky to Mr. Taketsuru who was 24 years old, and sent him to Scotland as the boss.
After returning to Japan, Mr. Taketsuru compiled the results of the whisky training into a "Whisky Report" and submitted it to Mr. Kiichiro Iwai. It is commonly called "Taketsuru Report" or "Taketsuru Note".
Hombo Shuzo is a sake brewery that mainly makes shochu in Kagoshima, but after obtaining a whisky production license in 1949, he continued to dream of "one day making real whisky that takes advantage of the Japanese climate".
In 1960, Kiichiro Iwai designed "Taketsuru Note" and established Mars Yamanashi Winery, a factory for wine and whisky production. In order to fully work on whisky making, we searched for a more ideal place, and in 1985 we operated "Mars Shinshu Distillery" in Nagano Prefecture. Surrounded by a beautiful green forest at the foot of Mt. Komagadake in the Central Alps, the distillery is located in the silence of the clear air.
It is an exhibition at the whisky festival in 2019. New products released in Iwai Tradition, Mortage Kosumo, Komagadake Limited 2019 and Spring 2020 were also on display.
4-4. Komoro Distillery (Karuizawa Distilled Spirits Manufacturing)
Karuizawa Distillery Manufacturing Co., Ltd. announced at a press conference in Komoro City that it will build a "Komoro distillery" in Komoro City, Nagano Prefecture. A small distillery was built in Matsui-ku, Komoro city, and it is scheduled to be completed in 2022. The company plans to start selling single malts in 2027.
Karuizawa Distillery Manufacturing Co., Ltd. announces the construction of "Komoro Distillery" in Komoro City, Nagano Prefecture. It is scheduled to be completed in 2020.
4-5. Fuji Gotemba Distillery (Kirin Distillery)
In August 1972, Kirin Seagram Co., Ltd. was established through a joint venture between Kirin Beer (Japan), JE Seagram (U.S.A.), and Seabass Brothers (U.K.), and Fuji Gotemba Distillery was established in August 1973.
Image Source: Wiskipedia | BS Fuji 5th 2020/4/9 Broadcast
Fuji Gotemba Distillery has been particular about the production of "Grain Whisky" using corn and wheat as raw materials for whisky. Continuous distillers are commonly used to manufacture grain whisky. Fuji Gotemba Distillery makes full use of three types of continuous distillers, "multi-column", "kettle", and "dubber", to create a variety of grain whiskys.
As a typical whisky, there was "Mt. Fuji foot barrel ripening sake 50°", but due to demand that exceeded expectations from 2018, it became difficult to supply the raw sake necessary for production, and it sold out at the end of March 2019. No successor products were released, but the "Mt. Fuji Foot Signature Blend", which was released in 2017, began to be generally distributed in the domestic market from 2018, and is now sold as a current product.
In 2016, "Fuji Gotemba Distillery Single Grain Whisky AGED 25 YEARS SMALL BATCH" won the "World's Best Grain Award" at the World Whisky Awards 2016. On March 31,2017, Jota Tanaka, master blender at Kirin Distillery Fuji Gotemba Distillery, won the World's Top Prize in the Icons of Whisky Master Distillery and Master Blender Category. On March 27, 2020, Kirin Single Grain Whisky Fuji 30 years won the World's Best Grain Award at the World Whisky Awards 2020.
4-6. Gaiaflow Shizuoka Distillery
Gaiaflow Distillering Co., Ltd. purchased and acquired whisky production equipment from Mercian Karuizawa Distillery in March 2015. Reusable equipment such as crushers and distillers used for malt grinding were relocated to Shizuoka Distillery after repairs and improvements, and preparations for whisky production were promoted.
In 2015, the company began construction of a Shizuoka distillery in the Area called Tamagawa in the Okushizu (Oku-Shizuoka area) in Shizuoka City, Shizuoka Prefecture, and obtained a whisky manufacturing license in September 2016. Whisky production started i
n October 2016. It is manufactured with three distillers: a distiller (K) relocated from Karuizawa Distillation And two Distillers (W) made in Scotland.
A distillery that uses plenty of Hinoki grown in Okushizu and is a naturally one. We aim to create whisky that harmonizes with nature, rooted in the climate of Shizuoka.
4-7. Saburomaru Distillery (Wakatsuru Shuzo)
Wakatsuru Shuzo Co., Ltd., which operates the Saburomaru Distillery, is a sake brewery with a very long history in the Hokuriku area, which began producing sake in Saburomaru Village, Tonami-gun, Toyama Prefecture in 1862.
After the end of World War II, in order to overcome the difficult situation, we independently researched distilled spirit production and obtained a whisky production license in 1952. Since 1953, we have been selling Sunshine whisky in Toyama Prefecture.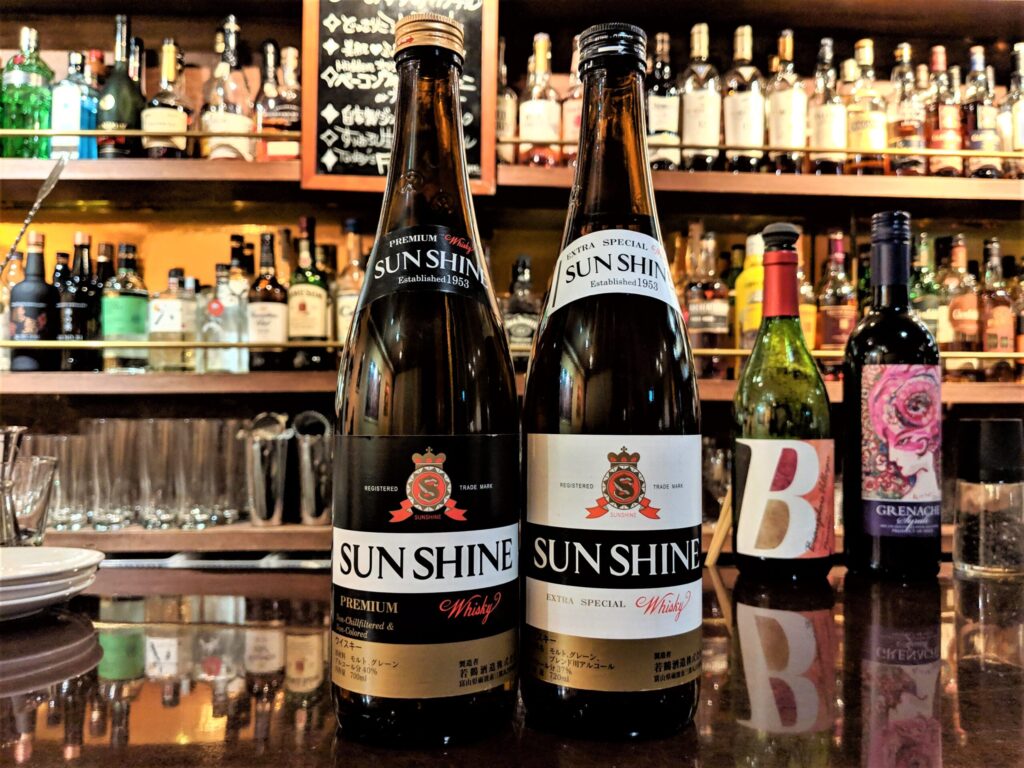 4-8. Chita Distillery (Suntory)
Chita Distillery is located in Chita Peninsula, overlooking Ise Bay. This is a grain whisky distillery established by the Suntory Group in collaboration with the Zenno Group. One of suntory's three distilleries in Japan.
For more than 40 years since the start of operation in 1973, we have continued to make grain whisky made mainly from corn. China's original sake is blended into the world-renowned blended whisky "Hibiki" and "Kakubin", bringing out the individuality of malted sake produced at Suntory Yamazaki Distillery and Hakushu Distillery, resulting in a smoother mouthfeen. In 2015, the company launched Chita, a single grain whisky composed of grain raw materials from the Chita Distillery.
4-9. Nagahama Distillery (Nagahama Roman Beer)
Japan's smallest Nagahama distillery in the northernpart of Lake Biwa, Shiga Prefecture. In 1996, Nagahama Roman Beer, which began producing the third craft beer in and has been making craft beer for 20 years, started distilling whisky by operating nagahama distillery on the site in 2016.
Inspired by a Scottish craft distillery, it features alan-bick-shaped pot stills and rich, fruity, grain-derived, richly sweetened liquors flowing from the ultra-fine line arms.
Image source: Nagahama Roman Beer Nagahama Distillery
In 2020, "Amahagan", a blend of malt from Nagahama Distillery based on overseas malt whisky, achieved the feat of winning three of the four regular series at the WWA (World Whisky Award).
5. Kansai Area
5-1. Yamazaki Distillery (Suntory Spirits)
Suntory founder Shinjiro Torii decided to make whisky with a passionate desire to make Japanese whisky that met the delicate taste of the Japanese, and Yamazaki Distillery was born in 1923 as the first whisky distillery in Japan.
In the construction of Yamazaki Distillery, Masataka Taketsuru, who studied whisky production in Scotland, the home of Scotch whisky, was invited to be appointed director of Yamazaki Distillery. Yamazaki, southwest of Kyoto, at the foot of Mt. Tenno. Sticking to the "high-quality water" and "natural environment" that are important in whisky making, this place of Yamazaki was chosen from among the many candidate sites.
Yamazaki Distillery at the time of operation
Image source: Single Malt Whisky Yamazaki Suntory
In the distillation room of Yamazaki Distillery, distilleries of different sizes and shapes are lined
up opposite each other. Distilleries with so many different types of distilleries are rare in the world. Distilleries of different sizes and shapes have different characteristics of each original sake, and they create a wide variety of original sake, from light to profound.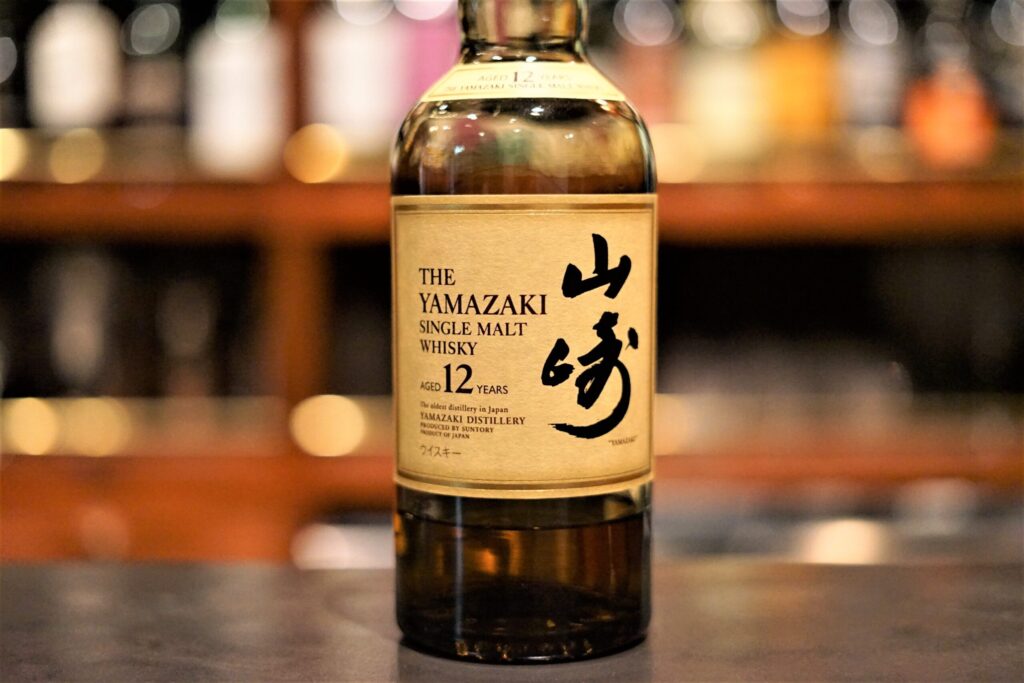 5-2. Eigashima Shuzo
Eigashima Shuzo, the manufacturer of the small 500ml bottle of local whisky "Akashi", was a sake brewer founded in 1888.
The history of whisky production is surprisingly old, and in 1919, the company obtained a license to manufacture whisky.
The introduction of pot stills and other equipment for full-scale whisky production was completed in 1984. Since then, we have been selling low-priced whiskys, but recently we have released a series of new products such as "Akashi" Single Malt 8 Years and Single Malt Eigashima Sherry Cask.
Image source: Eigashima Sake Brewery Online Shop
6. Chugoku Area
6-1. Kurayoshi Distillery (Matsui Shuzo)
Matsui Shuzo, a sake brewery in Kurayoshi City, Tottori Prefecture, which was founded in 1910, obtained a whisky production license in 2015. In 2017, we introduced three pot stills and began distilling whisky in earnest. The whisky "Kurayoshi", which started selling in 2016 before starting whisky distillation in-house, seems to have been made with imported original sake.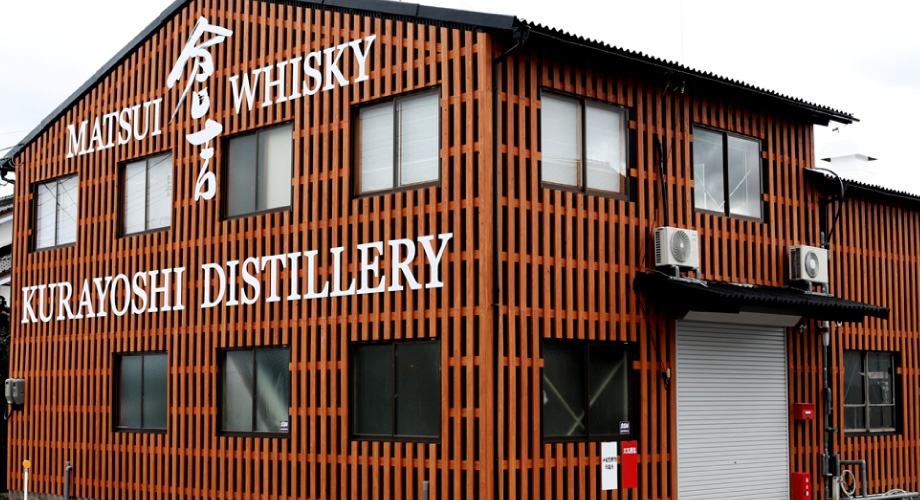 6-2. Okayama Distillery (Miyashita shuzo)
Miyashita Brewery in Okayama Prefecture is a long-established sake brewer founded in 1915.
Until now, they have made sake, beer, shochu, liqueurs, etc. In 2011, they obtained a license to produce whisky and started developing whisky.
In 2015, they installed a pot still, a German-made whisky single-stage distiller, and started full-scale operations as the Okayama Distillery.
In 2017, we launched "Single Malt Whisky Okayama" after 3 to 5 years of aging of our distilled original sake. The original sake is made from barley malt from Okayama Prefecture and the underlying water of the clear stream Asahikawa, and it is aged in more than 10 kinds of wooden barrels such as sherry, brandy, bourbon, white oak, and domestic wooden barrels represented by mizunara. Completed after trial and error, Ginjo Whisky Okayama is characterized by its youthful flavor and delicate throat.
"Single Malt Whisky Okayama Triple Cask" won the gold medal at the Meiningers International Spirits Award ISW 2019 in Germany. At the World Whiskys Awards 2020, we were awarded category winner, the best single malt no-age category.
6-3. Sakurao Distillery (Chugoku Jozo)
Hiroshima Prefecture's Chugoku Jozo is a long-established sake brewery founded in 1918. In fact, the history of whisky making is deep, and we manufactured and sold malt whisky from 1938 to 1989. At that time, distilled original sake was stored in a storage facility utilizing JR West's railway testing tunnel in Togochi. In 2008, we started selling "Togochi whisky", which is made by blending raw sake stored in storage in Togochi with imported original sake. (90% is said to be exported to Europe.) )
Image source: Togochi Whisky Chugoku Jozo
In 2018, in order to challenge the new possibilities of making western sake, we introduced new facilities and established sakurao distillery, a craft distillery from Hiroshima. Craft Gin's "Sakurao Jin" is now the main product, but we plan to launch a single malt whisky that has matured for three years in 2021.
Image source: SAKURAO DISTRILLERY | Hiroshima's craft distillery to the world
7. Shikoku Area
8. Kyushu and Okinawa Area
8-1. Kanosuke Distillery (Komasa Shuzo)
Komasa Shuzo in Kagoshima Prefecture is a sake brewery made mainly of kozuru, an authentic shochu founded in 1883. In 2017, we acquired a whisky production license and started operation of Komasa Shuzo Kanosuke Distillery as a challenge to a new stage by making full use of the authentic shochu production technology we have cultivated so far.
In 2018, new pots were released in limited quantities. In addition, "Kanosuke New Bone 2018", which was stored for 8 months, was released. In 2019, "Kanosuke Newborn 2019", which was stored for 16 months, was released. In 2020, "Kanosuke New Bone 2020 Peated" was released using British peat malt and stored for 24 months.
Image source: Kanosuke Distillery, Kanosuke Distillery
In addition, we are actively selling craft gin before selling whisky. Currently, two types are on sale: "KOMASA GIN Sakurajima Mikan" and "KOMASA GIN Hojicha".
8-2. Mars Tsunuki Distillery (Hombo Shuzo)
Speaking of Marswisky, "Mars Shinshu Distillery", which operated in Nagano Prefecture in 1985, is famous, but the place where Hombo Shuzo, which owns the distillery, started producing distilled spirits was "Tsunuki" introduced this time.
In 2016, Hombo Shuzo renovated one of the storage facilities in the Tsunuki Plant, which has a history of producing shochu for more than 100 years, and operated Mars Tsunuki Distillery. Mars-Shinsu Distillery is thought to mature slowly in a cool climate, while Mars Tsunuki Distillery is believed to mature dynamically in a temperate climate. We also use a variety of types of original sake to be produced and barrels used for maturation.
In addition to the adjacent storage, Tsunuki Distillery also stores 30 barrels each year at yakushima aging cellars owned by the company in Yakushima. It is very interesting to see what kind of aging progresses in Yakushima, which has a climate that is rare in Japan.
"Single Malt Tsunuki THE FIRST" will be released on April 27, 2020, and "Single Malt Tsunuki PEATED" will be released on January 18, 2021.

In 1933, hojo, the former residence of the Hombo family adjacent to the distillery, is used as a BAR where you can taste Mars whisky and a SHOP selling original goods and liquors, and was built in 1933 in a traditional wooden japanese-style single-story mansion. You can enjoy the garden that changes every day with the beauty of the tiles that make up the roof unique to the old house and the dignified appearance of the luxurious finish. The wooden deck that continues from the corridor to the stone warehouse is arranged, and the stone lanterns are casually arranged in the garden, where you can enjoy the best time while looking at the scenery of the four seasons.
8-3. Helios Shuzo
Helios Shuzo, a sake brewery in Okinawa Prefecture, had a past of making whisky in-house in the 1980s, and it was shipped both domestically and internationally. Since the whisky boom came under fire, the whiskys produced at the time remained stored. In 2016, Lawson talked about whisky sales, and limited editions of "Reki 15" and "Helios Whisky Reki (200ml)" were sold. As a result, Helios Sake Brewery has resumed its own whisky production.
Image Source: Sake Brewery Tour | Helios Sake Brewery Co., Ltd.
On December 31, 2020, we launched Okinawa's first single malt whisky "Kyoda Cask Strength 2020". Using British peat malt as a
raw material, malt whisky prepared and distilled in-house in 2017 was aged in oak barrels for 3 years. The label is designed to recreate the pre-dawn atmosphere of the mountains near the distillery. The product name adopted the place name Kyoda and expressed it with powerful brush letters. The single malt whisky "Kyoda Cask Strength 2020" is a whisky with a smoky aroma and depth derived from peat malt. It is 60.9% of the alcohol level of the barrel out, and it is "cask strength" that does not add water.
Image source: Helios Sake Brewery Official Online Store
I would like to pay attention to what kind of whisky the company, which has a long history and tradition in manufacturing Awamori and rum, will make in the future.
8-4. Kuzumi Distillery (Tsuzaki Liquor Store)
Operations started in February 2021. Craft whisky distillery "Kuzumi Distillery" was newly established in Kuzumi-cho, Takeda City, Oita. Shoji Utoda, who runs a liquor store called Tsuzaki Sake Shop in Kuzumi-cho, Takeda City, Oita, renovated a warehouse of about 400 square meters on the site of the store and built a distillery. We will introduce a distillation machine made in Scotland "Forsyth" and start manufacturing it in February 2021. Since it is necessary to mature for 3 years until shipment, sales are scheduled to start around 2024 and 2025.
In 2017, Mr. Utoda consulted with Ichiro Akuto, a venture whisky company that became world famous for "Ichiro's Malt", and learned manufacturing technology. On The 5th of this month, takeda tax office obtained the long-held whisky manufacturing license, and production will finally start.