Skill and ambition passed down from generation to generation. A malt whisky that is fragrant, easy to drink, and rich in flavor.
Taketsuru Pure Malt combines the deep richness and flavor of malt with the soft drinkability of malt. Taketsuru Pure Malt was launched on September 25, 2013.
1. Manufacturer
Nikka Whisky Co.
| | |
| --- | --- |
| Establishment | 1934 |
| Head office location | 4-31, Minami-Aoyama 5-chome, Minato-ku, Tokyo 107-8616, Japan |
| Owned distilleries | Yoichi Distillery, Miyagikyo Distillery, Ben Nevis Distillery |
2. Distilleries
Yoichi Distillery
| | |
| --- | --- |
| Location | 7-6 Kurokawa-cho, Yoichi-cho, Yoichi-gun, Hokkaido 046-0003, Japan |
| Start of operation | 1936 |
The Yoichi Distillery in Hokkaido is known as the Scotland of Japan. It was established in 1934 by Masataka Taketsuru, also known as Massan, whose predecessor was Dainippon Fruit Juice Co. Masataka Taketsuru believed that a place similar to Scotland Cool and humid climate, rich water source and clean air Masataka Taketsuru chose Yoichi, located at the base of the Shakotan Peninsula, west of Otaru, from among various candidate sites. Masataka Taketsuru's goal for his first distillery was to create a heavy and powerful malt whiskey. He was determined to replicate the whiskey-making methods he had learned at the distilleries of Scotland, without compromise. The symbol of this commitment is "direct coal distillation" . This distillation method is based on the method of the Longmorn distillery, where he learned it himself. If it is necessary to make genuine whiskey, we will protect it even if it is inefficient. Such passion, which can be said to be the origin of Nikka Whisky, and Masataka Taketsuru's dream have been handed down to this day.
Click here for the official website of Yoichi Distillery.
For more information about Yoichi Distillery, please see this article.

Miyagi Gorge Distillery
| | |
| --- | --- |
| Location | 1 Nikka, Aoba-ku, Sendai City, Miyagi Prefecture, 989-3433, Japan |
| Start of operation | 1969 |
It has been about 30 years since the first distillery was started in Yoichi, Hokkaido. Masataka Taketsuru, who believed that "whisky becomes richer and more flavorful when it is blended with raw materials from different distilleries" desperately needed a second distillery. Taketsuru chose Miyagi Gorge in Sendai, Miyagi Prefecture. It is a lush green gorge blessed with two clear streams, the Hirose River and the Shin River. When Taketsuru visited this place for the first time, he drank some of his Black Nikka in the clear water of the Shinkawa River and confirmed the taste. It is said that he decided to build the distillery on the spot. The pride of the Miyagi Gorge Distillery is its "café-style continuous distiller. At the time of its introduction, this distiller was already considered obsolete. Because it was an old-fashioned distillation machine, it was prone to leaving behind miscellaneous flavors, but Taketsuru chose to use this old-fashioned distillation machine because the technology could transform them into the original aroma and sweetness of the ingredients. At the Miyagikyo Distillery, people who have inherited Taketsuru's passion are still continuing to make various attempts to make whisky taste better.
Image credit: Miyagikyo Distillery|NIKKA WHISKY
For more information on the Miyagikyo Distillery, please see this article.

3. Product name and photo
Taketsuru Pure Malt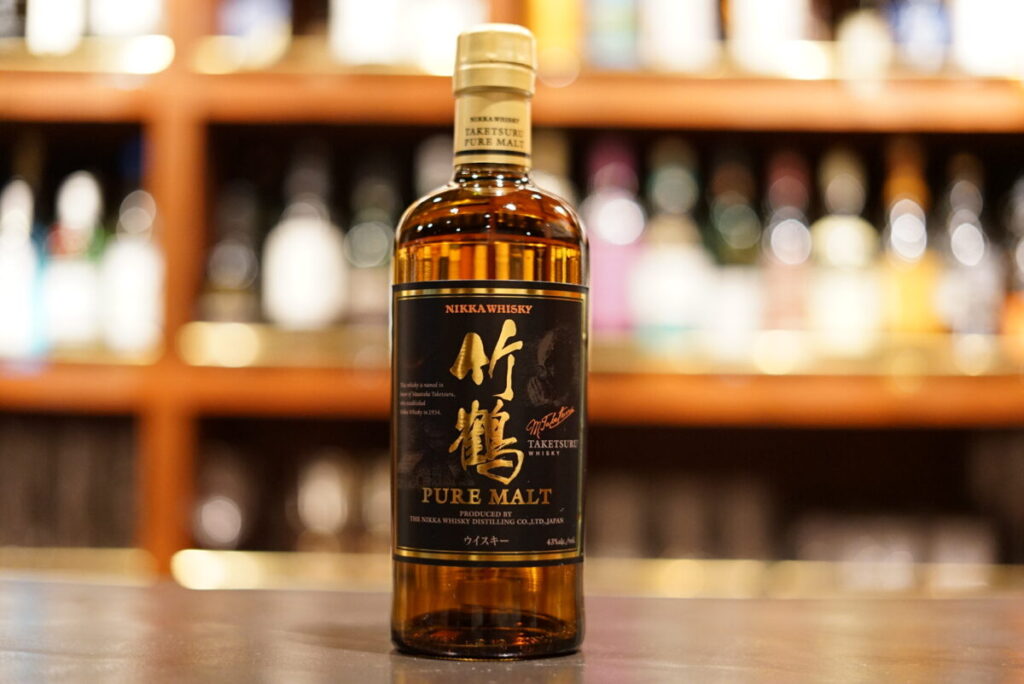 4. Characteristics
A malt whisky with a softness comparable to blended whisky.

A pure malt whisky named after Masataka Taketsuru, the father of Japanese whisky. Complex and brilliant. A pure malt whiskey that is fragrant and easy to drink, finished only with fine malts that have been aged for a long time. It features a soft, sweet aroma, smooth mouthfeel, and mellow taste. It also offers a refreshing aftertaste.
4-1. Tasting Notes
| | |
| --- | --- |
| Aroma | Soft malt aroma and sweet, vanilla-like barrel-aged aroma. Fruity aroma of green apple, pear, apricot, and grapefruit with a refreshing sweet and sour aroma. |
| Taste | Mild and silky mouthfeel. Fresh and crisp, with fruity notes of banana, orange, lime and herbs. |
| Aftertaste | Slightly bitter aftertaste with a soft acidity and a sharpness. |
4-2. Product Specifications
| | |
| --- | --- |
| Alcohol content | 43% |
| alcohol category | Pure malt whisky |
| Cask type | Sherry casks, remade casks |
| Contents | 700ml |
| Number of bottles sold | Number of bottles sold |
| Suggested retail price | 3,300 yen (tax included) |
| Release date | September 25, 2013 |
5. Awards
2014 ISC Gold Award
2016 ISC Gold Award
2018 ISC Gold Award
6. Price
6-1. Manufacturer's suggested retail price

| | |
| --- | --- |
| Product Name | Taketsuru Pure Malt |
| Volume | 700ml |
| Suggested retail price | 3,000 yen (tax included: 3,300 yen) |
6-2. Resale price on Mercari
The resale price on Mercari is Around 6,000 yen to 7,000 yen The resale price on Mercari is as follows. (*As of April 7, 2021)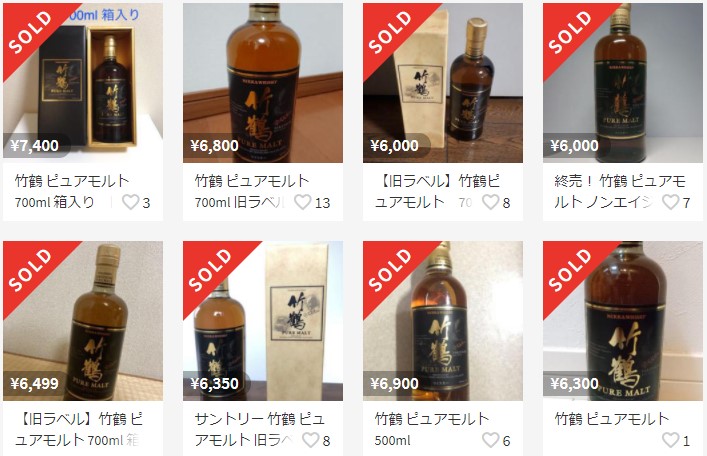 6-3. Yahoo auction bidding price
The winning bid price on Yahoo Auction is Lowest bidder: 4,646 yen, highest bidder: 14,000 yen, average bidder: 8,474 yen (*Statistics for the past 120 days as of April 7, 2021)
6-4. Rakuten, Yahoo Shopping, Amazon
It is also sold on mail order sites at Around 7,000 yen to 9,000 yen It is also sold at (*As of April 7, 2021)

6-5. Price offered at BAR Shinkai
At "BAR SHINKAI", which is operated by this site, it is offered at 1 glass, 45ml: 1,100 yen (*As of April 7, 2021)
7. Summary
It is characterized by a smooth mouthfeel and a fruity, mellow flavor. We recommend drinking it straight, tossed up, or on the rocks to soak up the richness and aftertaste of the malt while sipping it slowly, or casually with a splash of water or a highball to feel the gorgeousness of the malt.
■ Please check out the other articles about Taketsuru.