The richly individualistic raw materials become one in the hands of the blender and are transformed into a unique whisky. The result of the blender's quest and innovation is Chita, a Suntory whisky made entirely from grain.
1. Manufacturer
Suntory Spirits Co.
Established

1899

Headquarters Location
2-3-3 Daiba, Minato-ku, Tokyo 135-8631, Japan
Owned distillery
●Japan
Yamazaki Distillery, Hakushu Distillery, Chita Distillery
●Scotland
Ardmore distillery, Glengilly distillery, Auchentoshan distillery, Bowmore distillery, Laphroig distillery
●Ireland
Cooley distillery, Kilbeggan distillery
●United States
Jim Beam distillery, Maker's Mark distillery
●Canada
Hiram Walker Distillery, Alberta Distillery
2. Distillery
Suntory Chita Distillery
| | |
| --- | --- |
| Location | 16 Kitahamacho, Chita City, Aichi Prefecture, 478-0046, Japan |
| Start of operation | 1973 |
The Chita Distillery, located on the Chita Peninsula overlooking Ise Bay, is a grain whiskey distillery established by the Suntory Group in collaboration with the Zen-Noh Group, and is one of the three domestic whiskey distilleries of the Suntory Group, along with the Yamazaki and Hakushu distilleries for malt whiskey. Here, corn-based grain whiskey has been supported. The Chita Distillery uses continuous distillation to produce three types of grain whiskey: clean, medium and heavy, which is unique in the world.
For more information about Chita Distillery, please see this article.
2021.01.01
The latest list of whisky distilleries in Japan updated in January 202...
3. Product name and photo
Suntory Whisky Chita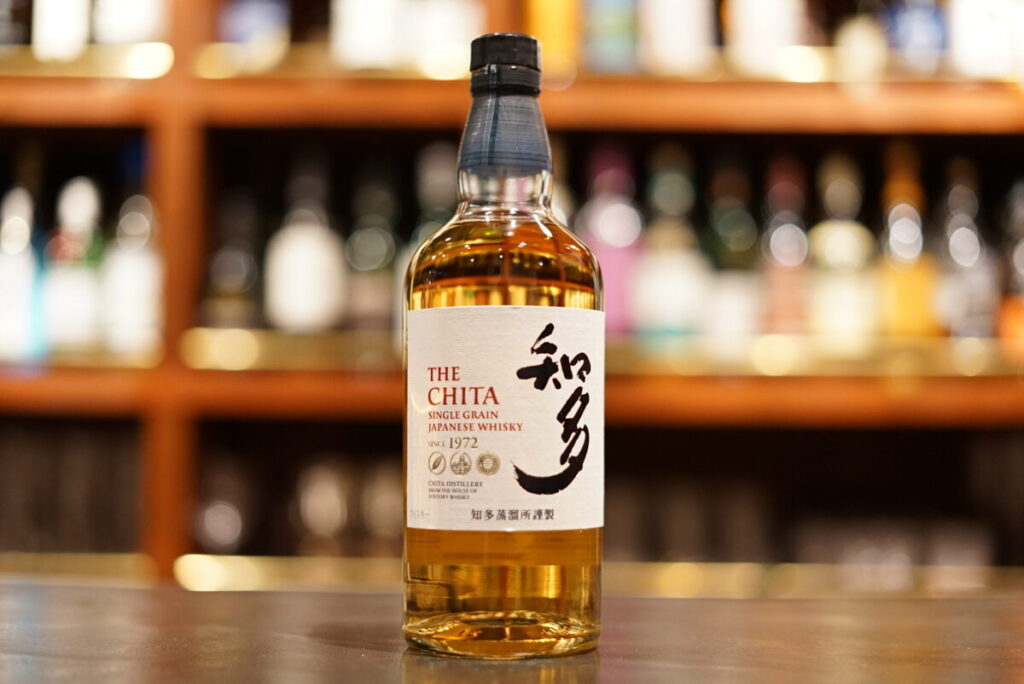 4. Characteristics
Light taste, with a hint of fragrance
Suntory Whiskey Chita has a light taste and a slightly sweet aroma, which makes it a perfect match for a variety of foods including Japanese cuisine. The charm of Suntory Whisky Chita blossoms with a highball. The name of the highball is "Kazekaru Highball". While retaining a definite sense of maturity, the drink is as light as the wind. Its fresh and gentle aroma and subtle sweetness enhance the umami. Its sweetness and taste make it a popular choice among women.
4-1. Tasting Notes
| | |
| --- | --- |
| Aroma | Pure and straight, sweet oak aroma |
| Taste | Sweet and smooth on the palate. |
| Aftertaste | Clean, with a hint of sweetness. |
4-2. Product Specifications
| | |
| --- | --- |
| Alcohol content | 43% alcohol by volume |
| by alcohol | Single grain whisky |
| Barrel type | – |
| Contents | 700ml |
| Number of bottles sold | – |
| Suggested retail price | 4,180 yen (tax included) |
| Release date | September 1,2015 |
5. Awards
There is no award history at this time.
6. Price
6-1. Manufacturer's suggested retail price
| | |
| --- | --- |
| Product name | Suntory Whisky Chita |
| Capacity | 700ml |
| Suggested retail price | Tax included: 4,180 yen |
6-2. Resale Price on Mercari
The resale price on Mercari is around 3,500 yen. (*As of April 7, 2021)



6-3. Sold price on Yahoo Auction
The lowest bid price on Yahoo Auction is 2,300 yen, the highest is 5,000 yen, and the average is 2,876 yen (*Statistics for the past 120 days since April 7, 2021)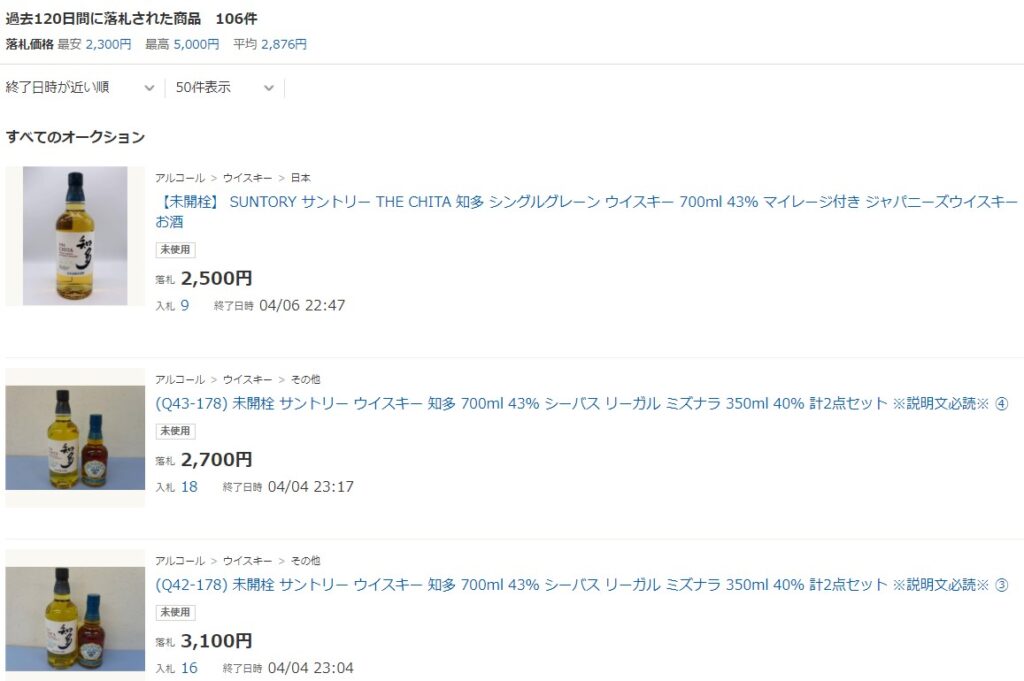 6-4. Rakuten, Yahoo Shopping, Amazon
Mail order sites sell them for around 3,500 yen to 4,500 yen. (*As of April 7, 2021)
6-5. Price offered at BAR SHINKAI
At "BAR SHINKAI", which is operated by this website, a glass of 45ml is offered for 1,320 yen .
7. Summary
The charm of "Chita" is that it has a lightness like the wind, yet you can still enjoy the delicate aroma typical of whiskey.
When poured into a glass, the aroma is pure and sweet oak. It is smooth and sweet on the palate, and leaves a clean, slightly sweet aftertaste. It can be enjoyed with water, but a highball is recommended. When mixed with soda, the delicate blend of this whisky comes through in a pleasant way.
Please check out the other articles about Suntory.