Ichiro's Malt & Grain 505 (World Blended) was initially released as a "restaurant-only bottle" with the aim of supporting restaurants such as bars and pubs that are struggling due to the new coronavirus. This is very exciting for the industry. Initially, 505 was not going to be sold to the general public. However, since the beginning of this year, it seems that some liquor stores are selling it to the general public because they cannot handle the inventory.
World Blended is a blend of the "five great whiskeys of the world" from Scotland, Ireland, the United States, Canada, and Japan. The current products are the White Label, priced at 3,500 yen (3,850 yen including tax), and the Limited Edition (Blue Label), priced at 9,000 yen (9,900 yen including tax). The 505 (Silver Label) is a new addition to the lineup, and will be released as a year-round product rather than a limited edition. It was sold out in March 2021.
A world blend of the world's five great whiskeys, matured in the Chichibu environment. This is a special blend that uses a higher percentage of the higher alcohol content strawberry malt. This is a special blend with a higher percentage of strawberry malt, which has a higher alcohol content than white label.
The name "505" is derived from the alcohol content of 50.5%, but it is also said that 505 looks like SOS.
1. Manufacturer
Venture Whiskey Co.
| | |
| --- | --- |
| Established | 2004 |
| Headquarters location | 49 Midorigaoka, Chichibu-shi, Saitama 368-0067 Japan |
| Distilleries owned | Chichibu Distillery, Chichibu No.2 Distillery |
2. Distillery
Venture Whiskey Chichibu Distillery
| | |
| --- | --- |
| Location | 49 Midorigaoka, Chichibu City, Saitama Prefecture, 368-0067 Japan |
| Start of operations | 2007 |
Single malt whiskey production rooted in the climate of Chichibu is carried out.
Mr. Ichiro Akuto, the founder of the distillery, takes pride in producing Japanese whiskey, and is committed to handcrafting malt whiskey using small mills, mash tuns, Quercus fermenters, and pot stills made by Forsyth in Scotland.
The area around the Chichibu distillery is rich in nature, with clean air, good quality water, high temperatures and humidity in the summer, and cold temperatures that reach below freezing in the morning and evening. The difference in temperature between the two regions has a profound effect on the maturation of the whiskey, resulting in a fruity and well-balanced whiskey despite the short maturation period.
September 2004 Founded.
2007 Chichibu distillery was completed.
February 2008 License to make whiskey was issued and
we began making whiskey at the Chichibu distillery.
October 2019 The second distillery will begin operations.

This distillery was established after Suntory Hakushu Distillery and Kirin Fuji Gotemba Distillery, which were established in 1973. The distillery was established in 1973 after Suntory Hakushu Distillery and Kirin Fuji Gotemba Distillery. The first distillery established in Japan in 35 years. This was the end of the whiskey slump.
The annual whisky production is only two days' worth of the Glenlivet distillery in Scotland.
The second distillery, which has been in operation since the fall of 2019, has a production volume that is a whopping two times that of the first distillery. 5 times The second distillery, which will be operational in the fall of 2019, will produce a whopping 1.5 times more malt than the first. The pot still is the same shape as the first distillery, but it is much larger so that it can distill five times as much malt. It is made by Forsythe. Gas direct-fired distillation machine It is made by Forsythe.
For more information on Chichibu Distillery, please see also.
3. Product name and photo
Ichiro's Malt & Grain 505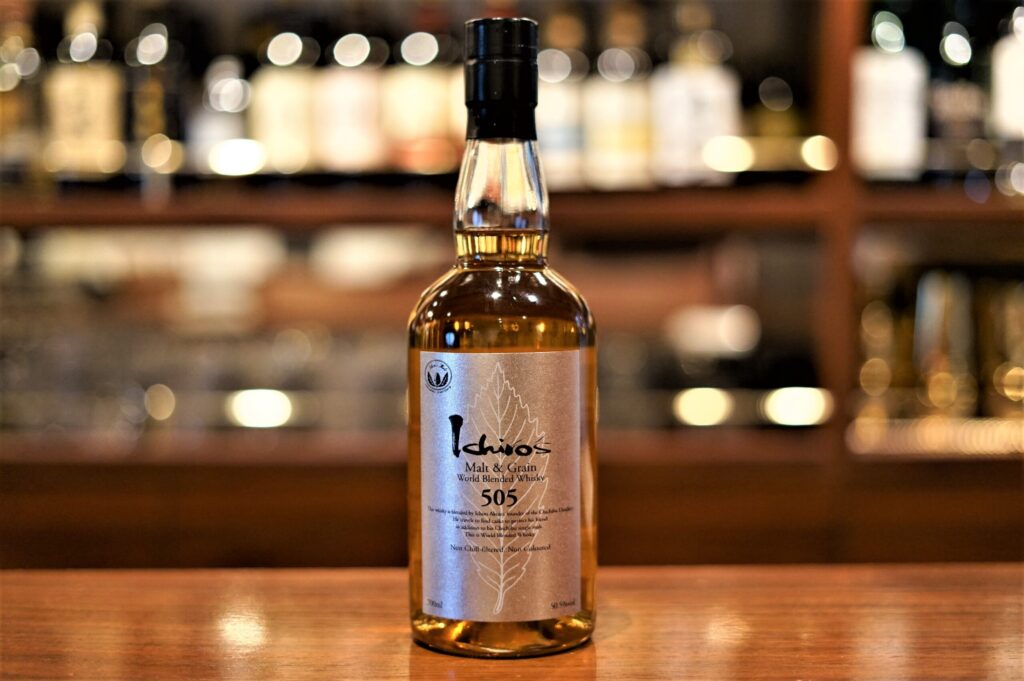 ¥13,000
(2022/09/24 23:55:57時点 楽天市場調べ-
詳細)
4. Characteristics.
A world blended whisky with a strong malt flavor.
The 505 has an oriental aroma of incense (faintly sandalwood-like) and ginger spiciness typical of Ichiro's Malt. The feeling is very well balanced and delicious.
This whisky has a higher percentage of malt than the current White Label, so you can taste the maltiness. It's a great whiskey to drink with a hint of sherry.
This product is non-chill filtered*1 and bottled in natural color to allow you to enjoy the character of the original.

*1 Non-chill filter: Whisky undiluted sake aged in barrels has a blended flavor component that precipitates*2 when the temperature decreases and becomes cloudy. In order to prevent this from happening, whisky is usually filtered after being cooled down to about 0 to 5 degrees Celsius. The ingredients that precipitate when cooled are either malt-derived or barrel-derived, both of which are considered to be flavor components of whiskey. The fact that the whiskey is not cooled and filtered means that it is bottled with the flavor components of the malt and barrels intact, resulting in a whiskey with a more complex and richer taste.
*2 Precipitation: The separation of crystals or individual components from a liquid substance.
4-1. Tasting Notes
| | |
| --- | --- |
| Aroma | The aroma is spicy, with a hint of sweet vanilla, gradually changing to a sweet, chocolate-like aroma. |
| Taste | Spicy, minty, bitter-sweet with a salty and robust maltiness. |
| Aftertaste | Smooth and bitter, with a slight sherry aftertaste. |
4-2. Product Specifications
| | |
| --- | --- |
| Alcohol content | 50.5% |
| Classification | Blended |
| Barrel type | Not disclosed |
| Contents | 700ml |
| Number of bottles sold | Number of bottles sold |
| Suggested retail price | 8,250 yen (tax included) |
| Release date | June 26, 2020 |
Awards received
No awards have been received at this time.
6. Price
6-1. Manufacturer's suggested retail price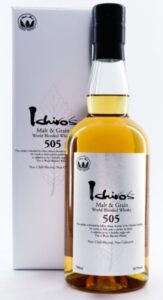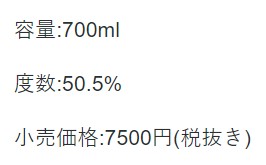 | | |
| --- | --- |
| Product name | Strawberry Malt & Grain 505 World Blended |
| Volume | 700ml |
| Suggested retail price | 7,500 yen (tax included: 8,250 yen) |
6-2. Resale price on Mercari
The resale price on Mercari is Around 12,000 yen The resale price on Mercari is as follows. (*as of February 24, 2021)


6-3. Sold price on Yahoo Auction
The winning bid price on Yahoo Auction is Lowest bidder: 8,000 yen, Highest bidder: 160,000 yen, Average bidder: 23,486 yen (*Statistics for the past 120 days from February 24, 2021)
The highest price of 160,000 yen was for a set of 12 bottles. The highest price of 160,000 yen was sold as a set of 12 bottles. It seems that many people sell multiple bottles at once.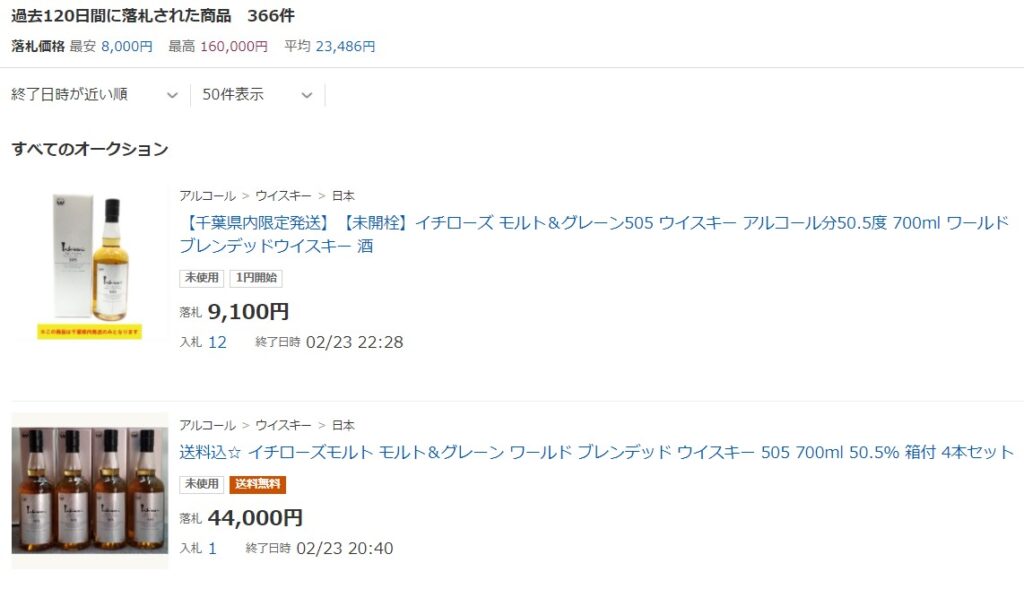 6-4. Rakuten, Yahoo Shopping, Amazon
It is also sold at mail order sites. Around 14,000 yen It is also sold at (*As of February 24, 2021)

¥13,000
(2022/09/24 23:55:57時点 楽天市場調べ-
詳細)
6-5. Price offered at BAR Shinkai
At "BAR SHINKAI" , which is operated by this site, we offer it in small quantities such as 1 glass, 45ml: 2,640 yen 30ml:1,760yen 15ml: 880 yen We also offer it in small quantities such as .
7. Summary
Ichiro's Malt & Grain 505 has a sweet aroma from the moment you open the bottle. The mouthfeel is mellow and features a sweet barrel aroma.
With a little watering, it becomes smoother and the sweet fruity aroma becomes more pronounced. The taste is not vanilla sweetness, but rather a refreshing fruit acidity and sweetness, with a hint of sherry at the end, making it a whiskey with complexity.
If you drink it with soda, both the aroma and the taste become even sweeter and easier to drink, so if you don't like alcohol, try a highball.
As can be said for the entire Leaf series of Ichiro's Malt, it is a whisky that is "extremely difficult to obtain" , and is sold on the Internet at a pre-price of two to three times the list price. This 505 is no exception, and is a whisky that you don't often see at a fixed price, but when it was first released it was circulating on the Internet at around 30,000 yen. I think the price has calmed down a bit, but it is still circulating at 12,000 yen to 14,000 yen, almost double the regular price. This is the fate of strawberry malt, and I can't say I'm surprised.
Please check out the other articles about Ichiro's Malt.
Lastly: Recommended Books on Japanese Whisky
If you want to learn more about Japanese whisky, which is a global trend, we highly recommend these books.
In the December 2021 issue of Whisky Galore, published by the Whisky Culture Research Institute, we report on 11 Japanese craft distilleries, including some that are open to the public for the first time, under the title of "Japanese Whisky Craft Frontline," the first of three consecutive issues. Why did the popularity of Japanese whiskey and the craft boom occur? We will examine with interviews. Chichibu Distillery / Chichibu No.2 Distillery / Mars Shinshu Distillery / Mars Tsunuki Distillery / Kanosuke Distillery / Hioki Distillery / Ontake Distillery / Osuzuyama Distillery / Kaikyo Distillery / Hanyu Distillery / Konosu Distillery
¥1,320
(2022/09/25 13:57:54時点 Amazon調べ-
詳細)
This is a book written by Mamoru Tsuchiya, a world-famous whisky critic and representative of the Whisky Culture Research Institute, titled "Japanese Whisky as a Culture that Works for Business" .
The book covers the basics of whisky, the introduction of whisky to Japan, the birth of Japanese whisky, advertising strategies and the rise of Japanese whisky, and the current rise of craft distilleries. This is a book that summarizes Japanese whisky in a very easy to understand way.
Masataka Taketsuru, the founder of Nikka Whisky, devoted his life to brewing whisky in Japan. This is a revised and reprinted version of the autobiography of a man who simply loved whiskey and talked about himself. The book vividly depicts the days when he went to Scotland alone to study as a young man and overcame many hardships to complete Japanese whisky, as well as his companion, Rita.
Launching in 2019. With the world experiencing an unprecedented whisky boom, what were the managers of craft distilleries thinking and what were their thoughts as they took on the challenge of making whiskey? This book tells the stories of 13 craft distillery owners, including Ichiro Hido of Venture Whisky, famous for his Ichirose Malt, who inspired the birth of craft distilleries in Japan.
This is the Japanese version of Whisky Risng, published in the US in 2016, with much updated content. Not only does it describe the history of Japanese whiskey in detail, but it also includes data on all the distilleries in Japan, including the craft distilleries that have been founded in recent years. The book also includes descriptions of the legendary bottles that have been released, as well as information on bars where Japanese whisky can be found.