This is a blended malt whisky made by exchanging the raw materials ofChichibu Distillery and Shinshu Mars Distillery. This is the first initiative of its kind in the Japanese whisky industry.
The Chichibu distillery started operations in 2008 and the Honbo Shuzo Mars Shinshu distillery resumed distilling in 2011.
This project was started in the hope that the exchange of raw spirits, which is commonly done in Scotland, could be realized in Japan.
This project, launched by two highly motivated distilleries in pursuit of new possibilities for Japanese whisky, began six years ago in April 2015 with the exchange of each other's raw spirits (new pots).
The Chichibu distillery is rich in nature, with the benefit of the Arakawa River and the temperature differences unique to the basin, while the Mars Shinshu distillery is surrounded by beautiful forests at the foot of Mount Komagatake in the Central Alps.
The raw materials that were matured in these two different environments were blended in each place and expressed as a new character.
The soft and transparent fruity taste, and the layers of aroma carefully layered little by little, create a depth that can be felt slowly over time.
It is bottled with a high alcohol content, non-chill filtered, and natural color to take advantage of its characteristics.
This is a bottle filled with the charm and potential of Japanese whisky, which has many possibilities.
"It's a great way to secure raw spirits that we can't make ourselves, and to see how the quality of those spirits changes with the environment. The joint project was not just a simple sake exchange, but also a way for blenders and brewers to hone their skills. We believe that improving each other's skills as a manufacturer will lead to the improvement of the technical level and quality of Japanese whisky" (Mr. Ichiro Akuto, President of Venture whisky)
1. Maker
Venture whisky Co.
| | |
| --- | --- |
| Establishment | Established in 2004 |
| Head office location | 49 Midorigaoka, Chichibu City, Saitama Prefecture, 368-0067 Japan |
| Distilleries owned | Chichibu Distillery, Chichibu No.2 Distillery |
2. Distillery
Venture whisky Chichibu Distillery
| | |
| --- | --- |
| Location | 49 Midorigaoka, Chichibu-shi, Saitama 368-0067 |
| Start of operations | 2007 |
Single malt whisky production is rooted in the climate of Chichibu.
The founder of the distillery, Mr. Ichiro Hido, takes pride in producing Japanese whisky, and is committed to handcrafting malt whisky using small mills, mash tuns, Quercus fermenters, and pot stills made by Forsyth in Scotland.
The area around the Chichibu distillery is rich in nature, with clean air, good quality water, high temperatures and humidity in the summer, and cold temperatures that reach below freezing in the morning and evening. The difference in temperature between the two regions has a profound effect on the maturation of the whisky, resulting in a fruity and well-balanced whisky despite the short maturation period.
Established in September 2004.
The Chichibu distillery was completed in 2007.
In February 2008, a license to make whisky was issued and we started making whisky at the Chichibu distillery.
In October 2019, the second distillery will begin operations.

This distillery was established after Suntory Hakushu Distillery and Kirin Fuji Gotemba Distillery, which were established in 1973. This is the first distillery to be established in Japan in 35 years, at a time when the whisky slump is coming to an end.
The annual whisky production is only two days' worth of the Glenlivet distillery in Scotland.
The second distillery, which has been in operation since the fall of 2019, produces a whopping five times as much as the first distillery. The pot still is the same shape as the first distillery, but it is much larger so that it can distill five times the amount of malt. It is made by Forsythe and uses a gas direct flame distiller.
For more information on the Chichibu distillery, see also.
https://en.jpwhisky.net/2021/01/01/japanesedistillery-2/#3-2_Venture_Whisky_Chichibu_Distillery"]
Mars Shinshu Distillery
| | |
| --- | --- |
| Address | 4752-31 Miyata-mura, Kamiina-gun, Nagano 399-4301 Japan |
| Start of operation | in 1985 |
It was in 1949 that Honbo Shuzo, which had been striving to make shochu, a Japanese distilled liquor, in Kagoshima, obtained a license to produce whisky. Since then, the company has been holding onto the dream of one day producing a genuine whisky that takes advantage of the Japanese climate.
In 1960, after several years of whisky production in Kagoshima, he established the Mars Yamanashi Winery
in Yamanashi, a factory for wine and whisky production. Then, in order to engage in whisky production in earnest, they searched for an even more ideal location.
The natural conditions for whisky production are very severe, including a cold climate with clean air, as well as moderate humidity and good quality water.
After searching for a site that met these conditions, we opened the Mars Shinshu Distillery in 1985 at an altitude of 798 meters at the foot of Mount Komagatake in the Central Alps of Nagano Prefecture, in search of the best environment for whisky production.
In 1992, the distillery stopped distilling due to sluggish demand for whisky. Later, as Japanese whisky began to be appreciated worldwide, the demand for whisky began to recover in 2009.
In September 2020, the distillery will be completely renovated for the first time in 35 years. The investment will be approximately 1.2 billion yen.
From May 2019, the whisky distillation building (including barrel storage) will be newly constructed for the purpose of renovating aging facilities, building barrel storage facilities with an eye to increasing whisky production, and observing whisky production, and the visitor building will be newly constructed for the purpose of selling original whisky and goods, and existing facilities and equipment will be renovated.
The new whisky distillery building has a total floor area of 1,996 square meters (including a barrel storage room that will hold approximately 2,500 barrels), and the visitor building has a floor area of 746 square meters.
Reference: Honbo Shuzo official website
■Production capacity: 1.1 tons of raw malt/day
■Production capacity: approx. 700L/day, approx. 185KL/year (to be determined in FY2020)
■Brewing capacity: approx. 700 liters/day, approx. 185 kl/year (planned for FY2020)
Major equipment: 1 malt grinding machine, 1 mash tun reuter (saccharification tank) 6KL x 1, stainless steel fermentation tanks 6KL x 3, Douglas fir wooden fermentation tanks (relocated) 6KL x 3, first distillation kettle (relocated)
For more information about Mars Shinshu Distillery, please see here↓.

https://jpwhisky.net/2021/01/01/japanesedistillery/#4-3″]
3. Product name and photo
Ichiro's Malt Double Distilleries Chichibu x Komagatake 2021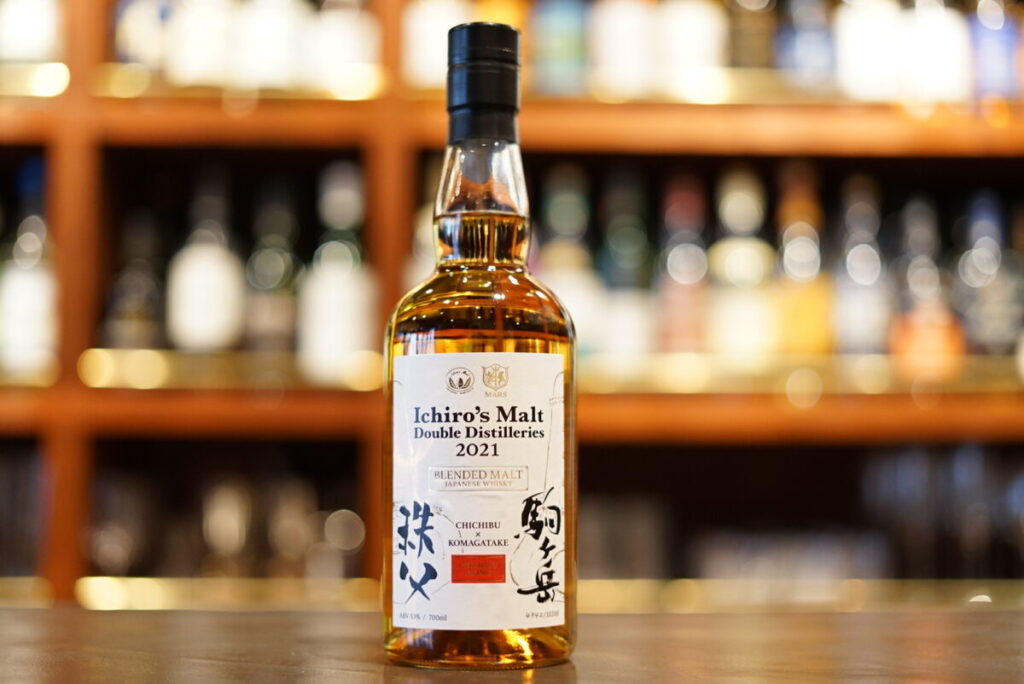 4. Characteristics
 As a result of the joint project, the two companies exchanged the raw materials and matured them at the new pot stage, which broadened the range of expression for the brewers and enabled them to have a richer variety of raw materials. In addition, confirming changes over time during the maturation process provides experience and helps blenders and brewers to improve their skills. We have a deep understanding of the characteristics of each other's raw materials, and it is only through the presence of the raw materials of both companies that we have been able to express our tastes. Both companies have taken the first step to take on a new challenge to achieve the ideal taste, which was made possible by the mutually trustworthy quality of the raw materials of Ichirose Malt and Mars whisky.
The two companies hope that this initiative will bring new recognition to the diverse appeal of Japanese whisky, and that the exchange of raw spirits between whisky makers will lead to improvements in technical standards and quality, and provide an opportunity to further enhance the quality of Japanese whisky. We will continue to exchange raw spirits in the future. Through this joint project, we hope that many people, including whisky fans, will be able to learn about the new possibilities of Japanese whisky and enjoy it.

Quotes: Ichirose Malt and Mars whisky whisky whisky joint project to be released
4-1. Tasting Notes
| | |
| --- | --- |
| Aroma | Refreshing fruit aroma with a sweet maple syrup-like scent. |
| Taste | A fruity sweetness like green apple, muscat and white peach stands out. |
| Aftertaste | After the sweetness, it turns into a savory taste like burnt bread. |
4-2. Product Specifications
| | |
| --- | --- |
| Alcohol content | 53% alcohol by volume |
| by alcohol | Blended malt |
| Barrel type | – |
| Contents | 700ml |
| Number of bottles sold | Limited to 10,200 bottles |
| Suggested retail price | 16,500 yen (tax included) |
| Release date | April 2021 |
5. Awards
There is no award history at this time.
6. Price
6-1. Manufacturer's suggested retail price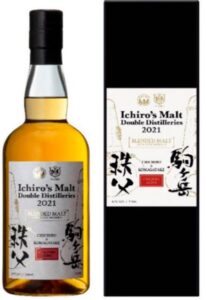 | | |
| --- | --- |
| Product name | Ichirose Malt Double Distilleries Chichibu x Komagatake 2021 |
| Capacity | 700ml |
| Suggested retail price | Tax included: 16,500 yen |
6-2. Resale price on Mercari
The resale price on Mercari is around 120,000 yen to 150,000 yen.(*As of May 7, 2021)


6-3. Sold price on Yahoo Auction
The lowest bid price on Yahoo Auction was 100,000 yen, the highest was 167,000 yen, and the average was 128,257 yen(based on statistics for the past 120 days from May 7, 2021)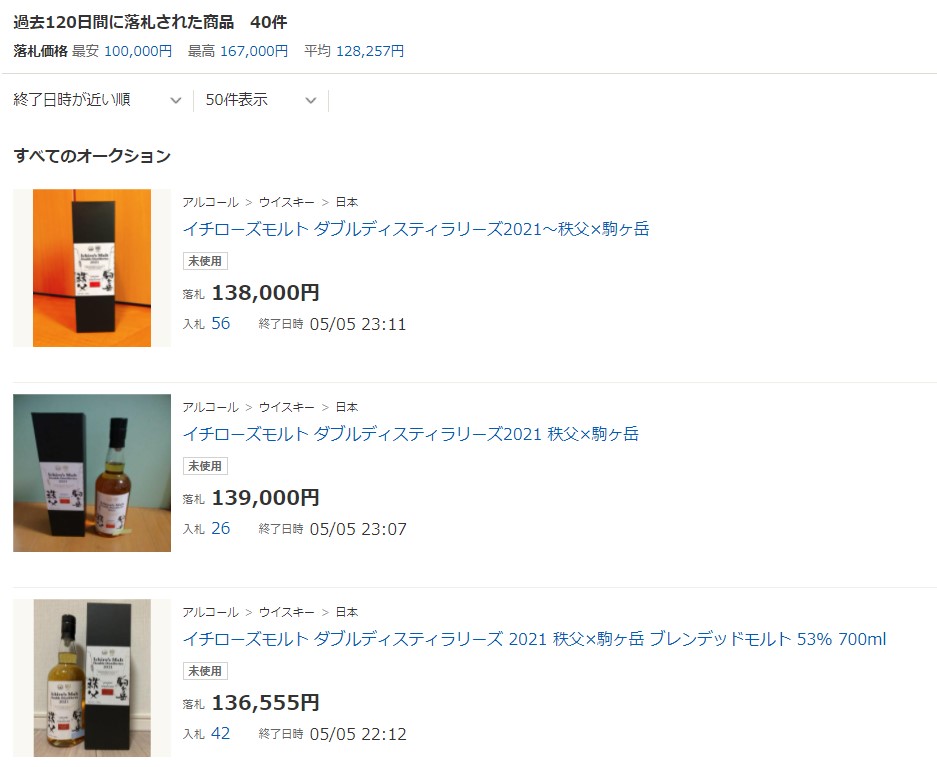 6-4. Rakuten, Yahoo Shopping, Amazon
The price ranges from around 150,000 yen to 200,000 yenat mail order sites. (*As of June 3, 2021)
6-5. Price offered at BAR SHINKAI
At "BAR SHINKAI", which is operated by this website, a singleglass is offered at 45ml: 4,950 yen, 30ml: 3,300 yen, 15ml: 1,650 yen.
https://en.jpwhisky.net/about-2/barshinkai-4/
7. Summary
The release of new products from the Saburoumaru Distillery and Nagahama Distillery on March 30, 2012, through an exchange of raw spirits, was also just a hot topic within the Japanese whisky industry.
This time, the Komagatake x Chichibu blended malt was a joint project that had been underway since 2015, six years ago, and it seems to have been a new attempt after many years. While the exchange of malt has been a common practice in Scotland, it is an initiative that defies common sense, something that had never been considered in Japanese whisky before. A new history has been written in the history of Japanese whisky. I am sure that the Japanese whisky industry will become more and more exciting as more and more such efforts are made in the future.
At the moment, there are only a limited number of distilleries in Japan that can produce grain malt, but I am hopeful that the day when blended whisky can be produced by exchanging malt and grain malt is not far off.
■Please check out the other articles about Ichirose Malt.
https://en.jpwhisky.net/2021/04/26/ichiros-maltgrain-japanese-blended-whisky-limited-edition-2021-2/
https://jpwhisky.net/2021/01/13/ichiros-maltgrain-world-blended-whisky-limited-edition/
Finally: Recommended Books on Japanese Whisky
If you want to know more about Japanese whisky, which is a global trend, and want to learn more about it, we highly recommend these books.
This is a book written by Mamoru Tsuchiya, a world-famous whisky critic and representative of the Whisky Culture Research Institute, titled "Japanese Whisky as a Culture that Works for Business."
The book covers the basics of whisky, the introduction of whisky to Japan, the birth of Japanese whisky, advertising strategies and the rise of Japanese whisky, and the current rise of craft distilleries. This is a book that summarizes Japanese whisky in a very easy to understand way.
The April 2021 issue of Whisky Galore, published by the Whisky Culture Research Institute.
This issue of Whisky Galore, published by the Whisky Culture Research Institute, features the definition of Japanese whisky and a list of 24 distilleries as the latest in Japanese whisky. It also includes an interview with Suntory Chief Blender Shinji Fukuyo, making it a must-have for Japanese whisky fans.
This is the Japanese version of Whisky Risng, published in the US in 2016, with much updated content. Not only does it describe the history of Japanese whisky in detail, but it also includes data on all the distilleries in Japan, including the craft distilleries that have been founded in recent years. The book also includes descriptions of the legendary bottles that have been released, as well as information on bars where Japanese whisky can be found.