1. Hokkaido Region

A distillery that was started in 1936 in search of his own whisky-making utopia by Masataka Taketsuru, the founder of Nikka Whisky, the father of Japanese whisky.
Masataka Taketsuru believes that a place with a cool and humid climate similar to Scotland, rich water sources and dignified clear air is essential for making ideal whisky, so he chose Yoichi, located in the base of the Shakotan Peninsula, west of Otaru, from among various candidate sites.
A whisky distillery that can be said to be the origin of Nikka Whisky.
Location
〒046-0003
7-6 Kurokawa-cho, Yoichi-cho, Yoichi-gun, Hokkaido
Access
2-3 minutes on foot from YOICHI STATION, JR HOKKAIDO
Approximately 30 minutes' drive from Otaru City
Approximately 1 hour and 30 minutes' drive from Sapporo City
Approximately 2 hours and 30 minutes' drive from New Chitose Airport
Started operation.
1936
Official website
Nikka Whisky Yoichi Distillery
Inspection
General tour available / Distillery guided tour is by reservation only
* If priority measures such as declaration of a state of emergency and prevention of spread are issued or applied to regions in Hokkaido, tours and business (restaurants and shops) will be suspended until it is canceled.
Commodity
Single Malt Yoichi
On-site shop
Nearby gourmet
Tabelog Hotpepper Gurunavi Yahoo!
Accommodation and Tours
Jalan Ikkyu Rakuten Travel JTB HIS

Hurusato Nouzei

Yoichi wine and yoichi taste
Typical whisky from Yoichi Distillery
[Product List Catalog] Nikka Whisky - Japanese Whisk...
From current products such as Yoichi, MiyagiKyo, and Taketsuru, to rare products and limited items that have been sold at the end, we introduce a list of sites where you can pur...
1-2. Kenten Jitsugyo Akkeshi Distillery
"Akkeshi Distillery" launched by Kenten Jitsugyo Co., Ltd. as a new business separately from its main business
Based on the strong desire to make whisky like Islay malt using traditional Scottish manufacturing methods, the facility was introduced by Forsyth in Scotland.
Like islay whisky making, water through the peat layer is used for water, and it is aging every day in Akkeshi, a place where cool, moist, and sea breeze hits.

Typical whisky of Akkeshi Distillery

¥69,800
(2023/03/23 00:00:52時点 楽天市場調べ-
詳細)
1-3. Hokkaido Liberty Whisky Benizakura Distillery
Benizakura Distillery is made by Hokkaido Liberty Whisky in Sapporo City, Hokkaido.
It's now a distillery that's talked about in craft gin, not whisky. Gin distilled using ingredients unique to Hokkaido has a unique taste and quickly became a hot topic.
The company name is "Hokkaido Liberty Whisky Co., Ltd." , but so far there is no information on whisky making at Benizakura Distillery, so pay attention to future movements.
Typical craft gin at Benizakura Distillery

¥4,488
(2023/03/23 00:00:52時点 楽天市場調べ-
詳細)
1-4. Hakkai Brewery Niseko Distillery
Hakkai Brewery Co., Ltd. (Minamiuonuma City, Niigata Prefecture), which manufactures Japanese sake such as "Hakkaisan", established a local subsidiary (Niseko Distillery Co., Ltd.) in 2019.
Construction of a whisky distillery began in Niseko, Hokkaido in April 2020 and completed in December. The total investment will be JPY 500 million.
Distillation begins on March 24, 2021. Podstils are made by Forsyth Scotland and whisky is expected to be available after 2024.
The annual production target is about 90 kl.
The site area is about 9,900 square meters, and both one-story distillery (including stores) and storage facilities have been constructed. The total floor area is 877 m2 and 291 m2, respectively, and the design is wooden style that blends into the surrounding landscape.
We opened a product sales corner around July 2021. The company plans to start selling original gin, sake, and goods.
→ Grand Opening on October 1, 2021. Launched the first craft gin "ohoro GIN" and started a distillery tour. Ohoro means "continue" in Ainu language. The distillery tour is scheduled to be fully booked in advance from two weeks ago to noon the day before, and the number of visitors per visit is expected to be up to 10 people.
1-5. Kamui Whisky co.
Casey Wahl, an American entrepreneur, has been visiting Rishiri many times for several years on trips and other occasions. He has come to see the island's rich nature and cool climate, which are similar to those of Islay, a famous whiskey-producing region, and decided to make whisky in Rishiri, the northernmost island in Japan, in 2019.
He is enthusiastic about the project, saying, "I want to make something that expresses the nature of the island." The distillery will be built along Kamui Beach on the west side of the island, which commands a panoramic view of Rebun Island and the Sea of Japan. The facility, including the distillery and office, is approximately 180 square meters in size. It is a one-story wooden structure with black painted walls, and uses two distillation machines that were handmade by craftsmen in the United States. Using barley from Hokkaido and England, the distillery will produce approximately 6,000 to 10,000 liters per year and mature it for three years before selling it. The cost of the project is undisclosed.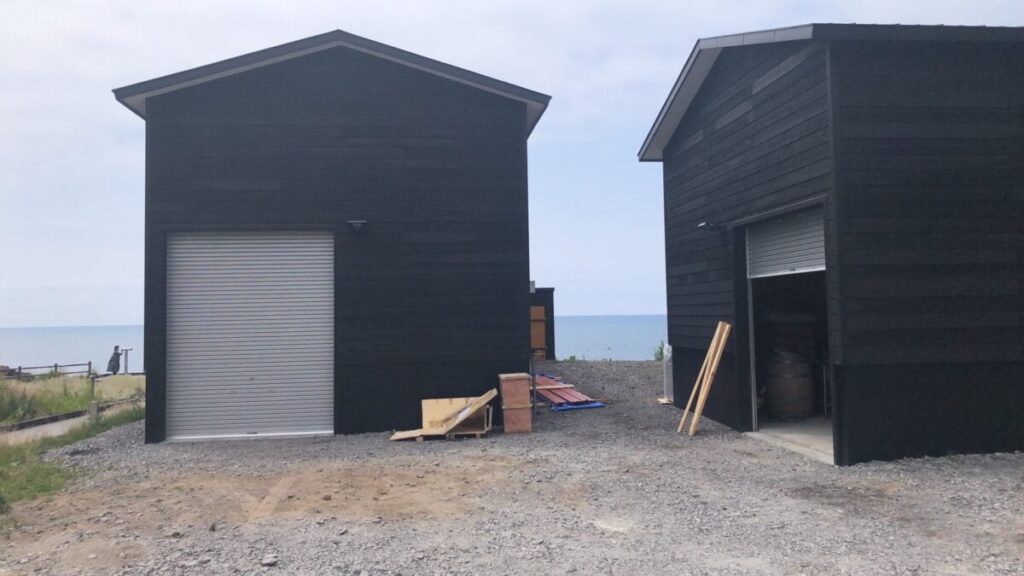 Location

〒 097-0401
128-2, Aza Kamii, Kutsugata, Rishiri-cho, Rishiri-gun, Hokkaido

Access

Approximately 50 minutes by plane from New Chitose Airport to Rishiri Airport (*seasonal flights)

Approximately 6 hours from Sapporo to Wakkanai by car, and approximately 1 hour and 50 minutes from Wakkanai to Rishiri Island by ferry.

Start of operation
Distillation is scheduled to begin in September 2022
Official HP
Kamui whisky
Inspection
ー
Product
ー