"Akkeshi Single Malt Japanese Whisky Keichitsu", the tenth in the Akkeshi Whisky "Twenty-Four solar terms Series" has been released.
This is the first release in about three months since the last Single Malt Japanese Whisky Taisetsu was released.
| | | |
| --- | --- | --- |
| The first release | Single Malt Whisky Kanro | Released on October 28, 2020 |
| The second release | Blended Whisky Usui | Released on February 28, 2021 |
| The third release | Single Malt Japanese Whisky Boshu | Released on May 28, 2021 |
| The fourth release | Blended Whisky Shosho | Released on August 25, 2021 |
| The fifth release  | Single Malt Japanese Whisky Ritto | Released on November 25, 2021 |
| The sixth release | Blended Whisky Daikan | Released on February 25, 2022 |
| The seventh release | Single Malt Japanese Whisky Seimei | Released on May 30, 2022 |
| The eighth release | Blended Whisky Taisho | Released on August 26, 2022 |
| The ninth release | Single Malt Japanese Whisky Taisetsu | Released on December 5, 2022 |
| The tenth release | Single Malt Japanese Whisky Keichitsu | Released on February 27, 2023 |
The plan was to release the Twenty-Four solar terms series alternating between single malt and blended, but here we are with a series of single malt releases. What happened?
The "Twenty-Four solar terms" are the 24 equal divisions of the year and are named to represent the seasons, such as "Risshun" and the "Geshi".
"Keichitsu" is the third day of the Twenty-Four solar terms, with "Kei" meaning "open" and "Chitsu" meaning "insects stay in the ground for the winter". It represents the time when the earth warms up and hibernating insects emerge from their holes to feel the arrival of spring.
The temperature at the time of "Keichitsu" averages 12 to 15 degrees Celsius, with the temperature rising day by day as we approach the warm weather of spring. In addition to an increase in the activities of living creatures, plants also become more active with the growth of new buds.
On the other hand, the amount of cedar pollen dispersed mainly in eastern Japan around this time is high, and many people may be experiencing the peak of hay fever right now.
The bear on the label looks the same as it did during the last heavy snowfall, but…, its eyes are open, perhaps coming out of hibernation.

1. Manufacturer
Kenten Jitsugyo Co.
| | |
| --- | --- |
| Established | 1982 |
| Head office | Imperial Hotel Tokyo, 1-1-1 Uchisaiwai-cho, Chiyoda-ku, Tokyo 100-0011, Japan |
| Owned distillery | Akkeshi Distillery |

2. Distillery
Akkeshi distillery
| | |
| --- | --- |
| Address | 109-2, Miyazono 4-chome, Akkeshi-cho, Akkeshi-gun, Hokkaido 088-1124, Japan |
| Start of operation | October 2016 |
2015 Started construction of the distillery
2016 Started distilling in October
2017 Second maturation warehouse completed
2018 February: First product release as Atsugishi distillery. Third maturation warehouse completed.
2020 February: First single malt whisky released.
    April: Fourth maturation warehouse completed
    October: First release of the Twenty-Four solar terms series.
2021 Construction of new milling building (operation starts in 2022)
Deep fog with tidal air, clear air, and abundant peat. We started distilling in 2016, believing that the climate of Akkeshi in Hokkaido will create the unknown Japanese whisky flavor we seek.
Like whisky distillation on the island of Islay, we use water that has passed through the peat layer as our brewing water, and the whisky is matured daily in "Akkeshi," a cool, humid, and sea-breezy place.
The area around Akkeshi is rich in deposits of peat, which is essential for flavoring whisky, and the varied topography of the sea, mountains, and marshes allows for different flavors to be expected at each location where the peat is collected.
With a strong desire to "make whisky like Islay malt using traditional Scottish methods," equipment was installed by Forsyth's of Scotland. All construction was carried out by Forsyth's craftsmen visiting Japan. The pot stills are straight-headed and onion-shaped, similar to those at some distilleries on Islay. Heating is by radiator system, the attached condenser is a shell-and-tube type, and the mash tun is a semi-reuter type.
The fermentation tank (washback) is stainless steel and the temperature is purposely not adjustable. The craftsman determines the timing of fermentation while letting nature take its course.
In addition to the two dunnage-type aging rooms, an innovative rack-type third cellar was completed in February 2018 right next to Akkeshi Bay, and a fourth cellar will be completed in April 2020 on a hilltop overlooking Akkeshi Bay. The scent of the sea in the air is expected to have a positive effect on the characteristics of the whisky.
In addition to bourbon and sherry barrels, the company also uses hard-to-find "Quercus serrata" barrels for aging. In addition, we are challenging every possibility, such as matching with wine and rum casks.
In addition, the barley used to make the whisky is grown in Akkeshi, and everything is produced in Akkeshi, including the peat and wooden barrels used for aging, with the goal of creating an "Akkeshi All-Star" whisky in the future. In August 2021, a new initiative was started to mature the distilled spirit at the Atsugishi distillery in Furano on a trial basis.
What kind of changes will be brought about by the sake matured in Furano? This is exactly what terroir is all about, taking advantage of the great individuality of not only the local Akkeshi distillery, but also of "Hokkaido." The idea of "terroir," which wine connoisseurs have probably heard a lot about, is incorporated into whisky, and the fusion of "the character of Akkeshi" and "the character of Hokkaido" to create whisky that makes use of the terroir of these lands is fascinating and the expectations are limitless.
Lake Akkeshi and Bekambeushi Marsh in the vicinity of Akkeshi Town are registered wetlands under the Ramsar Convention. The Ramsar Convention on Wetlands, adopted in Ramsar, Iran, on February 2, 1971, aims to conserve and make wise use of wetlands as habitats for waterfowl and other wildlife under international cooperation.
We, too, aim to be a distillery that protects and coexists with this rich natural environment.
The tap water used for whisky is taken from the Homakai River upstream of the Ohoro River, which runs near the distillery. The surrounding area is a marshland and a habitat for baikamo ducks, which are said to live only in clear water. The small white flowers that bloom in summer are a symbol of the abundant water. This water nurtures the whisky of Akkeshi.
Reference: Akkeshi Distillery official website
For more information about the Akkeshi Distillery, please see also here.↓
3. Product name and photo
Akkeshi Single Malt Japanese Whisky Keichitsu
Akkeshi Single Malt Japanese Whisky Keichitsu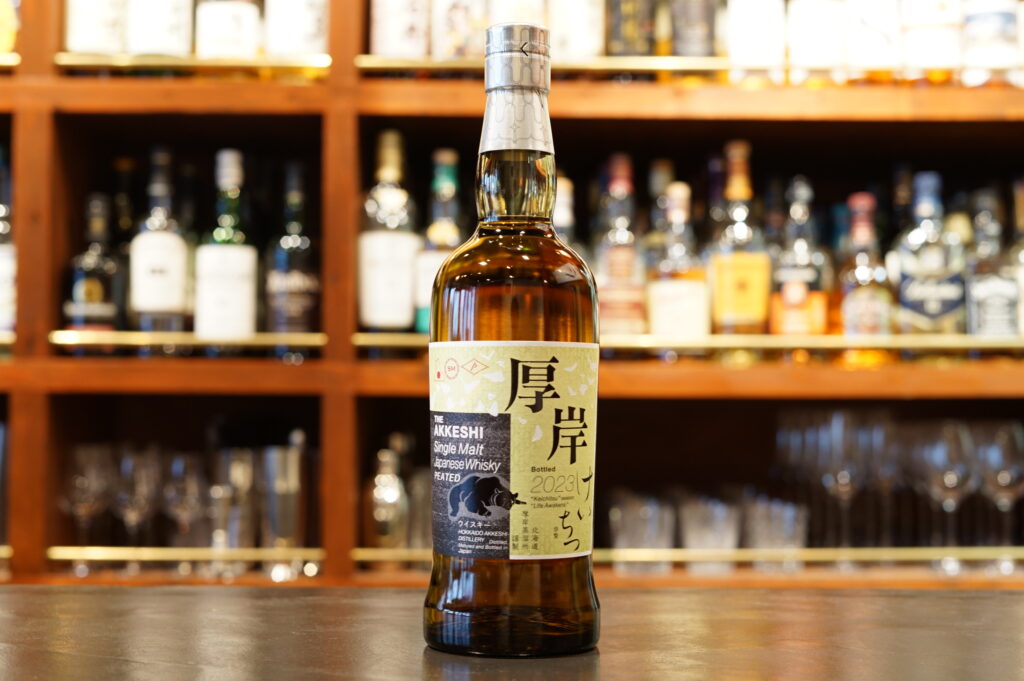 4. Characteristics
Key malt is "Mizunara oak barrels of all Hokkaido whisky".
The key malt is all Hokkaido Quercus crispula. This is now the standard for Akkeshi whisky.
This time, "Keichitsu" is fragrant and sweet, with a slight peaty aftertaste. The aroma and sweetness of the barley, like whole grain cookies, can be detected. The taste changes wriggly in the mouth and is medium bodied, not too light and not too heavy.
Tasting Notes:

Citrus fruits such as Daidai, Hassaku, tangerine, brown sugar, mitarashi dango, orange, lemon-like sweetness, and sourness.

Orange, lemon-like sweetness and acidity, manuka honey, white pepper, black tea, salted lemon

White pepper, black tea, salted lemon, caramel-like bitterness and sweetness

Reference:

Akkeshi Distillery official Facebook

4-1. Tasting Notes
| | |
| --- | --- |
| Aroma | Navel orange, cookie, burnt soy sauce, slight peat from the back. |
| Taste | Slightly acidic, savory and sweet like rusks and barley chocolate. |
| Aftertaste | Woody and slightly sweet with a slight earthy aftertaste. |
4-2. Product Specifications
| | |
| --- | --- |
| Alcohol content | 55% |
| By Sake | Single Malt Japanese Whisky |
| Cask type | Mizunara oak casks, etc. |
| Volume | 700ml |
| Number of bottles sold | Limited to 10,000 bottles |
| Suggested retail price | 19,800 yen (tax included) |
| Release date | February 27, 2023 |
5. Awards
No awards received at this time.
6. Price
6-1. Manufacturer's Suggested Retail Price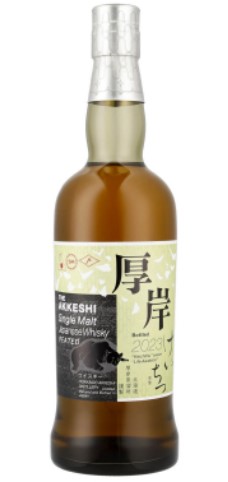 | | |
| --- | --- |
| Product name | Akkeshi Single Malt Japanese Whisky Keichitsu |
| Capacity | 700ml |
| Suggested Retail Price | Including tax: 19,800 yen |
6-2. Resale price on Mercari
The resale price on Mercari is 33,000-35,000 yen around. (*As of March 7, 2023)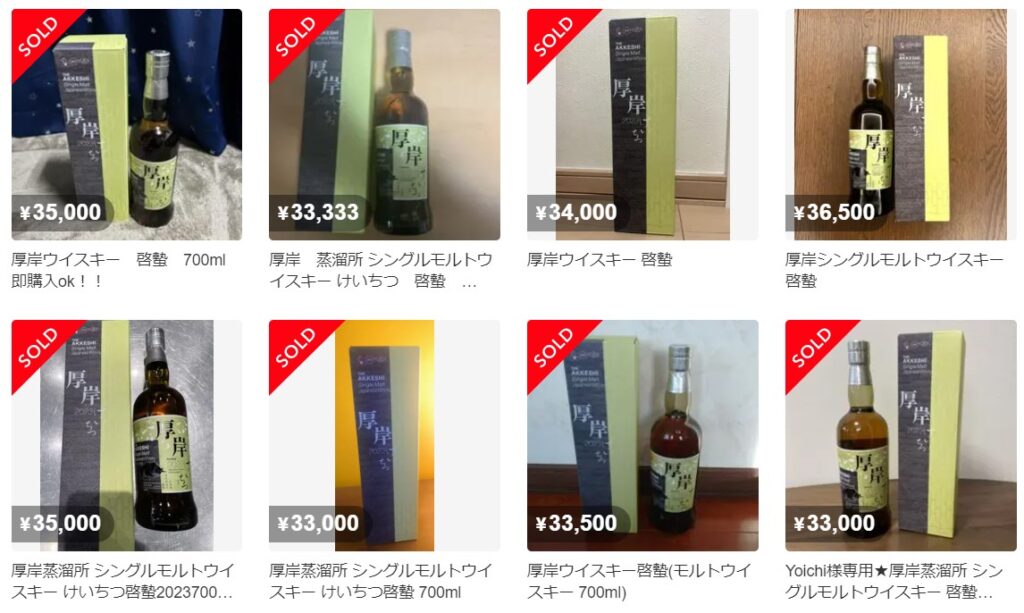 6-3. Sold price on Yahoo! Auctions
Sold price on Yahoo! Auctions: Lowest 32,003 yen Highest 39,500 yen Average 35,402 yen (*Statistics for the past 180 days from 3/7/2023)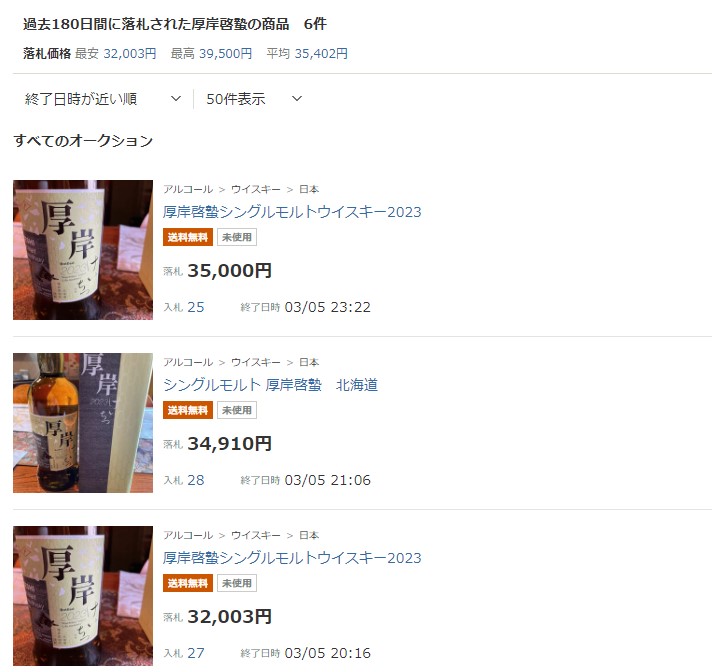 6-4. Rakuten, Yahoo Shopping, Amazon
It is also sold on mail order sites for around 40,000 yen, although it is sold as a set with other products. (*As of March 7, 2023)
6-5. Prices offered at BAR Shinkai
At "BAR Shinkai" operated by this site, we offer it in small quantities such as 1 glass, 45ml: 5,610 yen 30ml: 3,740 yen, 15ml: 1,870 yen.
7. Summary
This work is characterized by a savory-sweet aroma with a strong sense of barley. It also has a complex and thick flavor with some fruit acidity and a slight peaty aftertaste.
Akkeshi whisky is released about every three months, so the next release will probably be in May or June, around Rikka or Shoman.
It will also be interesting to see when the "Shunbun," "Geshi," "Shubun," and "Toji" will be released, as it is planned to use premium sake when they are released.
If you are interested in learning more about the Akkeshi Distillery, please check out BS Fuji's Whiskipedia in December 2020 for a feature on the distillery.
The program is not only about the appeal of Akkeshi whisky, but also about the nature of Akkeshi-cho, the fishing industry centering on oyster fishing, and the marriage of whisky and oysters from Akkeshi.
■Please also check other articles about "Akkeshi Distillery and Akkeshi Whisky".
Lastly: Recommended Books on Japanese Whisky
If you want to learn more about Japanese whisky, which is a global trend, we highly recommend these books.
In the December 2021 issue of Whisky Galore, published by the Whisky Culture Research Institute, we report on 11 Japanese craft distilleries, including some that are open to the public for the first time, under the title of "Japanese Whisky Craft Frontline," the first of three consecutive issues. Why did the popularity of Japanese whiskey and the craft boom occur? We will examine with interviews. Chichibu Distillery / Chichibu No.2 Distillery / Mars Shinshu Distillery / Mars Tsunuki Distillery / Kanosuke Distillery / Hioki Distillery / Ontake Distillery / Osuzuyama Distillery / Kaikyo Distillery / Hanyu Distillery / Konosu Distillery
¥1,320
(2023/03/21 01:01:51時点 Amazon調べ-
詳細)
This is a book written by Mamoru Tsuchiya, a world-famous whisky critic and representative of the Whisky Culture Research Institute, titled "Japanese Whisky as a Culture that Works for Business" .
The book covers the basics of whisky, the introduction of whisky to Japan, the birth of Japanese whisky, advertising strategies and the rise of Japanese whisky, and the current rise of craft distilleries. This is a book that summarizes Japanese whisky in a very easy to understand way.
Masataka Taketsuru, the founder of Nikka Whisky, devoted his life to brewing whisky in Japan. This is a revised and reprinted version of the autobiography of a man who simply loved whiskey and talked about himself. The book vividly depicts the days when he went to Scotland alone to study as a young man and overcame many hardships to complete Japanese whisky, as well as his companion, Rita.
Launching in 2019. With the world experiencing an unprecedented whisky boom, what were the managers of craft distilleries thinking and what were their thoughts as they took on the challenge of making whiskey? This book tells the stories of 13 craft distillery owners, including Ichiro Hido of Venture Whisky, famous for his Ichirose Malt, who inspired the birth of craft distilleries in Japan.
This is the Japanese version of Whisky Risng, published in the US in 2016, with much updated content. Not only does it describe the history of Japanese whiskey in detail, but it also includes data on all the distilleries in Japan, including the craft distilleries that have been founded in recent years. The book also includes descriptions of the legendary bottles that have been released, as well as information on bars where Japanese whisky can be found.