The long-awaited full bottle. This is the fifth season of whisky production in the town of Akkeshi, Hokkaido, and the long-awaited full bottle is now available.
In February, Akkeshi Distillery released its first whisky, Akkeshi Sarorun Kamui, and this October, Akkeshi Whisky Kanro, which will be released on October 28, 2020. About 15,000 bottles will be sold.
This is the first in a series of 24 seasonal festivals. This year's "Kanro" is usually around October 8th, which means it is right around this time of the year.
There will be a total of 24 different varieties, and the single malt and blended varieties will be released alternately.
The next release will be a blended version.
The company plans to release three to four bottles of the 24 varieties per year. If the pace is 3 bottles per year, it will take about 8 years to complete the series. I would really like to complete the series.
1. Manufacturer
Kenten Jitsugyo Co.
| | |
| --- | --- |
| Establishment | Established in 1982 |
| Headquarters location | Imperial Hotel Tokyo, 1-1-1 Uchisaiwai-cho, Chiyoda-ku, Tokyo 100-0011, Japan |
| Owned distillery | Akkeshi distillery |
2. Distillery
Akkeshi Distillery
| | |
| --- | --- |
| Address | 109-2, Miyazono 4-chome, Akkeshi-cho, Akkeshi-gun, Hokkaido 088-1124, Japan |
| Start of operation | October 2016 |
The Akkeshi Distillery opened in October 2016 with a strong desire to "make whiskey like Islay malt using traditional Scottish methods. A wide variety of equipment is required for whiskey making, including pot stills (single-stage distillers) used for making malt whiskey and mash tuns (saccharification tanks) for saccharifying malted barley.
The Akkeshi Distillery installed equipment made by Forsythe in Scotland in order to realize its goal of "making whiskey like Islay malt using traditional Scottish methods. Forsythe's craftsmen came to Japan to install the equipment.
As in the whiskey making process on the island of Islay, water that passes through a layer of peat is used for the brewing water, and the whiskey is matured day by day in Akkeshi, a place that is cool, moist, and exposed to the sea breeze.
The Akkeshi Distillery is the first whiskey distillery in Hokkaido in 80 years, following the Nikka Whisky Yoichi Distillery (Yoichi-cho, shirisibe District).
The area around the distillery is located in the wilderness where Ezo deer can be seen, and the water of the Homakai River is filtered through a peat layer and has a brownish color like the water on the island of Islay.
The land also seems to be capable of producing homemade peat using peat containing seaweed and peat containing plants.
In addition, the land is suitable for maturing whisky, with temperature differences between summer and winter exceeding 20 degrees Celsius and falling below -20 degrees Celsius.
Kushiro Marsh is protected by the Ramsar Convention, but if you build a distillery in the marsh, it will sink, so the foundation of the building must be 20 meters high.
4-109-2 Miyazono, Akkeshi-cho, Akkeshi-gun, Hokkaido 088-1124, Japan Kennten Jitsugyo Co.
The distillery tour is organized by "Taste Terminal Conchiglie ".
[Gallery columns="2″ link="file" size="full" ids="792,791,793,790″]
3. Product name
Akkeshi Single Malt Whisky Kanro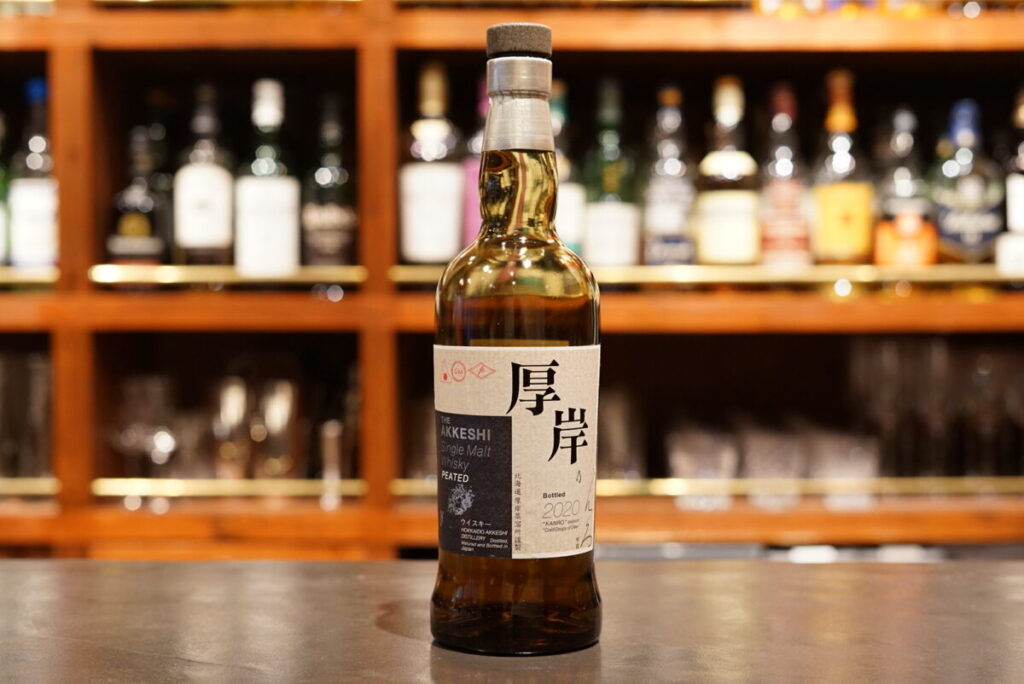 4. Characteristics
A blend of three year old wine, bourbon, sherry and Quercus barrels.
Each barrel is a combination of peated and unpeated, which means a total of eight different combinations of peated and unpeated barrels.
4-1. Tasting notes
| | |
| --- | --- |
| Nose | Aroma of sea tide, changing from smoky to bitter sweet. A touch of peatiness. |
| Taste | Spicy and pleasantly soft peatiness. Sweetness like dried fruits and chocolate. |
4-2. Product Specifications
| | |
| --- | --- |
| Alcohol content | 55% |
| alcohol category | Single malt whisky |
| Barrel type | Wine barrels, bourbon barrels, sherry barrels, Quercus serrata barrels |
| Contents | 700ml |
| Number of bottles sold | Approx. 15,000 bottles |
| Suggested retail price | 16,500 yen (tax included) |
| Release date | October 28, 2020 |
Awards received
No awards have been received at this time.
6. Price
6-1. Manufacturer's suggested retail price

| | |
| --- | --- |
| Product name | Akkeshi Single Malt Whisky Kanro |
| Capacity | 700ml |
| Suggested retail price | Tax included: 16,500 yen |
6-2. Resale price on Mercari
The resale price on Mercari is Around 25,000 yen to 35,000 yen The resale price on Mercari is as follows. (*As of November 3, 2021)


6-3. Sold price on Yahoo Auction
The current price on Yahoo Auction is Lowest price: 20,500 yen, Highest price: 40,501 yen, Average price: 25,623 yen (*As of November 3, 2021)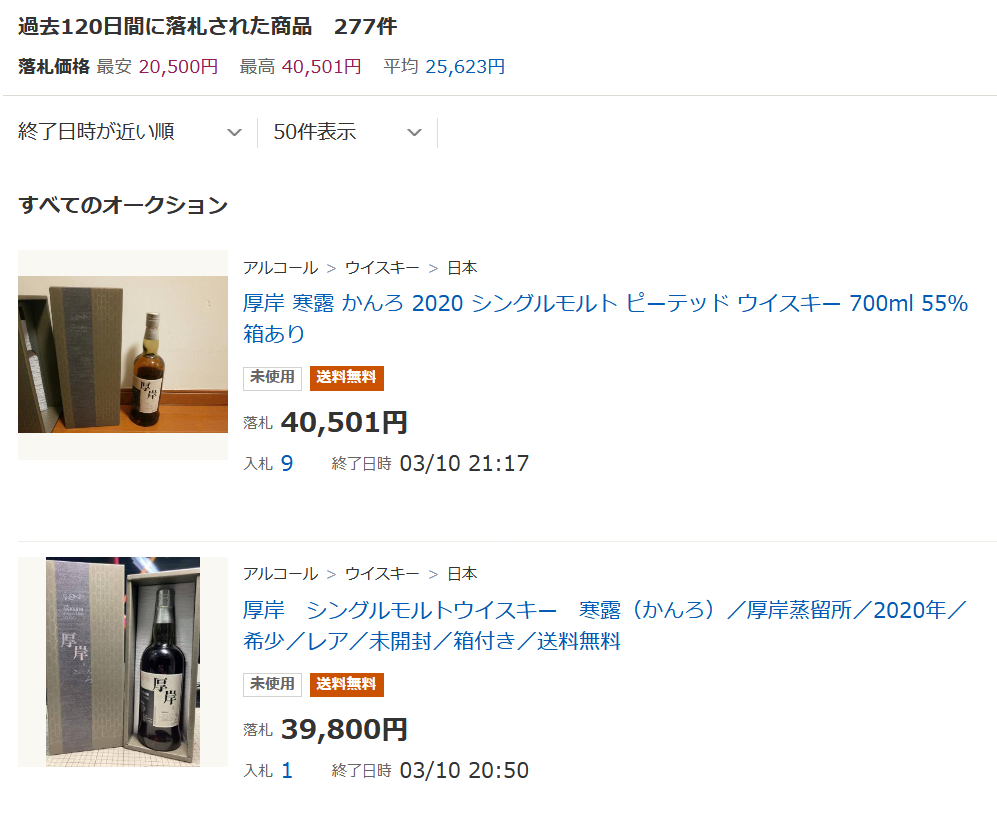 6-4. Rakuten, Yahoo Shopping, Amazon
It is also sold at Around 38,000 yen to 55,000 yen The current price on Yahoo! (*As of November 3, 2021)
6-5. Price offered at BAR SHINKAI
At "BAR SHINKAI", which is operated by this site, it is offered at 1 glass, 45ml: 6,600 yen, 30ml: 4,400 yen, 15ml: 2,200 yen (*As of November 3, 2021) Bar Shinkai, which is operated by this site, offers it at.
7. Summary
With an alcohol content of 55%, according to President Toita, it is about 30ppm smoky with a bitter sweetness lurking inside.
In the mouth, there is a spicy taste at first, but the sweetness also comes out later without the high alcohol content.
When watered down, it becomes quite mellow and delicious.
President Toita also informed me that the next release will have more peat than the current release. I'm very much looking forward to seeing what kind of whiskey it will be.
He said that his goal is to create an "all-star lineup" of barrels from the Akkeshi region, including refreshing breeze, peat, and Quercus, and he is steadily achieving this goal.
I can't help but pay attention to the future efforts of the Akkeshi distillery, which is not a copy of Islay.
Please take a look at the other articles about the Akkeshi distillery.