The Lucky Cat is a series of blended whiskies created using the blending techniques of Mars Whisky, with a motif of unique cats.
The Lucky Cat series was launched six years ago in honor of the cat-loving president of Honbo Shuzo. The Lucky Cat Choco, the sixth in the series, is based on the motif of Choco, a female cat with a curious and tomboyish personality, and is a blended whisky that is additionally matured (finished) in a port pipe, leaving a harmonious aroma of sweetness and savory, moderate tannins that tighten the whole, and a lingering aftertaste reminiscent of cocoa.
Successive generations of Lucky Cats
Part 1: The Lucky Cat "Sun", released on September 25, 2015, limited edition of 1,200 pieces, 4,400 yen (tax included)
Part 2: The Lucky Cat "Ash 99", released on August 25, 2016, limited edition of 4,300 pieces, 4,950 yen (tax included)
Third: The Lucky Cat "Mint", released on November 10, 2017, limited edition of 3,830 bottles, 4,400 yen (tax included)
Part 4: The Lucky Cat "May" – Released on September 22, 2018 – Limited edition of 3,387 bottles – 4,730 yen (tax included)
Part 5: The Lucky Cat "Hana" To be released on February 1, 2020 Limited edition of 3,000 units: 4,950 yen (tax included)
The Lucky Cat "Choco" to be released on March 4, 2021 Limited edition of 6,700 units: 4,950 yen (tax included)
1.Munufacture
Honbo Shuzo Co.
| | |
| --- | --- |
| Established. | 1872 |
| Headquarters address: | 3-27, Minamisakae, Kagoshima-city, Kagoshima prefecture 〒891-0122, Japan |
| Owned Distillery | Mars Shinshu Distillery Mars Tsunuki Distillery |
2. Distillery
Mars Shinshu Distillery
| | |
| --- | --- |
| Location | 4752-31 Miyata Village, Kamiina-gun, Nagano prefecture 〒399-4301, Japan |
| Start of operation | 1985 |
Honbo Shuzo, which had been striving to make shochu, a Japanese distilled spirit in Kagoshima, obtained a whisky manufacturing license in 1949. Since then, we had been holding on to the dream of one day producing real whisky that would make the most of the Japanese climate.
In 1960, after several years of whisky production in Kagoshima, we established the Mars Yamanashi Winery in Yamanashi, a factory for wine and whisky production. Then, in order to engage in whisky production in earnest, they searched for an even more ideal location.
The natural conditions for whisky production are very difficult to find, such as a cold region with clean air, moderate humidity, and good water.
In 1985, in search of the best environment for whisky production, we opened the Mars Shinshu Distillery at an altitude of 798 meters at the foot of Mount Komagatake in the Central Alps of Nagano Prefecture.
In 1992, the distillery stopped distilling due to sluggish demand for whisky. Later, as Japanese whisky began to be appreciated worldwide, the demand for whisky began to recover in 2009, and the distillery decided to resume distilling.
In September 2020, the distillery has been completely renovated for the first time in 35 years. The investment will be approximately 1.2 billion yen.
From May 2019, the whisky distillation building (including barrel storage) will be newly constructed for the purpose of renovating aging facilities, building barrel storage facilities with an eye to increasing whisky production, and observing whisky making. The visitor building will be newly constructed for the purpose of selling original whisky, goods, and existing facilities and equipment will be renovated.
The new whisky distillery building has a total floor area of 1,996 square meters (including a barrel storage room that holds approximately 2,500 barrels), and the visitor building has a floor area of 746 square meters.
Reference: Honbo Brewery official website
■Production capacity: 1.1t/day of raw malt
■Production capacity of raw liquor: about 700L/day, about 185KL/year
■Major equipment: 1 malt grinding machine, 1 mash tun (saccharification tank) 6KL x 1, 3 stainless steel fermentation tanks 6KL x 3, 3 Douglas fir wooden fermentation tanks (relocated) 6KL x 3, first distillation kettle (relocated)
For more information about Mars Shinshu Distillery, please see here↓.
3. Product name and Photographs
The Lucky Cat Choco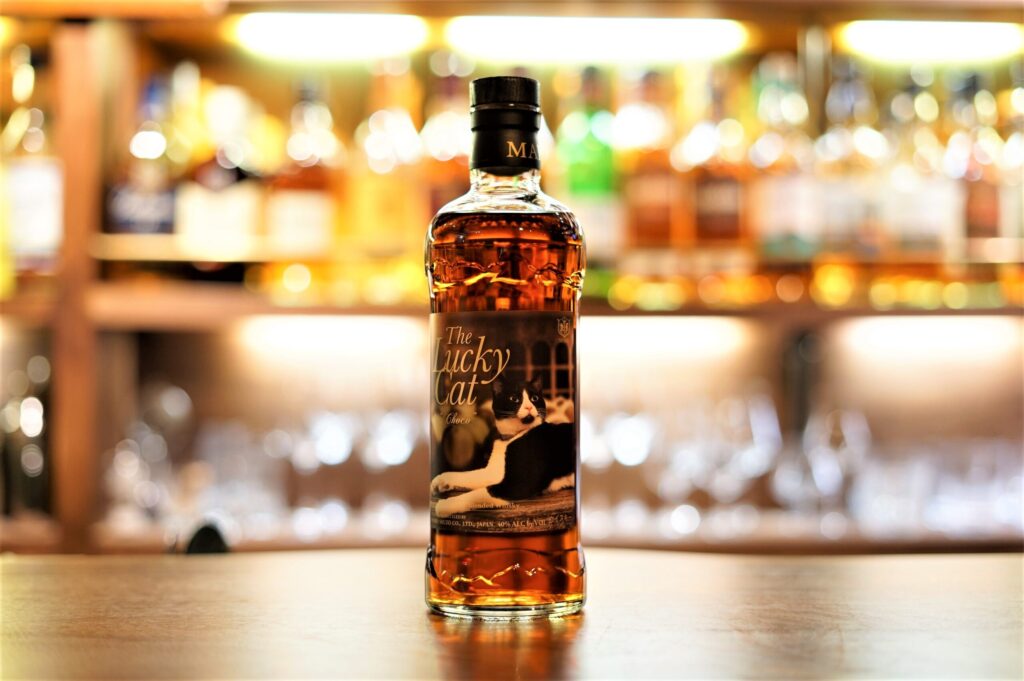 4. Features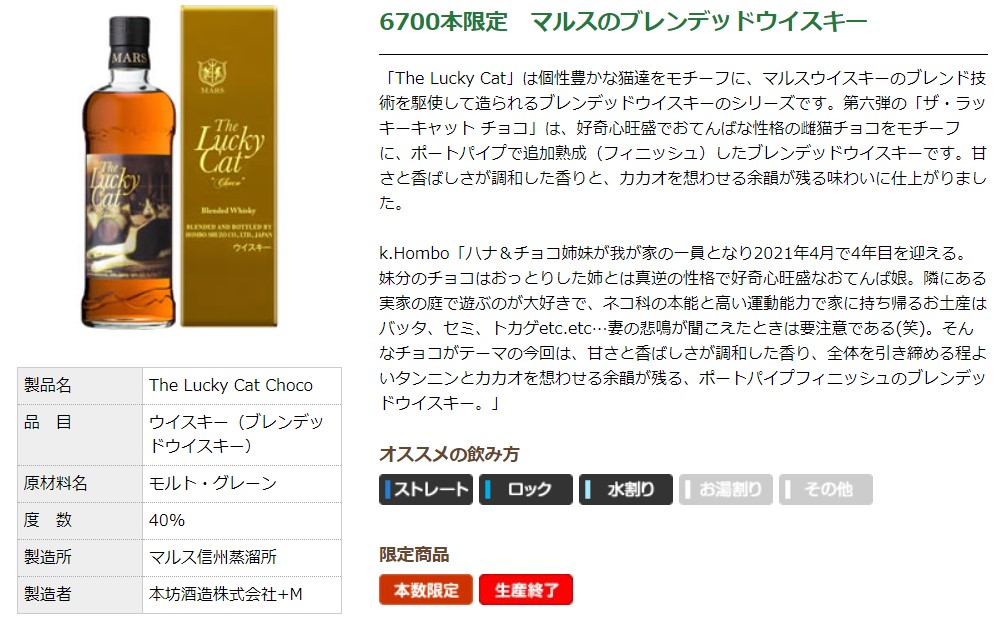 It is characterized by a deep richness with a full-bodied sweetness derived from port wine
This time, "The Lucky Cat Choco" is additionally aged in "port pipe barrels," and is characterized by a harmonious aroma of sweetness and savory notes, and a lingering aftertaste reminiscent of cocoa.
"Port pipe barrels are empty barrels that have been used to make port wine, with a pipe size of 410-650 liters. Port wine barrels are used for whisky storage. Using port wine barrels for storing whisky is said to give the whisky a blackcurrant-like aroma, sweetness, and a strong, viscous maturation.
4-1. Tasting Note
| | |
| --- | --- |
| Fragrance | Sweetness of chocolate, savory aroma like cookies |
| Taste | Not much alcohol, smooth mouthfeel, and deep sweetness like dark chocolate and cocoa |
| Aftertaste | Sweet oak aroma and savory, rich sweetness |
4-2. Product Specifications
| | |
| --- | --- |
| Alcohol contents | 40% |
| Type | Blended Malt |
| Barrel type | Port Pipe Finish |
| Contents | 700ml |
| Number of Bottles | Limited 6,700 |
| Suggested Retail Price | 4,500yen (Excluding Tax) |
| Release Date | March 4, 2021 |
5. Awards
There are no awards at this time.
6. Price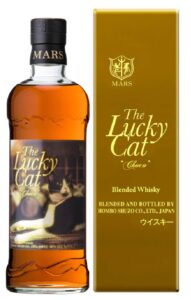 | | |
| --- | --- |
| Product name | The Lucky Cat Choco |
| Contents | 700ml |
| Suggested Retail Price | 4,500yen (excluding tax) |
6-2. Resale Price on Mercari
The resale price on Mercari is around 12,000yen. (*As of March 8, 2021)


6-3. Yahoo auction bidding price
The lowest bid price on Yahoo Auctions was 9,800 yen, the highest was 21,800 yen, and the average was 13,300 yen (*Statistics for the past 120 days since March 8, 2021)
The highest price of 21,800 yen was for a set of two bottles, so it seems that each bottle is sold for around 10,000 yen to 12,000 yen.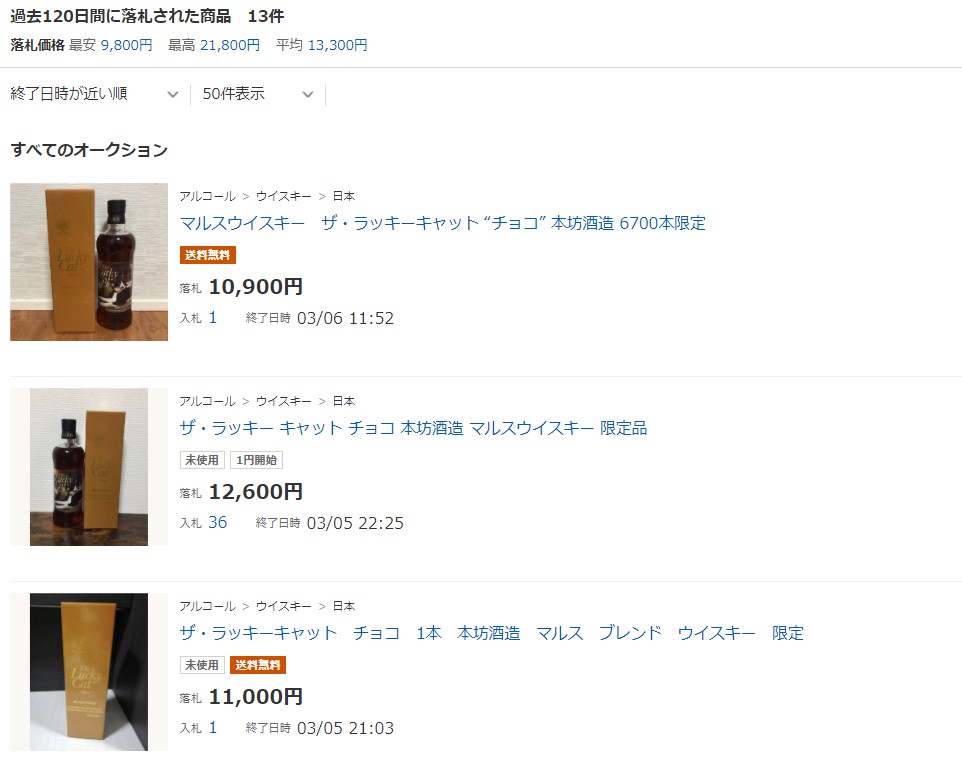 6-4. Rakuten, Yahoo Shopping, Amazon
No stores seem to be selling it at the moment on various mail order sites. (*As of March 8, 2021)
6-5. Price offered at BAR Shinkai
At "Bar Shinkai", which is operated by this website, we offer a 45ml glass for 1,300 yen.
7. Summary
This is a whisky with a sweetness that comes to the forefront, so it is easy to drink for those who have never been a big fan of whisky or who prefer sweet whisky. Even if you drink it straight, you will not feel the tingling alcohol sensation, and the aroma and taste reminiscent of savory cookies will be addictive. In a way, it is a dessert whisky. Those who prefer the maltiness and peatiness of scotch may find it lacking.
Speaking of Honbo Shuzo, Mars Shinshu Distillery is famous for its blended whisky "Iwai Tradition" and single malt "Komagatake", but recently the distillery has been releasing whisky one after another, and this distillery has been creating high quality Japanese whisky such as "Tsunuki The First" and "Tsunuki Peated".
Both Mars Shinshu Distillery and Mars Tsunuki Distillery offer distillery tours with some restrictions, so if you are interested, why not visit them?
If you are interested in visiting the distilleries, please check out the other articles about Honbo Shuzo.