Hombo Shuzo's Mars Shinshu distillery stopped distilling in 1992 due to sluggish demand for whiskey. Later, as Japanese whisky began to be appreciated worldwide, the distillery decided to resume distilling in 2009, when demand for whisky was on a recovery trend, and restarted in February 2011.
In September 2020, the distillery will be completely renovated for the first time in 35 years. The investment will be approximately 1.2 billion yen.
From May 2019, the whisky distillation building (including barrel storage) will be newly constructed for the purpose of renovating aging facilities, building barrel storage facilities with an eye to increasing whisky production, and observing whisky production, and the visitor building will be newly constructed for the purpose of selling original whisky and goods, and existing facilities and equipment will be renovated.
The new whisky distillery building has a total floor area of 1,996 square meters (including a barrel storage room that will hold approximately 2,500 barrels), and the visitor building has a floor area of 746 square meters.
1. Manufacturer
Hombo Shuzo Co.
| | |
| --- | --- |
| Establishment | 1872 |
| Head office location | 3-27, Minamisakae, Kagoshima City, Kagoshima Prefecture, 891-0122, Japan |
| Owned distilleries | Mars Shinshu distillery, Mars Tsunuki distillery |
2. Distillery
Mars Shinshu distillery
| | |
| --- | --- |
| Location | 4752-31, Miyata-mura, Kamiina-gun, Nagano 399-4301, Japan |
| Start of operation | 1985 |
It was in 1949 that Hombo Shuzo, which had been striving to make shochu, a Japanese distilled liquor, in Kagoshima, obtained a license to produce whiskey. Since then, the company has been holding onto the dream of one day producing a genuine whiskey that takes advantage of the Japanese climate.
In 1960, after several years of whisky production in Kagoshima, he established the Mars Yamanashi Winery in Yamanashi, a factory for wine and whisky production. Then, in order to engage in whisky production in earnest, they searched for an even more ideal location.
The natural conditions for whisky production are extremely severe, including a cold climate with clean air, moderate humidity, and good water.
In 1985, in search of the best environment for whisky production, we opened the Mars Shinshu Distillery at an altitude of 798 meters at the foot of Mount Komagatake in the Central Alps of Nagano Prefecture.
Reference: Hombo Shuzo official website
■ Production capacity: 1.1 tons of raw malt/day.
■ Production volume: approx. 700L/day, approx. 185KL/year (planned for FY2020)
■ Major equipment: 1 malting machine, 1 mash tun loiterer (saccharification tank) 6KL x 1, 3 stainless steel fermentation tanks 6KL x 3, 3 Douglas fir wooden fermentation tanks (relocated) 6KL x 3, first distillation kettle (relocated)
For more information on the Mars Shinshu Distillery, please see also.
3. Product name and photo
Single Malt Komagatake IPA Cask Finish Bottled in 2020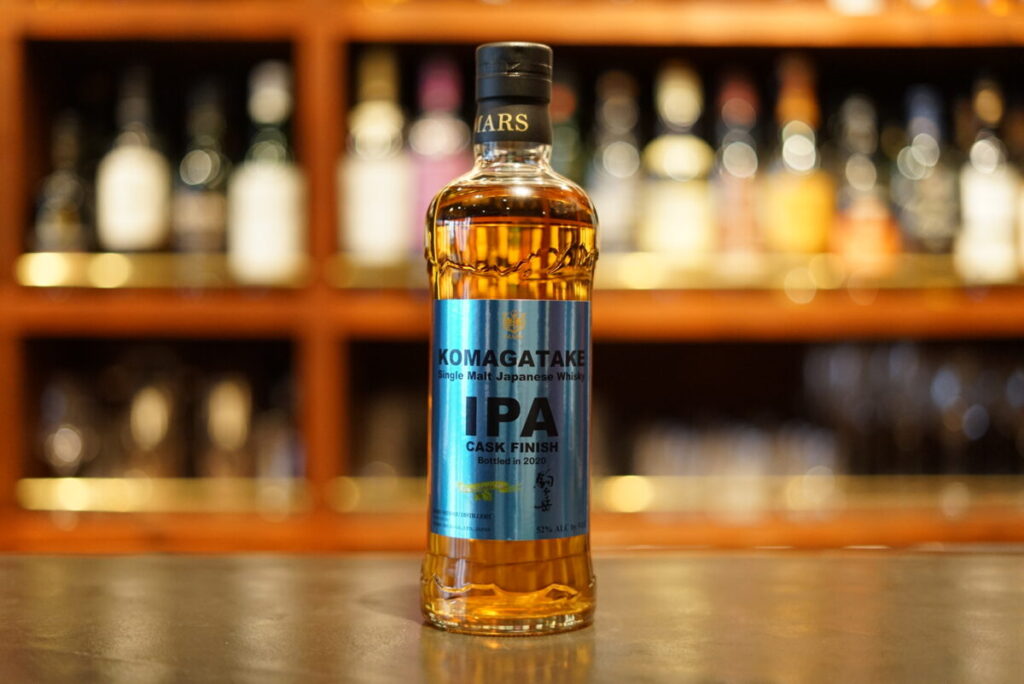 ¥23,800
(2022/09/30 19:36:20時点 楽天市場調べ-
詳細)
4. Characteristics
Refreshing hops and a bitter aftertaste, just like a beer. Finished with an empty barrel of Minami Shinshu Beer IPA.
Single Malt Komagatake IPA Cask Finish is a single malt whiskey finished in an empty cask that has been used to ferment India Pale Ale (IPA), a medium-dark beer brewed with an abundance of hops at Minami Shinshu Beer Komagatake Brewery. It has a light and refreshing citrus aroma, a clear sweetness reminiscent of grapefruit and oranges, and a crisp bitter aftertaste derived from IPA, making it a perfect match for a highball.
Reference: Hombo Shuzo official website
4-1. Tasting Notes
| | |
| --- | --- |
| Aroma | Refreshing aroma reminiscent of the barley freshness of IPA beer. Citrusy freshness. Mint. |
| Taste | Fruity sweetness and soft hop sweetness with a slight sourness. Like yogurt. The aftertaste is bitter, reminiscent of beer. |
| Aftertaste | Relatively mild, with a vanilla aroma derived from bourbon barrels and a pleasant bitterness. |
4-2. Product Specifications
| | |
| --- | --- |
| Alcohol content | 52% |
| By liquor | Single malt whisky |
| Barrel type | Bourbon barrel (Minami Shinshu Beer IPA) |
| Contents | 700ml |
| Number of bottles sold | Limited to 2,688 bottles |
| Suggested retail price | 9,460 yen (tax included) |
| Release date | October 22, 2020 |
5. Awards
There is no award history at this time.
6. Price
6-1. Manufacturer's suggested retail price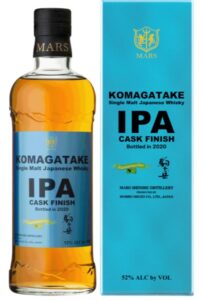 | | |
| --- | --- |
| Product name | Single Malt Komagatake IPA Cask Finish Bottled in 2020 |
| Volume | 700ml |
| Suggested retail price | 8,600 yen (tax included: 9,460 yen) |
6-2. Resale price on Mercari
The resale price on Mercari is around 14,000 yen to 16,000 yen. (*As of January 19 , 2021)
The limited number of 2,688 bottles is quite small, so you won't find it sold at a fixed price on many sales sites or liquor stores.

6-3. Sold price on Yahoo Auction
The winning bid price on Yahoo Auction is Lowest bidder: 9,250 yen, highest bidder: 18,000 yen, average bidder: 12,966 yen.
(based on statistics for the past 120 days from February 7 , 2021).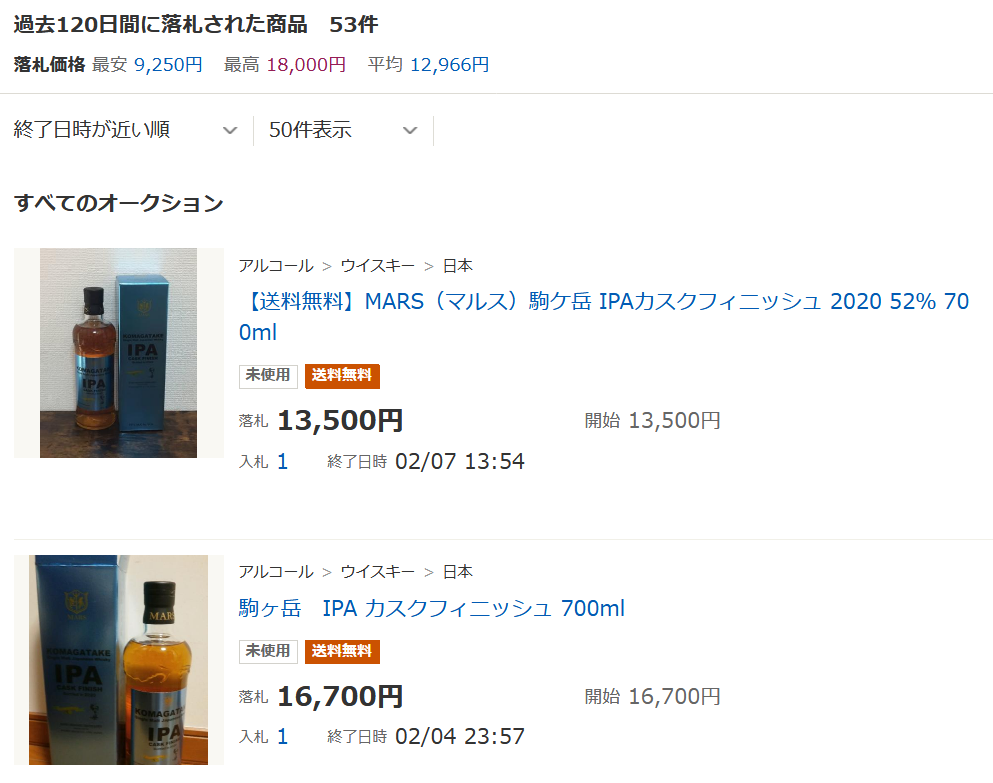 6-4. Rakuten, Yahoo Shopping, Amazon
Mail order sites also sell them for around 23,000-25,000 yen. (*As of February 7 , 2021)

¥23,800
(2022/09/30 19:36:20時点 楽天市場調べ-
詳細)
6-5. Price offered at BAR SHINKAI
At BAR SHINKAI, which is operated by our website, we offer even a small amount, such as 1 cup, 45ml: 2,970 yen, 30ml: 1,980 yen, 15ml: 990 yen.
7. Summary
The barrels used for the finish are aged in the same barrels that were used to age Minami Shinshu Beer's IPA, made at Minami Shinshu Beer Komagatake Brewery, located in the Mars Shinshu Distillery. Both beer and whiskey are produced in-house, and the end result is a successful fusion of the two. The same is true for the Iwai Wine Cask, where the whiskey is aged in empty barrels used for red wine from the Mars Yamanashi Winery, and it is wonderful to see that Hombo Shuzo has done everything in-house that other distilleries cannot do on their own.
The taste had more hops than I had expected. In a highball, it's like beer! The carbonation, refreshing hoppiness, and bitterness are delicious. If you add water, the bitterness and oakiness come to the fore, and the IPA feeling gets stronger, but it's never unpleasant and you can drink it with a good bitterness. Even if you are a whisky novice, if you like beer, you will be able to drink it without resistance.
It is a difficult whisky to buy in bottles because it is limited and the market is already sold out, but it is a whisky that you should definitely try when you see it at a bar.
If you see this whisky at a bar, be sure to check out the other articles about Hombo Shuzo and Single Malt Komagatake.

Lastly: Recommended Books on Japanese Whisky
If you want to learn more about Japanese whisky, which is a global trend, we highly recommend these books.
In the December 2021 issue of Whisky Galore, published by the Whisky Culture Research Institute, we report on 11 Japanese craft distilleries, including some that are open to the public for the first time, under the title of "Japanese Whisky Craft Frontline," the first of three consecutive issues. Why did the popularity of Japanese whiskey and the craft boom occur? We will examine with interviews. Chichibu Distillery / Chichibu No.2 Distillery / Mars Shinshu Distillery / Mars Tsunuki Distillery / Kanosuke Distillery / Hioki Distillery / Ontake Distillery / Osuzuyama Distillery / Kaikyo Distillery / Hanyu Distillery / Konosu Distillery
¥1,320
(2022/09/30 15:57:23時点 Amazon調べ-
詳細)
This is a book written by Mamoru Tsuchiya, a world-famous whisky critic and representative of the Whisky Culture Research Institute, titled "Japanese Whisky as a Culture that Works for Business" .
The book covers the basics of whisky, the introduction of whisky to Japan, the birth of Japanese whisky, advertising strategies and the rise of Japanese whisky, and the current rise of craft distilleries. This is a book that summarizes Japanese whisky in a very easy to understand way.
Masataka Taketsuru, the founder of Nikka Whisky, devoted his life to brewing whisky in Japan. This is a revised and reprinted version of the autobiography of a man who simply loved whiskey and talked about himself. The book vividly depicts the days when he went to Scotland alone to study as a young man and overcame many hardships to complete Japanese whisky, as well as his companion, Rita.
Launching in 2019. With the world experiencing an unprecedented whisky boom, what were the managers of craft distilleries thinking and what were their thoughts as they took on the challenge of making whiskey? This book tells the stories of 13 craft distillery owners, including Ichiro Hido of Venture Whisky, famous for his Ichirose Malt, who inspired the birth of craft distilleries in Japan.
This is the Japanese version of Whisky Risng, published in the US in 2016, with much updated content. Not only does it describe the history of Japanese whiskey in detail, but it also includes data on all the distilleries in Japan, including the craft distilleries that have been founded in recent years. The book also includes descriptions of the legendary bottles that have been released, as well as information on bars where Japanese whisky can be found.