Limited edition 2020 bottling of single malt, released on September 16, 2020. Production ended, limited to 15,000 bottles.
Last year's single malt was aged in bourbon and American white oak barrels. This year's single malt will be aged in sherry and American white oak barrels, which will give it a much different flavor.
1. Maker
Honbo Shuzo Co.
| | |
| --- | --- |
| Established | 1872 |
| Head office | 3-27, Minamisakae, Kagoshima City, Kagoshima Prefecture, 891-0122, Japan |
| Owned distilleries | Mars Shinshu distillery, Mars Tsunuki distillery |

2. Distillery
Mars Shinshu distillery
| | |
| --- | --- |
| Location | 4752-31, Miyata-mura, Kamiina-gun, Nagano 399-4301, Japan |
| Start of operation | in 1985. |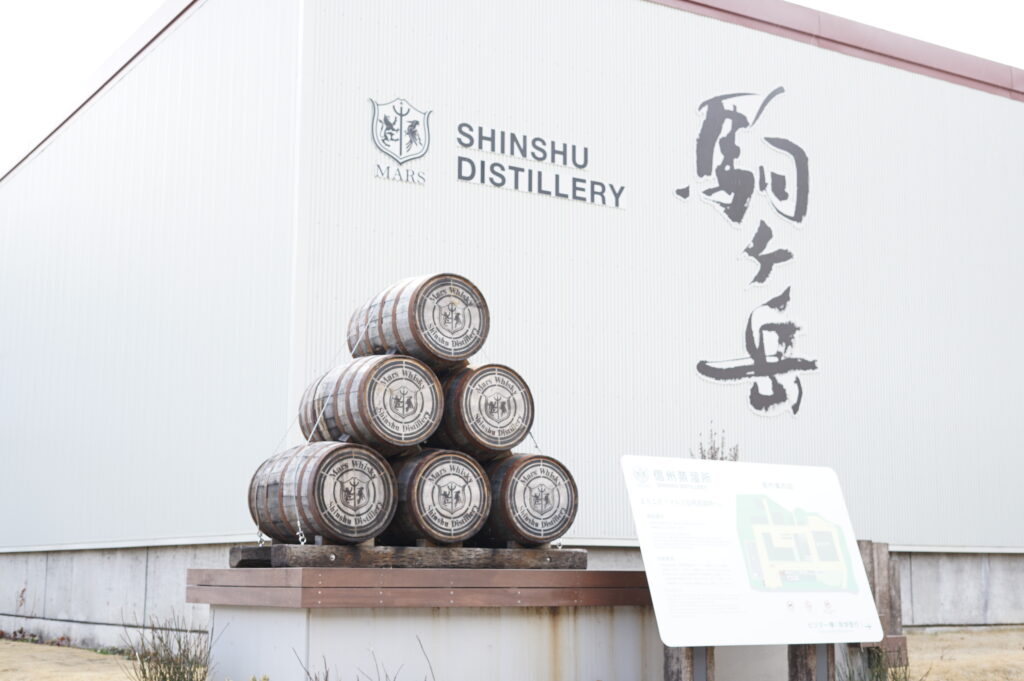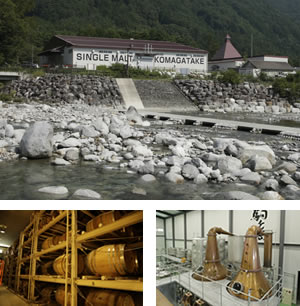 "The Mars Shinshu Distillery.
In 1985, Honbo Shuzo Co., Ltd. opened a distillery at an altitude of 798 meters above sea level at the foot of Mount Komagatake in the Central Alps of Nagano Prefecture, in search of the perfect environment for whiskey production (cold climate with clean air, moderate humidity, and high-quality water). This place is cool, with deep fog, and the rain and snowmelt that falls on the 3000m mountains passes through the granite soil to become high quality water with natural minerals.
"One day, I want to make a real whiskey that makes the most of Japan's climate. The Mars Whiskey Mars Shinshu Distillery was built to realize the dream of Honbo Shuzo. Surrounded by beautiful, deep green forests at the foot of Mount Komagatake in the Central Alps, the distillery stands in the silence of clean air.
3. Product name
Single Malt Komagadake Limited Edition 2020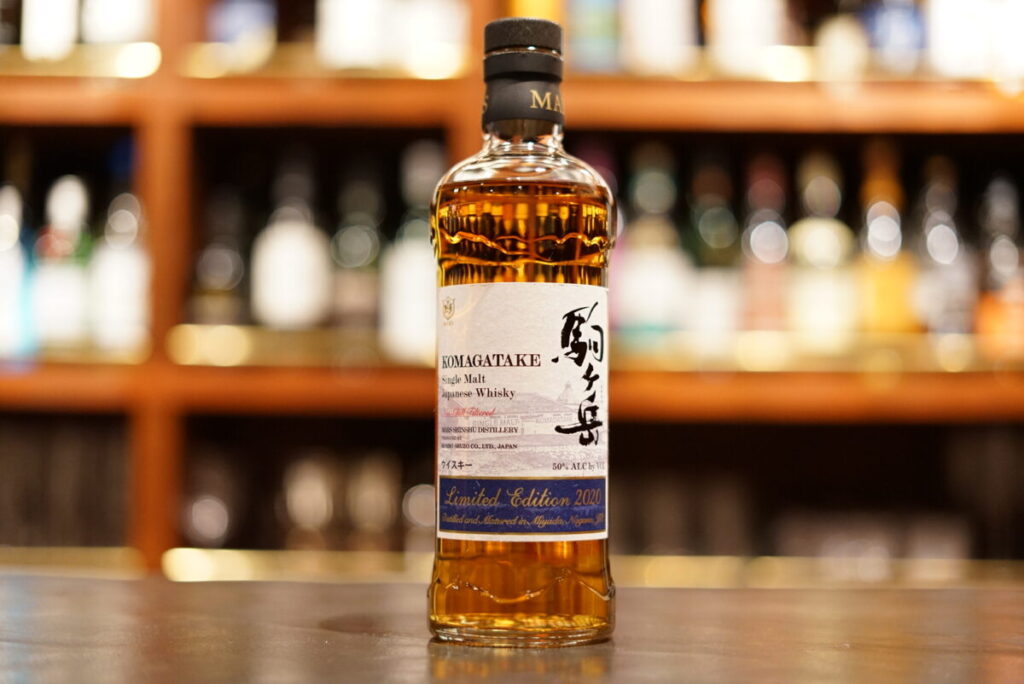 ¥12,650
(2023/02/07 17:24:59時点 楽天市場調べ-
詳細)
.
4. Characteristics
Vatting of malted barley aged in sherry and American white oak barrels
The Single Malt Komagatake Limited Edition 2020 is a limited edition single malt whisky bottled in 2020, vatted mainly from malt barrels matured in sherry and American white oak barrels in the beautiful natural environment of Shinshu.
It has an aroma of ripe plums, followed by mildly sweet notes of elegant honey and vanilla.
The palate is well-balanced with orange-like fruitiness and a bitter taste reminiscent of cocoa, followed by a sweet and gentle aftertaste. (From the manufacturer's website)

4-1. Tasting Notes
| | |
| --- | --- |
| Nose | Sweet aroma of vanilla and cookies, and ripe fruit aroma. |
| Taste | The sweetness of vanilla and cocoa changes to the sweetness characteristic of sherry casks. |
| Aftertaste | Nutty, bitter, and gentle aftertaste. |
4-2. Product Specifications
| | |
| --- | --- |
| Alcohol content | 50% alcohol by volume |
| by alcohol | Single malt whisky |
| Barrel alcohol | Sherry casks, American white oak barrels |
| Contents | 700ml |
| Number of bottles sold | Approx. 15,000 bottles |
| Suggested retail price | 8,580 yen (tax included) |
| Release date | September 16, 2020 |
5. Awards
There is no award history at this time.
6. Price
6-1. Manufacturer's suggested retail price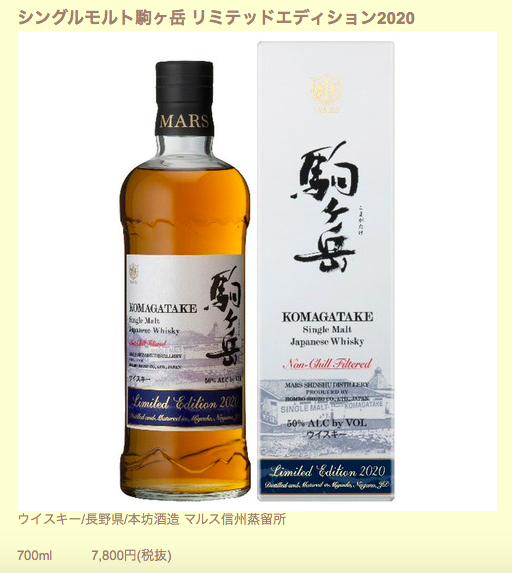 | | |
| --- | --- |
| Product name | Single Malt Komagatake Limited Edition 2020 |
| Capacity | 700ml |
| Suggested retail price | 7,800 yen (tax included: 8,580 yen) |
6-2. Resale price on Mercari
The resale price on Mercari is around 9,000 yen to 11,000 yen. (*As of March 21, 2021)


6-3. Yahoo Auction Sold Price
The lowestbid price on Yahoo Auctionis 7,250 yen, the highest is 11,100 yen, and the average is 8,903 yen (*Statistics for the past 120 days since 3/21/2021)
6-4. Rakuten, Yahoo Shopping, Amazon
Mail order sites also sell them for around 12,000-15,000 yen. (*as of 2/7/2021)

¥12,650
(2023/02/07 17:24:59時点 楽天市場調べ-
詳細)
6-5.
6-5. Price offered at BAR SHINKAI
At "BAR Shinkai", which is operated by this website, we offer it in small quantities such as 1cup, 45ml: 2,970 yen, 30ml: 1,980 yen, 15ml: 990 yen.
7. Summary
Although it has an alcohol content of 50 degrees, it is not tingling and has a sweet syrup/honey taste.
When watered down, it becomes even mellower and the sweet aroma opens up even more.
Straight or on the rocks, it has a rich taste with no peculiarities, and the flavor and sweetness are exquisite and full-bodied.
BAR Shinkai also has last year's Limited Edition, so please try to compare the two.
Both 2019 and 2020 are limited edition bottles. Please try them at BAR Shinkai.
Please check out our other articles on Single Malt Komagatake.
Japanese Whisky Dictionary
Japanese Whisky Dictionary
Lastly: Recommended Books on Japanese Whisky
If you want to learn more about Japanese whisky, which is a global trend, we highly recommend these books.
In the December 2021 issue of Whisky Galore, published by the Whisky Culture Research Institute, we report on 11 Japanese craft distilleries, including some that are open to the public for the first time, under the title of "Japanese Whisky Craft Frontline," the first of three consecutive issues. Why did the popularity of Japanese whiskey and the craft boom occur? We will examine with interviews. Chichibu Distillery / Chichibu No.2 Distillery / Mars Shinshu Distillery / Mars Tsunuki Distillery / Kanosuke Distillery / Hioki Distillery / Ontake Distillery / Osuzuyama Distillery / Kaikyo Distillery / Hanyu Distillery / Konosu Distillery
¥1,320
(2023/02/07 17:30:22時点 Amazon調べ-
詳細)
This is a book written by Mamoru Tsuchiya, a world-famous whisky critic and representative of the Whisky Culture Research Institute, titled "Japanese Whisky as a Culture that Works for Business" .
The book covers the basics of whisky, the introduction of whisky to Japan, the birth of Japanese whisky, advertising strategies and the rise of Japanese whisky, and the current rise of craft distilleries. This is a book that summarizes Japanese whisky in a very easy to understand way.
Masataka Taketsuru, the founder of Nikka Whisky, devoted his life to brewing whisky in Japan. This is a revised and reprinted version of the autobiography of a man who simply loved whiskey and talked about himself. The book vividly depicts the days when he went to Scotland alone to study as a young man and overcame many hardships to complete Japanese whisky, as well as his companion, Rita.
Launching in 2019. With the world experiencing an unprecedented whisky boom, what were the managers of craft distilleries thinking and what were their thoughts as they took on the challenge of making whiskey? This book tells the stories of 13 craft distillery owners, including Ichiro Hido of Venture Whisky, famous for his Ichirose Malt, who inspired the birth of craft distilleries in Japan.
This is the Japanese version of Whisky Risng, published in the US in 2016, with much updated content. Not only does it describe the history of Japanese whiskey in detail, but it also includes data on all the distilleries in Japan, including the craft distilleries that have been founded in recent years. The book also includes descriptions of the legendary bottles that have been released, as well as information on bars where Japanese whisky can be found.
.