It is a blended whiskey that was further aged (Finish) for more than a year by putting "Iwai Tradition" named after Kiichiro Iwai, who played a part in the creation of Japanese whisky, in empty barrels used in yamanashi Mars Walinary red wine. 
It is a blended whiskey with excellent cost performance that can feel the flavor of wine system firmly over the flavor + aftertaste of pete incense + sherry barrel raw sake by the synergistic effect of "wine cask finish" with pete aroma close to the scotch of "Iwai Tradition".
Ripening the whisky of our own distillation in barrels where the wine of our company was laid is unique to Hombo Sake Brewery, which has two brands of "Mars Whiskey" and "Mars Winery" .
Iwai Tradition Wine Cask Finish is not sold all year round, and it seems that it is produced spots around spring and autumn.
1. Manufacturer
Hombo Shuzo Co.
| | |
| --- | --- |
| Established | 1872 |
| Head office | 3-27, Minamisakae, Kagoshima City, Kagoshima Prefecture, 891-0122, Japan |
| Owned distilleries | Mars Shinshu distillery, Mars Tsunuki distillery |
2. Distillery
Mars Shinshu Distillery
| | |
| --- | --- |
| Location | 4752-31, Miyata-mura, Kamiina-gun, Nagano 399-4301, Japan |
| Start of operation | 1985 |
In 1985, Hombo Shuzo Co., Ltd. opened a distillery at 798m above sea level at the foot of Mt. Komagatake in the Central Alps of Nagano Prefecture in search of the perfect environment for whisky production (cold climate with clean air, moderate humidity, and good quality water). This place is cool, with deep fog, and the rain and snowmelt that falls on the 3000m mountains passes through the granite soil to become high quality water with natural minerals.
One day, I want to make a real whiskey that makes the most of Japan's climate. The Mars Whiskey Mars Shinshu Distillery was built to realize the dream of Hombo Shuzo. Surrounded by the beautiful and deep green forest at the foot of Mount Komagatake in the Central Alps, the distillery stands in the silence of clean air.
Image credit: Mars Shinshu Distillery official website
For more information about Mars Shinshu Distillery, please visit here.
3. Product name and photo
IWAI TRADITION Wine Cask Finish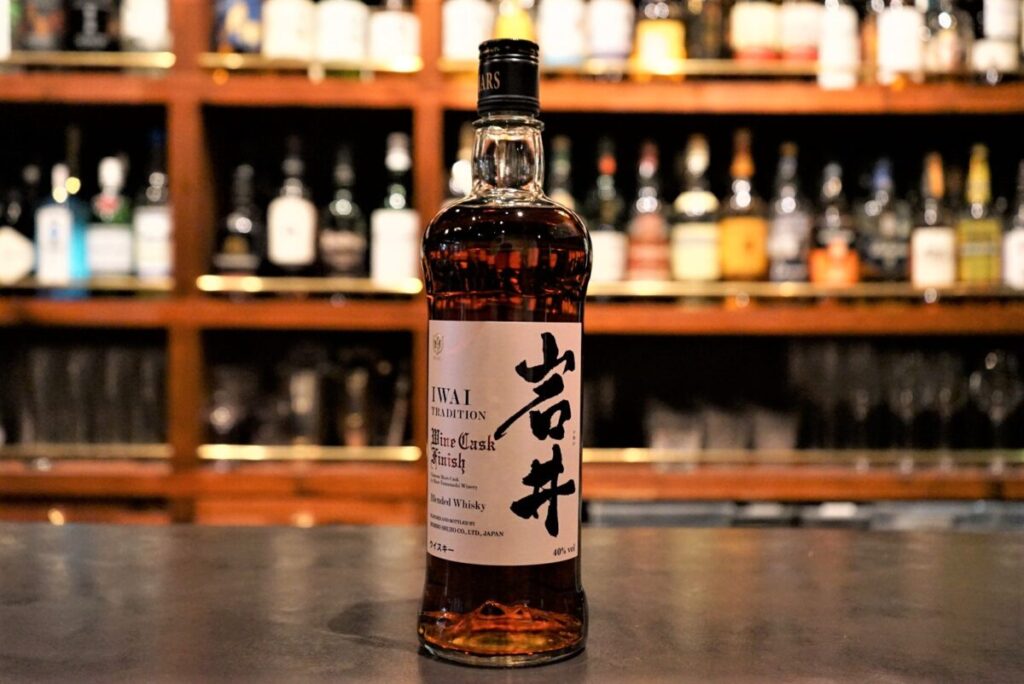 4. Characteristics
Blended whisky additionally aged in its own wine barrels.
"Iwai Tradition" is a blended whiskey that has been additionally matured (finished) for more than one year in barrels used for red wine at Mars Yamanashi Winery and Mars Hosaka Winery.
The result is an excellent product with an elegant softness on the palate, harmonized with the old wood scent of sherry casks and the sweet vanilla scent derived from wine casks, and the tannins and umami of red wine bring a good depth to the tone of the flavor.
Reference: Hombo Shuzo official website
4-1. Tasting Notes

| | |
| --- | --- |
| Nose | Aromas of strawberry jam, chocolate, cookies, and wood with a hint of vanilla. |
| Taste | Mild on the palate, with a sweet, fruity berry flavor and a hint of tannins reminiscent of red wine. |
| Aftertaste | The aroma of wood, weak peat, and a pleasant vanilla scent pass through. |

4-2. Product Specifications
| | |
| --- | --- |
| Alcohol content | 40% |
| alcohol category | Blended Whisky |
| Cask type | Sherry and red wine barrels |
| Volume | 750ml |
| Number of units sold | ー |
| Suggested retail price | 2,750 yen (tax included) |
| Release date | Around 2013 (no official release) |
5. Awards
No awards have been received at this time.
6. Price
6-1. Manufacturer's suggested retail price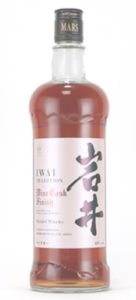 | | |
| --- | --- |
| Product name | Iwai Tradition Wine Cask Finish |
| Volume | 700ml |
| Suggested retail price | 2,500 yen (tax included: 2,750 yen) |
6-2. Resale price on Mercari
The resale price on Mercari is Around 3,500 yen to 5,000 yen The resale price on Mercari is as follows. (*As of February 14 , 2021)

6-3. Yahoo auction bidding price
The winning bid price on Yahoo Auction is Lowest bidder: 2,000 yen, highest bidder: 4,680 yen, average bidder: 3,460 yen (*Statistics for the past 120 days as of February 14 , 2021)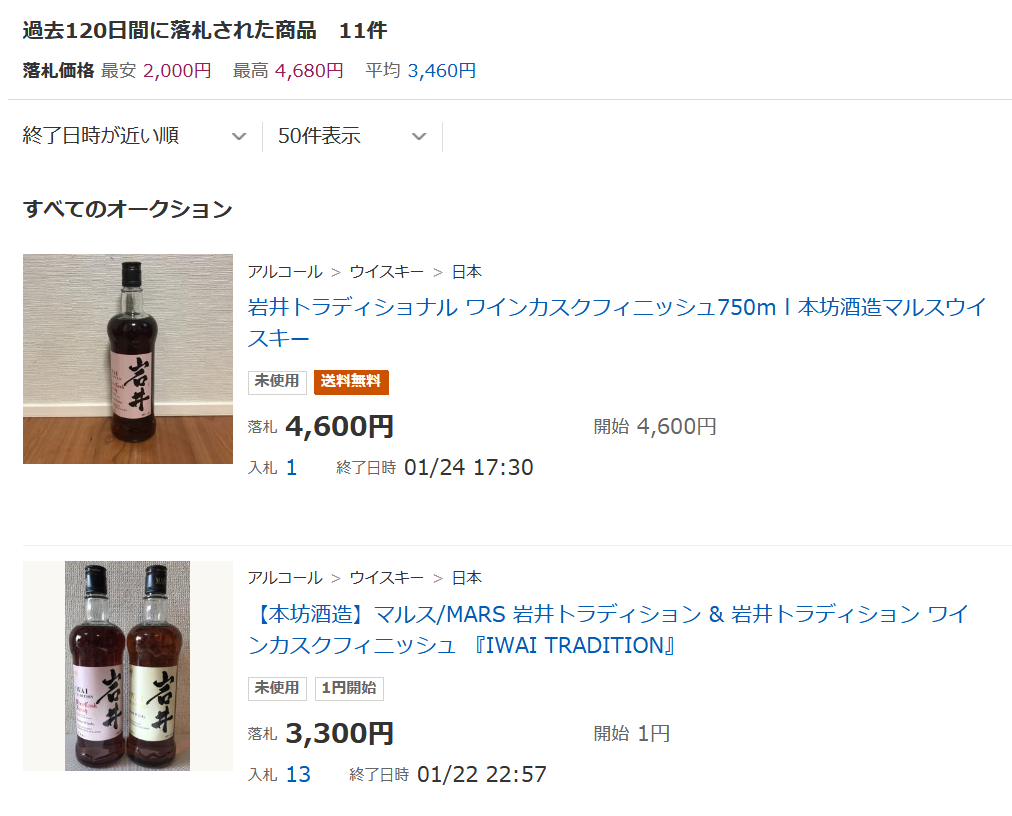 6-4. Rakuten, Yahoo Shopping, Amazon
On mail order sites, the price is the same as the list price. Around 4,000 yen to 7,000 yen (*Statistics for the past 120 days from February 14 , 2021) If you check regularly, you may be able to buy it at the regular price if your timing is good.
6-5. Price offered at BAR Shinkai
Bar Shinkai, which is operated by this site, offers it at 1 cup, 45ml: 1,210 yen It is available at.
7. Summary
I don't feel the pungent aroma of alcohol.
The sweet aroma is not too strong, but it is elegantly fragrant and has a mild sweetness. It is really delicious.
The vanilla scent is also very strong, and you can enjoy the scent alone for a while.
The best way to drink it is straight. You can feel the solid, full-bodied wine flavor.
If you drink it as a highball, the fruity and sweet aroma will become weaker and the vanilla aroma will go away. In a highball, the fruity sweetness fades and the vanilla aroma disappears. The wine-cask flavor that I was so excited about is almost gone. This is a refreshing highball that is easy to drink, but try drinking it straight or with a little water to feel the red wine.
I think it is the strongest wine-cask whiskey in the world.
This is a great whisky to drink, and it is easy to drink.
■ Please also check out other articles about "Hombo Shuzo and Iwai Tradition" .