In 2018,  "Saigodon" was created by Hombo Shuzo to commemorate the 150th anniversary of the Meiji Restoration.
For copyright reasons, it is read straight as "Saigodon" instead of "Segodon" .
Kiichiro Iwai, the creator of Mars whisky, was born in the Meiji era and now has a distillery in Kagoshima Prefecture, and with the popularity of the TV drama, it was the perfect opportunity for Hombo Shuzo to create Saigodon.
What kind of taste does the whisky named after the Kagoshima hero Takamori Saigou have?
1. Maker
Hombo Shuzo Co.
| | |
| --- | --- |
| Established | 1872 |
| Head office location | 3-27, Minamisakae, Kagoshima City, Kagoshima Prefecture, 891-0122, Japan |
| Owned distilleries | Mars Shinshu distillery, Mars Tsunuki distillery |
2. Distillery
Mars Tsunuki Distillery
| | |
| --- | --- |
| Location | 6594 Tsunuki, Kaseda, Minamisatsuma City, Kagoshima Prefecture, 899-3611, Japan |
| Start of operation | 2016 |
Tsunuki , Kaseda, Minami-Satsuma City. It is located in the southwest of the Satsuma Peninsula in a mountainous area full of greenery. Mars Tsunuki Distillery, the southernmost whisky distillery on the mainland This is the place where the great man of the Meiji Restoration, Nishio, was born.
Tsunuki, located in the southwestern part of the Satsuma Peninsula, is in a long basin along the Kaseda River, a tributary of the Manose River. Surrounded by the mountains of Mt. Kurata (475m) to the east and Mt. Nagaya (513m) to the west, the topography of the area is basin-like, so the summers are hot and the winters are cold, which is extremely harsh in southern Satsuma.
The area has a natural environment that is a "blessing" with good water resources (Mt. Kurata spring water), and the cultivation of oranges, known as "Tsunuki oranges" is flourishing by making effective use of the mountain slopes.
Tsunuki, blessed with a mild climate and good water resources, is the birthplace of the Hombo Sake Brewery. It has been more than a hundred years since the brewery began making shochu using Satsuma sweet potatoes, one of Satsuma's most famous specialties.
Reference: Mars Tsunuki Distillery official website
Image credit: Mars Tsunuki Distillery Official Facebook
For more information on Mars Shinshu Distillery, please also visit here↓.
https://jpwhisky.net/manufacturer/tsunuki/
3. Product name and photo
Saigo Don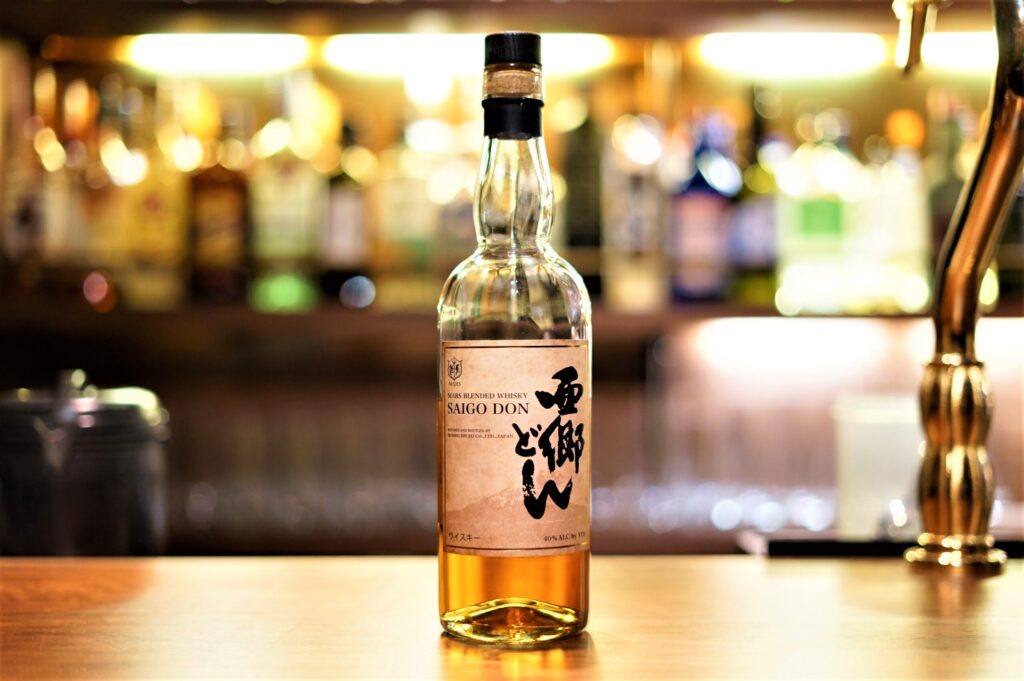 4. Characteristics
This blended whisky was created by the blender of Mars Tsunuki distillery with the image of Takamori Saigo, a hero of the Meiji Restoration. The result is a whisky with a soft taste and malt-derived strength, reminiscent of its large volume.
This is a limited time product only available in 2018 to commemorate the 150th anniversary of the Meiji Restoration in 2018.
The whisky is said to have been created with Takamori Saigou in mind, and despite being blended, it is a robust and drinkable whisky .
As stated on the official website, drinking it slightly watered or on the rocks will even out the flavor and make it more balanced and enjoyable.

4-1. Tasting Notes
| | |
| --- | --- |
| Nose | Sweet aroma derived from the original wine and a deep sweet aroma of chocolate. |
| Taste | Bitterness reminiscent of citrus peel with a hint of alcohol, woody astringency and a unique sweetness. |
| Aftertaste | Woodiness and bitterness of citrus peel linger. |
Reference: MARS WHISKY / MARS WHISKY Saigodon
4-2. Product Specifications
| | |
| --- | --- |
| Alcohol content | 40% |
| alcohol category | Blended Malt Whisky |
| Barrel type | White oak barrels |
| Contents | 700ml |
| Number of bottles sold | Number of bottles sold |
| Suggested retail price | 2,750 yen (tax included) |
| Release date | April 20, 2018 |
Awards received
Currently no awards have been received.
6. Price
6-1. Manufacturer's suggested retail price
| | |
| --- | --- |
| Product name | Mars whisky Saigodon |
| Capacity | 700ml |
| Suggested retail price | 2,500 yen (tax included: 2,750 yen) |
6-2. Resale price on Mercari
The resale price on Mercari is Around 3,000 yen to 5,000 yen The resale price on Mercari is as follows. (*as of February 25, 2021)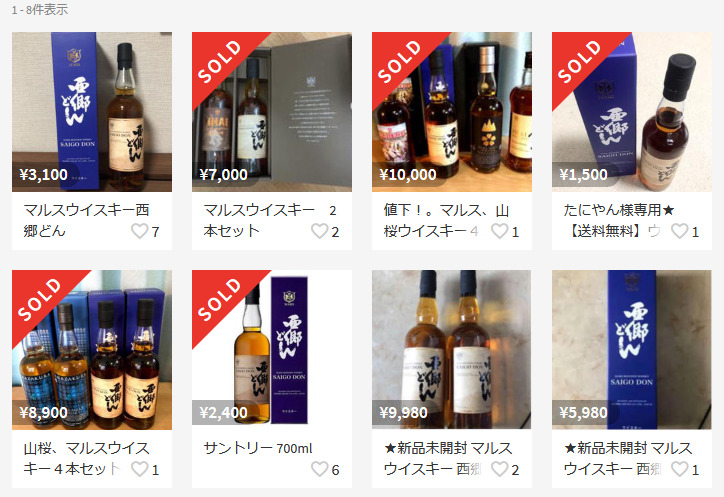 6-3. Sold price on Yahoo Auction
The winning bid price on Yahoo Auction is Lowest bidder: 590 yen, highest bidder: 7,500 yen, average bidder: 3,071 yen (*Statistics for the past 120 days from February 25, 2021)
The lowest price of 590 yen was for a shochu, and the highest price of 7,500 yen was for a set of four bottles.
The lowest price was 590 yen for the shochu and the highest was 7,500 yen for the set of four.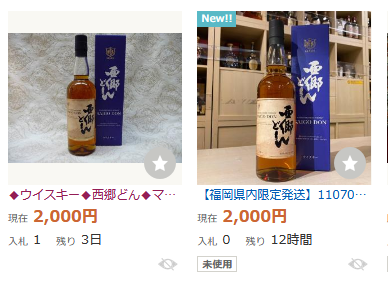 6-4. Rakuten, Yahoo Shopping, Amazon
They are also available at Around 2,500 yen It's also available at (*As of February 25, 2021).
6-5. Price offered at BAR Shinkai
At "Bar Shinkai", which is operated by this site, it is offered at 1 cup, 45ml: 1,320 yen (*as of February 25, 2021
) Bar Shinkai, which is operated by this site, offers it at
https://en.jpwhisky.net/about-2/barshinkai-4/
7. Summary
Mr. Masataka Taketsuru is said to be the father of Japanese whisky, but if Mr. Kiichiro Iwai had not sent Mr. Taketsuru to Scotland, Japanese whisky might not have developed as it has today.
After Mr. Iwai's death, Hombo Shuzo released Iwai Tradition as a tribute to him, and many of their products are full of respect for their predecessors.
On the other hand, the company also offers a wide variety of products, such as hot spirits with habanero, Bontang candy liqueur, Japanese gin, and now "Saigodon" which is both pleasing to the eye and taste.
Hombo Shuzo is constantly absorbing new technology, knowledge, and culture, and I can't help but feel that they are similar to the Ishin Shishi who dreamed of the dawn of Japan.
Please check out the other articles about Hombo Shuzo.
https://jpwhisky.net/2021/03/08/the-lucky-cat-choco/
https://jpwhisky.net/2021/01/19/single-malt-tsunuki-peated/
Lastly: Recommended Books on Japanese Whisky
If you want to learn more about Japanese whisky, which is a global trend, we highly recommend these books.
In the December 2021 issue of Whisky Galore, published by the Whisky Culture Research Institute, we report on 11 Japanese craft distilleries, including some that are open to the public for the first time, under the title of "Japanese Whisky Craft Frontline," the first of three consecutive issues. Why did the popularity of Japanese whisky and the craft boom occur? We will examine with interviews. Chichibu Distillery / Chichibu No.2 Distillery / Mars Shinshu Distillery / Mars Tsunuki Distillery / Kanosuke Distillery / Hioki Distillery / Ontake Distillery / Osuzuyama Distillery / Kaikyo Distillery / Hanyu Distillery / Konosu Distillery
This is a book written by Mamoru Tsuchiya, a world-famous whisky critic and representative of the Whisky Culture Research Institute, titled "Japanese Whisky as a Culture that Works for Business" .
The book covers the basics of whisky, the introduction of whisky to Japan, the birth of Japanese whisky, advertising strategies and the rise of Japanese whisky, and the current rise of craft distilleries. This is a book that summarizes Japanese whisky in a very easy to understand way.
Masataka Taketsuru, the founder of Nikka Whisky, devoted his life to brewing whisky in Japan. This is a revised and reprinted version of the autobiography of a man who simply loved whisky and talked about himself. The book vividly depicts the days when he went to Scotland alone to study as a young man and overcame many hardships to complete Japanese whisky, as well as his companion, Rita.
Launching in 2019. With the world experiencing an unprecedented whisky boom, what were the managers of craft distilleries thinking and what were their thoughts as they took on the challenge of making whisky? This book tells the stories of 13 craft distillery owners, including Ichiro Hido of Venture Whisky, famous for his Ichirose Malt, who inspired the birth of craft distilleries in Japan.
This is the Japanese version of Whisky Risng, published in the US in 2016, with much updated content. Not only does it describe the history of Japanese whisky in detail, but it also includes data on all the distilleries in Japan, including the craft distilleries that have been founded in recent years. The book also includes descriptions of the legendary bottles that have been released, as well as information on bars where Japanese whisky can be found.