2. Tohoku Region
2-1. Nikka Whisky Miyagikyo Distillery
It has been about 30 years since Masataka Taketsuru, the founder of Nikka Whisky, the father of Japanese whisky, opened the first distillery in Yoichi, Hokkaido. Masataka Taketsuru, who believes that "blending multiple unsavoured liquors born in different distilleries makes whisky more flavorful and richer," began to move in search of a new distillery construction site.
This area near the prefectural border with Yamagata is a lush gorge blessed with two clear streams, the Hirose River and shin River. When Taketsuru visited this area for the first time, he broke the Black Nikka he had in the clear stream of Shinkawa and drank it to check the taste. It is said that the distillery was decided on the spot.


Location
〒989-3433
Accom Modeling and Tools

Access

< Train >
From JR Sendai Station to Sakunami Station on the JR Senzan Line (one per hour): About 40 minutes
< free shuttle bus>
On Saturdays, Sundays, and holidays, a shuttle bus from JR Sakunami Station to Miyagikyo Distillery (round trip) *One-way time required about 7 minutes
< Bus >
Get off at "Nikkabashi" (municipal bus) bound for Sakunami Onsen from Sendai Station ※Time required: about 60 minutes

Started Operation
1969
Official Website
Nikka Whisky Miyagikyo Distillery
Distillery tour

General tour available / Distillery guided tour is by reservation only
* The temporary distillery tour will be reopened with some restrictions from Friday, July 17, 2020.

Commodity
Single Malt Miyagi Gorge
Restaurants in the surrounding area
Tabelog Hotpepper Gurunavi Yahoo!
Accommodation and Tours
Jalan Ikkyu Rakuten travel JTB HIS
Hometown Tax Donation Program
From beef tongue to seafood, the taste of Miyagi
Representative whisky from Miyagikyo Distillery
2-2. Kinryu Yuza Distillery
Japanese whisky of the highest quality that the world admires is here from Yamagata.
Kinryu Co., Ltd., which operates Yuza Distillery, was founded in 1950 as a joint venture between nine sake manufacturers in Yamagata Prefecture, producing neutral spirits called brewing alcohol and producing  shochu made with continuous distiller.
Kinryu is yamagata's only manufacturer specializing in shochu, but when considering the decline in the consumption of shochu and sake and the problems of yamagata prefecture's population, the whisky business was a new business for the future.
"YUZA First Edition 2022" was released in February 2022.
"YUZA First Edition 2022" was born with a strong belief that "we will mature until we are satisfied" and "focus on sending out only products that conform to the definition of Japanese whisky" . The time of dawn has finally come.
At the Whisky Festival held in 2019, several new makeups from Yuza Distillery were unveiled.
2-3. Sasanokawa Sake Brewery Asaka Distillery
Sanokawa Shuzo, which operates Azumi Distillery, is a long-established sake brewery founded in Koriyama City, Fukushima Prefecture in 1765 and has been manufacturing for about 250 years, and although it obtained a whisky production license in 1946, shortly after the war, and was producing whisky until around 1980, but the distillation of raw sake was stopped due to the sluggish domestic market.
In response to the rekindle of the whisky boom since the 2010s, we decided to establish a full-fledged malt whisky distillery in 2015 and purchased a steel of Miyake Seisakusho that can be delivered within a year. The following year, in 2016, we decided to resume distillation of undrawed sake at Azumi Distillery, which introduced facilities in the brewery.
In December 2019, Asaka Distillery, tohoku's oldest craft whisky, launched its first single malt, Azumi The First, after restarting operations.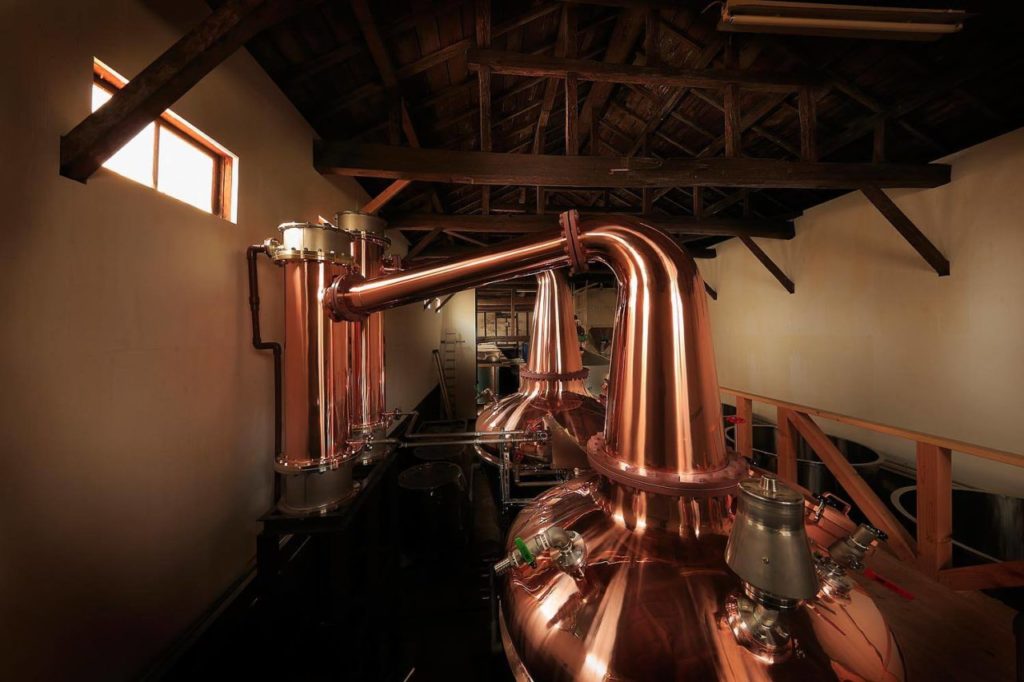 The products on display at the Whisky Festival 2019 included the "Yamasakura Series" made from barrels stored in the past, as well as new pots and Newborns made at the Azumi Distillery.
Location
〒963-0108
Fukushima Prefecture Koriyama City Sasakawa 1-chome 178

Access

< train>
About 10 minutes by car from JR Koriyama Station
About 10 minutes on foot from JR Azumi Nagamori Station

Started Operation
2016年
Official Website
Sasanogawa Sake Brewery
Asaka Distillery Official Twitter
Distillery tour
By appointment only
Commodity

Asaka The First , Asaka The First PEATED
Representative whisky of Asaka Distillery

¥1,956
(2023/06/01 03:07:38時点 楽天市場調べ-
詳細)
2-4. Dreamlink Akita Distillery
Restaurant chain Dreamlink announced that it will build a distillery for whiskey from Akita Prefecture on the outskirts of Akita City. Construction is scheduled to begin in April 2022 and be completed in the same year, with shipments scheduled for 2025.
The planned construction site is 38,500 square meters, including private land around the former Iwami Elementary School site, which is about 30 minutes by car from Akita Station and Akita Airport. How much of this will be used has not been decided, and the size of the site and buildings has not been decided so far.
The construction cost of the distillery is assumed to be about 400 to 500 million yen. Some of the funds will be procured through crowdfunding. The company aims to produce 21,000 liters of whiskey per year. After that, it seems that the plan is to invest several hundred million yen more in business expenses and to establish tourist facilities including restaurants and accommodation facilities at the same time.
Supervised by the owner and bartender "Kenichi Sato" of "BAR Le Vert" in Akita City.
Whisky Distillery, Dreamlink | on the outskirts of Akita City Nikkei Shimbun
2-5. Tatenokawa Shuzo Gakkogawa Distillery
Tatenokawa Shuzo Corporation, famous for its sake "Tatenokawa", has established a whisky business subsidiary (Gakkogawa Distillery Corporation) and will operate Gakkogawa Distillery.
The distillery plans to produce classical, authentic, high quality single malt "Shonai-produced whisky" utilizing the abundant water from the Gakkogawa River system and the delicate technology cultivated through sake brewing.
As for equipment, a stainless steel thermal tank with temperature control is used for the fermentation tank. Pot stills are manufactured by Miyake Seisakusho.
Distillation is scheduled to begin in September 2023, with single malt to be released around 2027 and blended whiskey around 2024.
The daily brewing volume is 400 kg of malt, and the company aims to produce 60,000 liters per year with 250 brewing cycles.
The planned distillery construction site is in Yuza-machi, Akumi-gun, Yamagata Prefecture. There is already a "Yuza Distillery" of Kinryu Co. in Yuza Town, and it seems that they intend to work together to make Yuza Town a whisky town.
Location
〒
Yuza-machi, Akumi-gun, Yamagata

Access

 

Start of operation
September 2023
Official HP
Gakkogawa Distillery HP
Inspection
ー
Product
Blended whisky to be released in 2024 and single malt in 2027