Construction of the Inami Matured Warehouse for T&T TOYAMA, a joint project by Takahiko Inagaki of Saburomaru Distillery and Komei Shimono of Malt Yama, was completed on April 22, 2022.
As the world's first Japanese whisky bottlers business, the casks of whisky collected from several distilleries in Japan have been stored in a warehouse at Wakatsuru Shuzo's Saburomaru Distillery, but will be moved to the Inami warehouse to continue maturing.
The I nami facility will be equipped with a tasting space, tables, and a naming board.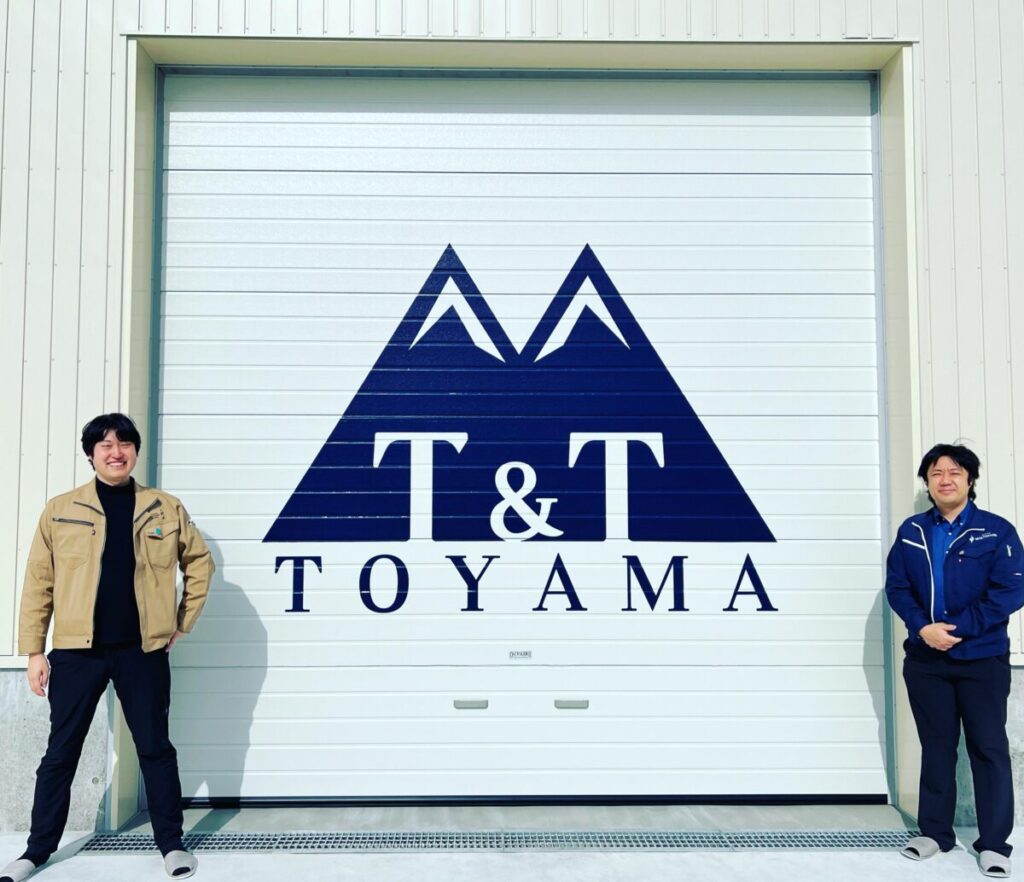 1. What is T&T TOYAMA?
T&T TOYAMA, a joint project by Takahiko Inagaki of Saburomaru Distillery and Komei Shimono of Maltoyama, as the world's first Japanese whisky bottlers business.
Bottlers' whisky is whisky that is purchased from distilleries by a bottling company separate from the distillery, aged and bottled in its own way, and then sold with its own label.
Famous bottlers' brands in Scotland include "Gordon & Macphail" "Signatory" and "Kingsbury" but there have been no bottlers' brands in Japan, and "T&T TOYAMA" is the first.
We purchase Japanese craft whisky distilleries' original whisky, especially pre-aged new pot, and mature it in our own "T&T TOYAMA Inami Matured Warehouse" in Inami, Nanto City, Toyama Prefecture, using special casks that we have procured ourselves, and then find the best timing for maturation. We will continue to be the world's first full-scale Japanese whisky bottler to bottle "Single Cask & Cask Strength" at the peak of its production.

(Reference: T&T TOYAMA official website)
For more information on the Japanese whisky Bottlers business, please also check out our crowdfunding campaign in May 2021.
https://camp-fire.jp/projects/view/403368″]
2. Inami Maturing House
Now I would like to get to the main topic of this article.
I will explain about T&T TOYAMA's "Inami Aged Storage" which was completed this time.
3-1. Location
The Inami Maturing Factory is located in Inami, Nanto City, Toyama Prefecture.
It is a region of scattered villages surrounded by fields and dotted with houses, where the air is clean and rich in nature, and humidity is maintained at a moderate level throughout the year. The temperature is relatively stable and the environment is ideal for slowly nurturing whisky.
Location
Inami, Nanto City, Tomi⼭Prefecture, Japan
Access

<By car>
Toyama IC- (Hokuriku Expressway) – 10 minutes from Tonami IC

<By train and bus>
From Takaoka Station/Shin-Takaoka Station (approximately 60 minutes on the Shokawa-cho Komaki Line of the Kaetsu Noh Bus)

From Kanazawa Station (approx. 65-80 minutes by bus on the Nanto Kanazawa Line)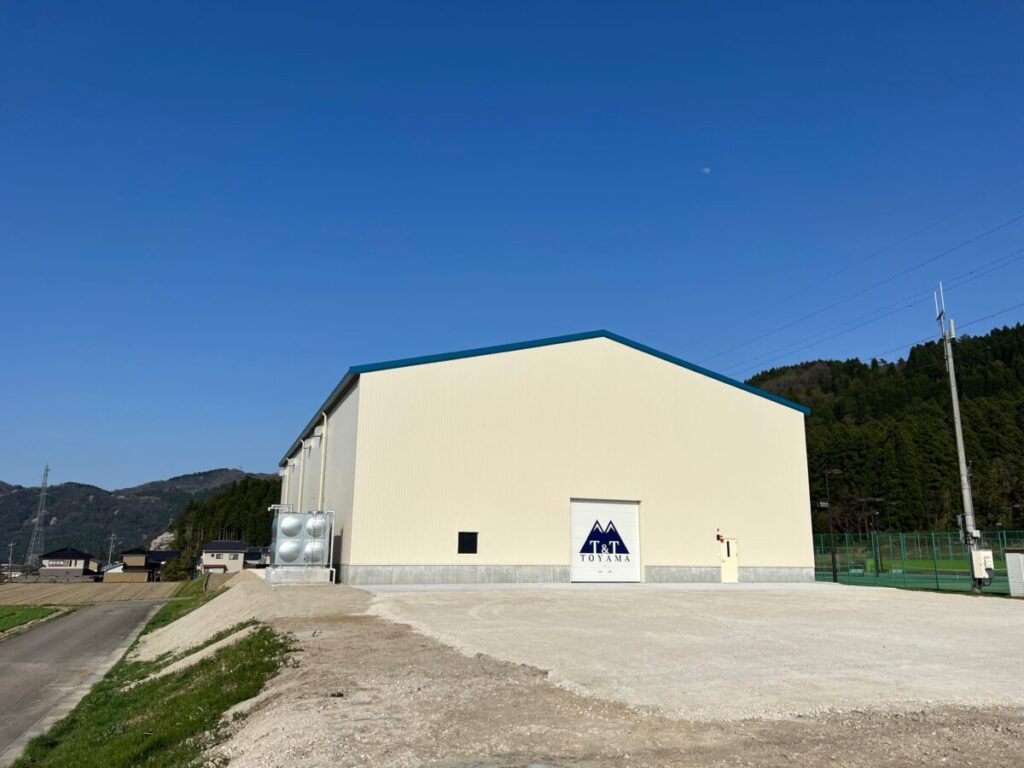 Once the tour of the aging cellar begins, I am curious about the sightseeing and dining options in the area.
https://www.jalan.net/kankou/tow_162100023/
https://tabelog.com/toyama/C16210/C47527/rstLst/
3-2. The process of building the ripening room
The Inami ripening room, from the start of construction to during construction, is available on Youtube by Mr. Shimono.
You can see the beautiful natural surroundings and how the construction of the ripening room is progressing.
As of December 20, 2021
As of December 22, 2021
As of January 11, 2022
3-3. Specifications of the ripening room
This is a wood-framed aging house with a maximum storage capacity of 5,000 casks (barrels).
Thermal insulation

The roof is made of CLT (direct laminated laminated timber), double folded roof with heat insulation, and heat-insulated shutters.

Adjustability

The racks for storing barrels are designed with crushed stone between the earth and the racks, instead of concrete, to bring in moisture from the ground.

Night purge to replace cool air early in the morning in summer.

Real-time control of temperature and humidity using loggers.

Storage Capacity
Rack type, up to 5,000 casks (barrels)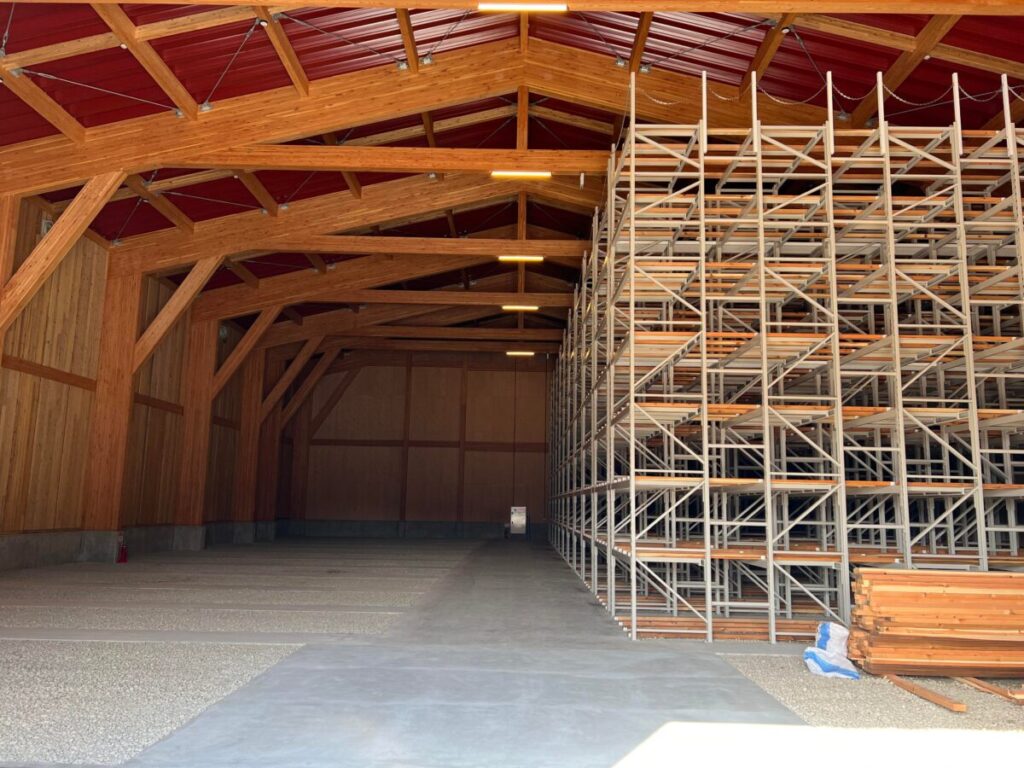 3-4. Tasting Space
As mentioned in the previous section, the Iba Maturing Vault is made of abundant wood and has excellent heat insulation and regulation properties, creating a comfortable space inside the vault where you can feel the grain and texture of the wood.
In such an environment, a tasting space will be set up where visitors can enjoy whisky while relaxing.
According to the crowdfunding information, the tasting table will be made of bubinga wood, which is now rare and carefully selected by Mr. Shimono, and the tasting space as well as the cellar will be one of the highlights of the project.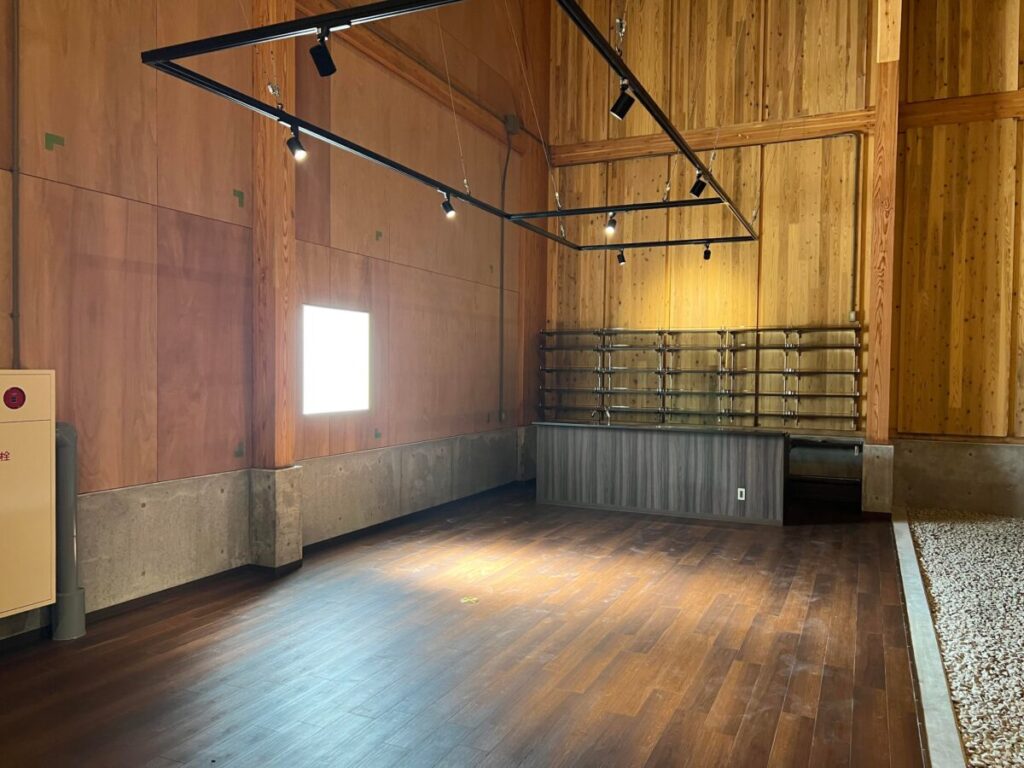 3. Partner distilleries
What we are interested in is which partner distilleries provide the original sake to "T&T TOYAMA" .
Mr. Inagaki and Mr. Shimono visited distilleries all over Japan and selected the following 6 distilleries from those that met their own criteria and agreed to participate in the project. (as of the crowdfunding in 2015)
Eigashima Distillery (Eigashima Sake Brewery Co., Ltd.)
Osuzuyama Distillery (Kuroki Honten Co., Ltd.)
Mitake Distillery (Nishi Shuzo Co., Ltd.)
Kanosuke Distillery (Komasa Kanosuke Distillery Co., Ltd.)
Sakurao Distillery (Sakurao B&D Co., Ltd.)
Saburomaru Distillery (Wakatsuru Brewery Co., Ltd.)
 *In alphabetical order
3-1. Eigashima Distillery (Eigashima Brewery Co., Ltd.)
Many of you may know the local whisky "Akashi" when you hear it.
A sake brewer founded in 1888 in Akashi City, Hyogo Prefecture, this company has a long history, having obtained a whisky production license in 1919. In recent years, the facilities have been renovated, and the whisky to be produced in the future is expected to be even more promising. Recently, the double blenders' program realized through an exchange of sake with Nagahama Distillery was also a topic of conversation.
3-2. Osuzuyama Distillery (Kuroki Honten Co., Ltd.)
Kuroki Honten is a long-established shochu distillery known for its "Hyakunen no Kodoku" "Yamaneko" and "Yamazaru" . Inspired by the Edradower distillery in Scotland, Toshio Kuroki, the distillery's predecessor, built this distillery in the mountains. His son, Shinsuke Kuroki, who succeeded him, started making whisky in November 2019.
At the recent Whisky Festival, they served Newborn aged in chestnut barrels. This is an unusual approach with a Japanese flavor that will be watched closely in the future. In addition to whisky, they are also enthusiastic about producing gin.
3-3. Mitake Distillery (Nishi Brewery Co., Ltd.)
A long-established authentic shochu distiller with over 170 years of history in the mountains of Hioki City, known for such products as "Satsuma Hozan" and "Tenshi no yuwaku" A whisky distilling facility will be constructed in 2019.
All of the barrels used for maturation are old sherry butts. The company's policy of being particular about the raw materials used, and its experience in shochu production, is utilized in the careful production of its whisky.
It may not be long before they become the Japanese version of Macallan.
3-4. Kanosuke Distillery (Komasa Kanosuke Distillery Co., Ltd.)
Established in 1883, Kagoshima Prefecture's Komasa Jozo is a brewer whose main product is the authentic shochu called kozuru.
Taking full advantage of the authentic shochu production technology it has cultivated over the years, the company acquired a whisky production license in 2017 and began operating the "Komasa Brewery Kanosuke Distillery" as a new stage of challenge. The distillery has some unusual features not found in other distilleries, such as using empty barrels of Mellow Codzu, a barrel-aged shochu liqueur invented by the distillery's predecessor, Kanosuke, for maturing whisky.
After three years of aging, two single malts will be released in 2021, with another new product set to be released in June 2022.
3-5. Sakurao Distillery (sakurao B&D co.)
A long-established brewery founded in 1918. In fact, it has a deep history in whisky making, producing and selling malt whisky from 1938 to 1989.
In 2018, in order to take on the challenge of new possibilities in Western whisky making, new equipment was installed and the Sakurao Distillery was established.
In 2021, the company will simultaneously release two single malt whiskys,  "Sakurao" and "Togouchi" which have been aged for three years. In addition, the craft gin "Sakurao Gin"
has become the main product of the Sakurao Distillery.
3-6. Saburomaru Distillery (Wakatsuru Brewery Co., Ltd. )
This sake brewery has a very long history in Hokuriku, having started sake production in 1862 in Saburomaru Village, Tonami County, Toyama Prefecture. After the end of World War II, in order to break out of a deadlocked situation, they independently researched distilled spirits production and obtained a license to produce whisky in 1952, and began selling "Sunshine whisky"
in Toyama Prefecture in 1953.
In 2016, they launched the "Saburomaru Distillery Renovation Project" and challenged crowdfunding to secure funds, calling for the passion for whisky making that they have kept for over 60 years and the challenge of developing it into a world-class whisky distillery. The company has re-started as a.
Most recently, the third batch and force batch of "Far Eats Of Peat" which was created through an exchange of original spirits with the Eigashima distillery, were released.
4. New product from T&T TOYAMA: THE LAST PIECE
Recently, "THE LAST PIECE Japanese Edition Batch No. 1″ and"THE LAST PIECE World Edition Batch No. 1" the world's first whisky blended with malt from five Japanese craft distilleries, will be available in limited quantities from April 19 (Tuesday). The company has announced that it has started to sell the product in the United States.
Lottery entries were submitted through Wakatsuru Brewery's online store "Me and ALC" but unfortunately, the deadline has already passed and applications for the lottery sales have been closed.
This is a rare whisky that we hope you will drink when you see it at a BAR near you.
https://jpwhisky.net/2022/04/05/new_the_last_peace/
5. Last but not least
For the future of Japanese whisky, we must create a system that will allow Japanese craft distilleries to survive for a long time while the Japanese whisky economy is booming, which is also known as the Japanese whisky bubble. I still remember the words of Mr. Inagaki and Mr. Shimono when they said, "We must create a system that will allow Japanese craft distilleries to survive for a long time.
Japanese whisky, which has been highly acclaimed around the world, has become rare and sought after around the world, and its price continues to skyrocket. To meet this demand, more than 50 whisky distilleries are operating in Japan, producing Japanese whisky on a daily basis. At the moment, authentic Japanese whisky continues to enjoy a booming market, selling out as soon as it is released.
However, a boom in a bubble state always has a shadow and gradually enters a period of stagnation. In light of this past rule of thumb, it can be said that the Scottish bottlers have contributed to the creation of an industry structure that supports each other, as they have done in the past.
T&T TOYAMA will not only create whiskies with various flavors and tastes that differ from the official products of each distillery, but may also play a role in supporting the whisky industry as a whole. In this sense, the future of T&T Toyama will be the focus of more and more attention.