Keizo Saji, the second son of Shinjiro Torii, took over as the second master blender with the motto "People and nature resonate with each other" .
1. Manufacturer
Suntory Spirits Co.
Established

1899

Head office location
2-3-3 Daiba, Minato-ku, Tokyo 135-8631, Japan
Owned distillery
●Japan
Yamazaki Distillery, Hakushu Distillery, Chita Distillery
●Scotland
Ardmore distillery, Glengilly distillery, Auchentoshan distillery, Bowmore distillery, Laphroig distillery
●Ireland
Cooley distillery, Kilbeggan distillery
●United States
Jim Beam distillery, Maker's Mark distillery
●Canada
Hiram Walker Distillery, Alberta Distillery
2. Distillery
Hibiki 21 Year Old is made by blending raw materials from three distilleries : Yamazaki Distillery, Hakushu Distillery and Chita Distillery
| | | |
| --- | --- | --- |
|   | Location | Start of operation |
| Yamazaki Distillery | 2-1, Yamazaki 5-chome, Shimamoto-cho, Mishima-gun, Osaka 618-0001, Japan | 1923 |
| Hakushu distillery | 2913-1 Toribaru, Hakushu-cho, Hokuto-shi, Yamanashi 408-0316 | 1973 |
| Chita distillery | 16 Kitahamacho, Chita city, Aichi prefecture, 478-0046 Japan | 1973 |
The Yamazaki Distillery was founded in 1923 by Shinjiro Torii, the founder of Suntory, who decided to make whiskey with a passion to create a Japanese whiskey that would suit the delicate taste of the Japanese people.
For more information on the Yamazaki Distillery, you can also read this article.
In order to produce a different type of malt whiskey from the Yamazaki distillery, the Hakushu distillery searched for the best water for making whiskey and selected Hakushu, one of the most famous water areas in Japan, from a nationwide survey. In 1973, exactly 50 years after the Yamazaki distillery started operations, Suntory's second malt whiskey distillery, Hakushu Distillery, began operations.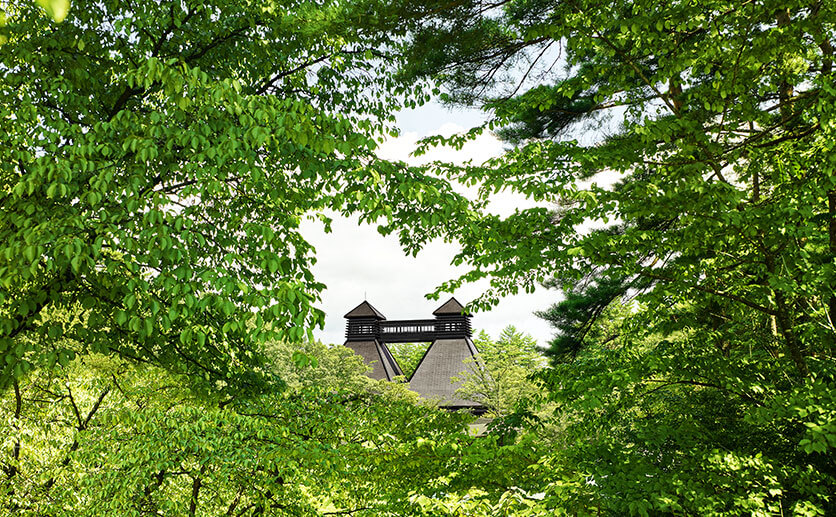 For more information on the Hakushu Distillery, please also see this article.
The Chita Distillery is located on the Chita Peninsula overlooking Ise Bay, where corn-based grain whiskey has been supported. The Chita Distillery uses a continuous distillation system to produce three types of grain whiskey: clean, medium and heavy, which is unique in the world.
For more information on the Chita Distillery, please also see this article.
3. Product name and photo
HIBIKI 17 Years Old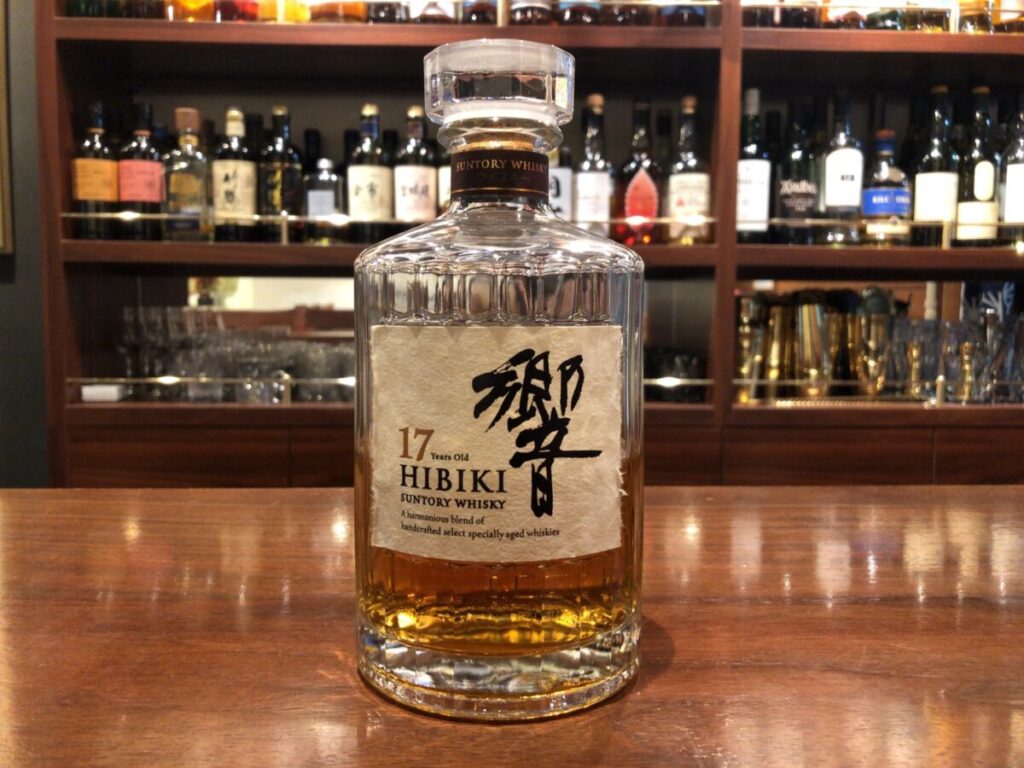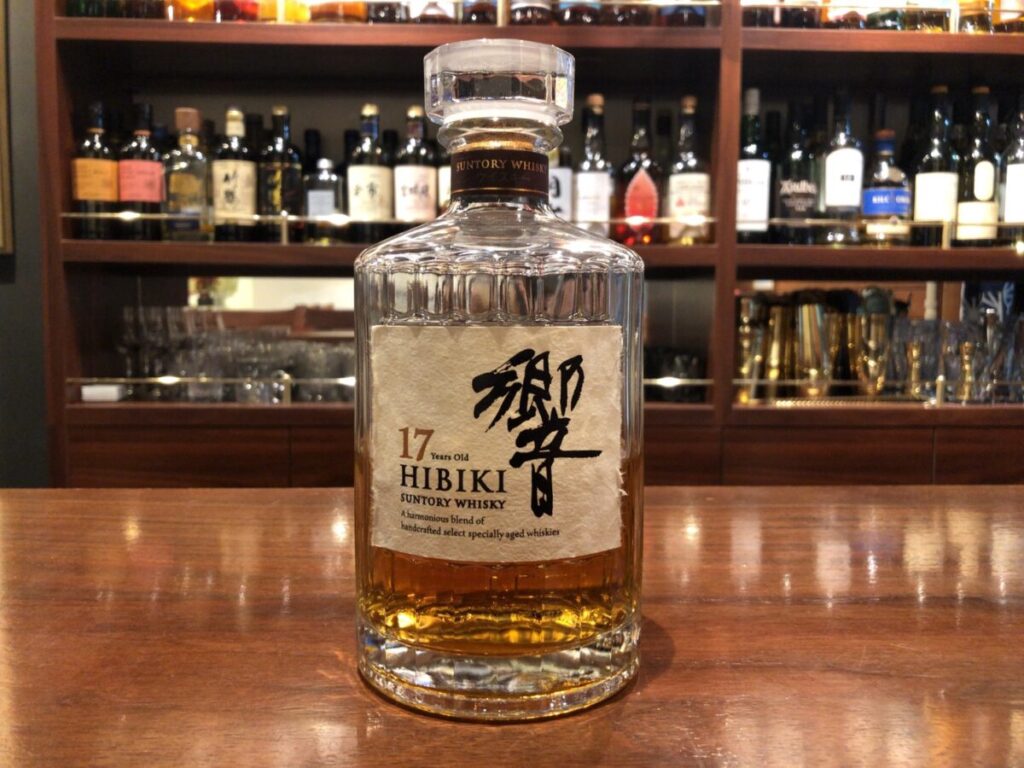 ¥88,580
(2023/06/05 11:57:40時点 楽天市場調べ-
詳細)
4. Characteristics
A deep and luxurious harmony of various raw materials in perfect harmony without a single thread.
A blend of more than 30 different malts and several grains, mainly from 17-year-old oak barrels.
Estery (sweet and floral) and rich aged aroma. A noble woodiness (mature woody aroma) from Yamazaki's long aging malt. Mellow, thick and full-bodied. Rich lingering after-taste.
4-1. Tasting Notes
| | |
| --- | --- |
| Fragrance | Roses, jasmine, peaches, melon, butter, vanilla, Kyara incense. |
| Taste | Custard cream, milk caramel, lightly sweet, light and smooth. |
| Aftertaste | Sweet and gorgeous fruit aroma, pleasant aftertaste |
(Reference: Hibiki – The Best of Suntory Blended Whiskey – Suntory)
4-2. Product Specifications
| | |
| --- | --- |
| Alcohol content | 43% |
| alcohol category | blended whisky |
| Barrel type | Mainly Quercus serrata barrels |
| Contents | 700ml |
| Number of bottles sold | Sales suspended in September 2018 |
| Suggested retail price | 13,200 yen (tax included) |
| Release date | 1989 |
5. Award history
2005 Gold Medal, SWSC (San Francisco World Spirits Competition)
2007 IWSC (International Wine and Spirits Competition) Gold Medal "Best in Class"
2009 ISC (International Spirits Challenge)Gold Medal
2012 ISC (International Spirits Challenge)Gold Medal
2013 ISC (International Spirits Challenge)Gold Medal
2016 ISC (International Spirits Challenge)Gold Medal
6. Price
6-1. Manufacturer's suggested retail price
| | |
| --- | --- |
| Product name | Hibiki 17 Years Old |
| Volume | 700ml |
| Suggested retail price | 12,000 yen (tax included: 13,200 yen) |
6-2. Resale price on Mercari
The resale price on Mercari is around 48,000 yen to 60,000 yen. (*As of January 30, 2021)


6-3. Yahoo Auction Sold Price
The lowestbid price on Yahoo Auctionis 31,828 yen, the highest is 56,000 yen, and the average is 42,990 yen (*Statistics for the past 120 days since January 30, 2021)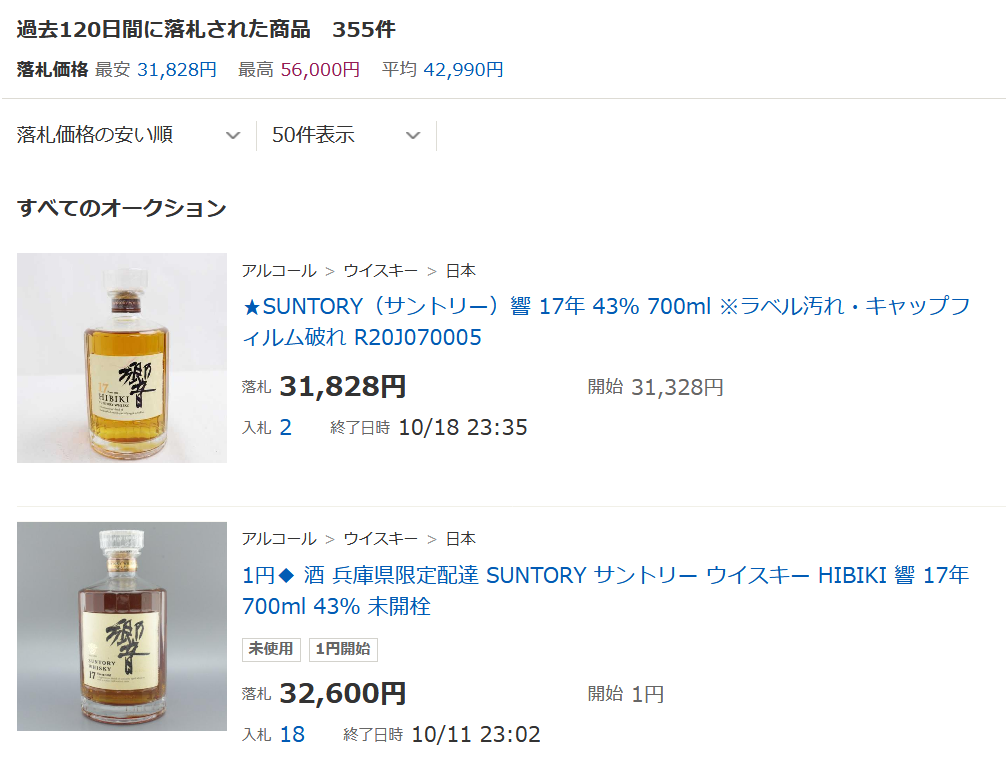 6-4. Rakuten, Yahoo Shopping, Amazon
Mail order sites also sell them for around 55,000 yen to 60,000 yen. (*as of January 30, 2021)
¥88,580
(2023/06/05 11:57:40時点 楽天市場調べ-
詳細)
6-5. Price offered at BAR SHINKAI
At "BAR SHINKAI" , which is operated by this website, we offer even small quantities such as 1glass, 45ml: 4,840 yen, 30ml: 3,300 yen, 15ml: 1,650 yen .
7. Summary
Sometimes blenders are compared to conductors. The blender is sometimes compared to a conductor, because he carefully selects and harmonizes the richly unique raw materials to create a single harmony.
Mr. Keizo Saji, who is well versed in sports and culture, told Koichi Inatomi, Chief Blender, that "the age of aging is coming, and premium whiskeys with long aging periods will be loved. In response, Mr. Inatomi, who has long been familiar with the viola string instrument, carefully selected the raw whiskey produced and nurtured at both the Yamazaki and Hakushu distilleries with an image of "the fourth movement of Johannes Brahms' First Symphony.
With 30 different types of malts and several types of grains, it is a malt-heavy brew that reaffirms that Japanese blenders are world class.
It is easy for beginners to drink, and is so standard that people say, "If you want to drink Hibiki, start with 17 years. If you ever see it, please try it.
You may also enjoy drinking it while listening to "Brahms Symphony No.1, 4th Movement" .
Incidentally, Mr. Keizo Saji, the creator of the blended masterpiece, devoted himself to cultural projects after becoming the second president of Suntory, and passed away at the age of 80. Coincidentally, that day was November 3rd, Culture Day.
Please check out the other articles about Hibiki.
Lastly: Recommended Books on Japanese Whisky
If you want to learn more about Japanese whisky, which is a global trend, we highly recommend these books.
In the December 2021 issue of Whisky Galore, published by the Whisky Culture Research Institute, we report on 11 Japanese craft distilleries, including some that are open to the public for the first time, under the title of "Japanese Whisky Craft Frontline," the first of three consecutive issues. Why did the popularity of Japanese whiskey and the craft boom occur? We will examine with interviews. Chichibu Distillery / Chichibu No.2 Distillery / Mars Shinshu Distillery / Mars Tsunuki Distillery / Kanosuke Distillery / Hioki Distillery / Ontake Distillery / Osuzuyama Distillery / Kaikyo Distillery / Hanyu Distillery / Konosu Distillery
¥1,320
(2023/06/05 19:36:31時点 Amazon調べ-
詳細)
This is a book written by Mamoru Tsuchiya, a world-famous whisky critic and representative of the Whisky Culture Research Institute, titled "Japanese Whisky as a Culture that Works for Business" .
The book covers the basics of whisky, the introduction of whisky to Japan, the birth of Japanese whisky, advertising strategies and the rise of Japanese whisky, and the current rise of craft distilleries. This is a book that summarizes Japanese whisky in a very easy to understand way.
Masataka Taketsuru, the founder of Nikka Whisky, devoted his life to brewing whisky in Japan. This is a revised and reprinted version of the autobiography of a man who simply loved whiskey and talked about himself. The book vividly depicts the days when he went to Scotland alone to study as a young man and overcame many hardships to complete Japanese whisky, as well as his companion, Rita.
Launching in 2019. With the world experiencing an unprecedented whisky boom, what were the managers of craft distilleries thinking and what were their thoughts as they took on the challenge of making whiskey? This book tells the stories of 13 craft distillery owners, including Ichiro Hido of Venture Whisky, famous for his Ichirose Malt, who inspired the birth of craft distilleries in Japan.
This is the Japanese version of Whisky Risng, published in the US in 2016, with much updated content. Not only does it describe the history of Japanese whiskey in detail, but it also includes data on all the distilleries in Japan, including the craft distilleries that have been founded in recent years. The book also includes descriptions of the legendary bottles that have been released, as well as information on bars where Japanese whisky can be found.