Urawa Racecourse and Ichirose Malt venture whisky collaboration. The name of the whisky is "Urawa Horse Racing Original Ichirose Malt" . 
In Kentucky, the birthplace of bourbon whisky, we focused on the culture of enjoying horse racing while drinking whisky. In July 2021, we approached them about joint development.
1.Urawa Horse Racing Original Ichirose Malt Overview
The "Urawa Horse Racing Original Ichirose Malt" is a part of the "Saitama! Urawa Horse Racing Original Ichirose Malt" is the third installment of the Saitama!
Mr. Rui Ishida of the Saitama Prefecture Urawa Horse Racing Association, which manages Urawa Horse Racing, says that he hopes the sale of the collaborative product will encourage people to visit the track and feel the power of horse racing firsthand.
The "Urawa Horse Racing Original Ichirose Malt" will be presented to the winners of all 10 Urawa Horse Racing Grand Prix races in 2022, and a limited number of five bottles per day will be sold by lotteryto visitors on the day of the races.
Actual presentation to the jockeys ↓
Detailed information about the whisky is not available at this time, but from the words "Malt & Grain" on the label, I would guess that it is world blended. Also, based on the color and the selling price, I believe that it is made from a long term aged raw spirit.
The label design is also related to horse racing, with an illustration of a horseshoe and a photo of a race printed on it, making it a must-have for whisky and horse racing fans.
I would love to actually taste the "Mint Julep" cocktail made with this whisky at the race track.
2.Urawa Horse Racing Original Ichirose Malt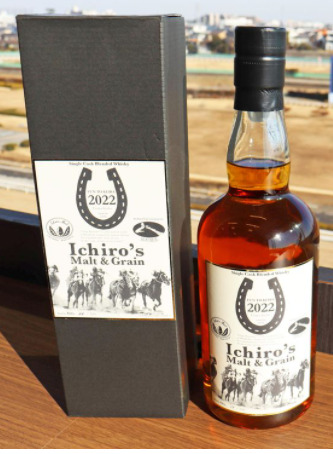 | | |
| --- | --- |
| Product Name | Urawa Horse Racing Original Ichirose Malt |
| Number of bottles sold | 50 bottles per year |
| Number of Degrees | 58% alcohol by volume |
| Classification | Blended whisky |
| Barrel type | Bourbon barrels |
| Contents | 700ml |
| Release Date | See below |
| Sales Price | 18,420 yen |
2-1. Tasting Notes
A pleasant oak aroma that rises slowly, and a sweetness and acidity reminiscent of elegant plums.
The refreshing impression that spreads gently in the mouth is reminiscent of coniferous trees covered in morning dew.
With a little watering, the fruity flavor spreads further, so take your time and enjoy.

(Tasting comment by Ms. Yumi Yoshikawa, Global Brand Ambassador, Venture whisky Co.
3.How to Purchase
How to apply: Fill out the application form in front of the prefectural products store in the Urawa Racecourse on the day of the race and drop it in the application box (*100 yen admission fee to the racecourse is required).
Announcement of winners: Notification of winners will be sent out approximately two weeks after the drawing date.
How to purchase: Bring the winning notification to the Urawa Racecourse Prefectural Products Shop during the sales period on each lottery day (see below).
Venue Name
Urawa Racecourse
Address

8-42, Oyaba 1-chome, Minami-ku, Saitama-shi, Saitama 336-0016, Japan

Access

5 minutes by free shuttle bus from JR Minami Urawa Station East Exit, 15 minutes on foot

15 minutes walk from JR Urawa Station East Exit

Official website
Urawa Racecourse Official Website
3-1. Dates of major prize races in 2022
Lottery Day
Sales day (during Urawa Race)
Grand Prize Races
January 19 (Wednesday)
February 21 (Mon) – February 25 (Fri)
March 14 (Mon) – 18 (Fri)
New Year Cup
February 23 (Wednesday)
March 14 (Mon) – 18 (Fri)
April 25 (Mon) – April 29 (Fri)
Jungfrau Prize
March 17 (Thursday)
April 25 (Mon) – April 29 (Fri)
May 30 (Mon) – June 3 (Fri)
Ouka Prize
April 27 (Wednesday)
May 30 (Mon) – June 3 (Fri)
June 27 (Mon), 30 (Thu), July 1 (Fri)
Shirasagi Prize
June 1 (Wednesday)
June 27 (Mon), 30 (Thu), July 1 (Fri)
July 18 (Mon) – 21 (Thu)
Sakitama Cup
July 20 (Wednesday)
August 8 (Mon) – 12 (Fri.)
Aug. 30 (Tue) – Sep. 2 (Fri)
Platinum Cup
September 21 (Wednesday)
October 17 (Mon) – 21 (Fri)
November 21 (Mon) – 25 (Fri)
Teletama Cup Oval Sprint
October 19 (Wednesday)
November 21 (Mon) – 25 (Fri)
December 22 (Thu), 23 (Fri), 26 (Mon), 27 (Tue)
Saitama Shimbun Glory Prize
November 23 (Wednesday)
December 22 (Thu), 23 (Fri), 26 (Mon), 27 (Tue)
January 10 (Tue) – 13 (Fri)
Urawa Memorial
December 22 (Thursday)
January 10 (Tue) – 13 (Fri)
February 13 (Mon) – 17 (Fri)
Gold Cup
*Entries are limited to one per person per lottery day.
For other information about Ichirose Malt, please also see here.
Lastly: Recommended Books on Japanese Whisky
If you want to learn more about Japanese whisky, which is a global trend, we highly recommend these books.
In the December 2021 issue of Whisky Galore, published by the Whisky Culture Research Institute, we report on 11 Japanese craft distilleries, including some that are open to the public for the first time, under the title of "Japanese Whisky Craft Frontline," the first of three consecutive issues. Why did the popularity of Japanese whisky and the craft boom occur? We will examine with interviews. Chichibu Distillery / Chichibu No.2 Distillery / Mars Shinshu Distillery / Mars Tsunuki Distillery / Kanosuke Distillery / Hioki Distillery / Ontake Distillery / Osuzuyama Distillery / Kaikyo Distillery / Hanyu Distillery / Konosu Distillery
This is a book written by Mamoru Tsuchiya, a world-famous whisky critic and representative of the Whisky Culture Research Institute, titled "Japanese Whisky as a Culture that Works for Business" .
The book covers the basics of whisky, the introduction of whisky to Japan, the birth of Japanese whisky, advertising strategies and the rise of Japanese whisky, and the current rise of craft distilleries. This is a book that summarizes Japanese whisky in a very easy to understand way.
Masataka Taketsuru, the founder of Nikka Whisky, devoted his life to brewing whisky in Japan. This is a revised and reprinted version of the autobiography of a man who simply loved whisky and talked about himself. The book vividly depicts the days when he went to Scotland alone to study as a young man and overcame many hardships to complete Japanese whisky, as well as his companion, Rita.
Launching in 2019. With the world experiencing an unprecedented whisky boom, what were the managers of craft distilleries thinking and what were their thoughts as they took on the challenge of making whisky? This book tells the stories of 13 craft distillery owners, including Ichiro Hido of Venture Whisky, famous for his Ichirose Malt, who inspired the birth of craft distilleries in Japan.
This is the Japanese version of Whisky Risng, published in the US in 2016, with much updated content. Not only does it describe the history of Japanese whisky in detail, but it also includes data on all the distilleries in Japan, including the craft distilleries that have been founded in recent years. The book also includes descriptions of the legendary bottles that have been released, as well as information on bars where Japanese whisky can be found.