When it comes to Suntory whiskey, many people think of Yamazaki, but Hakushu is just as popular as Yamazaki. Hakushu 12 Year Old is a whisky made by vatting malt that has been matured for more than 12 years at the Hakushu distillery.
The Hakushu distillery is located in a high altitude area, which is rare in the world, and is called a "forest distillery" . The natural environment, such as the water, and the different facilities, such as the fermentation tanks and distillation vessels, make it possible to create an original whiskey with a different character from the Yamazaki distillery.
How and why Hakushu 12 Years was discontinued
It was released in 1994. Hakushu 12 Year Old Discontinued in June 2018 It became the first whiskey in the world. The demand for whisky in Japan peaked in 1983, after which whisky consumption stagnated, and after the bursting of the bubble economy in the 1990s, there was a period of no whisky sales at all, and manufacturers reduced or suspended whisky production.
However, the demand for whiskey started to rise again in 2009. The trigger was the highball launched by Suntory.
In the past, whisky had been a drink for middle-aged and older people, but when Suntory promoted it as a highball for younger people, it became a big hit. In addition, Japanese whiskey began to win prestigious awards at international competitions, and NHK's morning TV series "Massan" aired in 2014.
As a result of these incentives and the fact that raw whiskey must be aged in barrels and takes several years to decades to supply, there was a significant shortage of raw whiskey, and as a result, Hakushu 12 Year has been discontinued.
It wasn't until about 2012 that manufacturers realized the demand for whiskey and started full production. The distilleries also expanded their facilities and began to produce the original whiskey in full production. It will take some time before the problem of the shortage of undiluted whiskey is solved, even if it is in 2022.
Under such circumstances, Suntory announced on January 19, 2021, that it would Hakushu 12 years old. on March 30th. A limited quantity will be available again on March 30. On January 19, 2021, Suntory announced that it would On January 19, 2021, Suntory announced that it would do so.
The resale of Hakushu 12 Year Old will be the same as before it was discontinued, but it will be made from only the original liquor that has been aged for more than 12 years at the Hakushu Distillery. 43% alcohol by volume, 700ml, MSRP 8,500 yen (9,350 yen including tax). The annual sales volume is undisclosed at this time. The label on the bottle will be made of handmade Echizen Washi paper, and the color of the English logo is likely to be changed.
Reference: Notice of the re-release of single malt whiskey "Hakushu 12 Year Old"
1. Manufacturer
Suntory Spirits Co.
Established

1899

Head office location
2-3-3 Daiba, Minato-ku, Tokyo 135-8631, Japan
Owned distillery
Japan
Yamazaki Distillery, Hakushu Distillery, Chita Distillery
Scotland
Ardmore distillery, Glengilly distillery, Auchentoshan distillery, Bowmore distillery, Laphroig distillery
Ireland
Cooley distillery, Kilbeggan distillery
United States
Jim Beam distillery, Maker's Mark distillery
Canada
Hiram Walker Distillery, Alberta Distillery
2. Distilleries
Suntory Hakushu Distillery
| | |
| --- | --- |
| Location | 2913-1 Toribaru, Hakushu-cho, Hokuto-shi, Yamanashi 408-0316, Japan |
| Start of operation | 1973 |
In 1973, exactly 50 years after the first whisky was produced in Japan, the Hakushu Distillery was completed in a lush forest of 820,000 square meters at the foot of Mount Kai Komagatake in the Southern Alps, blessed with abundant nature.
The brewing water is surrounded by the moist atmosphere of the forest, and the Hakushu malt is made with pure and soft natural water from the Southern Alps, polished by granite. The malt is matured over a long period of time in the changing seasons that are unique to Japan, and is the source of the clean, aromatic Hakushu flavor.
In 2014, the company spent 1 billion yen to add four more pot stills, bringing the total number of stills to 16. A wide variety of pot stills of different sizes and shapes are used to make different types of sake. The storage room is a rack type with a high ceiling. The temperature and humidity are not controlled by hand, but are left to nature.
1973 Hakushu distillery was built.
1994 Release of Hakushu 12 years
2006 Release of Hakushu 18 years
2008 Release of Hakushu 25 years
Image credit: Suntory Official Forest Distillery.
See also this article for more information on Hakushu Distillery.
3. Product name and photo
Hakushu 12 year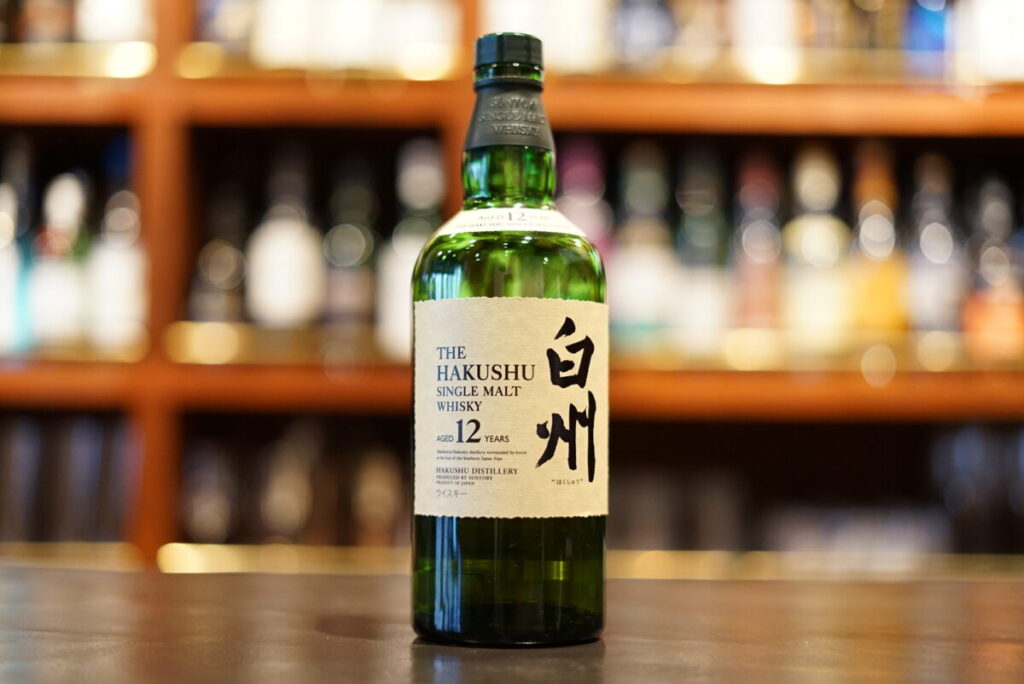 4. Characteristics
Smoky flavor with a hint of bitterness.
Slightly smoky malt is fermented in wooden vats with top-fermenting yeast. The fruity and creamy wash (moromi at the end of fermentation) is distilled in an open flame distillation kettle, packed in white oak barrels, and aged for over 12 years in a storage facility in the Hakushu forest. It is then fermented in wooden vats and distilled over an open fire. The result is a fruity, sweet, and light wine with a soft smoky flavor.
4-1. Tasting Notes
| | |
| --- | --- |
| Aroma | Sweet and refreshing citrus aroma with soft, light peat and green freshness. |
| Taste | Sweet and savory aroma of nuts and vanilla ice cream with a smoky taste. |
| Aftertaste | Fresh and slightly acidic aftertaste of green apple and sudachi. |
4-2. Product Specifications
| | |
| --- | --- |
| Alcohol content | 43% |
| alcohol category | Single malt whisky |
| Barrel type | White oak barrels, etc. |
| Contents | 700ml |
| Number of bottles sold | Sales suspended in June 2018 |
| Suggested retail price | 9,350 yen (tax included) |
| Release date | 1994 (Resale: March 30, 2021) |
5. Awards
2009 IWSC Gold Medal
2010 IWSC Gold Medal
2011 SWSC Best Gold Award
2012 SWSC Gold Medal, ISC Gold Medal
2013 SWSC Gold Medal
2014 SWSC Gold Medal
2016 SWSC Gold Medal
6. Price
6-1. Manufacturer's suggested retail price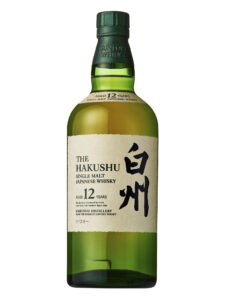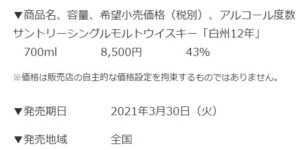 | | |
| --- | --- |
| Product name | Suntory Single Malt Whisky Hakushu 12 Year |
| Volume | 700ml |
| Suggested retail price | 8,500 yen (tax included: 9,350 yen) |
6-2. Resale price on Mercari
The resale price on Mercari is Around 26,000 yen to 30,000 yen The resale price on Mercari has been set at (*as of January 30, 2021)


6-3. Sold price on Yahoo Auction
The winning bid price on Yahoo Auction is Lowest bidder: 23,222 yen, highest bidder: 30,000 yen, average bidder: 27,504 yen (*Statistics for the past 120 days as of January 30, 2021)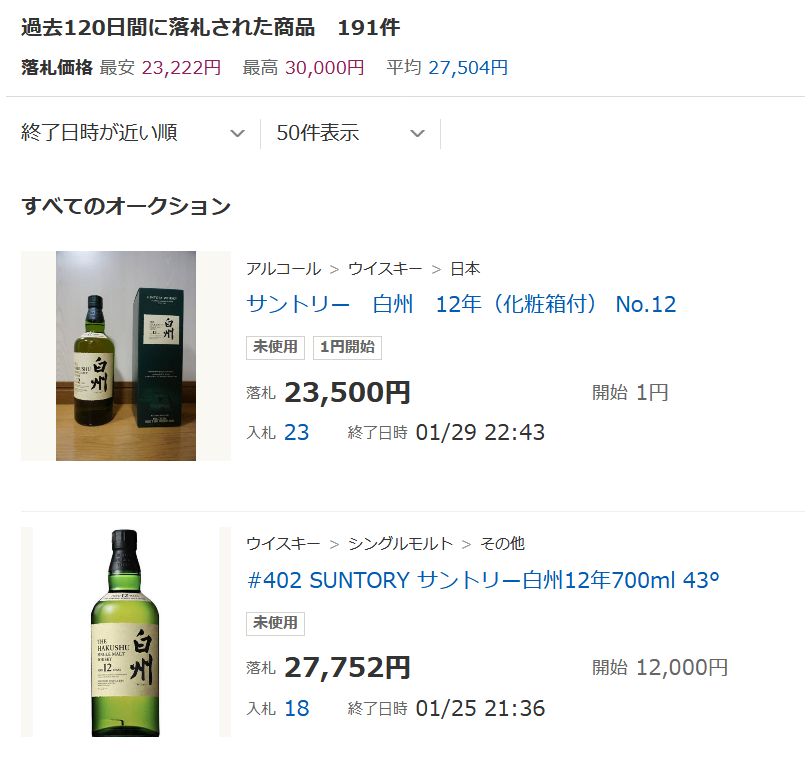 6-4. Rakuten, Yahoo Shopping, Amazon
It is also sold on mail order sites at Around 66,000 yen to 70,000 yen It is also sold at (*As of January 29, 2021)
6-5. Price offered at BAR Shinkai
At "BAR SHINKAI", which is operated by this website, it is 1 glass, 45ml: 3,850 yen It is available at.
7. Summary
The alcohol content of this whiskey is 43%, the same as Hakushu NV, but the stimulation of the alcohol is less than that of NV, and the whiskey has a soft sweetness and fruity taste in addition to the conventional smoothness and refreshment. If you add water, the stimulation of the alcohol is further reduced, making it easier to drink. Even if you drink it with water or in a highball, the unique flavor and complexity of Hakushu will not be lost, making it a whiskey that can be enjoyed in any way.
If you are a whiskey fan, you must try Hakushu 12 Year Old at least once, and if you are lucky, you can buy a bottle since it will be on sale again on March 30.
January 8, 2021 Suntory will ease restrictions on whiskey shipments for the first time in 11 years. The whiskey industry was momentarily buzzed by Suntory's official release that.
In fact, it was "Chita" and "Ao" that were targeted. Chita's sales volume is 116% yoy and Ao's sales volume is 249% year-on-year. The goal was to make it easy to enjoy at home. Half bottles (350ml) of both Chita and Ao were released on March 23. Unfortunately, Yamazaki, Hakushu, and Hibiki will continue to have their shipments restricted.
Suntory has made a big move this year. I wonder if Nikka Whisky has a secret plan. I'm sure they will come up with something!
What will happen to the Yoichi and Miyagikyo limited edition products that are released every year? Last year's Apple Brandy was released at the end of March, so I'm wondering if we'll get any information soon. I've been wondering about this every day.
I'm sure you'll love it.