On the official website of Nagahama Distillery of "Nagahama Roman Beer Co., Ltd". information was released on the lottery sale of "Single Malt Nagahama THE FIRST BATCH" in limited quantities.
The release date is October 11, 2022.
1. How to purchase (Lottery application)
If you are not a member of the online store, please register first.
Lottery application period: 9/13 (Tue.) 12:00 – 9/18 (Sun.) 23:59
Announcement of winners: 9/26 (Mon.) * Winners will be notified directly by e-mail.
The official online store and lottery application page is Here
*If the name and e-mail address entered in the application form do not match the membership information, the application will be invalid.
Please check the box "I would like to receive the e-mail magazine" when you enter your membership information.
 (If you do not wish to receive the newsletter, you will not be able to receive the winning e-mail.)
Only one application per person is allowed.
Only you can apply once per person.

2. Single Malt Nagahama THE FIRST BATCH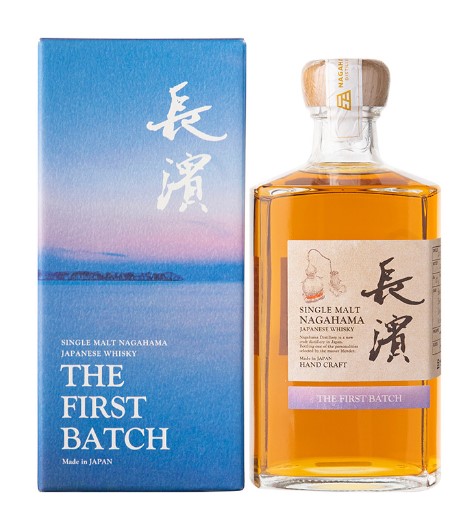 On October 11, 2022 (Tuesday), "Single Malt Nagahama THE FIRST BATCH", the first single malt vatted from the distillery's own original distillate, will go on sale.

The Nagahama Distillery began operations in 2016 as a project to commemorate the 20th anniversary of Nagahama Roman Beer, which was founded in 1996, at the same facility. We are very pleased to be able to offer our first single malt, which was created by vatting our own distilled spirits, after 5 years of operation. We are very pleased to be able to offer you our first single malt, which was created by vatting our own distillates.

In the spirit of "one brew, one barrel," we have carefully selected only the finest malt from among the bottles in our aging cellar, using bourbon, sherry, Islay Quarter, and Quercus barrel-aged bottles distilled between 2017 and 2019, and carefully blended using the technology and experience we have cultivated in the "AMAHAGAN". The blending was carefully done using the techniques and experience cultivated at "AMAHAGAN".

We hope you will enjoy not only the malty and mellow flavor typical of Nagahama Distillery, but also the exquisite harmony created by the characteristics of the different casks.

[Tasting comment] Appearance: Akane color like the setting sun on the shore of Lake Biwa.
Nose: Ripe fruit aroma reminiscent of red apples and persimmons. Sweet vanilla, coconut and caramel. With time, fresh aromas of raspberry and cranberry.
Mouth: Very smooth on the palate. Dry oaky flavor to freshly baked raisin sandwiches and apricot dried fruit. Then herbal essence reminiscent of black tea. Bitter and dry taste from the oak rounds out the entire palate.

Reference: Single Malt Nagahama THE FIRST BATCH|Nagahama Romantic Beer
| | |
| --- | --- |
| Product Name | Single Malt Nagahama THE FIRST BATCH |
| Sake | Single malt Japanese whisky |
| Ingredients | Malt |
| Casks | Bourbon casks, Sherry casks, Islay Quarter casks, Quercus casks |
| Number of bottles | Limited to 12,000 bottles |
| Degree of | 50% |
| Price | Suggested retail price: 11,000 yen (tax included) |
| Manufactured at | Nagahama Distillery |
| Producer | Nagahama Roman Beer Co. |
3. Single Malt Nagahama's past products
3-1. Single malt nagahama wine cask × bourbon cask cask strength batch 0078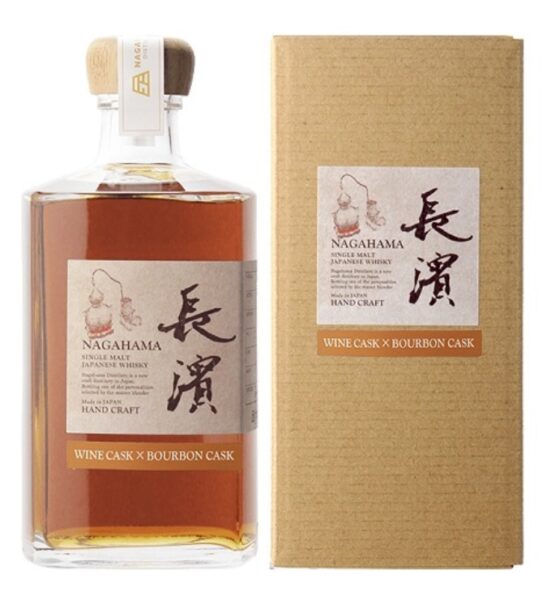 The casks were carefully selected based on the Nagahama distillery concept of "one brew, one cask". The key malt is a wine cask that has been aged for three years in wine casks, and the lightly peated cask that has been aged for three years in bourbon casks is used for the vatting. This bottle has a gorgeous taste with a rich sweetness that brings out the best of each other's character. The "cask strength" bottling process allows you to enjoy the full aroma of the whisky.
<Tasting Notes>
Appearance: Beautiful brick color
Nose: Pretty blooming violets. Honey sweets, maple syrup, strawberry chocolate. Tropical fruit that rises moderately and citrus acidity tightens the whole.
Mouth: Caramel, fudge and toffee sweetness with ripe apricot and orange fruit. Menthol and eucalyptus finish. Aromatic syrup and burnt caramel sweetness linger on the finish.
ノーブランド品
¥29,980
(2023/03/23 01:40:24時点 Amazon調べ-
詳細)
3-2. Single malt Nagahama Bordeaux cask finish cask strength batch 0986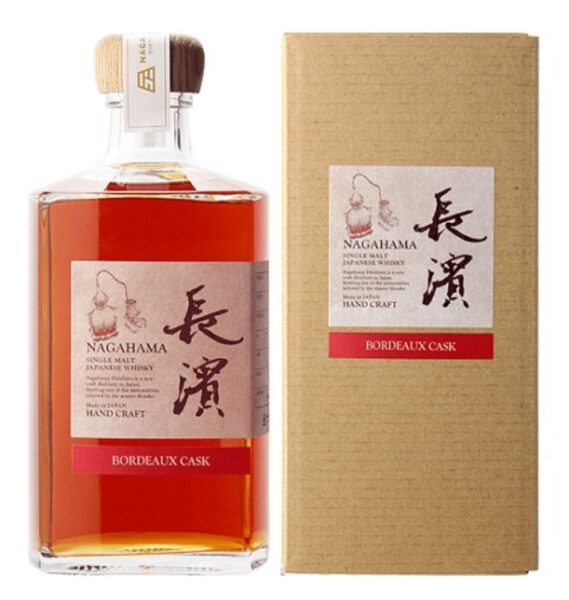 The casks were carefully selected based on the Nagahama distillery concept of "one brew, one cask". This single malt is cask-finished and aged in bourbon barrels for 2.5 years. After that, it was additionally aged for about 6 months in hogshead casks where Calon Segur red wine had been casked. The whisky is bottled at "single cask" and "cask strength" to maximize the enjoyment of the original aroma of the whisky. Winner of the Gold Medal at the San Francisco World Spirits Competition 2021.
<Tasting Notes>
Appearance: Reddish mahogany.
Nose: Top notes of concentrated grapes, blackcurrant and dark cherry with fruity acidity. Gentle sweetness of wasanbon and spices such as cinnamon. Well-balanced and cohesive aromas.
Taste: Smooth mouthfeel reminiscent of blueberry jam. Sweet grapes are followed by pleasant orange acidity and spicy, gentle oak. The moderate tannins that linger in the finish tighten the whole and beautifully enhance the whisky's original flavor.
Lastly: Recommended Books on Japanese Whisky
If you want to learn more about Japanese whisky, which is a global trend, we highly recommend these books.
In the December 2021 issue of Whisky Galore, published by the Whisky Culture Research Institute, we report on 11 Japanese craft distilleries, including some that are open to the public for the first time, under the title of "Japanese Whisky Craft Frontline," the first of three consecutive issues. Why did the popularity of Japanese whiskey and the craft boom occur? We will examine with interviews. Chichibu Distillery / Chichibu No.2 Distillery / Mars Shinshu Distillery / Mars Tsunuki Distillery / Kanosuke Distillery / Hioki Distillery / Ontake Distillery / Osuzuyama Distillery / Kaikyo Distillery / Hanyu Distillery / Konosu Distillery
¥1,320
(2023/03/23 03:10:42時点 Amazon調べ-
詳細)
This is a book written by Mamoru Tsuchiya, a world-famous whisky critic and representative of the Whisky Culture Research Institute, titled "Japanese Whisky as a Culture that Works for Business" .
The book covers the basics of whisky, the introduction of whisky to Japan, the birth of Japanese whisky, advertising strategies and the rise of Japanese whisky, and the current rise of craft distilleries. This is a book that summarizes Japanese whisky in a very easy to understand way.
Masataka Taketsuru, the founder of Nikka Whisky, devoted his life to brewing whisky in Japan. This is a revised and reprinted version of the autobiography of a man who simply loved whiskey and talked about himself. The book vividly depicts the days when he went to Scotland alone to study as a young man and overcame many hardships to complete Japanese whisky, as well as his companion, Rita.
Launching in 2019. With the world experiencing an unprecedented whisky boom, what were the managers of craft distilleries thinking and what were their thoughts as they took on the challenge of making whiskey? This book tells the stories of 13 craft distillery owners, including Ichiro Hido of Venture Whisky, famous for his Ichirose Malt, who inspired the birth of craft distilleries in Japan.
This is the Japanese version of Whisky Risng, published in the US in 2016, with much updated content. Not only does it describe the history of Japanese whiskey in detail, but it also includes data on all the distilleries in Japan, including the craft distilleries that have been founded in recent years. The book also includes descriptions of the legendary bottles that have been released, as well as information on bars where Japanese whisky can be found.