The official website of Asahi Breweries, Ltd. has released information on the release of "Single Malt Yoichi Aromatic Yeast and Single Malt Miyagikyo Aromatic Yeast" as the second product in the "NIKKA DISCOVERY Series".
The release date is September 27. It's been about a year since the last NIKKA DISCOVERY series "NIKKA DISCOVERY" (Yoichi Non-Peated and Miyagikyo Peated) was released.
Officially, there is no mention of lottery sales.
The price of each series is the same as the first series. Domestic10,000 bottles, overseas 10,000 bottles. The price is the same as the first series List price: 22,000 yen. The price is a bit high compared to Suntory and other craft distilleries.
However, we can imagine that it will definitely be a difficult bottle to obtain. The official description of the product is "mainly for commercial use," so it seems difficult for the general public to obtain a bottle.
This new product focuses on the "distinctive aroma produced by the different yeasts used in the fermentation process. While retaining the unique single malt charms of "Single Malt Yoichi" and "Single Malt Miyagikyo," this limited edition product brings out a hidden and unexpected character by adding a new aroma created by the yeast.
The two products to be released this time are the second products in the "NIKKA DISCOVERY Series," which focuses on the depth created by Nikka Whisky, which will celebrate its 90th anniversary in 2024, and its history of creating different types of whiskey through its various original spirits and manufacturing processes such as raw materials and fermentation. This is the second product in the "NIKKA DISCOVERY Series. It is being developed as a series to "discover" the diversity, depth, and unexpectedness of whis key. It is planned to be marketed mainly for commercial use. It is also planned to be sold overseas, mainly in Europe.
1. Single malt Yoichi aromatic yeast
The wide variety of aromas produced by the yeast during the fermentation process become the character of a wide variety of base liquors. Among them, the original sake with a gorgeous aroma reminiscent of ginjo aroma stimulated the blender's creativity.
Furthermore, they also focused on sake made with a yeast that produces an overflowing fruity aroma, and searched for a point of fusion with the peat aroma typical of Yoichi.
After a process of trial and error, a rare original whiskey that has been aged for more than 30 years in active casks was added to unite the fresh aroma and the heavy aroma, and a harmony as a whiskey was achieved.
The result is a fusion of Yoichi's original robust character and a floral, fruity aroma reminiscent of ginjo.
The answer to this challenging task has finally been found.


Reference: Single Malt Yoichi, Single Malt Miyagikyo Aromatic Yeast
2. Single malt Miyagikyo Aromatic Yeast
A yeast that produces a sweet and seductive aroma like apricots.
The original sake that takes advantage of this power shows its true value after a few decades of aging. However, this character is very sensitive, and if it exceeds a certain point, it becomes difficult to achieve a balance with the original gorgeousness of Miyagikyo. On the other hand, if it falls below that point, the aroma itself will disappear without a trace.
Therefore, the blender uses used barrels that have been aged for a number of years and have acquired a mild oaky character to achieve harmony. A small amount of heavy peat was added to the blend to give a subtle peatiness to the wine. The sweet fruity aroma rises with the gorgeousness at the top, and after the richness of the thick malt, the fruity flavor returns again. The strong character created by the ingenuity of the fermentation process is delicately balanced with Miyagikyo's character and asserts itself.


Reference: Single Malt Yoichi, Single Malt Miyagikyo Aromatic Y east
3. About Yoichi Distillery
Yoichi distillery in Hokkaido is called "Scotland of Japan". The distillery was established in 1934 by Masataka Taketsuru, a.k.a. Massin, as the predecessor of Dainippon Fruit Juice Co. Masataka Taketsuru believed that a place similar to Scotland Cool and humid climate, abundant water source and clean and dignified air He chose Yoichi, located at the base of the Shakotan Peninsula, west of Otaru, from a variety of possible sites. Masataka Taketsuru's goal for his first distillery was to create a heavy and powerful malt whiskey. He was determined to reproduce the whisky-making methods he had learned at distilleries in Scotland without making any compromises. The symbols of this commitment are the "Brewer's Whisky Straight head pot still and direct coal-fired distillation. This process produces a heavy, aromatic, heavy peat base whiskey, and produces a unique single malt with a peaty, salty aroma. This distillation method is based on the Longmorn distillery, where Taketsuru himself studied. If it is necessary to make authentic whiskey, we will follow it, even if it is inefficient. Such passion, which can be called the origin of Nikka Whisky, and Masataka Taketsuru's passion for his dreams are still being passed down today.
Yoichi Distillery official website
4. About Miyagikyo Distillery
It has been about 30 years since the first distillery was started in Yoichi, Hokkaido. Masataka Taketsuru, who believed that "blending several original whiskies from different distilleries gives whisky a richer and richer flavor," desperately needed a second distillery. Taketsuru chose Miyagikyo in Sendai. Miyagikyo Gorge in Sendai, a lush green gorge blessed with two clear streams, the Hirose River and the Shinkawa River. When Taketsuru first visited this place, he drank a bottle of Black Nikka he had in the clear water of the Shinkawa River and confirmed the taste. It is said that he decided to build the distillery on the spot. The Miyagikyo Distillery is proud of its "café-type continuous distillation machine. At the time of its introduction, this distillation machine was already considered old-fashioned. Because it is an old type, it tends to leave a lingering taste, but Taketsuru chose this old type distillation machine because it is possible to transform it into the original aroma and sweetness of the raw materials through technology. At Miyagikyo Distillery, the people who inherited Taketsuru's passion for whisky continue to make various attempts in pursuit of the best possible whisky.
Image Exhibit: Miyagikyo Distillery|NIKKA WHISKY
5. NIKKA DISCOVERY Series Lineup
5-1 Single Malt Yoichi Non-Peated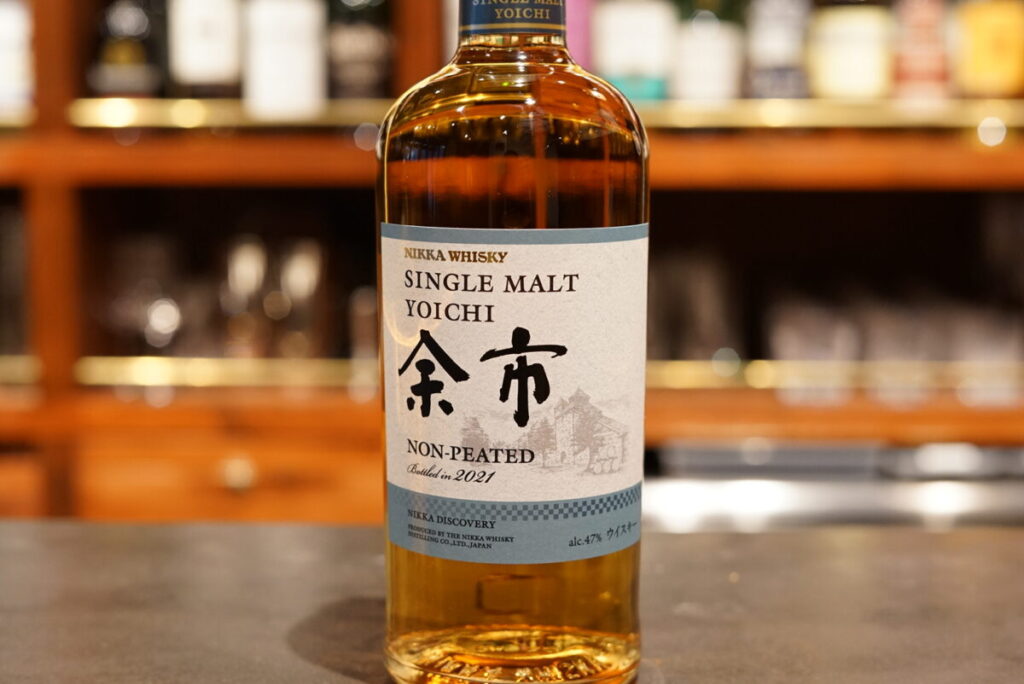 Single Malt Yoichi" has a strong and thick flavor, but we dared to make it using only non-peated malt. While retaining the strength of Yoichi malt's characteristic coal-fired distillation, the soft fruitiness and smooth, full-bodied sweetness of Yoichi malt, which had been hidden behind the peat, are revealed. The sweet and sour taste, reminiscent of berries, pears, and apples, is harmonized with the richness of the malt. It has a gorgeous, fruity aroma and a smooth, full-bodied caramel-like finish that lingers pleasantly.
https://en.jpwhisky.net/2021/09/29/yoichi_nonpeated-2/
5-2 Single Malt Miyagikyo Peated
The single malt Miyagikyo, which has a gorgeous, light flavor, is made using only peated malt. While maintaining the elegant flamboyance that is characteristic of Miyagikyo malt, the rich sweetness and firm body of Miyagikyo malt in harmony with the peat are revealed. You can taste the sweetness of raisins and dried cherries, and a light but firm peatiness.
https://en.jpwhisky.net/2021/09/29/miyagikyo_peated-2/