The two new products, Single Malt Yoichi Non-peated and Single Malt Miyagikyo Peated, will be released in 2024. 90th Anniversary The two new products, "Single Malt Yoichi Non-peated" and "Single Malt Miyagikyo Peated," will be released in 2024, and will focus on the depth created by Nikka Whisky's diverse range of raw materials and the history of whisky production by raw materials, fermentation and other production processes. "The first product in the "NIKKA DISCOVERY Series The exhibition focuses on the diversity and depth of whisky. The series was developed as a way to "discover" the diversity, depth, and unexpectedness of whisky. It will be marketed mainly for commercial use. Overseas sales are planned to be centered on Europe. Unlike the smoked bottles used in the year-round products, the transparent bottles will be used in this series, and the bottle design will express the "individuality of whisky" that is hidden in the year-round products.
To be released on September 28, 2021, limited to 10,000 bottles, 22,000 yen including tax.
1. Manufacturer
Nikka Whisky Co.
| | |
| --- | --- |
| Establishment | 1934  |
| Head office location | 4-31, Minami-Aoyama 5-chome, Minato-ku, Tokyo 107-8616, Japan |
| Owned distilleries | Yoichi Distillery, Miyagikyo Distillery, Ben Nevis Distillery |

2. distillery
Miyagikyo Distillery
| | |
| --- | --- |
| Address | 1, Nikka, Aoba ward, Sendai City, Miyagi Prefecture 989-3433, Japan |
| Start of operation | 1969 |
It has been about 30 years since the first distillery was started in Yoichi, Hokkaido. Masataka Taketsuru, who believed that "whisky becomes richer and more flavorful when it is blended with raw materials from different distilleries," desperately needed a second distillery. Taketsuru chose Miyagi Gorge in Sendai, Miyagi Prefecture. It is a lush green gorge blessed with two clear streams, the Hirose River and the nikkawa River. When Taketsuru visited this place for the first time, he drank some of his Black Nikka in the clear water of the nikkawa River and confirmed the taste. It is said that he decided to build the distillery on the spot. The pride of the Miyagi Gorge Distillery is its "café-style continuous distiller. At the time of its introduction, this distiller was already considered obsolete. Because it was an old-fashioned distillation machine, it was prone to leaving behind miscellaneous flavors, but Taketsuru chose to use this old-fashioned distillation machine because the technology could transform them into the original aroma and sweetness of the ingredients. At the Miyagikyo Distillery, people who have inherited Taketsuru's passion are still continuing to make various attempts to make whisky taste better.
Image credit: Miyagikyo Distillery|NIKKA WHISKY

For more information on the Miyagikyo Distillery, please also see this article.
3. Product name and photo
Single Malt Miyagikyo Peated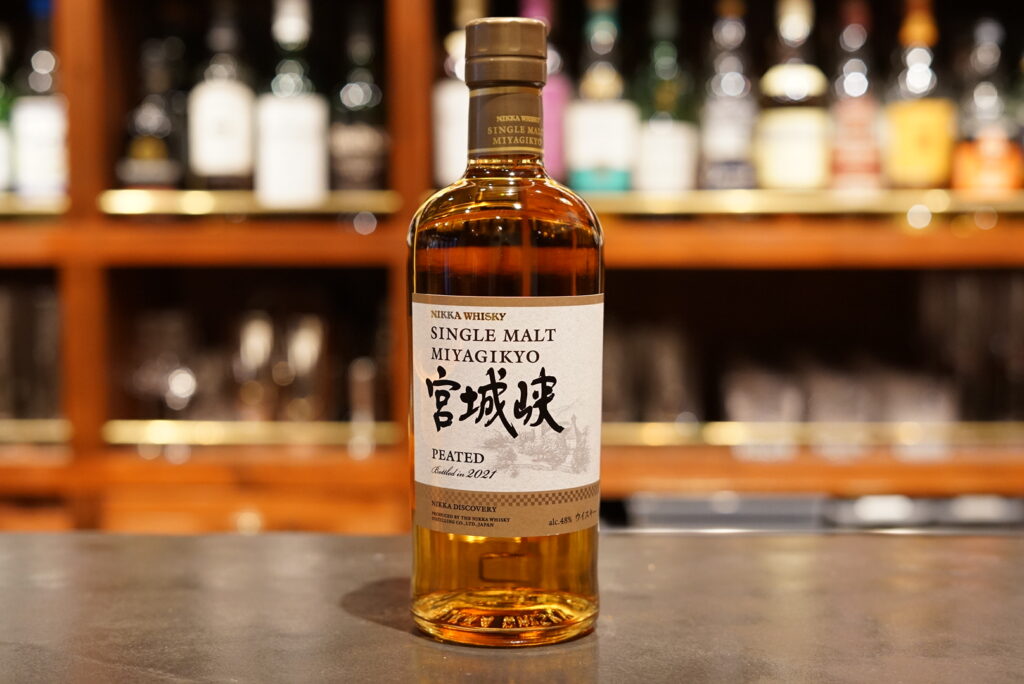 4. Characteristics
A fusion of the flamboyance and peat of the Miyagikyo malt.
This single malt Miyagikyo is originally a gorgeous and fruity Miyagikyo, but we dared to use only peated malt. This is a well-balanced whisky that makes the most of the character of Miyagikyo, but by adding peat, you can taste the peat in the mellow and light sweetness of the Miyagikyo malt.
When just poured, the peat is a little hidden and you can easily feel the sweetness of the oak and vanilla, but as time goes by, the pleasant peat comes to the fore. On the palate, with the peat at the core, the dark sweetness and sourness of the berries, the sweetness of the vanilla, and the rich sweetness of the cocoa chocolate are interwoven, but at the end, the peat comes to the fore again. It is a whiskey that tastes as if the Miyagikyo malt is wrapped tightly around the pillar of peat.
Previous limited edition products have changed their character by "different barrel types used in the wood finish" such as 2017 Moscar Wood Finish, 2018 Manzanilla Wood Finish, and 2020 Apple Brandy Wood Finish.
This time, no finishing was done, and the whisky was made with "different raw materials" to bring out the unexpected personality that was hidden while utilizing the charm of single malt Miyagikyo.
The label uses earthy colors and high quality white, reminiscent of peat. The use of a transparent bottle expresses a hidden and unexpected aspect of the whisky.

4-1. Tasting Notes
| | |
| --- | --- |
| Aroma | A rich sweetness reminiscent of honey and ripe fruit, with woody notes from the barrel, vanilla and cinnamon in harmony with the peaty aroma. |
| Taste | Sweetness of raisins and dried cherries, with a light but firm peatiness. |
| Aftertaste | A rich aftertaste like bitter chocolate and a crisp peaty aftertaste that lasts for a long time. |
4-2. Product Specifications
| | |
| --- | --- |
| Alcohol content | 48% alcohol by volume |
| Alcohol category | Single malt whisky |
| Barrel type | ー |
| Contents | 700ml |
| Number of bottles sold | Limited to 10,000 bottles |
| Suggested retail price | 22,000 yen (tax included) |
| Release date | September 28, 2021 |
5. Awards
No awards have been received at this time.
6. Price
6-1. Manufacturer's suggested retail price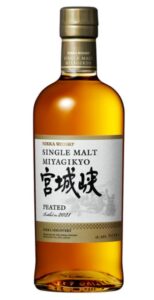 | | |
| --- | --- |
| Product name | Single Malt Miyagikyo Peated |
| Volume | 700ml |
| Suggested Retail Price | Tax included: 22,000 yen |
6-2. Resale price on Mercari
The resale price on Mercari is for a set of two bottles of Single Malt Yoichi Non-peated and Single Malt Miyagikyo Peated.
Around 71,000 yen to 95,000 yen  (*as of 9/29/2021)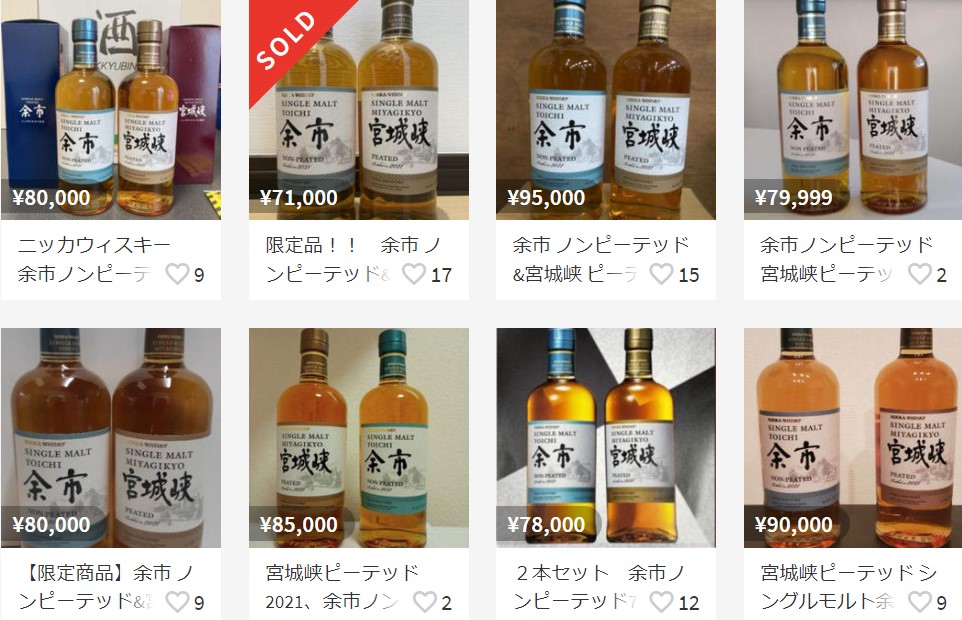 6-3. Sold price on Yahoo Auction
There seems to be no successful bids on Yahoo Auction at this time. (*As of September 29, 2021)
6-4. Rakuten, Yahoo Shopping, Amazon
It is also available at the mail order site at Around 40,000 yen It is also sold at (*as of 9/29/2021)
6-5. Price offered at BAR SHINKAI
At "BAR SHINKAI", which is operated by this site, it is available at 1 glass 45ml: 6,930 yen 30ml: 4,620 yen 15ml: 2,310 yen 
Bar Shinkai, which is operated by this site, offers it at
7. Summary
The first thing you notice in the aroma is a fruity scent, which gradually changes to a mild peat. On the palate, the peat comes to the forefront, but it is gradually outweighed by the flavors of Miyagikyo. It has a complex flavor with woody oak and vanilla notes. It is a whiskey that has been well integrated by changing the raw material to peated malt, which has a peaty flavor that matches the mellowness of the Miyagikyo.
Please try to compare it with Miyagikyo NV to taste the difference.
The second batch is scheduled to be released in 2022 and the third in 2023. I'm looking forward to seeing what kind of DISCOVERY they will show us next time.
Please check out the other articles on "Single Malt Miyagikyo"
Japanese Whisky Dictionary
Japanese Whisky Dictionary
Lastly: Recommended Books on Japanese Whisky
If you want to learn more about Japanese whisky, which is a global trend, we highly recommend these books.
In the December 2021 issue of Whisky Galore, published by the Whisky Culture Research Institute, we report on 11 Japanese craft distilleries, including some that are open to the public for the first time, under the title of "Japanese Whisky Craft Frontline," the first of three consecutive issues. Why did the popularity of Japanese whiskey and the craft boom occur? We will examine with interviews. Chichibu Distillery / Chichibu No.2 Distillery / Mars Shinshu Distillery / Mars Tsunuki Distillery / Kanosuke Distillery / Hioki Distillery / Ontake Distillery / Osuzuyama Distillery / Kaikyo Distillery / Hanyu Distillery / Konosu Distillery
¥1,320
(2023/03/21 01:01:51時点 Amazon調べ-
詳細)
This is a book written by Mamoru Tsuchiya, a world-famous whisky critic and representative of the Whisky Culture Research Institute, titled "Japanese Whisky as a Culture that Works for Business" .
The book covers the basics of whisky, the introduction of whisky to Japan, the birth of Japanese whisky, advertising strategies and the rise of Japanese whisky, and the current rise of craft distilleries. This is a book that summarizes Japanese whisky in a very easy to understand way.
Masataka Taketsuru, the founder of Nikka Whisky, devoted his life to brewing whisky in Japan. This is a revised and reprinted version of the autobiography of a man who simply loved whiskey and talked about himself. The book vividly depicts the days when he went to Scotland alone to study as a young man and overcame many hardships to complete Japanese whisky, as well as his companion, Rita.
Launching in 2019. With the world experiencing an unprecedented whisky boom, what were the managers of craft distilleries thinking and what were their thoughts as they took on the challenge of making whiskey? This book tells the stories of 13 craft distillery owners, including Ichiro Hido of Venture Whisky, famous for his Ichirose Malt, who inspired the birth of craft distilleries in Japan.
This is the Japanese version of Whisky Risng, published in the US in 2016, with much updated content. Not only does it describe the history of Japanese whiskey in detail, but it also includes data on all the distilleries in Japan, including the craft distilleries that have been founded in recent years. The book also includes descriptions of the legendary bottles that have been released, as well as information on bars where Japanese whisky can be found.