The two new products, Single Malt Yoichi Non-peated and Single Malt Miyagikyo Peated, will be released in 2024.90th anniversary The two products, "Single Malt Yoichi Non-peated" and "Single Malt Miyagikyo Peated," will be released in 2024 and will focus on the depth of Nikka Whisky's diverse range of raw materials and the history of whisky production by raw materials, fermentation and other production processes. "The first product in the "NIKKA DISCOVERY Series The exhibition focuses on the diversity and depth of whisky. The series was developed as a way to "discover" the diversity, depth, and unexpectedness of whisky. It will be marketed mainly for commercial use. Overseas sales are planned to be centered on Europe. Unlike the smoked bottles used in the year-round products, the transparent bottles will be used in this series, and the bottle design will express the "individuality of whisky" that is hidden in the year-round products.
It will go on sale on September 28, 2021, in a limited edition of 10,000 bottles for 22,000 yen including tax.
1. Manufacturer
Nikka Whisky Co.
| | |
| --- | --- |
| Establishment | 1934  |
| Head office location | 4-31, Minami-Aoyama 5-chome, Minato-ku, Tokyo 107-8616, Japan |
| Owned distilleries | Yoichi Distillery, Miyagikyo Distillery, Ben Nevis Distillery |
2. Distilleries
Yoichi Distillery
| | |
| --- | --- |
| Location | 7-6 Kurokawa-cho, Yoichi-cho, Yoichi-gun, Hokkaido 046-0003, Japan |
| Start of operation | 1936 |
The Yoichi Distillery in Hokkaido is known as the Scotland of Japan. Its predecessor, Dainippon Fruit Juice Company, was established in 1934 by Masataka Taketsuru, also known as Masan. Masataka Taketsuru believed that the ideal place for a distillery would be one that has a range of ingredients similar to Scotland. Cool and humid climate, rich water source and clear air Masataka Taketsuru chose Yoichi, located at the base of the Shakotan Peninsula, west of Otaru, from among various candidate sites. Masataka Taketsuru's goal for his first distillery was to create a heavy and powerful malt whisky. He was determined to replicate the whisky-making methods he had learned at the distilleries of Scotland, without compromise. The symbol of this dedication is the "Straight head type pot still" The symbol of this dedication is the use of "direct coal fire distillation". The result is a heavy, fragrant, heavily peaty raw material that produces a unique single malt with the aroma of peat and a touch of saltiness. This distillation method is based on the method used at Longmorn Distillery, where Taketsuru himself studied. If it is necessary to make real whisky, we will protect it even if it is inefficient. Such passion, which can be said to be the origin of Nikka Whisky, and Masataka Taketsuru's dream have been handed down to this day.
Click here for the official website of Yoichi Distillery
For more information on the Yoichi Distillery, please also see this article.
3. Product name and photo
Single Malt Yoichi Non-peated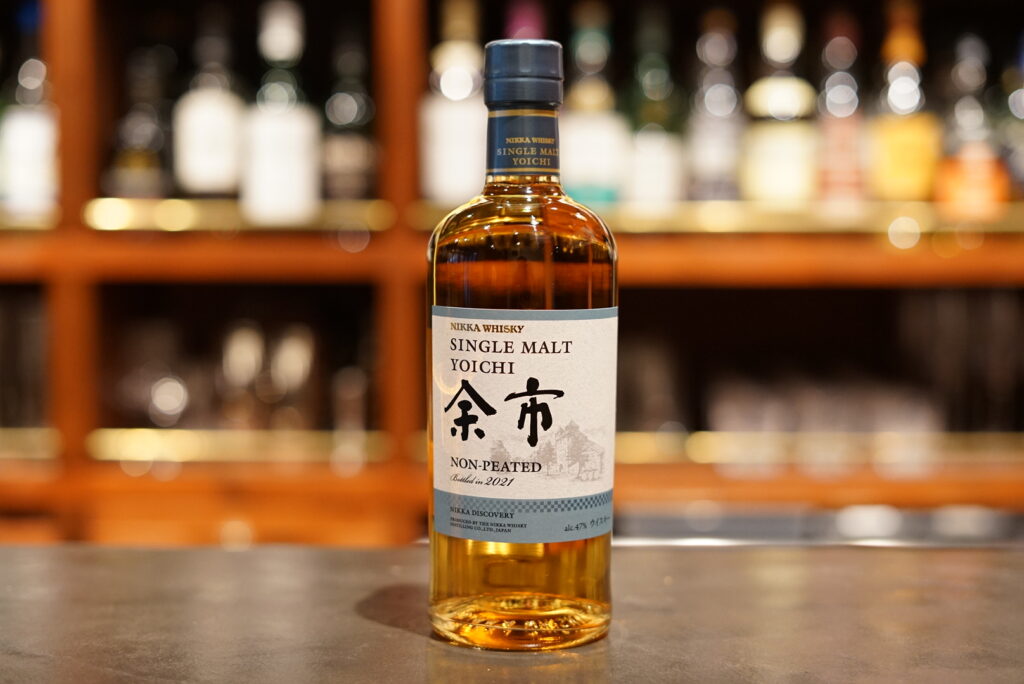 4. Characteristics
The fruity aroma and the richness and presence of Yoichi malt are still present.
It's strange that Yoichi is non-peated. Aside from this preconceived notion, the fruity aroma is followed by a sweet and savory aroma like buttered toast.
Even though it is non-peated, you can feel the powerful assertiveness of the coal-distilled malt, as is expected of Yoichi, but overall it is slightly sweet and gradually turns into a bitter aftertaste. It's the sweetness that holds the whole thing together nicely, and it's very different from the Yoichi I've had before.
In the past, limited edition products have changed their character by "different types of barrels used in the wood finish" such as 2017 Moscar Wood Finish, 2018 Manzanilla Wood Finish, and 2020 Apple Brandy Wood Finish.
This time, no finish was used, and the whisky was made with "different raw materials" to bring out the unexpected personality that was hidden while utilizing the charm of single malt Yoichi.
The label uses pale blue and fine white colors that evoke a soft taste. The use of a transparent bottle expresses a hidden and unexpected side to the whisky.
4-1. Tasting Notes
| | |
| --- | --- |
| Aroma | Gorgeous and fruity. A hint of milky, honey sweetness, and a savory aroma of coconut. |
| Taste | A sweet and sour taste reminiscent of berries, pears, and apples, with a rich, robust malt flavor. A gentle and soft sweetness envelops the whole. |
| Aftertaste | A smooth and rich aftertaste like caramel lingers gently with a hint of bitterness. |
4-2. Product Specifications
| | |
| --- | --- |
| Alcohol content | 47% alcohol by volume |
| Classification | Single malt whisky |
| Barrel type | ー |
| Contents | 700ml |
| Number of bottles sold | Limited to 10,000 bottles |
| Suggested retail price | 22,000 yen (tax included) |
| Release date | September 28, 2021 |
5. Awards
No awards have been received at this time.
6. Price
6-1. Manufacturer's suggested retail price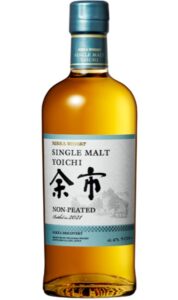 | | |
| --- | --- |
| Product name | Single Malt Yoichi Non-peated |
| Volume | 700ml |
| Suggested Retail Price | Tax included: 22,000 yen |
6-2. Resale price on Mercari
The resale price on Mercari is for a set of two bottles of Single Malt Yoichi Non-peated and Single Malt Miyagikyo Peated.
Around 71,000 yen to 95,000 yen (*as of 9/29/2021)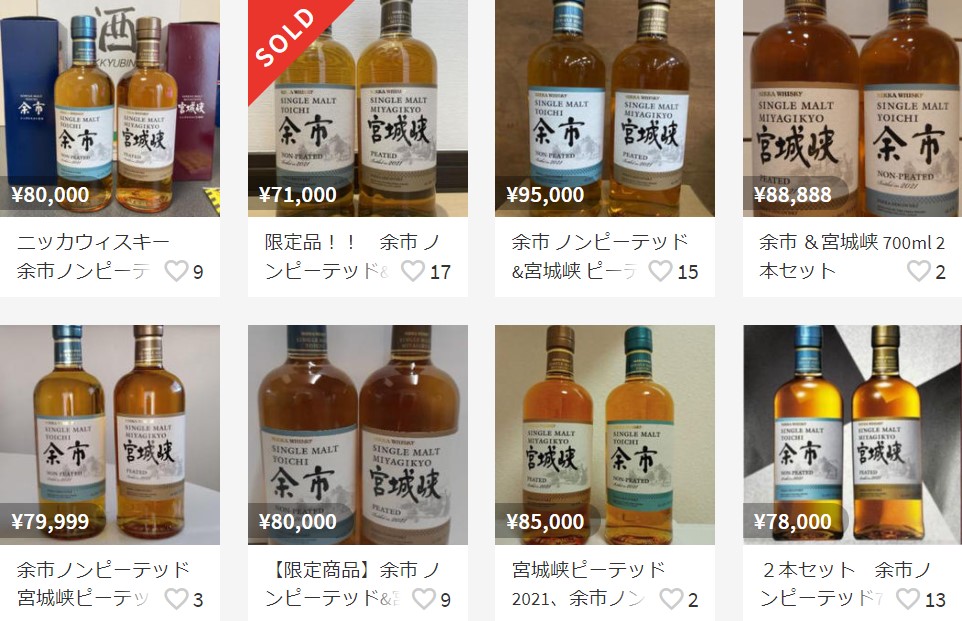 6-3. Sold price on Yahoo Auction
There seems to be no successful bids on Yahoo Auction at this time. (*As of September 29, 2021)
6-4. Rakuten, Yahoo Shopping, Amazon
It is also available at the mail order site at Around 45,000 yen It is also sold at (*as of 9/29/2021)
6-5. Price offered at BAR SHINKAI
At "BAR SHINKAI", which is operated by this site, it is available at 45ml: 6,930 yen 30ml: 4,620 yen 15ml: 2,310 yen
7. Summary
This is a whiskey with a fruity sweetness that envelops the entire bottle, something that has never been seen in Yoichi before, while maintaining the character of Yoichi. I was surprised to see how much change was possible by changing the raw material to unpeated malt.
Please try to compare it with Yoichi NV and taste the difference.
It seems that a second batch is planned for 2022 and a third batch for 2023. I'm looking forward to seeing what kind of DISCOVERY they will show us next time.
■Please check out the other articles about Single Malt Yoichi.