"SUNTORY WORLD WHISKY Ao is the result" of Suntory's new challenge to develop a blended whisky by "blending the original spirits of the world's five major whiskies, which are rich in character."
The bottle design is based on the blue color of the ocean that connects Japan and the world, the pentagonal shape of the bottle representing the five major whiskies, and the bottle neck depicting a compass.
"Ao SMOKY PLEASURE" is a blend of "SUNTORY WORLD WHISKY Ao" with a focus on peated malts. The label design was also redesigned, with a blue color and a gray color that evokes smokiness.
1. Manufacturer
Suntory Spirits Co.
| | |
| --- | --- |
| Established | 1899 |
| Head office location | 2-3-3 Daiba, Minato-ku, Tokyo 135-8631, Japan |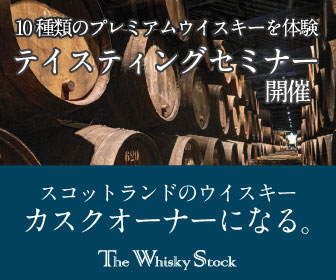 2. Distilleries
Yamazaki Distillery
Suntory's founder, Shinjiro Torii, was determined to make whisky with a passionate desire to "create a Japanese whisky that would suit the delicate taste of the Japanese people." Thanks to his efforts, Yamazaki Distillery was established in 1923 as the first whisky distillery in Japan.
For more information on Yamazaki Distillery, please refer to this article.
Hakushu Distillery
In order to produce a different type of malt whisky, the Hakushu Distillery searched all over Japan for the best water for making whisky, and selected Hakushu, one of the most famous water areas in Japan. In 1973, exactly 50 years after the operation of the Yamazaki Distillery, Suntory's second malt whisky distillery, the Hakushu Distillery, went into operation.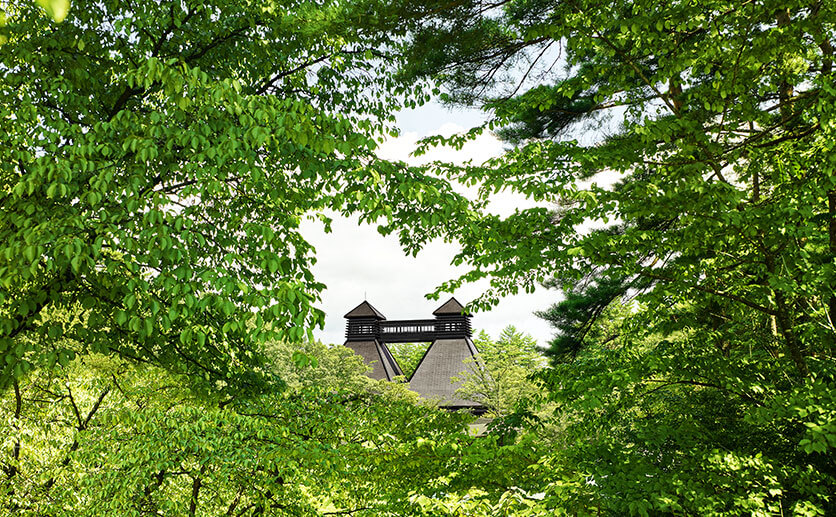 For more information about Hakushu Distillery, please also see this article.
3. Product name and photo
Ao SMOKY PLEASURE
Ao SMOKY PLEASURE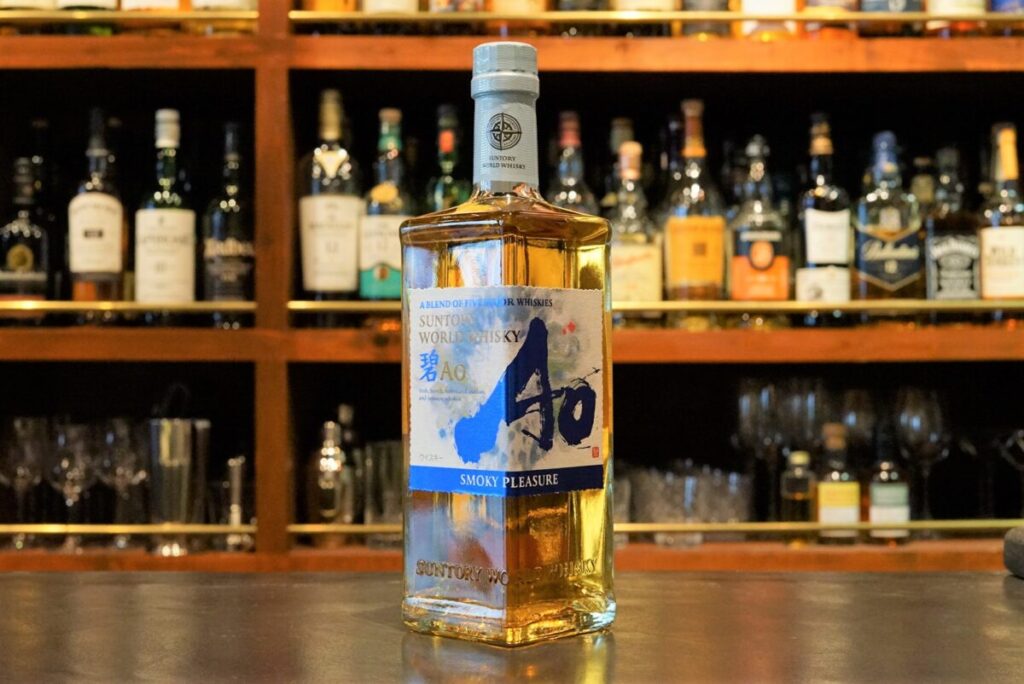 4. Characteristics
Original Sake Composition

●Japan
Yamazaki Distillery Smoky Malt

Hakushu Distillery Smoky Malt
●Scotland
Ardmore Distillery Smoky malt

Bowmore Distillery Smoky malt

Laphroaig Distillery Smoky malt
●Ireland
Jim Beam Distillery Straight Bourbon
●Canada
Alberta Distillery Base Whisky
The contents are a blend of Irish and Scotch whiskies with a strong smoky character, Japanese whisky with a rounded smoky character, and American and Canadian whisky, giving the product a smooth taste with a smoky character.
The packaging uses gray as the base color of the label to clearly express the smoky flavor. The design also expresses the overlapping flavors of the various base liquors with a variety of interwoven colors.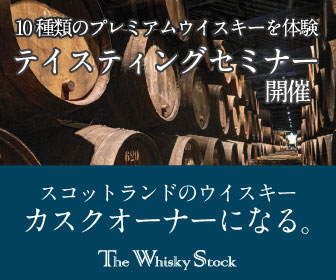 4-1. Tasting Notes
Aroma
Refreshing citrus and honey-like sweetness with a slightly delayed smokiness.
Taste

Light body. The soft sweetness of honey with fruity notes of lime and apple spreads before the smokiness. Pleasant smoky flavor, neither too strong nor too weak.

Slightly perfumed.

Aftertaste
The smoky flavor is pleasantly lingering, and the fluffy sweetness lingers on for a long, thin finish.
4-2. Product Specifications
| | |
| --- | --- |
| Alcohol content | 43% |
| Alcohol category | Blended whisky |
| Cask type | ー |
| Volume | 700ml |
| Number of bottles sold | Limited quantity |
| Suggested retail price | 5,500 yen (tax included) |
| Release date | June 7, 2022 |
5. Awards
No awards have been received at this time.
6. Price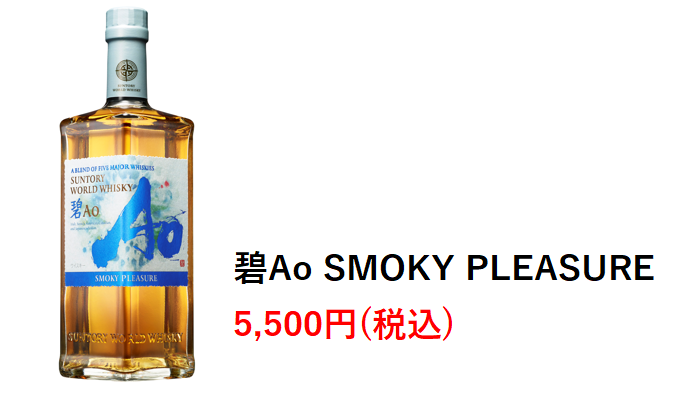 6-1. Manufacturer's Suggested Retail Price
| | |
| --- | --- |
| Product name | Ao SMOKY PLEASURE |
| Capacity | 700ml |
| Suggested retail price | 5,000 yen (5,500 yen including tax) |
6-2. Resale price on Mercari
Resale prices on Mercari range from 8,000 yen to 14,500 yen per unit. (*As of 6/23/2022)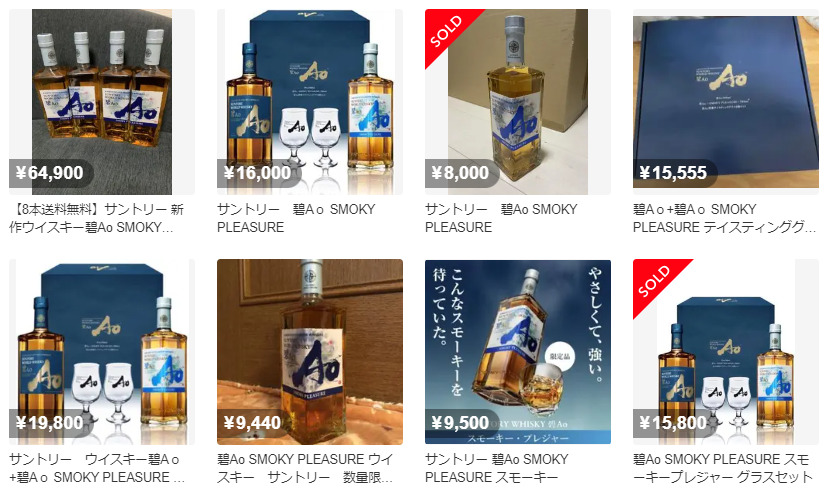 6-3. Sold price on Yahoo! Auction
The lowest bid price on Yahoo! Auction was 8 ,980 yen, the highest was 15,000 yen, and the average was 12,627 yen (*Statistics for the past 180 days from 6/23/2022).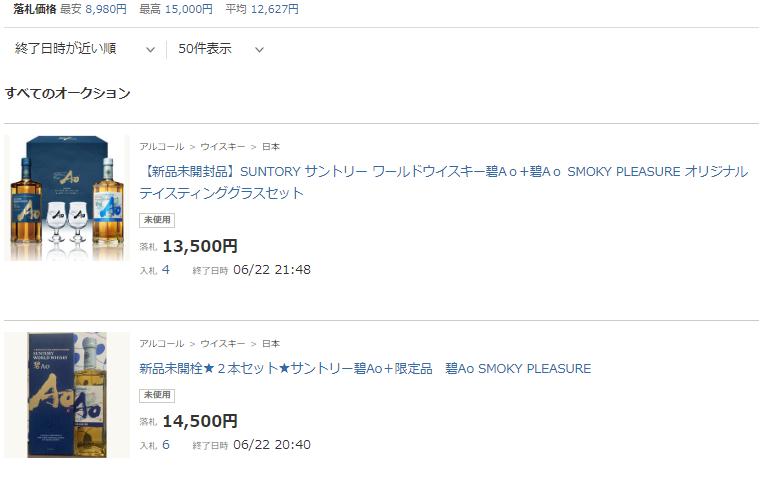 6-4. Rakuten, Yahoo Shopping, Amazon
Mail order sites also sell the product at around 9,800yen, or around 12,080 yen when sold as a set with the Ao regular edition. (*As of 6/23/2022)

¥8,250
(2023/03/23 12:28:38時点 楽天市場調べ-
詳細)
6-5.Prices offered at BAR Shinkai
At "BAR Shinkai," which is operated by this site, we offer the product in small quantities, such as 1 glass,45 ml: 1,650yen, 30 ml: 1,100 yen, 15 ml: 550 yen, etc.
7. Summary
It was not as smoky as I expected and had a well-balanced taste of sweetness and citrus freshness. Whether served straight, on the rocks, or with soda, the quirkiness is moderate and light and easy to drink.
At the point of aroma, the smokiness is definitely noticeable, but in the mouth, the sweetness and citrus freshness are felt just as much as the smokiness. The smokiness quickly and pleasantly slips away in the aftertaste, followed by a soft sweetness reminiscent of honey and vanilla, and the pungent taste of alcohol.
We have often heard people say that the regular "Ao" has a strong bourbon taste, but we think that this "Ao smoky pleasure" has a very good balance between the smoky base liquors such as Bowmore and Laphroaig, and the sweet base liquors such as bourbon.
The regular version of "Ao" is sold in limited quantities followed by regular sales. We hope that "Ao smoky pleasure" will also be available in the regular version in the future.
Please take a look at our other articles on "Suntory".
Lastly: Recommended Books on Japanese Whisky
If you want to learn more about Japanese whisky, which is a global trend, we highly recommend these books.
In the December 2021 issue of Whisky Galore, published by the Whisky Culture Research Institute, we report on 11 Japanese craft distilleries, including some that are open to the public for the first time, under the title of "Japanese Whisky Craft Frontline," the first of three consecutive issues. Why did the popularity of Japanese whiskey and the craft boom occur? We will examine with interviews. Chichibu Distillery / Chichibu No.2 Distillery / Mars Shinshu Distillery / Mars Tsunuki Distillery / Kanosuke Distillery / Hioki Distillery / Ontake Distillery / Osuzuyama Distillery / Kaikyo Distillery / Hanyu Distillery / Konosu Distillery
This is a book written by Mamoru Tsuchiya, a world-famous whisky critic and representative of the Whisky Culture Research Institute, titled "Japanese Whisky as a Culture that Works for Business" .
The book covers the basics of whisky, the introduction of whisky to Japan, the birth of Japanese whisky, advertising strategies and the rise of Japanese whisky, and the current rise of craft distilleries. This is a book that summarizes Japanese whisky in a very easy to understand way.
Masataka Taketsuru, the founder of Nikka Whisky, devoted his life to brewing whisky in Japan. This is a revised and reprinted version of the autobiography of a man who simply loved whiskey and talked about himself. The book vividly depicts the days when he went to Scotland alone to study as a young man and overcame many hardships to complete Japanese whisky, as well as his companion, Rita.
Launching in 2019. With the world experiencing an unprecedented whisky boom, what were the managers of craft distilleries thinking and what were their thoughts as they took on the challenge of making whiskey? This book tells the stories of 13 craft distillery owners, including Ichiro Hido of Venture Whisky, famous for his Ichirose Malt, who inspired the birth of craft distilleries in Japan.
This is the Japanese version of Whisky Risng, published in the US in 2016, with much updated content. Not only does it describe the history of Japanese whiskey in detail, but it also includes data on all the distilleries in Japan, including the craft distilleries that have been founded in recent years. The book also includes descriptions of the legendary bottles that have been released, as well as information on bars where Japanese whisky can be found.