Ichiro's Malt, a whisky that has won the world's top prize at the World Whisky Awards, is popular in Japan and internationally.
The Chichibu distillery is dedicated to producing peated sake, and this series is called "Chichibu The Peated" . Ichiro's Malt Chichibu The Peated 2018 is the first in the series. It has been about 4 years will be available for sale.
1. Manufacturer
Venture Whiskey Co.
| | |
| --- | --- |
| Established | 2004 |
| Head office location | 49 Midorigaoka, Chichibu-shi, Saitama 368-0067 |
| Distilleries owned | Chichibu Distillery, Chichibu No.2 Distillery |
2. Distillery
Venture Whiskey Chichibu Distillery
| | |
| --- | --- |
| Location | 49 Midorigaoka, Chichibu-shi, Saitama 368-0067 |
| Commencement of operations | 2007 |
Single malt whisky production is rooted in the Chichibu climate.
The founder, Mr. Ichiro Akuto, takes pride in being a Japanese whiskey and produces malt whiskey by hand with a small mill, mash tuns, Quercus crispula fermenters, and pot stills made by Forsyth of Scotland.
The Chichibu distillery is surrounded by rich nature, clean air, good quality water, hot and humid summers, and cold temperatures that drop below freezing in the mornings and evenings. The difference in temperature between the cold and hot in this harsh climate has a great influence on the maturation of the whiskey, resulting in a fruity and well-balanced whiskey despite the short maturation period.
Established in September 2004.
The Chichibu distillery was completed in 2007.
In February 2008, a license to make whiskey was issued and whiskey production began at the Chichibu distillery.
In October 2019, the second distillery will begin operations.

The distillery was established after Suntory Hakushu Distillery and Kirin Fuji Gotemba Distillery, which were established in 1973. The distillery was established at the very end of the whisky slump. First distillery established in Japan in 35 years The company's first year in business was in 1983, and the first year in 1985.
Annual whiskey production is just two days of Scotland's Glenlivet distillery.
The second distillery, which has been in operation since the fall of 2019, produces a whopping 5x The The pot still is the same straight shape but much larger so that it can distill five times as much malt at a time. The pot still is made by Forsyth & Co. Gas direct-fired distillation machine is used.
See also ↓ for information on Chichibu Distillery.
3. Product name and photo
Ichiro's Malt Chichibu The Peated 2022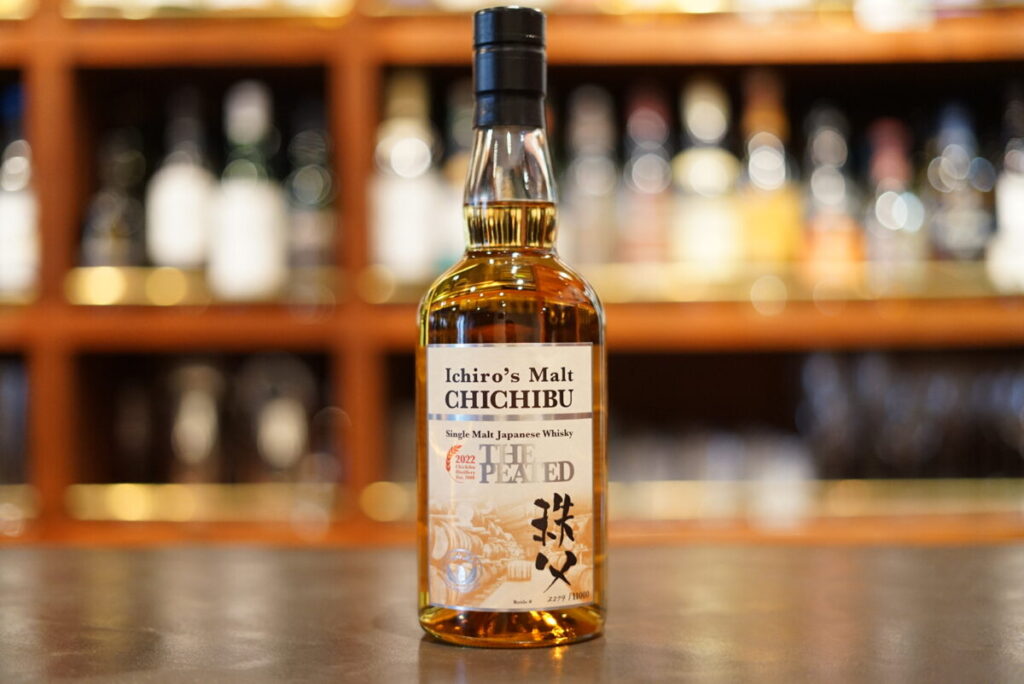 4. Features
Ichiro's Malt Chichibu The Peated 2022 is a peated single malt whiskey produced at the Chichibu distillery. The malt is dried using peat during the malting process, which gives it a strong smoky character. Sweet, light custard cream, fruity as it glides across the surface. The aroma spreads on the palate.

It is reminiscent of soft black tea, and the overall impression continues to change with time.

Bottled non-chill filtered and naturally colored to allow you to enjoy the character of the original.

The complex aftertaste, which gently echoes the robust character of the original, can be enjoyed over time.

(Source: Venture Whisky Co.
4-1. Tasting Notes
| | |
| --- | --- |
| Aroma | Strong peat aroma, vanilla, custard cream |
| Taste | Strong smoky, custard cream, plum-like fruit, salty |
| Lingering | Bitter chocolate-like sweetness, bitterness, smoky flavor |
4-2. Product Specifications
Alcohol content
53%
By Liquor
Single malt Japanese whiskey
Cask type
–
Content Volume
700ml
Number of bottles sold
Limited to 11,000 bottles
Suggested Retail Price
14,850 yen (tax included)
Release Date

February

2022
5. Awards
No awards have been received at this time.
6. Price
6-1. Manufacturer's Suggested Retail Price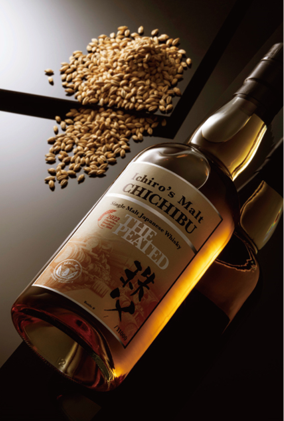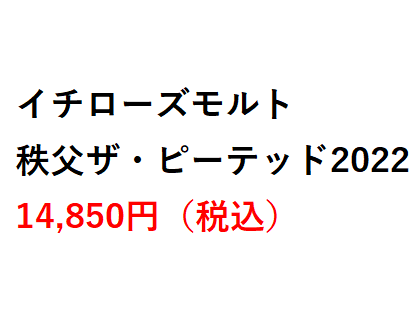 | | |
| --- | --- |
| Product name | Ichiro's Malt Chichibu The Peated 2022 |
| Capacity | 700ml |
| Suggested retail price | 14,850 yen (including tax) |
6-2. Resale price on Mercari
Resale price on Mercari is the 38,000 Around 56,000 yen to 56,000 yen The company's name is. (*as of March 2 , 2022)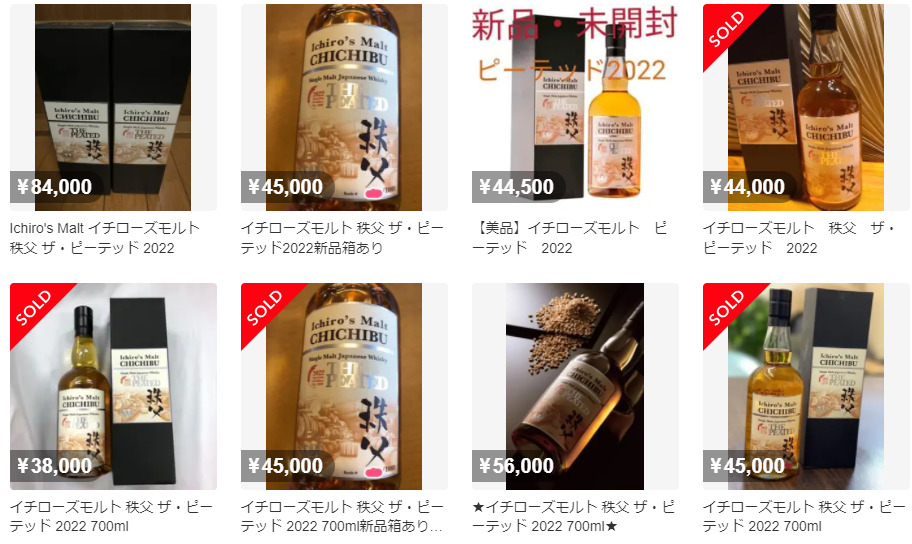 6-3. Yahoo Auction Sold Price
Sold price on Yahoo! Auction is the Lowest 33,000 yen, highest 51,000 yen, average 41,037 yen
(*Statistics for the past 180 days from March 2 , 2022)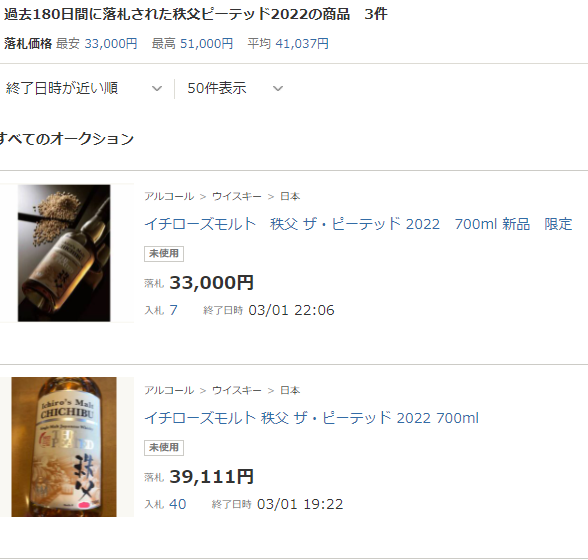 6-4. Rakuten, Yahoo Shopping, Amazon
On the mail order website, you can find 42 1,000 yen The product is sold at (*As of March 2 , 2022)
6-5. Price offered at BAR Shinkai
At BAR Shinkai, which is operated by this site 1 Cup, 45 ml: 4,620 yen 30ml: 3,080 yen, 15ml: 1,540 yen We also offer this service in small quantities such as.
7. Summary
It is a smoky, fruity, creamy whiskey on par with Laphroaig and Ardbeg.
The image of vanilla, cream, and plum-like fruitiness follows the smoky flavors.
Compared to past Chichibu The Peated, it has a stronger overall sweetness such as rich vanilla and banana.
Recommended drinking: straight, toasted up, or on the rocks. Please enjoy it with the image of extending the strong flavor just a little.
Ichiro's Malt Chichibu The Peated 2018 and Ichiro's Malt Chichibu The Peated 2016 are also available at BAR Shinkai. Please try and compare them.
Please take a look at our other articles on Ichiro's Malt.