In February 2022, the Shizuoka Distillery's first blended whiskey, Gaia Flow Whiskey Blended M, was released.
The number of units sold The first shipment was 5,555 bottles. Of which 100 bottles were sold by lottery for the first time. but they will be sold regularly throughout the year as a standard item.
1. Manufacturer

Gaia Flow Distilling Co.
| | |
| --- | --- |
| Established | October 8, 2014 |
| Head office location | 555 Ochiai, Aoi-ku, Shizuoka-shi, Shizuoka 421-2223, Japan |
| Owned distillery | Gaia Flow Shizuoka Distillery |
2. Distillery
Gaia Flow Shizuoka Distillery
| | |
| --- | --- |
| Location | 555 Ochiai, Aoi-ku, Shizuoka City, Shizuoka Prefecture 421-2223, Japan |
| Start of operation | 2016 |
Established Gaia Flow Distilling, Inc. on October 8, 2014.
Completed construction of Gaia Flow Shizuoka Distillery on August 9, 2016.
On October 28, the same year, we started whiskey production.
The distillery is located in the Tamagawa district of Okies (Oku-Shizuoka area) in Shizuoka City, Shizuoka Prefecture, and stands by the Abe Nakakochi River, a tributary of the first-class Abe River.
With an elevation of around 200 meters and surrounded by beautiful 400-meter mountains, the temperature is always two to three degrees cooler than the city, making it a perfect location.
The building was designed based on the theme of fusing Japanese beauty with Western culture, and is a visually beautiful whiskey distillery that uses a lot of Shizuoka wood for the interior and exterior in collaboration with Derek Baston, an American architect living in Shizuoka.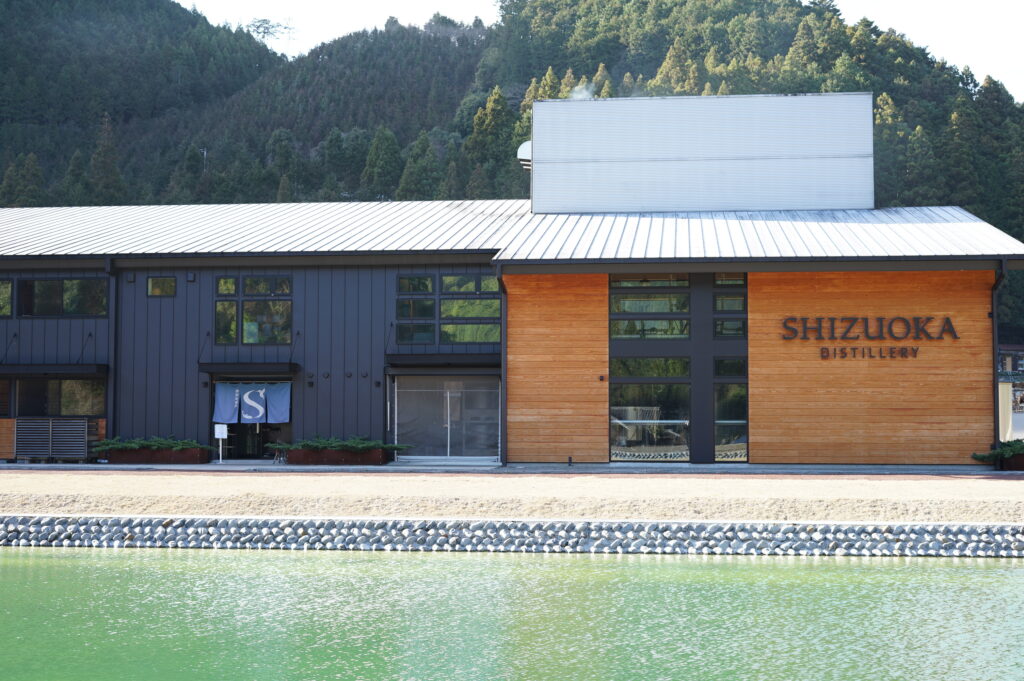 The Shizuoka distillery has two first distillation units running, called "K" and "W". In November 2011, it was moved from the Karuizawa Distillery, which was regrettably closed, to the Shizuoka Distillery, where it was repaired and refurbished, and the legendary distiller was revived. With its graceful and flexible silhouette and the indirect heating of steam, the distillery produces a light and gorgeous flavored raw spirit.
In the photo below, the front left is the W, which is probably the world's only "wood-fired direct distillation machine" made by Forsyth in Scotland.
This time, Prologue W is made from the raw spirit distilled in this distiller. The characteristic of direct-fired distillation is exactly the temperature. In general, the temperature for indirect heat distillation is around 150 degrees Celsius, but the wood-fired direct distillation at Shizuoka Distillery is 800 degrees Celsius, which can produce a savory and powerful type of malt liquor.
The fermentation tanks are made of wooden vats made of local Shizuoka cedar. Shizuoka City is known for its forestry industry, and they chose to use local cedar in order to make use of this characteristic to create a whiskey that is uniquely Shizuoka.
The malt mill used to grind malt, the raw material for whiskey, is a relocated machine from the Karuizawa distillery, as is the distiller "K".
Shizuoka has a warmer climate than Scotland, and the ceiling of the storage room is designed with windows for lighting, daring to create a difference in temperature. Because of this, the original wine being matured in the storage room is expected to evaporate more than 5% per year in angel's share.
The distillery has a tasting corner where you can taste the Shizuoka Distillery's raw spirits and the first batch of Single Malt Prologue K (for a fee). The Shizuoka Distillery also imports and sells whisky, and you can sample Indian whisky "Amrut" and Scottish bottlers "Black Adder" and "Astamoris" .
For more information on Gaia Flow Shizuoka Distillery, please also see here↓
3. Product names and photos
Gaia Flow Whiskey Blended M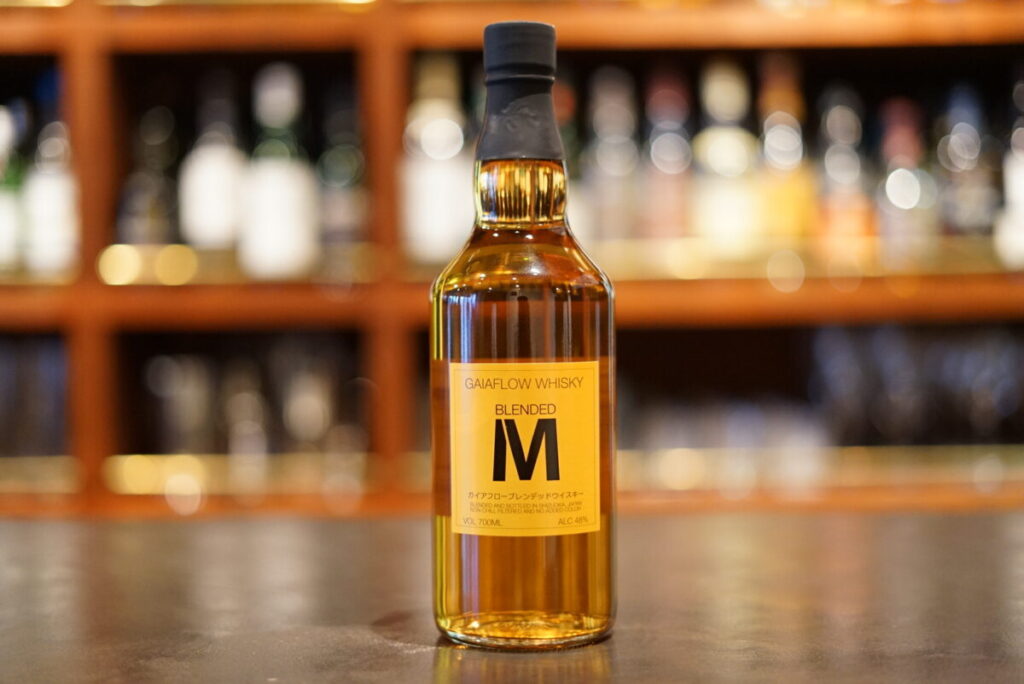 4. Characteristics
Shizuoka malt aged for more than three years is blended with English malt and grain to create an elaborate blend. The result is a unique Gaia Flow blend that balances the delicate and smooth taste of Shizuoka malt with the powerful English malt and mellow grain.

The alcohol content is adjusted to 48% using natural Shizuoka water, which is suitable for a variety of drinking styles, and the bottling is done at the Shizuoka distillery.
4-1. Tasting Notes

| | |
| --- | --- |
| Aroma | Citrus, honey, banana. |
| Taste | Strong maltiness, banana, citrus, spicy, soft and sweet. |
| Aftertaste | Malt flavor, creamy sweetness followed by spiciness. |

4-2. Product Specifications
| | |
| --- | --- |
| Product name | Gaia Flow Whiskey Blended M |
| Classification | Blended whiskey |
| Ingredients | Non-peated malt from Japan Malt from England Grain from England |
| Number of bottles sold | Initial sales: 5,555 bottles |
| Number of bottles | 48 percent |
| Volume | 700ml |
| Price | 3,600 yen (tax included: 3,960 yen) |
5. Awards
There are no awards at this time.
6. Price
6-1 Manufacturer's suggested retail price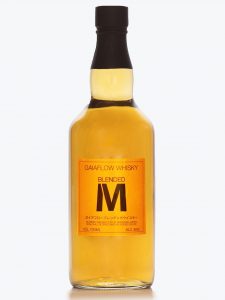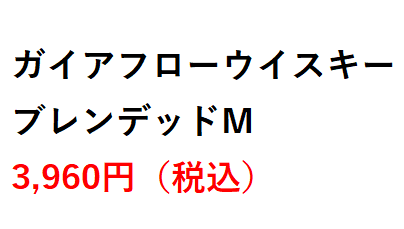 | | |
| --- | --- |
| Product name | Gaia Flow Whiskey Blended M |
| Capacity | 700ml |
| Suggested retail price | 3,600 yen (tax included: 3,960 yen) |
6-2. Resale price on Mercari
Resale price on Mercari is per bottle Around 7,000 yen to 10,000 yen per bottle. (*as of February 26, 2022)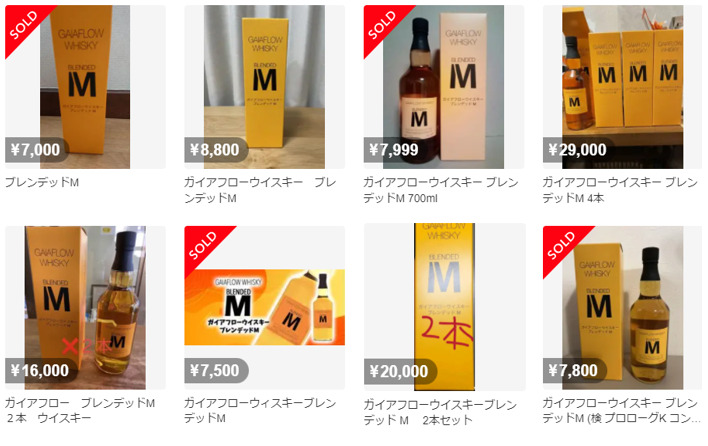 6-3. Yahoo Auction Sold Price
Sold price on Yahoo Auction is Lowest bidder: 7,500 yen, Highest bidder: 16,740 yen, Average bidder: 12,419 yen
(*Statistics for the past 180 days from February 26, 2022)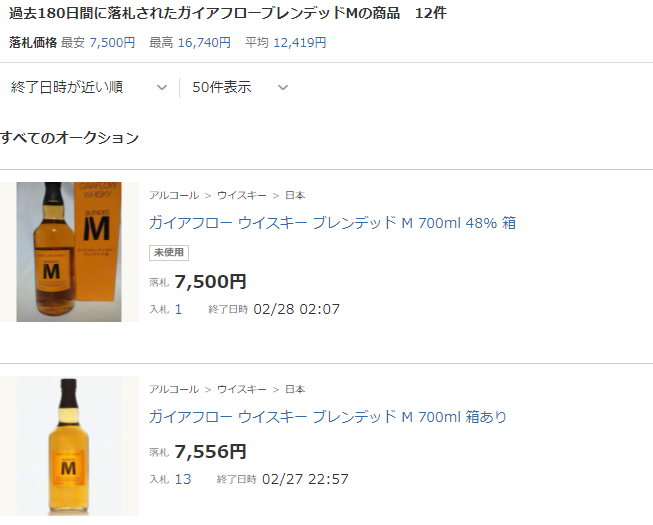 6-4. Rakuten, Yahoo Shopping, Amazon
Sales on mail order sites have not been confirmed at this time. (*As of February 26, 2022)
6-5. Price offered at BAR SHINKAI
At "Bar Shinkai" which is operated by this website, we 1 glass, 45ml: 1,650 yen, 30ml: 1,100 yen, 15ml: 550 yen We also offer it in small quantities such as.
7. Summary
As mentioned earlier, "Blended M" will be sold regularly throughout the year as a standard item.
It is very reasonably priced and the number of units sold is expected to increase in the future. The malt flavor is stronger than I expected, and it is a bottle with a high degree of perfection. As the demand for home drinking increases due to the Corona disaster, I think this bottle will become a very must-have item.
It can be drunk straight, on the rocks, iced up, with water, or with soda. This is a whiskey that you should always have a bottle of at home.
■ Please check out the other articles about Shizuoka Distillery.