June 19, 2021 "Single Malt Whisky Shizuoka Prologue W" was released.
The number of bottles sold is 5,000, the same number as the previous one, Prologue K. The suggested retail price is 8,943 yen (tax included), which is relatively affordable compared to other Japanese whiskeys released by craft distilleries these days.
1. Manufacturer

GAIAFLOW Distilling Co.
| | |
| --- | --- |
| Established | October 8, 2014 |
| Head office location | 555 Ochiai, Aoi-ku, Shizuoka-shi, Shizuoka 421-2223, Japan |
| Owned distillery | GAIAFLOW Shizuoka Distillery |

2. Distillery
GAIAFLOW Shizuoka Distillery
| | |
| --- | --- |
| Location | 555 Ochiai, Aoi-ku, Shizuoka City, Shizuoka Prefecture 421-2223, Japan |
| Start of operation | 2016 |
Established GAIAFLOW Distilling, Inc. on October 8, 2014.
Completed construction of GAIAFLOW Shizuoka Distillery on August 9, 2016.
On October 28, the same year, we started whiskey production.
The distillery is located in the Tamagawa district of Okies (Oku-Shizuoka area) in Shizuoka City, Shizuoka Prefecture, and stands by the AbeNakagouchi River, a tributary of the first-class Abe River.
With an elevation of around 200 meters and surrounded by beautiful 400-meter mountains, the temperature is always two to three degrees cooler than the city, making it a perfect location.
The building was designed based on the theme of fusing Japanese beauty with Western culture, and is a visually beautiful whiskey distillery that uses a lot of Shizuoka wood for the interior and exterior in collaboration with Derek Baston, an American architect living in Shizuoka.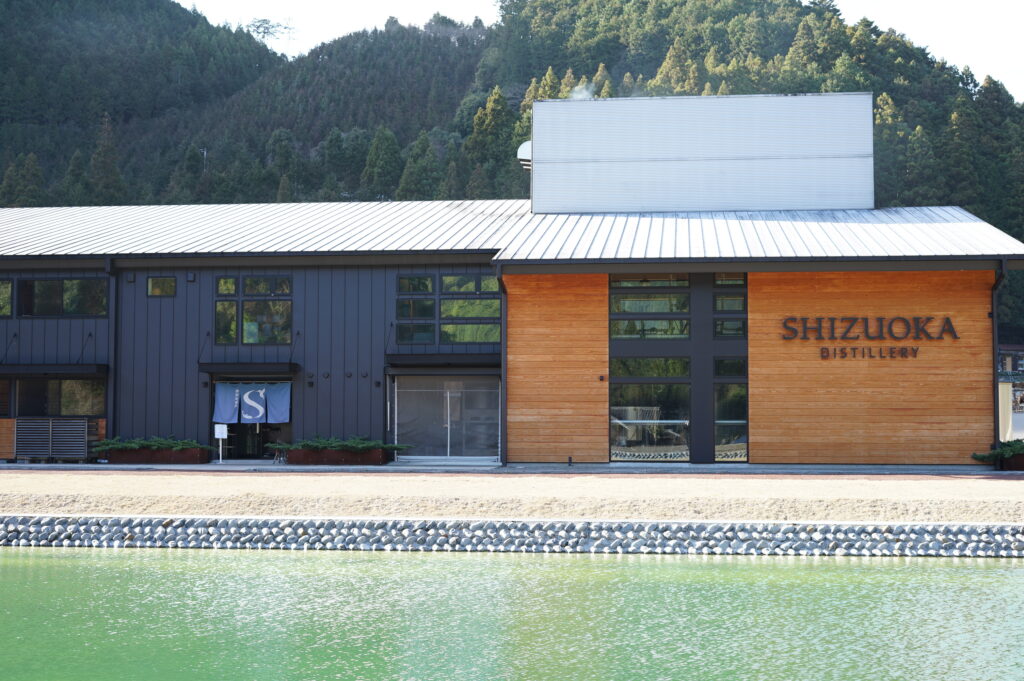 The Shizuoka Distillery has two first distillation units called "K" and "W." The "K" is a distillation unit from the Karuizawa Distillery, which has a long history and was manufactured in Japan in the 1950's. It was moved from the Karuizawa Distillery, which was sadly closed in November 2011, to the Shizuoka Distillery, where it was repaired and refurbished. With its graceful and flexible silhouette and the indirect heating of steam, the distillery produces a light and gorgeous taste.
In the photo below, the front left is the W, which is probably the world's only "wood-fired direct distillation machine" made by Forsyth in Scotland.
This time, Prologue W is made from the raw spirit distilled in this distiller. The characteristic of direct-fired distillation is exactly the temperature. In general, the temperature for indirect heat distillation is around 150 degrees Celsius, but the wood-fired direct distillation at Shizuoka Distillery is 800 degrees Celsius, which can produce a savory and powerful type of malt liquor.
The fermentation tanks are made of wooden vats made of local Shizuoka cedar. Shizuoka City is known for its forestry industry, and they chose to use local cedar in order to make use of this characteristic to create a whiskey that is uniquely Shizuoka.
The malt mill used to grind malt, the raw material for whiskey, is a relocated machine from the Karuizawa distillery, as is the distiller "K".
[speech_balloon_left1 user_image_url="https://jpwhisky.net/wp-content/themes/muum_tcd085/img/common/no_avatar.png" user_name=""]
In case you're wondering, a fantastic whisky that was made at Mercian's Karuizawa distillery and was sitting in storage without being commercialized was bought by a British company, bottled in 2013 and sold for 2 million yen as " Karuizawa 1960 ". It was then sold for about 14 million yen at a Scottish auction in 201 7. It is now clear that Japanese whisky is at the top of the target list for whisky collectors around the world.
The whiskies Mercian was selling at the time included Karuizawa Storage 8 Year 100% Malt Whisky and Mercian Karuizawa 15 Year Sherry Cask Malt Masters. [/speech_balloon_left1]
Shizuoka has a warmer climate than Scotland, and the ceiling of the storage room is designed with windows for lighting, daring to create a difference in temperature. Because of this, the original wine being matured in the storage room is expected to evaporate more than 5% per year in angel's share.
The distillery has a tasting corner where you can taste the Shizuoka Distillery's raw spirits and the first batch of Single Malt Prologue K (for a fee). The Shizuoka Distillery also imports and sells whisky, and you can sample Indian whisky " Amrut " and Scottish bottlers "Black Adder" and "Astamoris".
For more information on GAIAFLOW Shizuoka Distillery, please also see here.↓
3. Product names and photos
SINGLE MALT JAPANESE WHISKY SHIZUOKA PROLOGUE W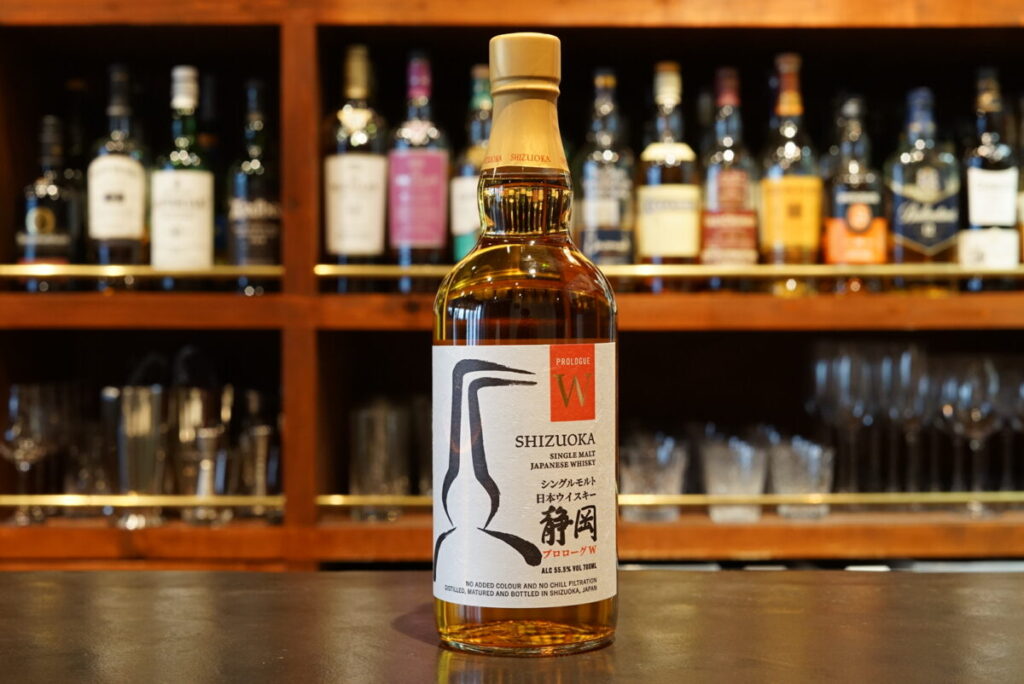 ¥64,800
(2023/03/23 04:36:08時点 楽天市場調べ-
詳細)
4. Characteristics
A gorgeous, full-bodied, and powerful flavor created by a bulge-type "wood-fired direct distillation machine.
W is the nickname for the one and only wood-fired distiller. There are only a limited number of open-flame distillers in the world, and the only one of its kind in the world is the wood-fueled distiller. Local woodcutters carefully chop the thinned coniferous trees from Shizuoka's rich mountain life into firewood, one by one, reviving a distilling technique that dates back more than 200 years, and distilling whiskey by burning wood.
The result is a whiskey with a gentle aroma, a strong body, a light smokiness, and a long, gentle finish. Please enjoy the thick flavor that only a direct wood fire can provide.
Quote: Shizuoka Distillery's second single malt Japanese whiskey, Prologue W, is now available
4-1. Tasting Notes

| | |
| --- | --- |
| Nose | Estery, citrus fruits, and a hint of smokiness. |
| Taste | Spicy, fruit acidity, sweetness characteristic of bourbon barrels, full and complex. |
| Aftertaste | Long and gentle aftertaste. |

4-2. Product Specifications
| | |
| --- | --- |
| Product name | SINGLE MALT JAPANESE WHISKY SHIZUOKA PROLOGUE W |
| Sake category | Single malt whisky |
| Ingredients | Japanese barley malt, Scottish peated malt, Scottish unpeated malt, German beer malt |
| Barrel type | First Fill Bourbon Barrel, First Fill Bourbon Quarter Cask, Virgin American Oak Barrel |
| Number of bottles sold | Limited to 5,000 bottles |
| Number of bottles | 55.5 percent |
| Volume | 700ml |
| Price | 8,943 yen (tax included) |
| Manufacturer | GAIAFLOW Shizuoka Distillery |

5. Awards
There are no awards at this time.
6. Price
6-1. Manufacturer's suggested retail price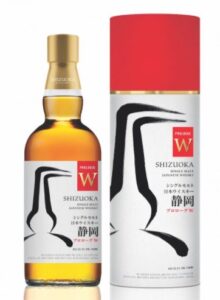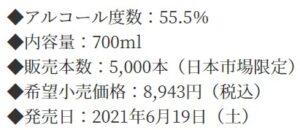 | | |
| --- | --- |
| Product name | SINGLE MALT JAPANESE WHISKY SHIZUOKA PROLOGUE W |
| Capacity | 700ml |
| Suggested retail price | 8,943 yen (tax included) |
6-2. Resale price on Mercari
The resale price on Mercari is Around 60,000 yen to 80,000 yen The resale price on Mercari is as follows. (*As of June 24, 2021)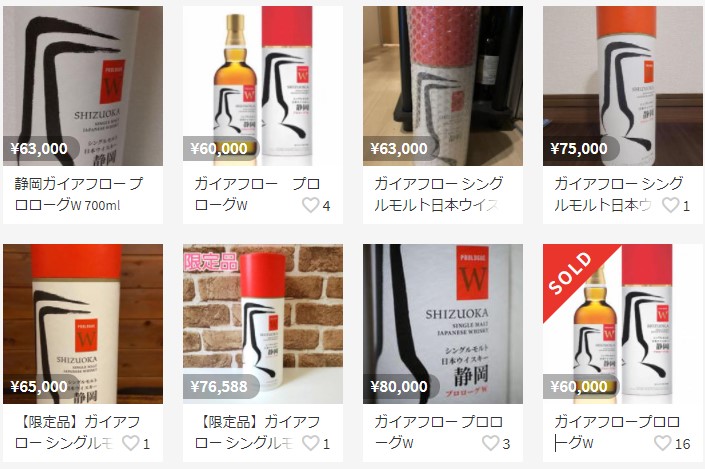 6-3. Sold price on Yahoo Auction
The winning bid price on Yahoo Auction is Lowest bidder: 24,800 yen, highest bidder: 45,500 yen, average bidder: 31,881 yen (*Statistics for the past 120 days February 14, 2021)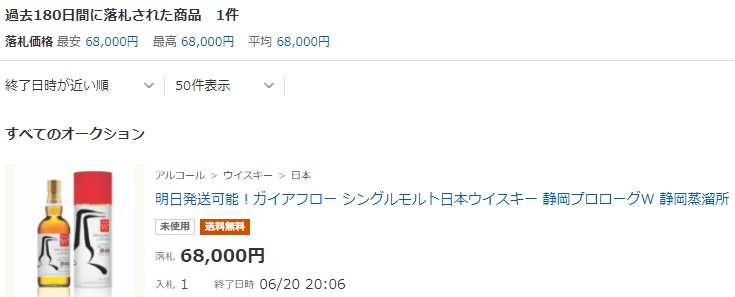 6-4. Rakuten, Yahoo Shopping, Amazon
On mail order sites, it is sold at 99,800 yen Sold at (*As of June 23, 2021)


¥64,800
(2023/03/23 04:36:08時点 楽天市場調べ-
詳細)
6-5. Price offered at BAR Shinkai
At "BAR SHINKAI", which is operated by this website 1 glass, 45ml: 3,300 yen, 30ml: 2,200 yen, 15ml: 1,100 yen We also offer small quantities such as.
7. Summary
The taste is completely different from the previous Prologue K. I was surprised to find out that different distillers can make such a difference.
Both the aroma and taste have a clear outline, and you can feel the individuality of the malt.
The moderate peatiness of the Scottish peated malt and the elaborate wood-fired direct distillation give it a rich and delicious flavor, but also a gorgeous and fruity taste.
When I visited the distillery in March of this year, I was told by Another bottle will be released before the end of the year! I was told by Mr. Daikou Nakamura that the distillery has been in operation for over 20 years.
So far, no concrete information has been released, but I can't help but look forward to seeing what kind of whiskey it will be.
Please check out our other articles on "Shizuoka".
Lastly: Recommended Books on Japanese Whisky
If you want to learn more about Japanese whisky, which is a worldwide trend, and want to learn more about it, we highly recommend these books.
This is a book written by Mamoru Tsuchiya, a world-famous whisky critic and representative of the Whisky Culture Research Institute, titled " Japanese Whisky as a Culture that Works for Business.
The book covers the basics of whisky, the introduction of whisky to Japan, the birth of Japanese whisky, advertising strategies and the rise of Japanese whisky, and the current rise of craft distilleries. This is a book that summarizes Japanese whisky in a very easy to understand way.
祥伝社
¥1,760
(2023/03/23 09:20:24時点 Amazon調べ-
詳細)
The April 2021 issue of Whisky Galore, published by the Whisky Culture Research Institute.
This issue of Whisky Galore, published by the Whisky Culture Research Institute, features the definition of Japanese whisky and a list of 24 distilleries as the latest in Japanese whisky. It also includes an interview with Suntory Chief Blender Shinji Fukuyo, making it a must-have for Japanese whisky fans.
¥1,608
(2023/03/22 19:11:37時点 Amazon調べ-
詳細)
This is the Japanese version of Whisky Risng, published in the US in 2016, with much updated content. Not only does it describe the history of Japanese whiskey in detail, but it also includes data on all the distilleries in Japan, including the craft distilleries that have been founded in recent years. The book also includes descriptions of the legendary bottles that have been released, as well as information on bars where Japanese whiskey can be found.
小学館
¥4,620
(2023/03/22 19:57:30時点 Amazon調べ-
詳細)
埼玉県出身。
本業は俳優、グラフィックデザイナー。
お酒を嗜むのが好きで新海BARに入社。
「Japanese Whisky Dictionary」では、記事の英語などへの翻訳を担当している。