From 0 to 1. A change and a new step, a transformation, a skill, a new stage" are the keywords of Saburomaru 1.
In 2018, Saburomaru Distillery took a new step forward by replacing its half-century-old homemade mash tun with a state-of-the-art mash tun from Miyake Manufacturing.
The label design is based on Tarot cards (consisting of 22 Major Arcana and 56 Minor Arcana), and the number 1 of the 22 Major Arcana, "THE MAGICIAN" was chosen for the label to signify a new step forward. The label has been adopted to signify a new step forward.
1. Manufacturer
Wakatsuru Sake Brewery Co.
| | |
| --- | --- |
| Establishment | 1862 |
| Head office | 208 Saburomaru, Tonami-shi, Toyama 939-1308, Japan |
| Owned distillery | Saburomaru Distillery |
2. Distillery
Sabromaru Distillery
| | |
| --- | --- |
| Location | 208 Saburomaru, Tonami City, Toyama Prefecture 939-1308, Japan |
| Start of operation | 1953 (renovated in 2016) |
The only distillery in Hokuriku, established in 1952.
With the shortage of rice after the war, they obtained a license to produce whisky in 1952. Since then, the distillery has been making sake in the winter and distilling whiskey only in the summer. The annual production is 200 bottles. They are planning to make 300 in the future.
Since the beginning of its operation, the company has been dedicated to producing smoky whiskey, using Islay peated malt and more recently peated malt from Toyama Prefecture. In order to keep the natural flavors alive, no cooling filtration or coloring is used.
In 2018, we installed a state-of-the-art mash tun from Miyake Manufacturing.
In 2019, we collaborated with a local company, Oigo Manufacturing, to develop a cast pod still called ZEMON.
In 2020, one wooden vat fermenter will be installed.
The main difference from other distilleries is the world's first cast pod still. ZEMON , the world's first cast pod still.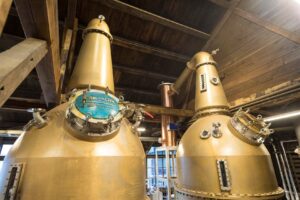 There are three major features.
(1) The casting method enables molding using a mold, making it possible to manufacture the product in a short period of time. Also, it is possible to make the product thick enough at a low cost, which is expected to increase the service life of the body.
(2) Various liquor quality is realized by free molding by casting. In addition, it is possible to replace only worn-out parts or expand functions by unitizing each part.

(3) Made from a copper-tin alloy that contains about 90% copper and 8% tin. Tin is a high-grade metal that is traded at about three times the price of copper.
Tin has been used since ancient times to mellowing the taste of alcohol. It is said that tin is a high-grade metal that sells for about three times the price of copper, and has been used for liquor containers and shochu coolers. ZEMON contributes to the production of high quality spirits through the dual effects of copper and tin. to the production of high quality spirits. It has been used for sake vessels and shochu coolers.
Reference: Wakatsuru Sake Brewery official website
See also this ↓ for more information on the Saburomaru Distillery.
3. Product name and photo
Single Malt Saburo Maru 1 THE MAGICIAN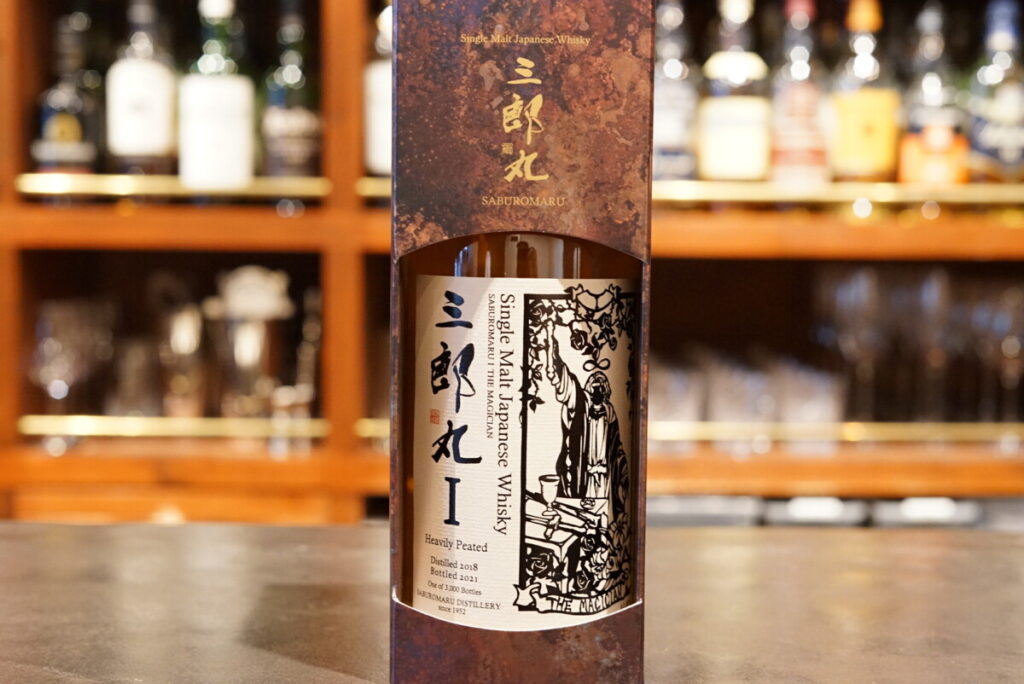 ¥3,950
(2022/07/03 16:22:41時点 楽天市場調べ-
詳細)
4. Features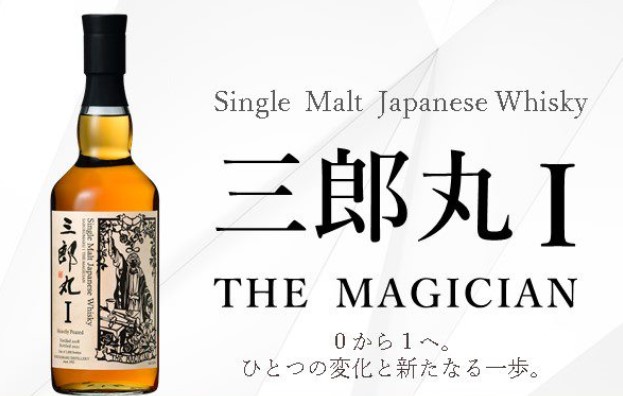 53PPM, Heavy Peated
Three days of hollow fermentation using two yeasts, ale and whiskey yeast. The malt used is hebily peated malt (53ppm).
It retains the strong peat and maltiness of a smoky beer, but also expresses the acidity of fruit. The taste is well defined.
Limited edition of 3,000 bottles.
4-1. Tasting Notes

| | |
| --- | --- |
| Nose | Vanilla, woody, fresh fruit and bonfire, typical of bourbon barrels. |
| Taste | Malt sweetness, vanilla, lactic mellowness, smokiness. |
| Aftertaste | The barrel aroma changes to a smoky, smoky aftertaste. |

4-2. Product Specifications
| | |
| --- | --- |
| Alcohol content | 48% alcohol by volume |
| alcohol category | Single malt Japanese whiskey |
| Barrel type | Bourbon barrels |
| Contents | 700ml |
| Number of bottles sold | Limited to 3,000 bottles |
| Suggested retail price | 11,550 yen (tax included) |
| Release date | November 29, 2021 |
5. Awards
No awards have been received at this time.
6. Price
6-1. Manufacturer's suggested retail price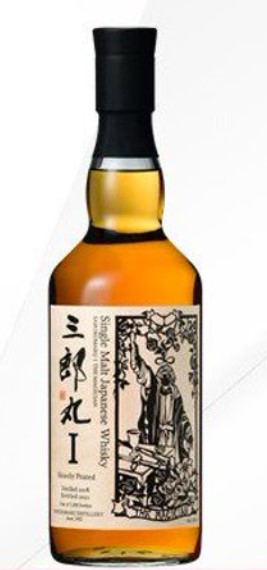 | | |
| --- | --- |
| Product name | Single Malt Saburo Maru 1 THE MAGICIAN |
| Capacity | 700ml |
| Suggested retail price | 11,550 yen (tax included) |
6-2. Resale price on Mercari
There seems to be no resale price on Mercari at present. (*As of December 1, 2021)
6-3. Yahoo Auction Sold Price
There are currently no items for sale on Yahoo Auction. (*As of December 1, 2021)
6-4. Rakuten, Yahoo Shopping, Amazon
There seems to be no sales on mail order sites at present. (*as of December 1, 2021)

¥3,950
(2022/07/03 16:22:41時点 楽天市場調べ-
詳細)
6-5. Price offered at BAR Shinkai
At "BAR SHINKAI", which is operated by our website, we offer even small amounts such as 1 glass, 45ml: 3,630 yen, 30ml: 2,420 yen, 15ml: 1,210 yen
7. Summary
Saburoumaru Distillery was reborn after a crowdfunding campaign in 2016 and renovation work in 2017 with the funds from the campaign.
Since then, the distillery has been upgraded every year, with the introduction of a new mash tun in 2018, a new pot still in 2019, and a wooden vat fermenter in 2020. The quality of the sake produced seems to be getting better every year, so the expectations are immeasurable.
I'm looking forward to seeing how the single malt Saburoumaru will taste when it is released next year.
In addition, Mr. Inagaki, the blender and manager of Saburomaru Distillery, started a bottlers business called "T&T TOYAMA" together with Mr. Shimono of the single malt mail-order company Moltoyama. It is attracting a lot of attention as the world's first Japanese whisky bottlers business.
When I visited the distillery, I talked to him, and he was a very active person with a strong passion for monozukuri. I'm looking forward to seeing what he has in store for us next.
Please check out the other articles about Saburoumaru Distillery.
Lastly: Recommended Books on Japanese Whisky
If you want to learn more about Japanese whisky, which is a global trend, we highly recommend these books.
In the December 2021 issue of Whisky Galore, published by the Whisky Culture Research Institute, we report on 11 Japanese craft distilleries, including some that are open to the public for the first time, under the title of "Japanese Whisky Craft Frontline," the first of three consecutive issues. Why did the popularity of Japanese whiskey and the craft boom occur? We will examine with interviews. Chichibu Distillery / Chichibu No.2 Distillery / Mars Shinshu Distillery / Mars Tsunuki Distillery / Kanosuke Distillery / Hioki Distillery / Ontake Distillery / Osuzuyama Distillery / Kaikyo Distillery / Hanyu Distillery / Konosu Distillery
This is a book written by Mamoru Tsuchiya, a world-famous whisky critic and representative of the Whisky Culture Research Institute, titled "Japanese Whisky as a Culture that Works for Business" .
The book covers the basics of whisky, the introduction of whisky to Japan, the birth of Japanese whisky, advertising strategies and the rise of Japanese whisky, and the current rise of craft distilleries. This is a book that summarizes Japanese whisky in a very easy to understand way.
Masataka Taketsuru, the founder of Nikka Whisky, devoted his life to brewing whisky in Japan. This is a revised and reprinted version of the autobiography of a man who simply loved whiskey and talked about himself. The book vividly depicts the days when he went to Scotland alone to study as a young man and overcame many hardships to complete Japanese whisky, as well as his companion, Rita.
Launching in 2019. With the world experiencing an unprecedented whisky boom, what were the managers of craft distilleries thinking and what were their thoughts as they took on the challenge of making whiskey? This book tells the stories of 13 craft distillery owners, including Ichiro Hido of Venture Whisky, famous for his Ichirose Malt, who inspired the birth of craft distilleries in Japan.
This is the Japanese version of Whisky Risng, published in the US in 2016, with much updated content. Not only does it describe the history of Japanese whiskey in detail, but it also includes data on all the distilleries in Japan, including the craft distilleries that have been founded in recent years. The book also includes descriptions of the legendary bottles that have been released, as well as information on bars where Japanese whisky can be found.