"Hibiki" is the pinnacle of blended whisky that Japan boasts to the world.
It is said that Hibiki is a blend of long matured raw materials carefully selected from more than 800,000 unique raw materials produced and stored at the three distilleries owned by Suntory in Japan: Yamazaki Distillery, Hakushu Distillery, and Chita Distillery.
Hibiki, created by the traditional blending techniques
that have been cultivated over the 100 years since the Yamazaki distillery started operations in 1923, is the highest quality premium blended whisky that was released in 1989 to commemorate the 90th anniversary of its founding. It was born out of the desire of the founder and first master blender, Shinjiro Torii, who continued to pursue the creation of whisky that would suit the delicate tastes of the Japanese.
1.Manufacturer
Suntory Spirits Co.
Established

1899

Head office location
2-3-3 Daiba, Minato-ku, Tokyo 135-8631, Japan
Owned distillery
●Japan
Yamazaki Distillery, Hakushu Distillery, Chita Distillery
●Scotland
Ardmore distillery, Glengilly distillery, Auchentoshan distillery, Bowmore distillery, Laphroig distillery
●Ireland
Cooley distillery, Kilbeggan distillery
●United States
Jim Beam distillery, Maker's Mark distillery
●Canada
Hiram Walker Distillery, Alberta Distillery

2.Distilleries
Suntory Yamazaki Distillery
| | |
| --- | --- |
| Location | 5-2-1 Yamazaki, Shimamoto-cho, Mishima-gun, Osaka 618-0001, Japan |
| Start of operation | 1923 |
The Yamazaki Distillery was established in 1923 as the first malt whisky distillery in Japan. This was at a time when whisky was still a rare drink for the general public. I want to make a Japanese whisky that suits the delicate taste of the Japanese people. With this passion in his heart, Shinjiro Torii set out to make whisky.
Shinjiro was particular about the Japanese climate. Water and the environment were especially important to him. Yamazaki is the home of the famous water called Minase no, which was written about in the Manyo poem.
The tea master Sen no Rikyu loved this place and the water was perfect for making whisky. The natural environment was also perfect.
Yamazaki is located in the southwest of Kyoto, at the foot of Tennozan (Mt. Tenno), where bamboo groves grow thickly, and is rich in nature where you can feel the seasonal changes. Located at the confluence of the Katsura, Uji, and Kizu Rivers, and surrounded by mountains, Yamazaki is prone to thick fog and has a warm and humid climate, which is ideal for maturing whisky.
Nobujiro decided that Yamazaki was the only place where he could make good whisky with this water and climate.
Reference: YAMAZAKI MOMENTS
[Suntory Yamazaki Distillery] 1923 Yamazaki distillery was built. The first whisky distillery in Japan.
1929 Released "Shirofuda", the first domestically produced whisky.
1937 Released "Kakubin".
1984 Released single malt whisky "Yamazaki".
1992 Single malt whisky "Yamazaki 18 years" was launched.
1998 Single malt whisky "Yamazaki 25 years" was launched.
Image courtesy of Yamazaki Club
For more information on the Yamazaki Distillery, please see this article.
Suntory Hakushu Distillery
| | |
| --- | --- |
| Location | 2913-1 Toribaru, Hakushu-cho, Hokuto City, Yamanashi Prefecture, 408-0316, Japan |
| Start of operation | 1973 |
In 1973, exactly 50 years after Japan's first whisky production, the Hakushu Distillery was completed in a lush forest of 820,000 square meters at the foot of Mount Kai Komagatake in the Southern Alps, blessed with abundant nature.
The brewing water is surrounded by the moist atmosphere of the forest, and the Hakushu malt is made with pure and soft natural water from the Southern Alps, polished by granite. The malt is matured over a long period of time in the changing seasons that are unique to Japan, and is the source of the clean, aromatic Hakushu flavor.
In 2014, the company spent 1 billion yen to add four more pot stills, bringing the total number of stills to 16. A wide variety of pot stills of different sizes and shapes are used to make different types of sake. The storage room is a rack type with a high ceiling. The temperature and humidity are not controlled by hand, but are left to nature.
1973 Hakushu distillery was built.
1994 Release of Hakushu 12 years
2006 Release of Hakushu 18 years
2008 Release of Hakushu 25 years
Image credit: Suntory Official Forest Distillery
For more information about Hakushu Distillery, please see this article.
Suntory Chita Distillery
| | |
| --- | --- |
| Location | 16 Kitahamacho, Chita City, Aichi Prefecture, 478-0046, Japan |
| Start of operation | 1973 |
The Chita Distillery, located on the Chita Peninsula overlooking Ise Bay, is a grain whisky distillery established by the Suntory Group in collaboration with the Zen-Noh Group, and is one of the three domestic whisky distilleries of the Suntory Group, along with the Yamazaki and Hakushu distilleries for malt whisky. Here, corn-based grain whisky has been supported. The Chita Distillery uses continuous distillation to produce three types of grain whisky: clean, medium and heavy, which is unique in the world.

For more information about Chita Distillery, please see this article.
3. Product name and photo
Hibiki BLOSSOM HARMONY 2021
hibiki blossom harmony 2021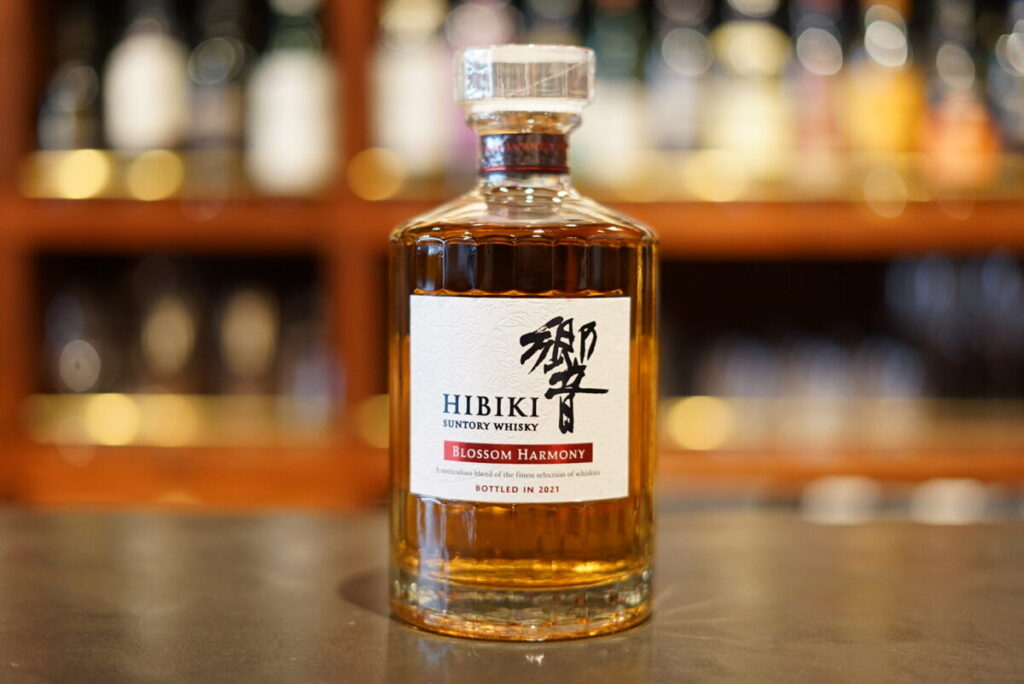 4.Characteristics
A fragrant aroma and round taste that will add a festive touch to any celebration.

Based on the main ingredients of Hibiki, it is blended with the brand's first "Cherry Blossom Barrel Finished Sake", which is a combination of rare long matured grain sake that has been matured in cherry blossom barrels. It features a gorgeous aroma reminiscent of flowers derived from cherry blossom barrels, a mellow and harmonious taste, and a rich and refreshing aftertaste. For the package, the label depicts a hundred flowers suitable for celebratory occasions, and the color "tsuyabeni" is used as a supplementary color to express the gorgeousness of the cherry blossom barrel. It also features a gorgeous gift-like carton with the image of a festive bowl.

4-1. Tasting Notes
Aroma
Aromatic flowers, cherry blossoms, and kumquats.
Taste
Rounded mouthfeel, smooth mouth aroma, acacia honey
Acacia honey, La France, elegant sweetness like cherry cake.
Aftertaste
Long, rich, gorgeous aftertaste.
(Quoted from: Suntory Holdings Limited)
4-2. Product Specifications
| | |
| --- | --- |
| Alcohol content | 43% alcohol by volume |
| by alcohol | blended whisky |
| Barrel type | Cherry blossom barrel |
| Contents | 700ml |
| Number of bottles sold | – |
| Suggested retail price | 8,800 yen (tax included) |
| Release date | May 25, 2021 (Tuesday) |
5.Awards received
No awards have been received at this time.
6.Price
6-1. Manufacturer's suggested retail price
| | |
| --- | --- |
| Product name | Hibiki BLOSSOM HARMONY 2021 |
| Capacity | 700ml |
| Suggested retail price | 8,800 yen (tax included) |
6-2. Resale price on Mercari
The resale price on Mercari is around 49,000 yen to 60,000 yen. (*As of 6/7/2021)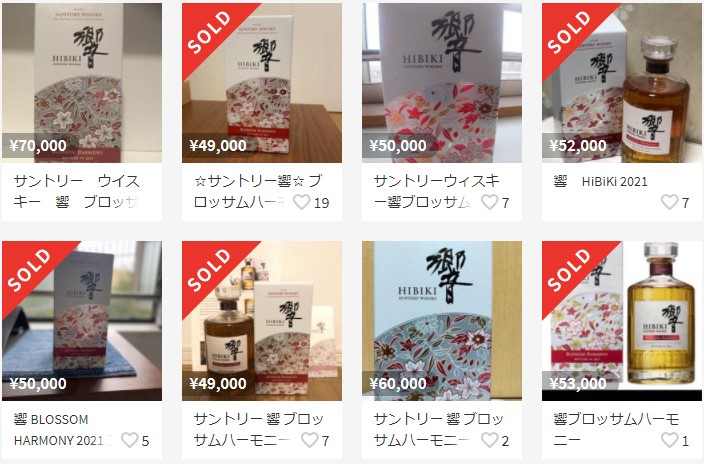 6-3. Yahoo Auction Sold Price
The lowest bid price on Yahoo Auction is 45,000 yen, the highest is 80,000 yen, and the average is 58,094 yen (*Statistics for the past 120 days since 6/7/2021)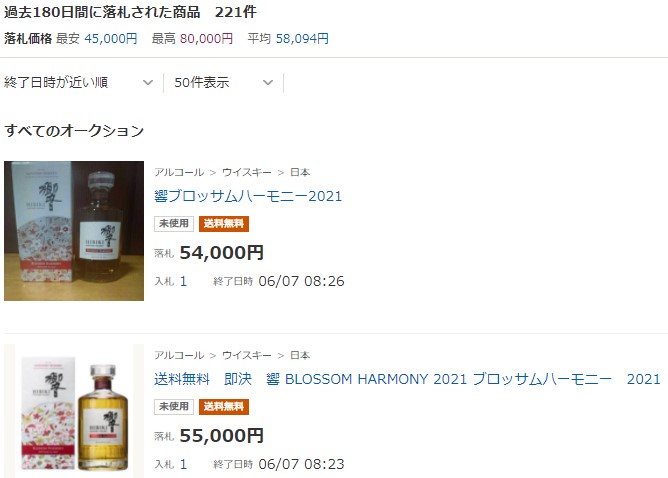 6-4. Rakuten, Yahoo Shopping, Amazon
Mail order sites also sell them for around 65,000 yen to 80,000 yen. (*As of 6/7/2021)

6-5. Price offered at BAR Shinkai
At "BAR SHINKAI", which is operated by our website, we offer a small amount of each drink, 45ml: 3,960 yen, 30ml: 2,640 yen, 15ml: 1,320 yen, etc.
7.Summary
The official website recommended a strong soda.
It has a gorgeous aroma and lingering aftertaste, and is said to go well with meals.
It is also said to go well with Japanese sweets such as red bean paste and wasanbon sugar, as well as the savory aroma of kinako (soybean flour).
It is truly a perfect bottle for hospitality.
Please check out the other articles about Hibiki.
Japanese Whisky Dictionary
Japanese Whisky Dictionary
埼玉県出身。
本業は俳優、グラフィックデザイナー。
お酒を嗜むのが好きで新海BARに入社。
「Japanese Whisky Dictionary」では、記事の英語などへの翻訳を担当している。