This single malt whisky is only available at the Yoichi distillery. It is a series that accentuates the character of the official Yoichi bottles by the barrels and malt strains used, such as "Woody & Vanilla", "Petey & Salty", and "Sherry & Sweet". The Yoichi series was previously released in a 12 year old version, but due to a shortage of raw spirits from the recent Japanese whisky boom, it was discontinued and released again in a non-aged version.
Originally, Yoichi series had a rich lineup of 10 years, 12 years, 15 years, and 20 years, but those so-called vintage products were all discontinued in August 2015, and now only non-vintage products are sold.
1. Manufacture
Nikka whisky Co.
| | |
| --- | --- |
| Establishment | 1934 |
| Head office location | 4-31, Minamiaoyama 5-chome, Minato-ku, Tokyo 〒107-8616, Japan |
| Owned Distillery | Yoichi Distillery, Miyagikyo Distillery, Ben Nevis Distillery |

2. Distilleries
Yoichi Distillery
| | |
| --- | --- |
| Location | 7-6 Kurokawa-cho, Yoichi-cho, Yoichi-gun, Hokkaido 〒046-0003, Japan |
| Start of Operation | 1936 |
Yoichi Distillery in Hokkaido is known as Scotland in Japan. Dai Nippon Fruit Juice Co., Ltd. was established in 1934 by Masataka Taketsuru, called Massan.
Masataka Taketsuru believed thata cool and humid climate similar to Scotland, rich water sources and dignified and clear air were indispensable for the creation of ideal whisky, so he chose Yoichi, which is located west of Otaru and at the base of the Shakotan Peninsula, from various candidate sites. His goal at his first distillery was to make a heavy and powerful malt whisky. He focused on reproducing the whisky-making methods that he learned at Scottish distillery without any compromise. The symbol of this commitment is "coal open flame distillation". This distillation method was adopted according to the method of the Long morn distillery that he learned. "If it is necessary to make real whisky, even if it is inefficient, I will protect it." The passion that can be said to be the origin of Nikka Whisky and the dream of Masataka Taketsuru are still inherited.
Reference: Yoichi Distillery – NIKKA WHISKY
For more information on the Yoichi Distillery, please see this article.
3. Product name and photo
Single Malt Yoichi Woody&Vanillic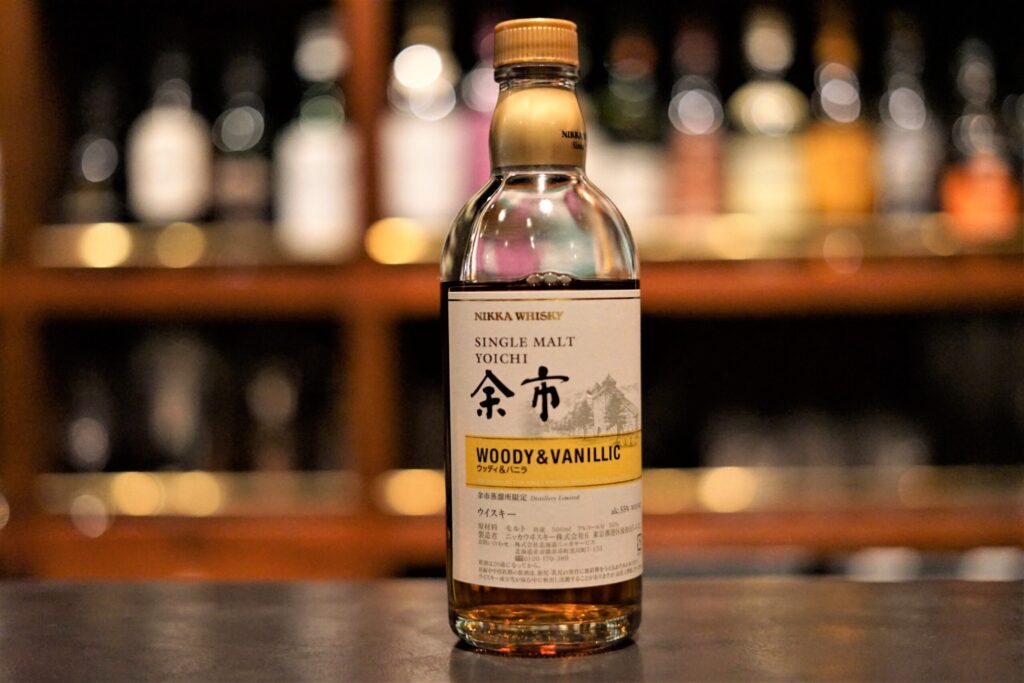 ¥14,500
(2023/02/07 16:15:27時点 楽天市場調べ-
詳細)
4. Features
Soft vanilla on the nose, woody on the palate
This bottle is a good blend of woody and vanilla notes from the barrel.
Although the alcohol in the non-aged bottle is a little tense, the aroma is fresh and melon-like, with hints of vanilla, cocoa, malt, and white oak. At the beginning of the drink, as the brand name suggests, the vanilla aroma comes first, followed by a hint of bourbon's ethereal aroma and bitterness.
If you drink it straight or with a little water (a few drops of water), you can feel the sweetness more easily, and the vanilla sweetness will follow later. There is also a hint of oak and some peat.

4-1. Tasting Notes
| | |
| --- | --- |
| Scent | Oaky, sweet to weakly peaty nose |
| Taste | Creamy, chocolatey, rum-raisin, astringent, bourbon-like vanilla |
| Aftertaste | Vanilla sweetness gives way to a woody, subtly scented, peaty finish |
4-2. Product Specifications
| | |
| --- | --- |
| Alcohol level | 55% |
| By Liquor | Single Malt Whisky |
| Barrel type | – |
| Contents | 500ml |
| Number of sales | – |
| Suggested retail price | 6,800 yen (including tax) |
| Release date | – |
5. Awards
There are no awards at this time.
6. Price
6-1. Manufacturer's suggested retail price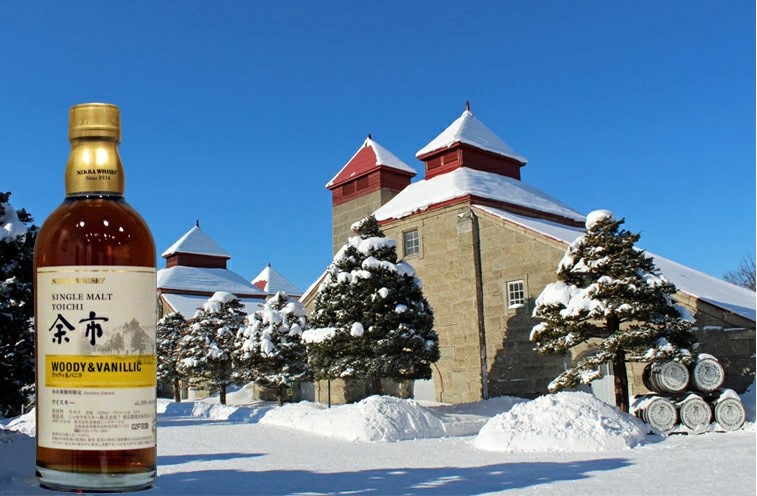 | | |
| --- | --- |
| Product name | Single Malt Yoichi Woody & Vanilla |
| Capacity | 500ml |
| Suggested retail price | 6,800 yen (including tax) |
6-2. Resale prices at Mercari
Resale prices at Mercari are around 9,000 yen to 12,000 yen. (*As of March 18, 2021)
6-3. Yahoo Auction Winning Bid Price
The winning bid price at yahoo auction is 7,010 yen, up to 25,000 yen, average 8,839 yen (*Statistical information for the past 120 days from March 18, 2021)
The highest price of 25,000 yen is for a set of three.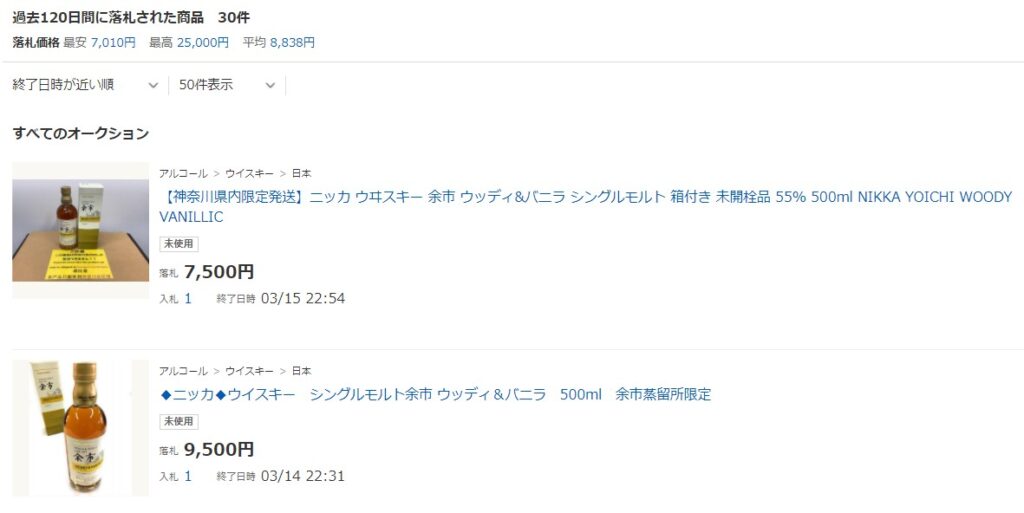 6-4. Rakuten, Yahoo Shopping, Amazon
It is also sold on mail order sites for around 12,000 yen to 16,000 yen. (*As of March 18, 2021)
Basically, these products can only be purchased at distilleries, so the selling price on the Internet is set quite high.

¥14,500
(2023/02/07 16:15:27時点 楽天市場調べ-
詳細)
6-5. Offered prices at BAR Shinkai
"BAR Shinkai" operated by this site offers one cup, 45ml: 4,200 yen 30ml: 2,800 yen 15ml: 1,400 yen.
7.Summary
This whisky is soft on the palate, with more vanilla up front than woody, reminiscent of bourbon barrel vanilla. Tannin-like flavors are also present. The tanginess of the alcohol on the tongue comes from the woodiness. However, the vanilla flavor is still there at the base of the entire wine, and as you continue to drink it, you will end up with the impression that you are eating candy or vanilla ice cream.
It is a whisky that is easier to feel the vanilla flavor when drunk straight.
It's a whisky that is limited to the Yoichi distillery, so you can't buy it at ordinary liquor stores or mass merchandisers, but it's a whisky that you can almost always find at the Yoichi distillery, so it's a whisky that you should definitely check out when you visit the distillery.
■It is a whisky that you can almost always find at the Yoichi distillery.
Japanese Whisky Dictionary
Japanese Whisky Dictionary
Japanese Whisky Dictionary
Japanese Whisky Dictionary
北海道札幌市出身。
2005年、大手スポーツ用品販売チェーンに就職→2019年1月、BAR新海に就職しウイスキーの魅力に引き込まれ虜となる。
初めて飲んだウイスキーはアードベッグ10年。
ほぼ毎日ウイスキーを飲む中で更なる知識習得を目指し、ウイスキー検定2級とJC級(ジャパニーズクラフトウイスキー)を取得。
造り手の想いをしっかりと表現し、飲み手の方々に正しい情報を伝えたい。ウイスキーの魅力をたくさんの方に伝えたいという思いでウェブメディア「Japanese Whisky Dictionary」の編集を担当。