Manzanilla Wood Finish, marketed by Asahi Breweries and manufactured by Nikka Whisky, released simultaneously from the two distilleries in Yoichi and Miyagikyo.
1. Manufacturer
Nikka whisky Co.
| | |
| --- | --- |
| Establishment | 1934 |
| Head office location | 4-31, Minami-Aoyama 5-chome, Minato-ku, Tokyo 107-8616, Japan |
| Owned distilleries | Yoichi Distillery, Miyagikyo Distillery, Ben Nevis Distillery |
2. Distilleries
Yoichi Distillery
| | |
| --- | --- |
| Location | 7-6 Kurokawa-cho, Yoichi-cho, Yoichi-gun, Hokkaido 046-0003, Japan |
| Start of operation | 1936 |
The Yoichi Distillery in Hokkaido is known as the Scotland of Japan. It was established in 1934 by Masataka Taketsuru, also known as Masan, whose predecessor was Dainippon Fruit Juice Co. Masataka Taketsuru believed that a place similar to Scotland Cool and humid climate, rich water source and clean air Masataka Taketsuru chose Yoichi, located at the base of the Shakotan Peninsula, west of Otaru, from among various candidate sites. Masataka Taketsuru's goal for his first distillery was to create a heavy and powerful malt whisky. He was determined to replicate the whisky-making methods he had learned at the distilleries of Scotland, without compromise. The symbol of this commitment is "direct coal distillation". This distillation method is based on the method of the Longmorn distillery, where he learned it himself. If it is necessary to make genuine whisky, we will protect it even if it is inefficient. Such passion, which can be said to be the origin of Nikka Whisky, and Masataka Taketsuru's dream have been handed down to this day.
Click here for the official website of Yoichi Distillery.
For more information about Yoichi Distillery, please see this article.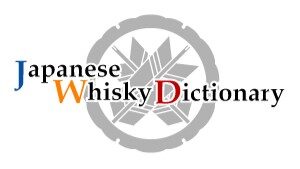 余市蒸溜所 | ジャパニーズウイスキーディクショナリー

Japanese Whisky Dictionary
3. Product name and photo
Single Malt Yoichi Manzanilla Wood Finish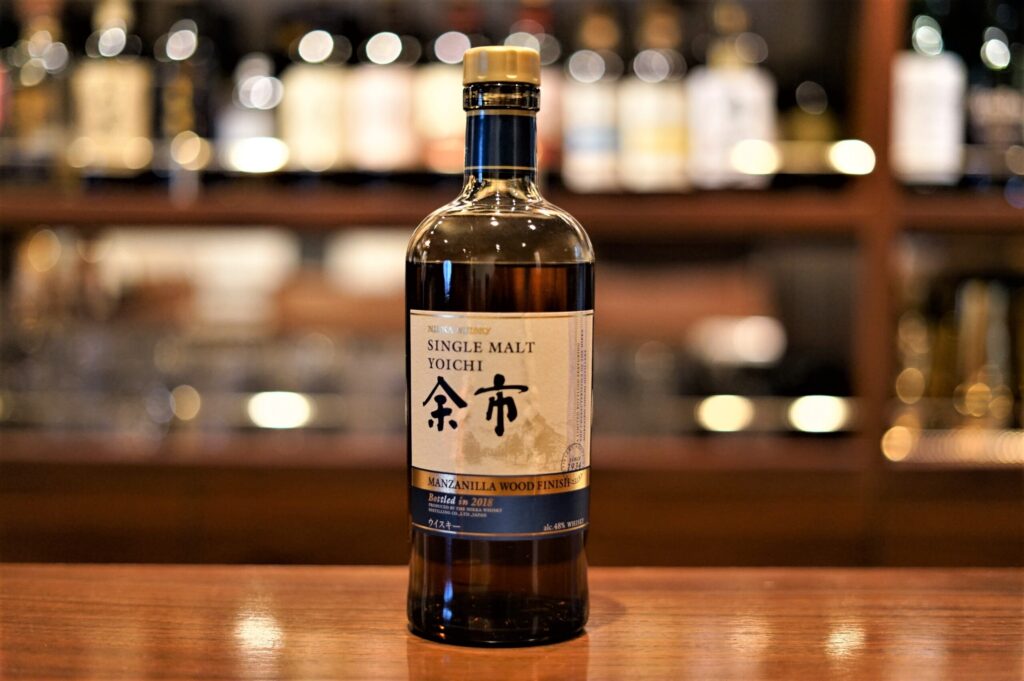 4. Characteristics
"Single Malt Yoichi" has a strong and thick flavor. It is characterized by the harmony of fruity sweetness, richness and savory peat. The aroma of tropical fruits such as peach and papaya, sweet and sour aroma reminiscent of shortcake, and lingering peat reminiscent of a bonfire can be enjoyed. 4-1.
After regular maturation, the whisky is stored and matured for 18 months in barrels where sherry "Manzanilla" was matured for 50 years, and bottled without cooling and filtration in order to produce a rich and complex flavor.
Manzanilla is a dry sherry that is aged in the Sanlúcar de Barrameda region of southern Spain. The Sanlúcar de Barrameda area is located by the sea, and the sherry casks are fully influenced by the sea and have been matured for more than 50 years using the solera system (wine adding).
4-1. Tasting Notes
| | |
| --- | --- |
| Nose | Light fruit aroma |
| Taste | Fruity, sweet and full-bodied. |
| Aftertaste | Bitter aftertaste derived from the barrel |
(Source: Asahi Breweries, Ltd. )
4-2. Product specifications
Alcohol content
48%
Alcohol category
Single malt whisky
Cask Type
Manzanilla cask
Contents
700ml
Number of bottles sold
4,000 bottles
Suggested retail price

16,500

yen (tax included)
Release date
September 26, 2018 (Wednesday)
5. Awards
There is no award history at this time.
6. Price
6-1 Manufacturer's suggested retail price
| | |
| --- | --- |
| Product name | Single Malt Yoichi Manzanilla Wood Finish |
| Volume | 700ml |
| Suggested Retail Price | Tax included: 16,500 yen |
6-2. Resale price on Mercari

In the Mercari About 30,000 yen (*as of February 10, 2021), the price has tripled. However, it is becoming difficult to even find it because it is not available on the market in the first place.


6-3. Sold price on Yahoo Auction

The winning bid price on Yahoo Auction is Lowest bidder: 5,751 yen, highest bidder: 60,000 yen, average bidder: 39,152 yen (*Statistics for the past 120 days as of February 10, 2021) *Because there are some items such as empty bottles only.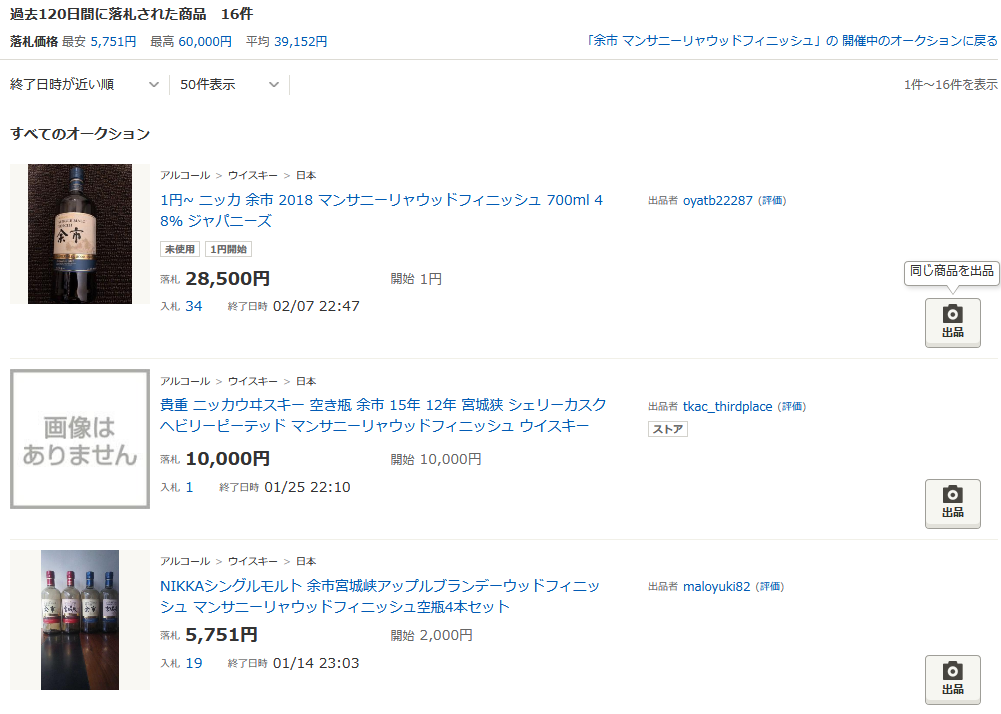 6-4. Rakuten, Yahoo Shopping, Amazon

It is possible to find one or two bottles, but they are moderately priced. About 46,000 yen to 53,000 yen (*Rakuten research).

6-5. Price offered at BAR Shinkai
At "Bar Shinkai" which is operated by this site, we offer 1 glass, 45ml: 5,500 yen, 30ml: 3,740 yen, 15ml: 1,870 yen It is available at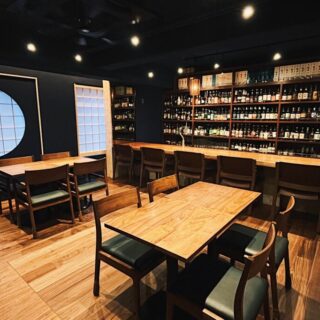 Information about "BAR Shinkai"

Japanese Whisky Dictionary operates three BAR Shingai stores in Minato Ward, Tokyo. In addition to the Japanese whiskeys introduced on this site, they also hand...
7. Summary
Yoichi is a masculine, powerful, and heavy single malt that is aged in dry sherry barrels called Manzanilla.
Manzanilla sherry casks are made from sherry pads that have been filled with sherry for 50 years.
The sweetness is pushed out strongly, showing us a new side of Yoichi that is sweetly fragrant, yet woody and bitter.
The following year, in 2019, Yoichi will be celebrating its 50th anniversary with a limited edition and an apple brandy wood finish. In 2021, we aim to invest 6.5 billion yen until the end of this year to increase the production capacity of both Yoichi and Miyagikyo distilleries
The number of bottles sold will gradually increase and new products will be released.
I am very much looking forward to seeing what will be released.
Please check out the other articles on single malt Yoichi.
https://en.jpwhisky.net/2020/04/03/yoichi_applebrandy-2/
https://jpwhisky.net/2020/01/18/singlemalt_yoichi/
Lastly: Recommended Books on Japanese Whisky
If you want to learn more about Japanese whisky, which is a global trend, we highly recommend these books.
In the December 2021 issue of Whisky Galore, published by the Whisky Culture Research Institute, we report on 11 Japanese craft distilleries, including some that are open to the public for the first time, under the title of "Japanese Whisky Craft Frontline," the first of three consecutive issues. Why did the popularity of Japanese whisky and the craft boom occur? We will examine with interviews. Chichibu Distillery / Chichibu No.2 Distillery / Mars Shinshu Distillery / Mars Tsunuki Distillery / Kanosuke Distillery / Hioki Distillery / Ontake Distillery / Osuzuyama Distillery / Kaikyo Distillery / Hanyu Distillery / Konosu Distillery
This is a book written by Mamoru Tsuchiya, a world-famous whisky critic and representative of the Whisky Culture Research Institute, titled "Japanese Whisky as a Culture that Works for Business" .
The book covers the basics of whisky, the introduction of whisky to Japan, the birth of Japanese whisky, advertising strategies and the rise of Japanese whisky, and the current rise of craft distilleries. This is a book that summarizes Japanese whisky in a very easy to understand way.
Masataka Taketsuru, the founder of Nikka Whisky, devoted his life to brewing whisky in Japan. This is a revised and reprinted version of the autobiography of a man who simply loved whisky and talked about himself. The book vividly depicts the days when he went to Scotland alone to study as a young man and overcame many hardships to complete Japanese whisky, as well as his companion, Rita.
Launching in 2019. With the world experiencing an unprecedented whisky boom, what were the managers of craft distilleries thinking and what were their thoughts as they took on the challenge of making whisky? This book tells the stories of 13 craft distillery owners, including Ichiro Hido of Venture Whisky, famous for his Ichirose Malt, who inspired the birth of craft distilleries in Japan.
This is the Japanese version of Whisky Risng, published in the US in 2016, with much updated content. Not only does it describe the history of Japanese whisky in detail, but it also includes data on all the distilleries in Japan, including the craft distilleries that have been founded in recent years. The book also includes descriptions of the legendary bottles that have been released, as well as information on bars where Japanese whisky can be found.