"MWR" is an acronym for Mizunara Wood Reserve.
Mizunara(Quercus crispula), also known as Japanese oak, is a deciduous broadleaf tree in the Quercus family. It grows naturally in mountainous areas from Hokkaido in the north to Kagoshima Prefecture in the south.
Many of the Quercus serrata trees from Hokkaido are of particularly high quality, and are used for maturing domestic whiskey. Ichiro's malt is made from Quercus mongolica grown in Hokkaido, which gives it an oriental aroma reminiscent of incense and a delicate, complex flavor.
It's hard to get a hold of Ichirose Malt because it's so popular that it's sold out the moment it hits the shelves, but the Leaf Series (Quercus Wood Reserve, Winewood Reserve, and Double Distilleries), which are the standard products, are extremely popular and captivate whisky fans. Among them, this Mizunara Wood Reserve is the signature product of the Leaf Series. This is a whisky that can be called "the best of the best" .
1. Manufacturer
Venture Whiskey Co.
| | |
| --- | --- |
| Establishment | Established in 2004 |
| Head office location | 49 Midorigaoka, Chichibu-shi, Saitama 368-0067 Japan |
| Distilleries owned | Chichibu Distillery, Chichibu No.2 Distillery |
2. Distillery
Venture Whiskey Chichibu Distillery
| | |
| --- | --- |
| Location | 49 Midorigaoka, Chichibu City, Saitama Prefecture, 368-0067 Japan |
| Start of operations | 2007 |
Single malt whiskey production rooted in the climate of Chichibu is carried out.
Mr. Ichiro Akuto, the founder of the distillery, takes pride in producing Japanese whiskey, and is committed to handcrafting malt whiskey using small mills, mash tuns, Quercus fermenters, and pot stills made by Forsyth in Scotland.
The area around the Chichibu distillery is rich in nature, with clean air, good quality water, high temperatures and humidity in the summer, and cold temperatures that reach below freezing in the morning and evening. The difference in temperature between the two regions has a profound effect on the maturation of the whiskey, resulting in a fruity and well-balanced whiskey despite the short maturation period.
Established in September 2004.
The Chichibu distillery was completed in 2007.
In February 2008, a license to make whiskey was issued and the Chichibu distillery began making whiskey.
In October 2019, the second distillery will begin operations.

This distillery was established after Suntory Hakushu Distillery and Kirin Fuji Gotemba Distillery, which were established in 1973. The distillery was established in 1973 after Suntory Hakushu Distillery and Kirin Fuji Gotemba Distillery. The first distillery established in Japan in 35 years. This was the end of the whiskey slump.
The annual whisky production is only two days' worth of the Glenlivet distillery in Scotland.
The second distillery, which has been in operation since the fall of 2019, has a production volume that is a whopping two times that of the first distillery. 5 times The second distillery, which will be operational in the fall of 2019, will produce a whopping 1.5 times more malt than the first. The pot still is the same shape as the first distillery, but it is much larger so that it can distill five times as much malt. It is made by Forsythe. Gas direct-fired distillation machine It is made by Forsythe.
For more information on Chichibu Distillery, please see also.
3. Product name and photo
Ichiro's Malt Mizunara Wood Reserve (MWR)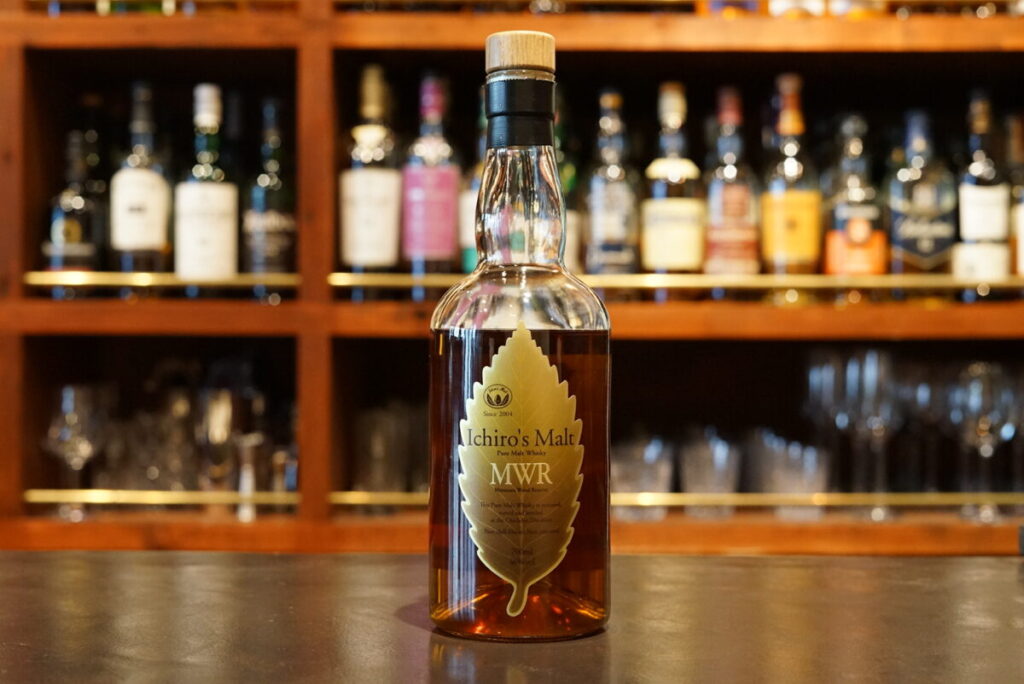 4. Characteristics
Key malt is malt raw material from Hanyu distillery.
Ichiro's Malt Mizunara Wood Reserve (MWR) is made by using malt from the Hanyu distillery as the key malt and batting several types of malt whisky together.
It is then re-aged in Mizunara Reserve Vat.
The name of the distillery where the malt whisky was bathed is not known, but the strongest type of peat was selected and blended at the Chichibu distillery.
In the mouth, the astringent and slightly spicy taste of dried grapes spreads at first, gradually changing to a sweet and smoky taste like chocolate. The body is thick and well-balanced.
In the finish, the sandalwood-like aroma peculiar to Mizunara comes in well-balanced, complex and delicate, spicy and sweet, with woody and peaty elements intertwined in a complex way, creating a unique flavor.
4-1. Tasting Notes
| | |
| --- | --- |
| Aroma | Cacao, chocolate, apricot, marmalade, ginger. |
| Taste | Bitter chocolate, spicy and peaty. |
| Aftertaste | Woody and peaty with complex flavors. |
4-2. Product Specifications
| | |
| --- | --- |
| Alcohol Content | 46% |
| alcohol category | Blended malt whisky |
| Barrel type | Quercus serrata and others |
| Contents | 700ml |
| Number of bottles sold | ー |
| Suggested retail price | 6,600 yen (tax included) |
| Release date | ー |
5. Awards
2010 WWA (World Whisky Awards) "Best Japanese Blended Malt" .
6. Price
6-1. Manufacturer's suggested retail price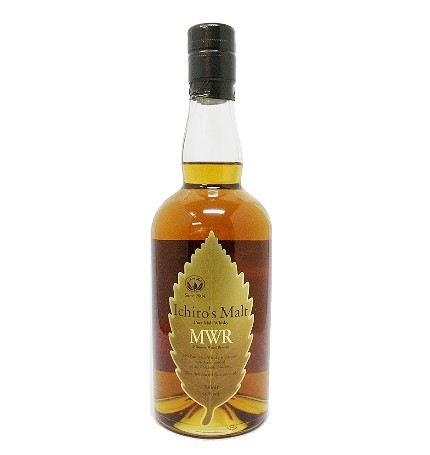 | | |
| --- | --- |
| Product name | Ichirose Malt Mizunara Wood Reserve |
| Volume | 700ml |
| Suggested retail price | 6,000 yen (tax included: 6,600 yen) |
6-2. Resale price on Mercari
The resale price on Mercari is Around 12,000 yen The resale price on Mercari is as follows. (*as of February 16, 2021)


6-3. Sold price on Yahoo Auction
The winning bid price on Yahoo Auction is Lowest bidder: 3,402 yen, Highest bidder: 161,000 yen, Average bidder: 18,268 yen (*Statistics for the past 120 days as of February 16, 2021)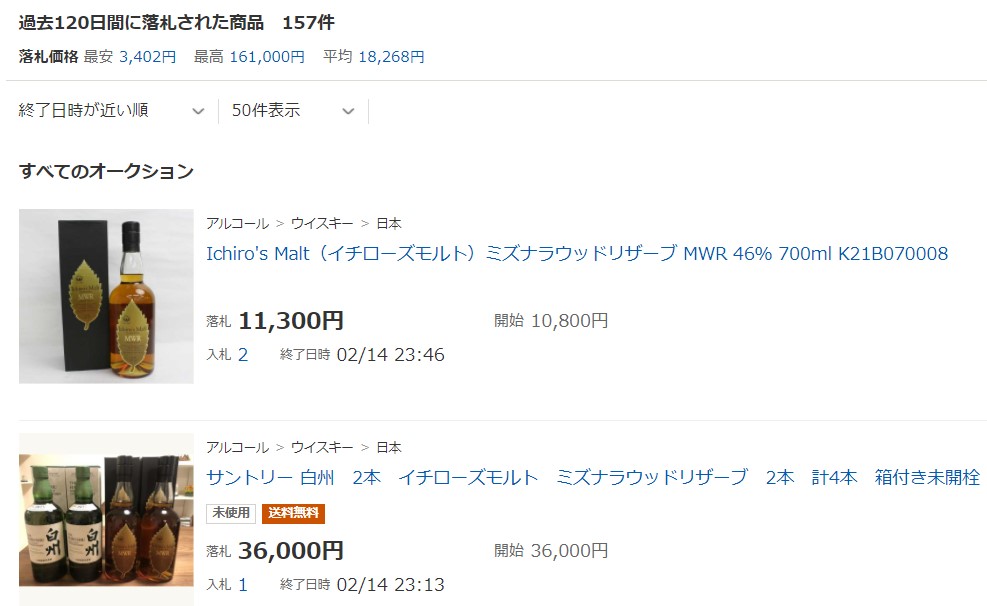 6-4. Rakuten, Yahoo Shopping, Amazon
It is also sold on mail order sites at Around 15,000 yen It is also sold at (*As of February 16, 2021)
6-5. Price offered at BAR Shinkai
At "BAR SHINKAI", which is operated by this site, we offer 1 glass, 45ml: 2,310 yen 30ml: 1,540 yen, 15ml: 770 yen It is also offered in small quantities such as
7. Summary
This whiskey has a sweet and smoky taste with the unique aroma of "Mizunara" , a barrel material that is attracting attention from both inside and outside Japan, along with a sense of maturity.
If you add water, you can feel the complexity in the sweetness and it becomes very easy to drink. On the rocks, the rich flavor of straight whiskey becomes less pronounced, but you can still taste a little sweetness and elegance. In a highball, the sweetness is more pronounced.
As can be said for the entire Leaf series of Ichiro's Malt, it is a "super hard to find" whisky, and is sold online at a pre-sale price two to three times the list price. If you are a fan of Japanese whisky, it is a whisky that you should buy immediately if you find it at a liquor store at a fixed price. If you haven't tried it yet, some bars offer it at a relatively reasonable price, so you should definitely try it at least once.
If you've never tried it before, there are some bars that offer it for a relatively reasonable price.