Suntory Kakubin, as it is known, is one of the blended whiskey brands produced by Suntory Spirits and sold by Suntory Liquors.
In fact, it was not originally called "Kaku-bottle" , but was first sold on October 8, 1937 by Kotobuki-ya, the predecessor of Suntory, under the name "Suntory Whiskey 12 years" , and was nicknamed "Kaku" or "Kakubin" because of its square shape.
Later, in 1963, the year after Shinjiro Torii, the first president of Kotobukiya, passed away, his successor, Keizo Saji, changed the company name from Kotobukiya to Suntory.
It is a famous anecdote that the origin of the name Suntory is the combination of "Akatama (Sun) = Sun" from "Akatama Port Wine" and "Torii (Torii) = Torie" , the founder of the company, which led to the name Suntory.
Some time after the Suntory horn became popularly known as "horn" among people, Suntory finally started to register the trademark officially.
However, on May 17, 1994, Suntory's trademark application was rejected on the grounds that the name "Kaku Bottle" only indicated the shape of the bottle.
In response to this, Suntory filed a lawsuit with the Tokyo High Court demanding the reversal of the trial decision, making full use of all kinds of data and advertisements to compile and submit data on how well the product was recognized by the public.
This was eight years after the trademark application was filed.
1. Manufacturer
Suntory Spirits Co.
Established

1899

Head office location
2-3-3 Daiba, Minato-ku, Tokyo 135-8631, Japan
Owned distillery
Japan
Yamazaki Distillery, Hakushu Distillery, Chita Distillery
Scotland
Ardmore distillery, Glengilly distillery, Auchentoshan distillery, Bowmore distillery, Laphroig distillery
Ireland
Cooley distillery, Kilbeggan distillery
United States
Jim Beam distillery, Maker's Mark distillery
Canada
Hiram Walker Distillery, Alberta Distillery
2. Distillery
Kakubin is made by blending raw spirits from two distilleries : Yamazaki Distillery and Hakushu Distillery.
Location
Start of operation

Yamazaki Distillery
Yamazaki distillery 618-0001
5-2-1 Yamazaki, Shimamoto-cho, Mishima-gun, Osaka
1923

Hakushu distillery
Hakushu distillery 408-0316
YamanashiHokuto city, Hokuto town, Hakushu town, Toribaru 2913-1

1973
The Yamazaki Distillery was founded in 1923 by Shinjiro Torii, the founder of Suntory, who decided to make whiskey with a passion to create a Japanese whiskey that would suit the delicate taste of the Japanese people.

For more information on the Yamazaki Distillery, please see this article.
In order to produce a different type of malt whiskey from the Yamazaki distillery, the Hakushu distillery searched for the best water for making whiskey and selected Hakushu, one of the most famous water areas in Japan, from a nationwide survey. In 1973, exactly 50 years after the Yamazaki distillery started operations, Suntory's second malt whiskey distillery, Hakushu Distillery, began operations.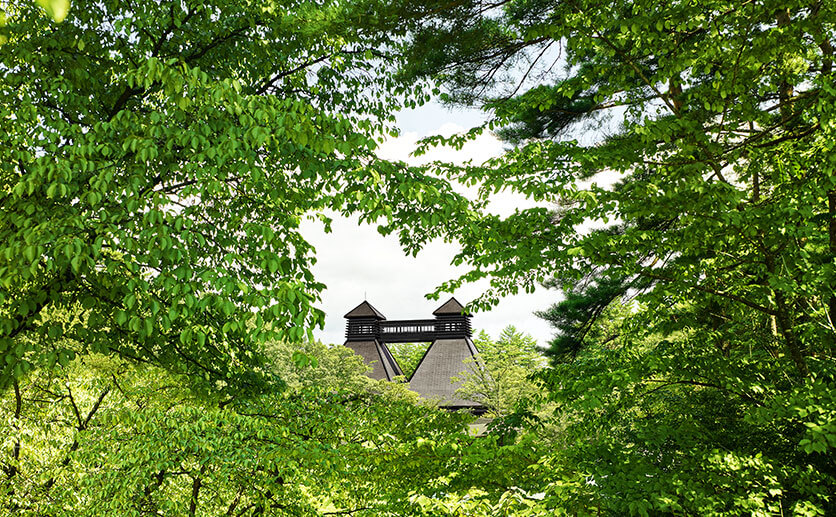 See also this article for more information on the Hakushu distillery.
3. Product name and photo
Suntory Kaku 

¥1,540
(2023/06/01 03:52:19時点 楽天市場調べ-
詳細)
4. Characteristics
A well-balanced blend of bourbon barrels from Yamazaki and Hakushu distilleries, this whiskey has a sweet aroma, thick and rich flavor, and a dry taste.

The taste is even more pronounced when served as a highball.
4-1. Tasting Notes
| | |
| --- | --- |
| Nose | Slightly fragrant honey aroma and strong alcohol aroma |
| Taste | Sweet taste of honey |
| Aftertaste | Slightly fragrant oak and moderate scent. |
(Source: Kakubin's Commitment)
4-2. Product Specifications
Alcohol content
40%
Classification
Blended whisky
Barrel type
Bourbon barrel
Contents
700ml
Number of bottles sold
ー
Suggested retail price

1,540

yen (tax included)
Release date
1937
5. Award history
No awards have been received at this time.
6. Price
6-1. Manufacturer's suggested retail price
| | |
| --- | --- |
| Product name | Suntory Kakubin |
| Capacity | 700ml |
| Suggested retail price | 1,400 yen (tax included: 1,540 yen) |
6-2. Resale price on Mercari

They are not resold, but for reference.
They are often sold as a set.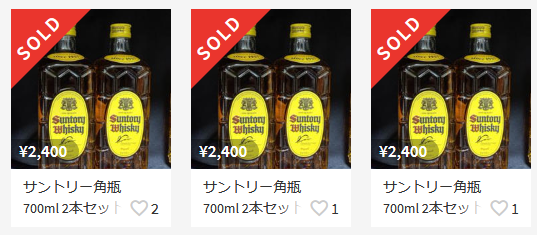 6-3. Sold price on Yahoo Auction

On Yahoo! Japan, it seems that most of the products are sold in PET bottles or sets.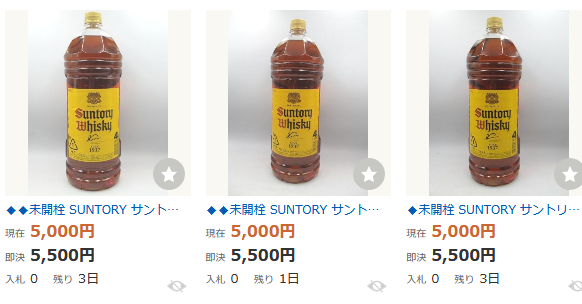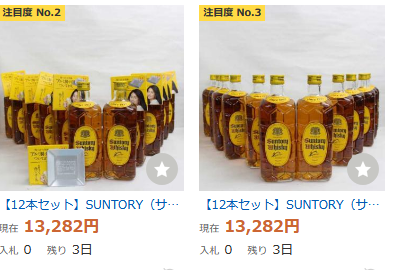 6-4. Rakuten, Yahoo Shopping, Amazon
They also sell large-volume PET bottles, which might be a good idea for stockpiling.


¥1,540
(2023/06/01 03:52:19時点 楽天市場調べ-
詳細)
6-5. Price offered at BAR Shinkai
One cup, 45 ml: 990 yen, is available at BAR Shinkai, which is operated by this website.

7. Summary
Whiskey Kakubin, which can be called the national whiskey.
I'm sure you'll be able to find a lot of people who are interested in this type of product.
You can drink it as it is, but as you know, it is overwhelmingly delicious as a highball, and even if you are not used to whiskey, you can drink it with Coke, Coke High, or Ginger Ale.
In addition, the catchphrase "Do you like whiskey?" goes well with fried foods and foods with a strong taste, as you can often see in commercials that are too famous.
The father of Japanese whiskey, Kakubin, is 84 years old this year, and even today, the tortoise shell pattern on the bottle, inspired by Satsuma faceting, adds flowers to tables and banquets.
For more information about Suntory, please check out our other articles.
Lastly: Recommended Books on Japanese Whisky
If you want to learn more about Japanese whisky, which is a global trend, we highly recommend these books.
In the December 2021 issue of Whisky Galore, published by the Whisky Culture Research Institute, we report on 11 Japanese craft distilleries, including some that are open to the public for the first time, under the title of "Japanese Whisky Craft Frontline," the first of three consecutive issues. Why did the popularity of Japanese whiskey and the craft boom occur? We will examine with interviews. Chichibu Distillery / Chichibu No.2 Distillery / Mars Shinshu Distillery / Mars Tsunuki Distillery / Kanosuke Distillery / Hioki Distillery / Ontake Distillery / Osuzuyama Distillery / Kaikyo Distillery / Hanyu Distillery / Konosu Distillery
¥1,320
(2023/05/31 19:08:25時点 Amazon調べ-
詳細)
This is a book written by Mamoru Tsuchiya, a world-famous whisky critic and representative of the Whisky Culture Research Institute, titled "Japanese Whisky as a Culture that Works for Business" .
The book covers the basics of whisky, the introduction of whisky to Japan, the birth of Japanese whisky, advertising strategies and the rise of Japanese whisky, and the current rise of craft distilleries. This is a book that summarizes Japanese whisky in a very easy to understand way.
Masataka Taketsuru, the founder of Nikka Whisky, devoted his life to brewing whisky in Japan. This is a revised and reprinted version of the autobiography of a man who simply loved whiskey and talked about himself. The book vividly depicts the days when he went to Scotland alone to study as a young man and overcame many hardships to complete Japanese whisky, as well as his companion, Rita.
Launching in 2019. With the world experiencing an unprecedented whisky boom, what were the managers of craft distilleries thinking and what were their thoughts as they took on the challenge of making whiskey? This book tells the stories of 13 craft distillery owners, including Ichiro Hido of Venture Whisky, famous for his Ichirose Malt, who inspired the birth of craft distilleries in Japan.
This is the Japanese version of Whisky Risng, published in the US in 2016, with much updated content. Not only does it describe the history of Japanese whiskey in detail, but it also includes data on all the distilleries in Japan, including the craft distilleries that have been founded in recent years. The book also includes descriptions of the legendary bottles that have been released, as well as information on bars where Japanese whisky can be found.