An incomparable whisky made by refining, combining, and bringing together malts forged in the northern sea and malts nurtured in the green canyons. It is a unique pure malt, where a variety of aromas and flavors coexist to create a world of power, glamor, gravity, and softness. Behind this is the artistic skill of blending that Nikka Whisky has cultivated. Based on the deep knowledge we have acquired through our exploration of countless raw materials, we have created an unprecedented harmony while looking to the future. This is the new Taketsuru Pure Malt.
1. Manufacturer
Nikka whiskey corporation
| | |
| --- | --- |
| Establishment | 1934 |
| Head office | 4-31, Minami-Aoyama 5-chome, Minato-ku, Tokyo 107-8616, Japan |
| Owned distilleries | Yoichi Distillery, Miyagikyo Distillery, Ben Nevis Distillery |
2. Distillery
Yoichi Distillery
| | |
| --- | --- |
| Address | 7-6 Kurokawa-cho, Yoichi-cho, Yoichi-gun, Hokkaido 046-0003, Japan |
| Start of operation | 1936 |
Yoichi Distillery in Hokkaido is known as the Scotland of Japan. The distillery was established in 1934 by Masataka Taketsuru, also known as Masan, whose predecessor was Dainippon Fruit Juice Co. Masataka Taketsuru believed that a place with a cool and humid climate similar to that of Scotland, a rich water source, and clean and crisp air would be essential for the ideal whiskey production. Masataka Taketsuru's goal for his first distillery was to create a heavy and powerful malt whiskey. He was determined to replicate the whiskey-making methods he had learned at the distilleries of Scotland, without compromise. The symbol of this commitment is "direct coal distillation" . This distillation method is based on the method of the Longmorn distillery, where he learned it himself. If it is necessary to make genuine whiskey, we will protect it even if it is inefficient. Such passion, which can be said to be the origin of Nikka Whisky, and Masataka Taketsuru's dream have been handed down to this day.
Click here for the official website of Yoichi Distillery.
For more information on the Yoichi Distillery, please see this article.

Miyagikyo Distillery
| | |
| --- | --- |
| Address | 1, Nikka, Aoba-ku, Sendai-shi, Miyagi-ken 989-3433 |
| Start of operation | 1969 |
It has been about 30 years since he started his first distillery in Yoichi, Hokkaido. Masataka Taketsuru, who believed that whisky becomes richer and more flavorful when it is blended from different distilleries, desperately needed a second distillery. Taketsuru chose Miyagikyo in Sendai, Miyagi Prefecture. It is a lush green gorge blessed with two clear streams, the Hirose River and the Shin River. When Taketsuru visited this place for the first time, he drank some of his Black Nikka in the clear water of the Shin River and confirmed the taste. It is said that he decided to build the distillery on the spot. The pride of the Miyagi Gorge Distillery is its "café-style continuous distiller. At the time of its introduction, this distiller was already considered obsolete. Because it was an old-fashioned distillation machine, it was prone to leaving behind miscellaneous flavors, but Taketsuru chose to use this old-fashioned distillation machine because the technology could transform them into the original aroma and sweetness of the ingredients. At the Miyagikyo Distillery, people who have inherited Taketsuru's passion are still continuing to make various attempts to make whisky taste better.
Image credit: Miyagikyo Distillery|NIKKA WHISKY
For more information on the Miyagikyo Distillery, please see this article.

3. Product name and photo
Taketsuru Pure Malt New Label

4. Characteristics
New Taketsuru Pure Malt with a higher percentage of Yoichi malt.

By increasing the ratio of Yoichi malt to the original malt, a lingering aroma and richness has been added. In addition, the label has been changed from black to beige, and the design has been changed to a new one, which is attracting renewed attention from whiskey fans.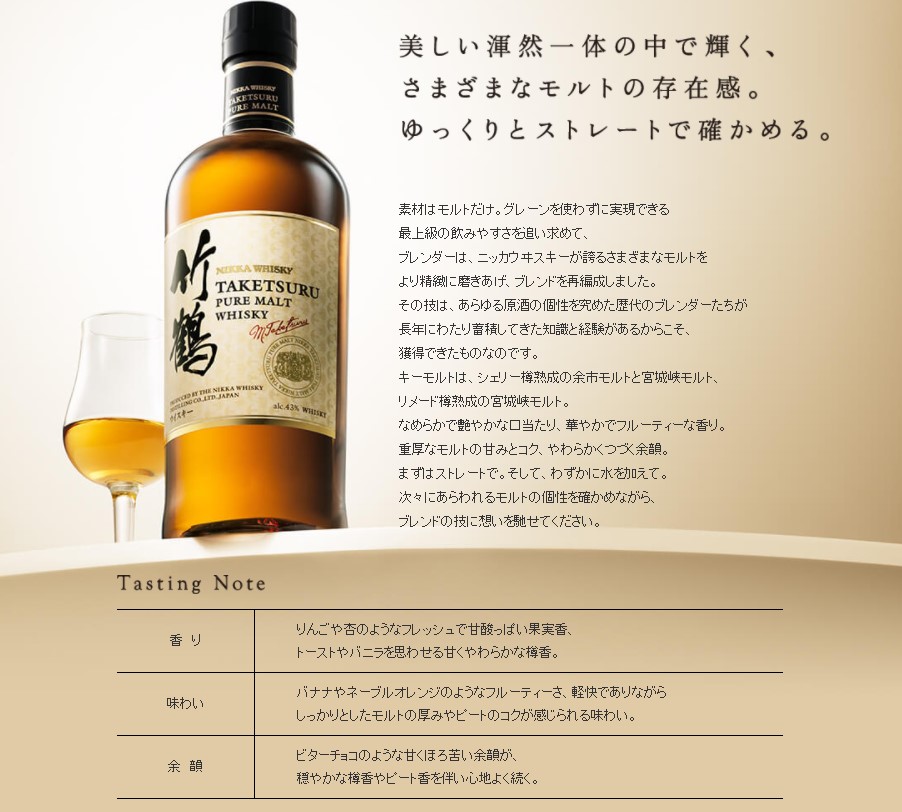 .
4-1. Tasting Notes
| | |
| --- | --- |
| Nose | Fresh, sweet and sour fruit aroma of apples and apricots, sweet and soft oak aroma reminiscent of toast and vanilla. |
| Taste | Fruity like bananas and navel oranges, with a light yet rich malt and peat flavor. |
| Aftertaste | A sweet and bittersweet aftertaste like bitter chocolate, accompanied by mild oak and peat aroma. |
4-2. Product Specifications
| | |
| --- | --- |
| Alcohol content | 43% |
| alcohol category | Pure malt whisky |
| Cask type | Sherry casks, etc. |
| Volume | 700ml |
| Number of bottles sold | Annual sales volume limited to 22,000 cases (700ml x 12 bottles) |
| Suggested retail price | 4,400 yen (tax included) |
| Release date | March 31, 2020 |
5. Awards
There is no award history at this time.
6. Price
6-1. Manufacturer's suggested retail price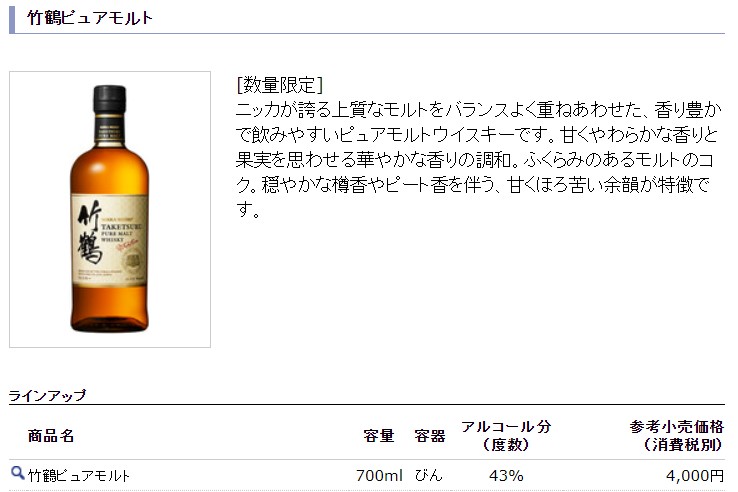 | | |
| --- | --- |
| Product name | Taketsuru Pure Malt New Label |
| Capacity | 700ml |
| Suggested retail price | 4,000 yen (tax included: 4,400 yen) |
6-2. Resale price on Mercari
The resale price on Mercari is around 6,000 yen to 8,800 yen. (*As of January 29, 2021)


6-3. Yahoo Auction Sold Price
The lowest bid price on Yahoo Auction is 6,000 yen, the highest is 6,300 yen, and the average is 6,100 yen (*Statistics for the past 120 days since January 29, 2021)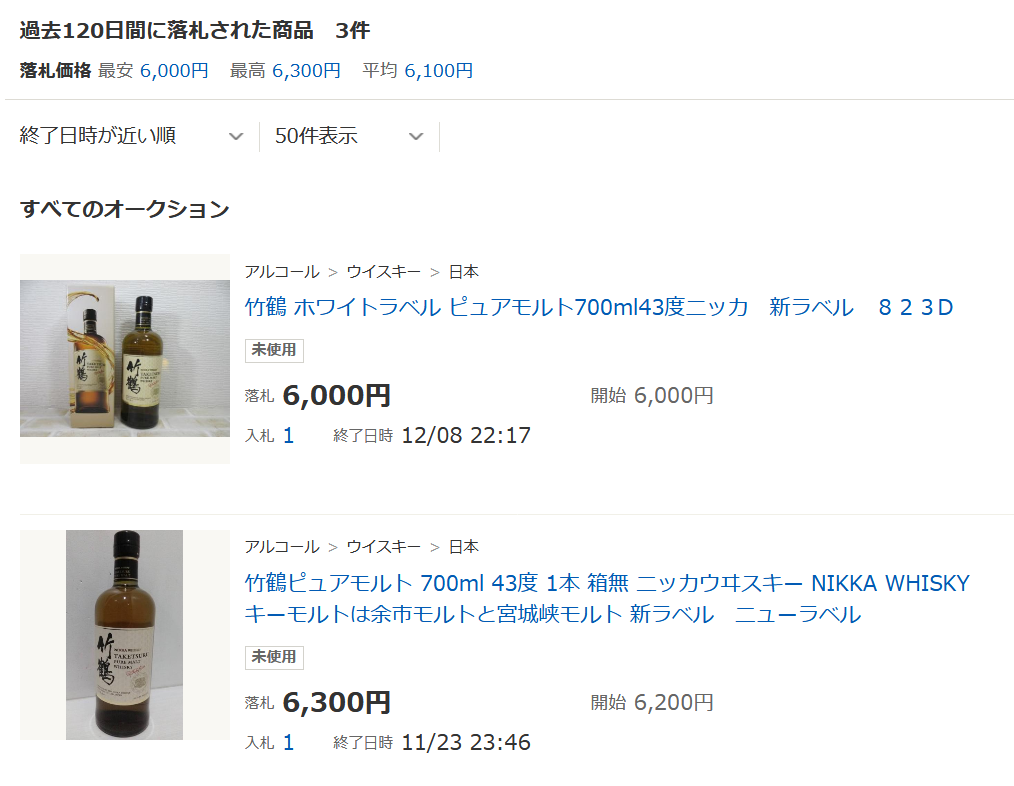 6-4. Rakuten, Yahoo Shopping, Amazon
Also sold at mail order sites for around 6,000 yen. (*As of January 29, 2021)
6-5. Price offered at BAR SHINKAI
At "BAR Shinkai" , which is operated by this website, one cup, 45ml: 1,760 yen is offered.
7. Summary
As of March 2020, Taketsuru 17-year, Taketsuru 21-year, and Taketsuru 25-year will be discontinued, and Taketsuru Pure Malt (no age statement) will be renewed. The only whisky that bears the so-called "Taketsuru" name is this "Taketsuru Pure Malt New Label".
As a result, the vintage whisky (with age statement) has disappeared
from the current whisky sold by Nikka. The Taketsuru Pure Malt New Label will be sold in 22,000 cases a year, but it is still difficult to see it.
Nikka is the No. 1 whiskey brand for six consecutive years in the WORLD WHISKY category of the DRINKS INTERNATIONAL ANNUAL BRANDS REPORT 2021, which was released in January 2021.

It launched a new brand "Session SESSION" in September last year. Is there any movement following that? Nikka hasn't shown any significant movement yet this year, but is it time for us to get some information about the annual Yoichi and Miyagikyo limited edition products? I'm hoping that Nikka will make a move as good as Suntory's.
■ Please check out the other articles about Taketsuru.