"Single Malt Whisky Yamazaki" was launched in 1984. In the 1980s, blended whisky was the mainstream and 100% malt whisky was a drink enjoyed only by a limited number of connoisseurs. However, in the 1980s, blended whiskeys were the norm and 100% malt whiskey was only available to a limited number of enthusiasts. Keizo Saji, the second generation master blender, decided to take on a new challenge "I want to make a single malt whiskey that represents Japan."
Single malt whisky is a whisky made by combining only the raw whiskies from a single distillery. Single malt whisky is a whisky that is made by combining only the raw whisky produced at a single distillery, which is influenced by the distillery's commitment to the craft and climate, and reflects the distillery's individuality. Keizo, who has his eye on the future of Japanese whisky, believes that in an age of diversifying values, single malts with strong individuality will surely be in demand, and he is taking on the challenge of creating whisky that will be sought after in the new age.
Together with the chief blender at the time, Ken Sato, he tasted countless bottles of original whisky in pursuit of the ideal taste. Finally, they arrived at the answer: harmony, where a variety of raw materials mix and enhance each other without any one personality standing out.
Thus, on March 14, 1984, Yamazaki was born, the ultimate single malt whisky, which took about two years to produce.
Now, more than 30 years later, it still reigns as the representative of Japanese single malt whisky.
Reference: Suntory Yamazaki Distillery News
The "崎" in Yamazaki is a combination of the Chinese characters for "山" and "奇" but the character for "崎" on the label is actually a little different, combining the character for "山" with a scrap of the character for "寿" in the former Suntory company name, 寿屋 Kotobuki-ya. The letters were handwritten by Keizo Saji, Suntory's master blender at the time, which shows his pride and commitment.
1. Manufacturer
Suntory Spirits Ltd.
Establishment

1899

Headquarters location
2-3-3 Daiba, Minato-ku, Tokyo 135-8631, Japan
Owned distillery
● Japan
Yamazaki Distillery, Hakushu Distillery, Chita Distillery
● Scotland
Ardmore distillery, Glengilly distillery, Auchentoshan distillery, Bowmore distillery, Laphroig distillery
● Ireland
Cooley distillery, Kilbeggan distillery
● United States
Jim Beam distillery, Maker's Mark distillery
● Canada
Hiram Walker distillery, Alberta distillery
2. Distillery
Suntory Yamazaki Distillery
| | |
| --- | --- |
| Location | 5-2-1 Yamazaki, Shimamoto-cho, Mishima-gun, Osaka 618-0001, Japan |
| Start of operation | 1923 |
The Yamazaki Distillery was established in 1923 as the first malt whisky distillery in Japan. This was at a time when whiskey was still a rare drink for the general public. I want to make a Japanese whiskey that suits the delicate taste of the Japanese people. With this passion in his heart, Shinjiro Torii set out to make whiskey.
Shinjiro was particular about the Japanese climate. Water and the environment were especially important to him. Yamazaki is the home of the famous water called Minase no, which was written about in the Manyo poem.
The tea master Sen no Rikyu loved this place and the water was perfect for making whiskey. The natural environment was also perfect.
Yamazaki is located in the southwest of Kyoto, at the foot of Tennozan (Mt. Tenno), where bamboo groves grow thickly, and is rich in nature where you can feel the seasonal changes. Located at the confluence of the Katsura, Uji, and Kizu Rivers, and surrounded by mountains, Yamazaki is prone to thick fog and has a warm and humid climate, which is ideal for maturing whiskey.
Nobujiro decided that Yamazaki was the only place where he could make good whiskey with this water and climate.
Reference: YAMAZAKI MOMENTS
[Suntory Yamazaki Distillery]
1923 Yamazaki distillery was built. The first whisky distillery in Japan.
1929 Released "Shirofuda" , the first domestically produced whisky.
1937 Released "Kakubin" .
1984 Released single malt whisky "Yamazaki" .
1992 Released single malt whisky "Yamazaki 18 years Old" .
1998 Released single malt whisky " Yamazaki 25 years Old" .
Image courtesy of Yamazaki Club.
For more information on the Yamazaki Distillery, please see this article.
3. Product name and photo
Single Malt Yamazaki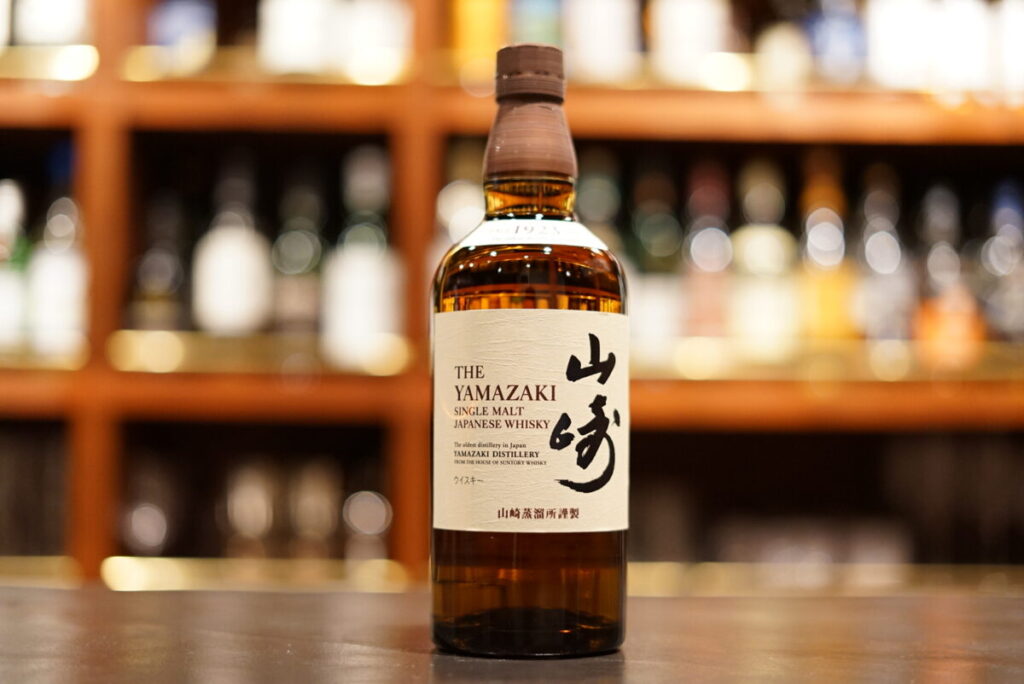 4. Characteristics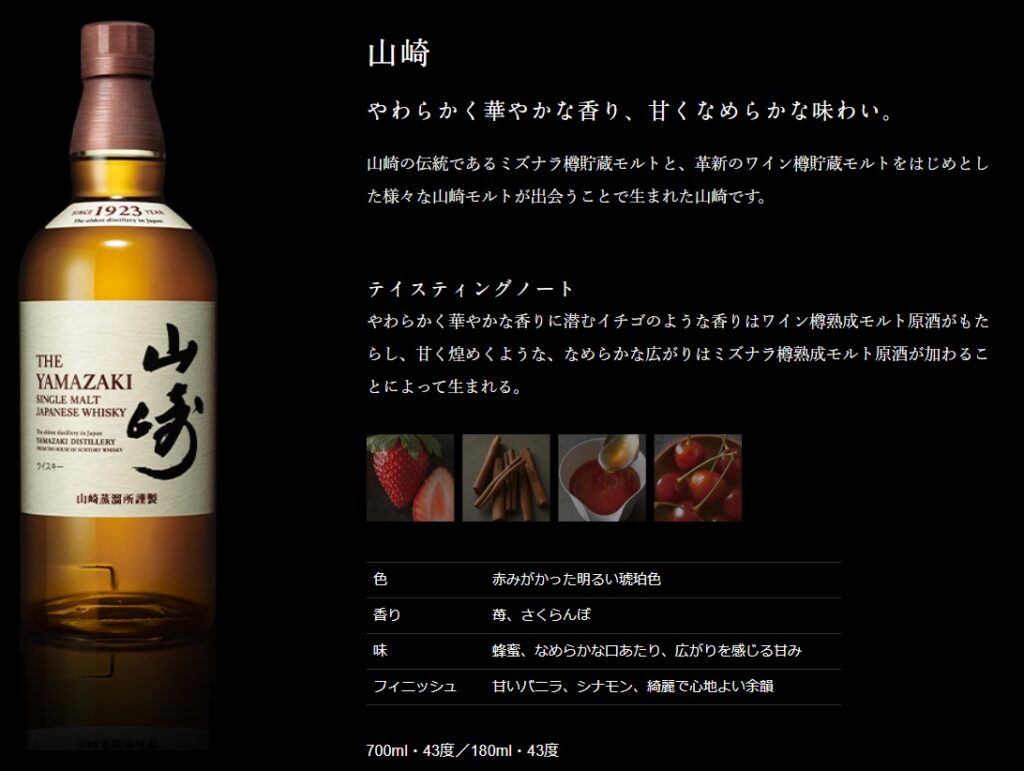 4-1. Tasting Notes
| | |
| --- | --- |
| Aroma | A gorgeous, soft vanilla aroma with a hint of Quercus oak barrels. A slight hint of fruit from wine barrels later. |
| Taste | Fullness and sweetness from the malt, woodiness and tannins from the wine barrels, and a fruity berry taste that comes later. |
| Aftertaste | Spicy and slightly alcoholic with an astringent and woody aftertaste. |
4-2. Product Specifications
| | |
| --- | --- |
| Alcohol content | 43% |
| alcohol category | Single malt whisky |
| Barrel alcohol | Wine casks, Quercus spp. casks, puncheon casks, etc. |
| Contents | 700ml |
| Number of bottles sold | ー |
| Suggested retail price | 4,620 yen (tax included) |
| Release date | March 14, 1984 (New Yamazaki, the so-called current Yamazaki, was added to the lineup on May 29, 2012) |
5. Awards
There is no award history at this time.
6. Price
6-1. Manufacturer's suggested retail price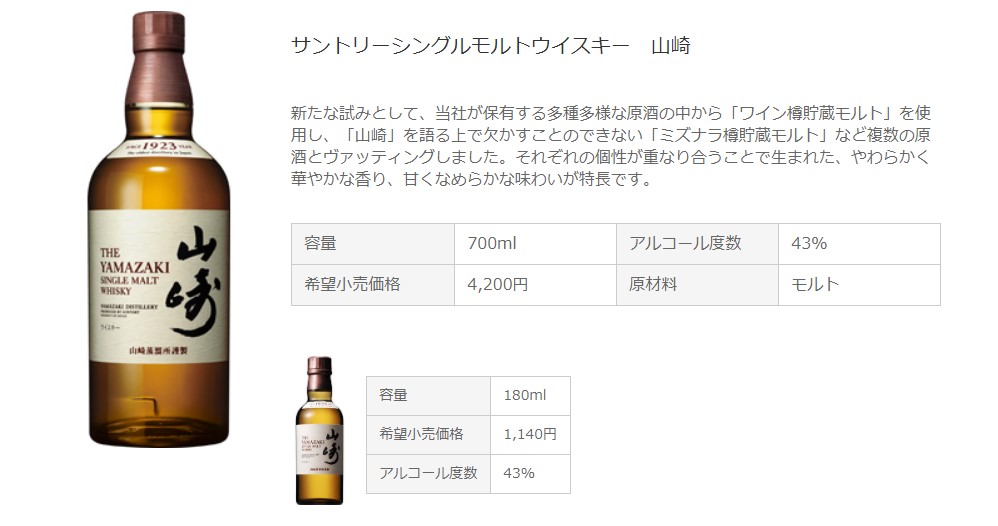 | | |
| --- | --- |
| Product name | Single Malt Yamazaki |
| Capacity | 700ml |
| Suggested retail price | 4,200 yen (tax included: 4,620 yen) |
6-2. Resale Price on Mercari
The resale price on Mercari is around 7,700 yen to 9,000 yen. (*As of February 7 , 2021) 


6-3. Yahoo Auction Sold Price
The winning bid price on Yahoo Auction is Lowest bidder: 7,110 yen, highest bidder: 9,500 yen, average bidder: 8,005 yen.
(*Statistics for the past 120 days since February 7 , 2021)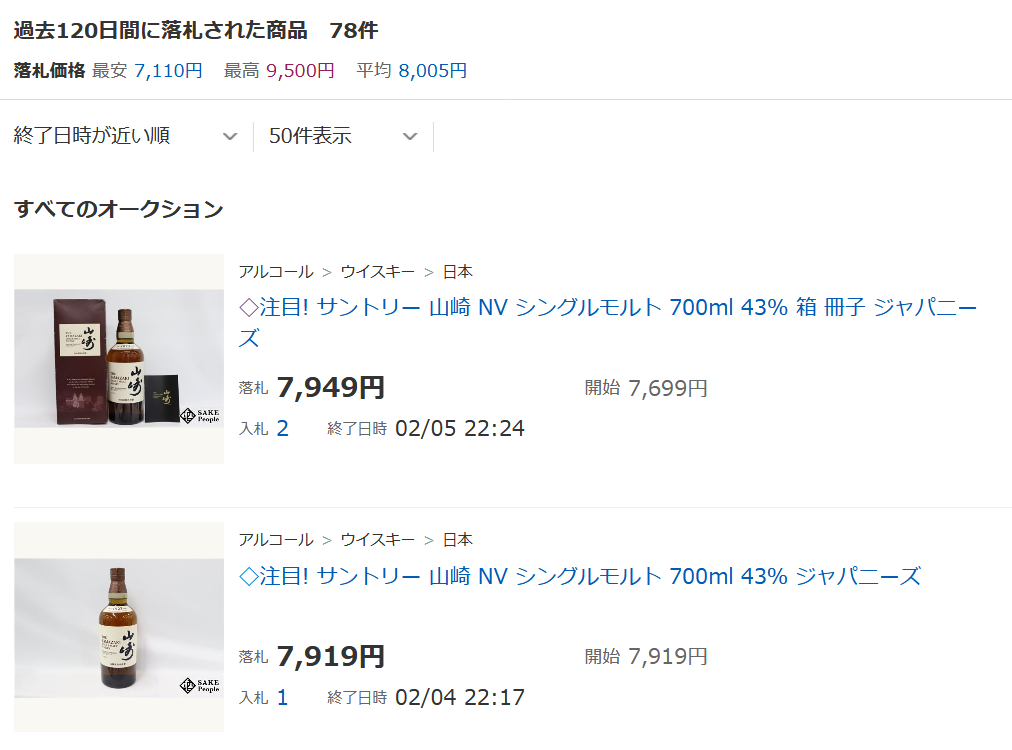 6-4. Rakuten, Yahoo Shopping, Amazon
Mail order sites also sell them for around 9,200 yen to 12,000 yen. (*As of February 7 , 2021)
In rare cases, you can find it at a liquor store at a fixed price, but it sells out almost immediately, and on the Internet, it is sold at a pre-price, making it as popular as ever.
6-5. Price offered at BAR Shinkai
At "BAR Shinkai" , which is operated by this website, one glass, 45ml: 1,540 yen is offered.
7. Summary
This whiskey has a sweet, soft, fruit-like aroma and a smooth, complex flavor derived from several types of barrels.
It is recommended to drink it on the rocks or in a highball. It has a gorgeous and sweet taste.
On January 8, 2021, Suntory will ease restrictions on whiskey shipments for the first time in 11 years. The whiskey industry was buzzing for a moment.
The targeted products are Chita and Ao. The sales volume of Chita is targeted at 116% of the previous year's level, and the sales volume of Ao is targeted at 249% of the previous year's level.
Both Chita and Ao will be released in half bottles (350ml) on March 23 so that people can enjoy them easily at home.
Unfortunately, Yamazaki, Hakushu, and Hibiki will continue to be restricted in shipment.
When will we be able to buy the ever-popular Yamazaki easily? It will be interesting to see what Suntory does in the future.
Please check out the other articles about Yamazaki.