Taketsuru is a whiskey produced by Nikka and marketed by Asahi.
It was first released in 2000 by Nikka Whisky as "Taketsuru 12 Year Pure Malt" . At the time when "Taketsuru 12 Year Pure Malt" was released, its rival, Suntory's whiskey "Yamazaki" was priced at 6,000 yen, but Taketsuru 12 Year was sold at an unbelievably low price of 2,450 yen for 660 ml, and was well received.
The following year, in 2001, Taketsuru 17 Years Old Pure Malt was released, followed by Taketsuru 21 Years Old Pure Malt and Taketsuru 25 Years Old Pure Malt.
The demand for Japanese whiskey overseas has continued to grow, but unfortunately, in 2020, Taketsuru's vintage whiskey was discontinued due to a shortage of raw alcohol.
Although it is difficult to obtain at present, it is one of the representative whiskeys of Japan, which has won many awards and is regarded as the best blended whiskey worthy of bearing the name of the Taketsuru family, the "father of Japanese whiskey" .
It is one of Japan's most popular whiskeys.
1. Manufacturer
Nikka Whisky Co.
| | |
| --- | --- |
| Establishment | 1934 |
| Head office | 4-31, Minami-Aoyama 5-chome, Minato-ku, Tokyo 107-8616, Japan |
| Owned distilleries | Yoichi Distillery, Miyagikyo Distillery, Ben Nevis Distillery |
2. Distillery

Yoichi Distillery
| | |
| --- | --- |
| Address | 7-6 Kurokawa-cho, Yoichi-cho, Yoichi-gun, Hokkaido 046-0003, Japan |
| Start of operation | 1936 |
The Yoichi Distillery in Hokkaido is known as the Scotland of Japan. It was established in 1934 by Masataka Taketsuru, aka Massan, whose predecessor was Dainippon Fruit Juice Co.
Masataka Taketsuru believed that a place similar to Scotland Cool and humid climate, rich water source and clear air Masataka Taketsuru chose Yoichi, located at the base of the Shakotan Peninsula, west of Otaru, from among various candidate sites. Masataka Taketsuru's goal for his first distillery was to create a heavy and powerful malt whiskey.
We are dedicated to reproducing the whiskey making methods we learned at the distilleries of Scotland without any compromise. The symbol of this commitment is "direct coal distillation" . This distillation method is based on the method of the Longmorn distillery, where he learned it himself. If it is necessary to make genuine whiskey, we will protect it even if it is inefficient. This passion, which can be said to be the origin of Nikka Whisky, and Masataka Taketsuru's dream have been handed down to this day.
Click here for the official website of Yoichi Distillery.
For more information on the Yoichi Distillery, please also see this article.
Miyagikyo Distillery
| | |
| --- | --- |
| Address | 1 Nikka, Aoba-ku, Sendai City, Miyagi Prefecture, 989-3433, Japan |
| Start of operation | 1969 |
The second distillery of Nikka Whisky, "Miyagikyo Distillery" .
Along with the Yoichi Distillery, this is Nikka Whisky's original brewery.
About 30 years after the Yoichi distillery was started, Masataka Taketsuru, the founder, aimed to create a malt whisky with a different character from Yoichi, and searched for a place to build the next distillery.
About 25 km west of the city of Sendai, near the border with Yamagata Prefecture, is a verdant canyon blessed with two clear streams, the Hirose River and the Shin River. When Taketsuru visited the area for the first time, he cracked open a bottle of Black Nikka he had in the clear waters of the Shin River and drank it to confirm the taste. It is said that he decided to build the distillery on the spot.
It has been described as "Highland Yoichi and Lowland Miyagikyo" by comparing it to the climate of the real Scotland, and Yoichi has been evaluated as "masculine" and Miyagikyo as "feminine" .
Image credit: Miyagikyo Distillery|NIKKA WHISKY
For more information on the Miyagikyo Distillery, please see this article.
3. Product name and photo
Taketsuru 17 Years Old Pure Malt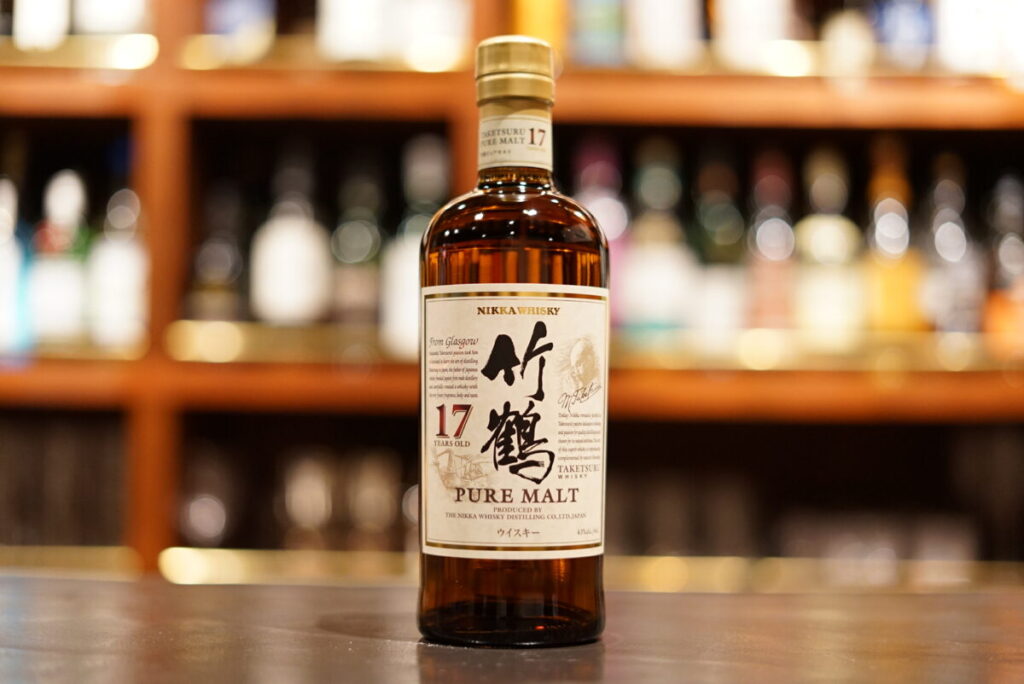 ¥38,000
(2022/09/30 11:13:47時点 楽天市場調べ-
詳細)
4. Features

Japan's ultimate blended malt whiskey.
Using key malts from two distilleries, Yoichi and Miyagikyo, the blending techniques of Chief Blender Tadashi Sakuma are demonstrated to the fullest. (Of these, Taketsuru 17 Years Old has won 9 times.)
It can be said to be the best whiskey in both name and reality.
4-1. Tasting Notes

| | |
| --- | --- |
| Aroma | A pleasant smokiness and a malty aroma are in perfect balance with a soft woody feel. A deep estery scent wells up in the finish. |
| Taste | Mild mouthfeel, but with a dignified body. A grainy richness from the malt and a mature sweetness from the oak. |
| Aftertaste | A refreshing aftertaste with no unpleasant aftertaste. |

(Reference: Nikka Whisky's official website )

4-2. Product specifications

| | |
| --- | --- |
| Alcohol content | 43% |
| Classification | Pure malt whisky |
| Barrel alcohol | ー |
| Contents | 700ml |
| Number of bottles sold | Currently not available |
| Suggested retail price | 7,700 yen (tax included) |
| Release date | 2001 |
5. Awards
Silver Prize, ISC (International Spirits Challenge)
2007, 2009, 2011, 2012, 2013
WWA (World Whisky Awards)
World's Best Blended Malt (Pure Malt)
2012, 2014, 2015, 2018
6. Price

6-1. Manufacturer's suggested retail price
| | |
| --- | --- |
| Product Name | Taketsuru 17 Years Old Pure Malt |
| Volume | 700ml |
| Suggested retail price | 7,000 yen (tax included: 7,700 yen) *Sold out on March 31, 2020 |
6-2. Resale price on Mercari
The resale price on Mercari is Around 28,000 yen to 35,000 yen The resale price on Mercari is as follows. (*as of February 14, 2021)


6-3. Yahoo auction bidding price
The winning bid price on Yahoo Auction is Lowest bidder: 20,000 yen, highest bidder: 38,000 yen, average bidder: 19,024 yen. (*Statistics for the past 120 days as of February 14, 2021)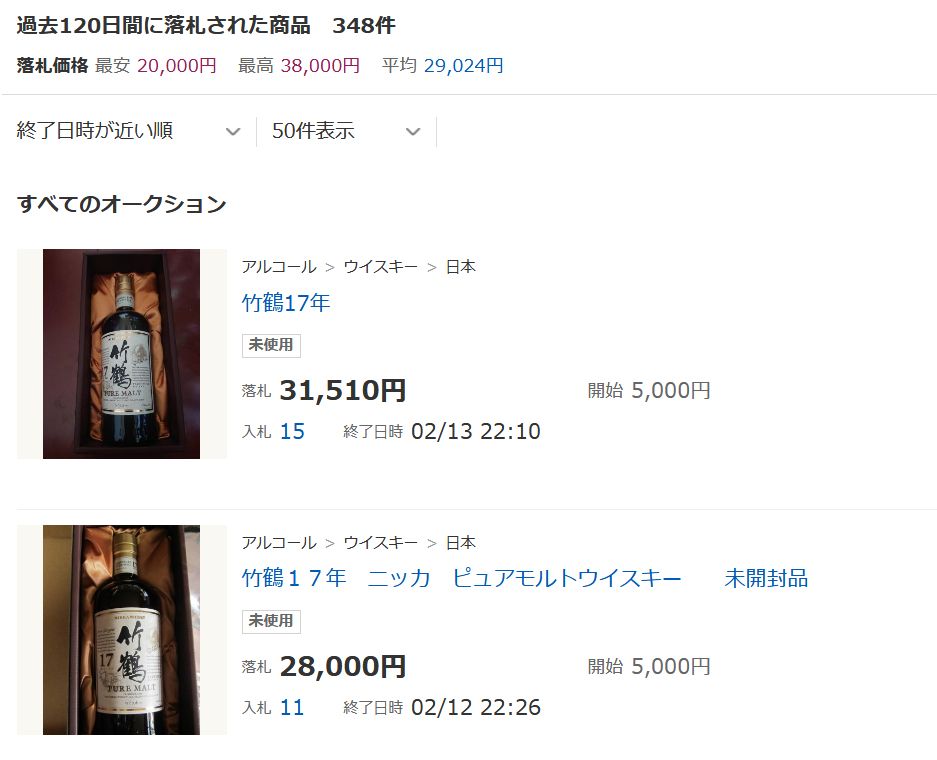 6-4. Rakuten, Yahoo Shopping, Amazon
It is also sold on mail order sites at Around 30,000 yen to 40,000 yen It is also sold at (*As of February 14, 2021)
¥38,000
(2022/09/30 11:13:47時点 楽天市場調べ-
詳細)
6-5. Price offered at BAR Shinkai
At "BAR SHINKAI" , which is operated by this site, it is offered at 1 cup, 45ml: 2,310 yen, 30ml: 1,540 yen, 15ml: 770 yen (*As of February 14, 2021) Bar Shinkai, which is operated by this site, offers it at
In mail order and online auctions, the price is around 30,000 yen, and the price will continue to rise.
By the way, the price of Taketsuru 17 year old soared to 80,000 yen on the day the decision was made to end the sale.
7. Summary

After the vatting of Yoichi and Miyagikyo sake, the taste is perfect balance between drinkability and richness without compromising either.
It can be drunk straight, on the rocks, or in a highball.
It is a very luxurious product that allows you to feel the flavors of Yoichi and Miyagikyo in one sip.
As a side note, the sake Taketsuru is also available at Taketsuru Shuzo, the birthplace of Masataka Taketsuru in Hiroshima.
When Takeru Taketsuru (Masataka's adopted son) contacted the Taketsuru Shuzo for the sake under the same name, they readily agreed to use it for anything other than sake, which led to its release.
However, before his death, Mr. Masataka Taketsuru had actually registered the trademark "Taketsuru" with Nikka around 1980.
Perhaps Mr. Masataka was dreaming of launching a whiskey called "Taketsuru" someday.
Taketsuru's dream was taken over by Takeshi Taketsuru, and Taketsuru is now only available in rare stocks at liquor stores and bars, but I hope that someday it will be reproduced and we will be able to see the continuation of Masataka Taketsuru's dream.
■ Please check out the other articles about Taketsuru.

Lastly: Recommended Books on Japanese Whisky
If you want to learn more about Japanese whisky, which is a global trend, we highly recommend these books.
In the December 2021 issue of Whisky Galore, published by the Whisky Culture Research Institute, we report on 11 Japanese craft distilleries, including some that are open to the public for the first time, under the title of "Japanese Whisky Craft Frontline," the first of three consecutive issues. Why did the popularity of Japanese whiskey and the craft boom occur? We will examine with interviews. Chichibu Distillery / Chichibu No.2 Distillery / Mars Shinshu Distillery / Mars Tsunuki Distillery / Kanosuke Distillery / Hioki Distillery / Ontake Distillery / Osuzuyama Distillery / Kaikyo Distillery / Hanyu Distillery / Konosu Distillery
¥1,320
(2022/09/30 15:57:23時点 Amazon調べ-
詳細)
This is a book written by Mamoru Tsuchiya, a world-famous whisky critic and representative of the Whisky Culture Research Institute, titled "Japanese Whisky as a Culture that Works for Business" .
The book covers the basics of whisky, the introduction of whisky to Japan, the birth of Japanese whisky, advertising strategies and the rise of Japanese whisky, and the current rise of craft distilleries. This is a book that summarizes Japanese whisky in a very easy to understand way.
Masataka Taketsuru, the founder of Nikka Whisky, devoted his life to brewing whisky in Japan. This is a revised and reprinted version of the autobiography of a man who simply loved whiskey and talked about himself. The book vividly depicts the days when he went to Scotland alone to study as a young man and overcame many hardships to complete Japanese whisky, as well as his companion, Rita.
Launching in 2019. With the world experiencing an unprecedented whisky boom, what were the managers of craft distilleries thinking and what were their thoughts as they took on the challenge of making whiskey? This book tells the stories of 13 craft distillery owners, including Ichiro Hido of Venture Whisky, famous for his Ichirose Malt, who inspired the birth of craft distilleries in Japan.
This is the Japanese version of Whisky Risng, published in the US in 2016, with much updated content. Not only does it describe the history of Japanese whiskey in detail, but it also includes data on all the distilleries in Japan, including the craft distilleries that have been founded in recent years. The book also includes descriptions of the legendary bottles that have been released, as well as information on bars where Japanese whisky can be found.