Launched in 1989 to commemorate the 90th anniversary of Suntory's founding, Hibiki is a premium blended whisky that was created based on the corporate philosophy of resonating with people and nature.
The concept of " Hibiki Japanese Harmony" is "a whisky that brings together the four seasons of Japan, the delicate sensibilities of the Japanese people, and the skills of Japanese craftsmen.
1. Manufacturer
Suntory Spirits Co.
Established

1899

Headquarters location
2-3-3 Daiba, Minato-ku, Tokyo 135-8631, Japan
Owned distillery
●Japan
Yamazaki Distillery, Hakushu Distillery, Chita Distillery
●Scotland
Ardmore distillery, Glengilly distillery, Auchentoshan distillery, Bowmore distillery, Laphroig distillery
●Ireland
Cooley distillery, Kilbeggan distillery
●United States
Jim Beam distillery, Maker's Mark distillery
●Canada
Hiram Walker distillery, Alberta distillery

2. Distillery
The raw materials that make up the deep flavors of Hibiki are nurtured at Suntory's three distilleries. The Yamazaki Distillery was built in Yamazaki, Kyoto, a place that boasts of its famous water. The malt liquor born in this humid place, where the three rivers Uji, Katsura and Kizu converge, has a gorgeous and elegant flavor.
The Hakushu Distillery is located in Yamanashi, embraced by Mount Kai Komagatake. The malt liquor produced in the forest, which is rare in the world, has a light mouthfeel and a refreshing aroma.
The grain, which is the keystone of the blended whisky flavor, enhances the character of the malt and brings the whole into harmony. It is produced at the Chita Distillery on the Chita Peninsula in Aichi Prefecture, overlooking Ise Bay.
Suntory Yamazaki Distillery
| | |
| --- | --- |
| Location | 5-2-1 Yamazaki, Shimamoto-cho, Mishima-gun, Osaka 618-0001, Japan |
| Start of operation | 1923 |
The Yamazaki Distillery was established in 1923 as the first malt whisky distillery in Japan. At a time when whiskey was still a rare drink for the general public, Shinjiro Torii set out to create a Japanese whiskey that would suit the delicate taste of the Japanese people. With this passion in his heart, Shinjiro Torii set out to make whiskey.
Shinjiro was particular about the Japanese climate. Water and the environment were especially important to him. Yamazaki is the home of the famous water called Minase no, which was written about in the Manyo poem.
The tea master Sen no Rikyu loved this place and the water was perfect for making whiskey. The natural environment was also perfect.
Yamazaki is located in the southwest of Kyoto, at the foot of Tennozan (Mt. Tenno), where bamboo groves grow thickly, and is rich in nature where you can feel the seasonal changes. Located at the confluence of the Katsura, Uji, and Kizu Rivers, and surrounded by mountains, Yamazaki is prone to thick fog and has a warm and humid climate, which is ideal for maturing whisky.
Nobujiro decided to make Yamazaki the home of whisky, saying, Yamazaki is the only place with this water and climate to make good whisky.
Reference: YAMAZAKI MOMENTS
Suntory Yamazaki Distillery
1923 Yamazaki distillery was built. The first whisky distillery in Japan.
1929 Released the first domestically produced whisky, Shirofuda.
1937 Released "Kakubin".
1984 Released single malt whisky " Yamazaki ".
1992 – Single malt whisky "Yamazaki 18 years" was launched.
1998 – Single malt whisky "Yamazaki 25 years" was launched.
Image courtesy of Yamazaki Club
For more information on the Yamazaki Distillery, please see this article.
Suntory Hakushu Distillery
| | |
| --- | --- |
| Location | 2913-1 Toribaru, Hakushu-cho, Hokuto City, Yamanashi Prefecture, 408-0316, Japan |
| Start of operation | 1973 |
In 1973, exactly 50 years after Japan's first whiskey production, the Hakushu Distillery was completed in a lush forest of 820,000 square meters at the foot of Mount Kai Komagatake in the Southern Alps, blessed with abundant nature.
The brewing water is surrounded by the moist atmosphere of the forest, and the Hakushu malt is made with pure and soft natural water from the Southern Alps, polished by granite. The malt is matured over a long period of time in the changing seasons that are unique to Japan, and is the source of the clean, aromatic Hakushu flavor.
In 2014, the company spent 1 billion yen to add four more pot stills, bringing the total number of stills to 16. A wide variety of pot stills of different sizes and shapes are used to make different types of sake. The storage room is a rack type with a high ceiling. The temperature and humidity are not controlled by hand, but are left to nature.
1973 Hakushu distillery was built.
1994 Release of Hakushu 12 years
2006 Release of Hakushu 18 years
2008 Release of Hakushu 25 years
Image credit: Suntory Official Forest Distillery
For more information about Hakushu Distillery, please see this article.
Suntory Chita Distillery
| | |
| --- | --- |
| Location | 16 Kitahamacho, Chita City, Aichi Prefecture, 478-0046, Japan |
| Start of operation | 1973 |
The Chita Distillery, located on the Chita Peninsula overlooking Ise Bay, is a grain whisky distillery established by the Suntory Group in collaboration with the Zen-Noh Group, and is one of the three domestic whisky distilleries of the Suntory Group, along with the Yamazaki and Hakushu distilleries for malt whisky. Here, corn-based grain whisky has been supported. The Chita Distillery uses continuous distillation to produce three types of grain whiskey: clean, medium and heavy, which is unique in the world.

3. Product name and photo
Hibiki Japaneseharmony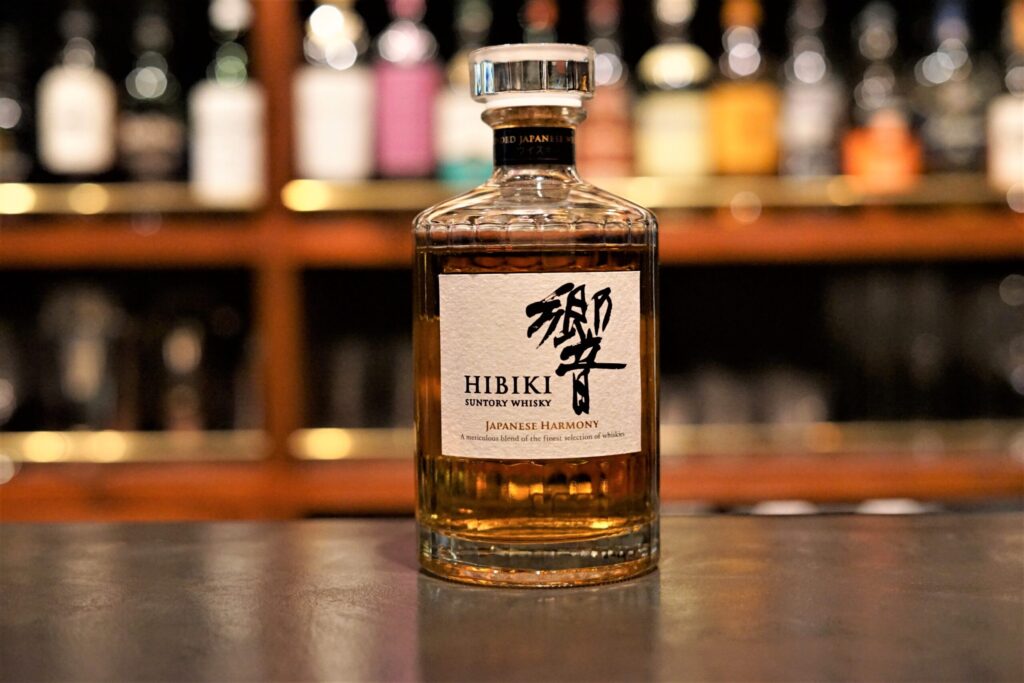 ¥14,300
(2023/03/21 07:45:16時点 楽天市場調べ-
詳細)
4. Features
Gorgeous aroma and deep yet soft taste
Hibiki is a product that embodies the Hibiki concept of whiskey made with the four seasons of Japan, Japanese sensibilities, and Japanese craftsmanship.
Suntory Whiskey Hibiki JAPANESE HARMONY" is an excellent whiskey made with a variety of raw materials and craftsmanship cultivated in the history of Suntory's whiskey production, regardless of the age of the whiskey.
The "Hibiki" brand's 24-sided bottle design, which represents the 24 seasons of the year (*), has been retained, and the word "Hibiki" has been applied in black ink on the Echizen Japanese paper label to express the sophisticated world view of Japanese whiskey.
The year is divided into the four seasons of spring, summer, autumn, and winter, and the four seasons are further divided into six periods, each of which is named after a seasonal characteristic, such as "Risshun" and "Risutatsu".

4-1. Tasting Notes
| | |
| --- | --- |
| Aroma | Rose, lychee, a hint of rosemary, a hint of aged oak, sandalwood |
| Taste | Clear sweetness of honey, orange peel chocolate. |
| Aftertaste | Delicate, gentle, lingering finish with a hint of Quercus. |
4-2. Product Specifications
| | |
| --- | --- |
| Alcohol content | 43% alcohol by volume |
| alcohol category | blended whisky |
| Barrel type | More than 30 types of long-aged malt barrels and several types of long-aged grain barrels |
| Contents | 700ml |
| Number of units sold | – |
| Suggested retail price | 5,500 yen (tax included) |
| Release date | March 10, 2015 |
5. Award history
2016 SWSC Best of Gold Award
6. Price
6-1 Manufacturer's suggested retail price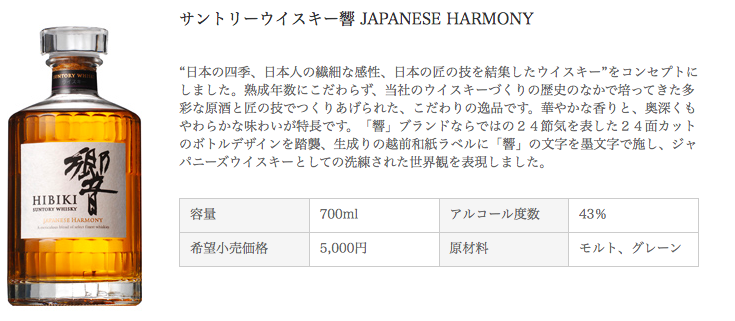 | | |
| --- | --- |
| Product name | Hibiki Japanese Harmony |
| Capacity | 700ml |
| Suggested Retail Price | Tax included: 5,500 yen |
6-2. Resale price on Mercari
The resale price on Mercari is around 10,000 yen to 12,000 yen. (*As of April 20, 2021)

6-3. Yahoo Auction Sold Price
The current prices on Yahoo Auction are as follows: Lowest price: 6,000 yen, Highest price: 12,950 yen, Average price: 9,640 yen(*as of April 20, 2021)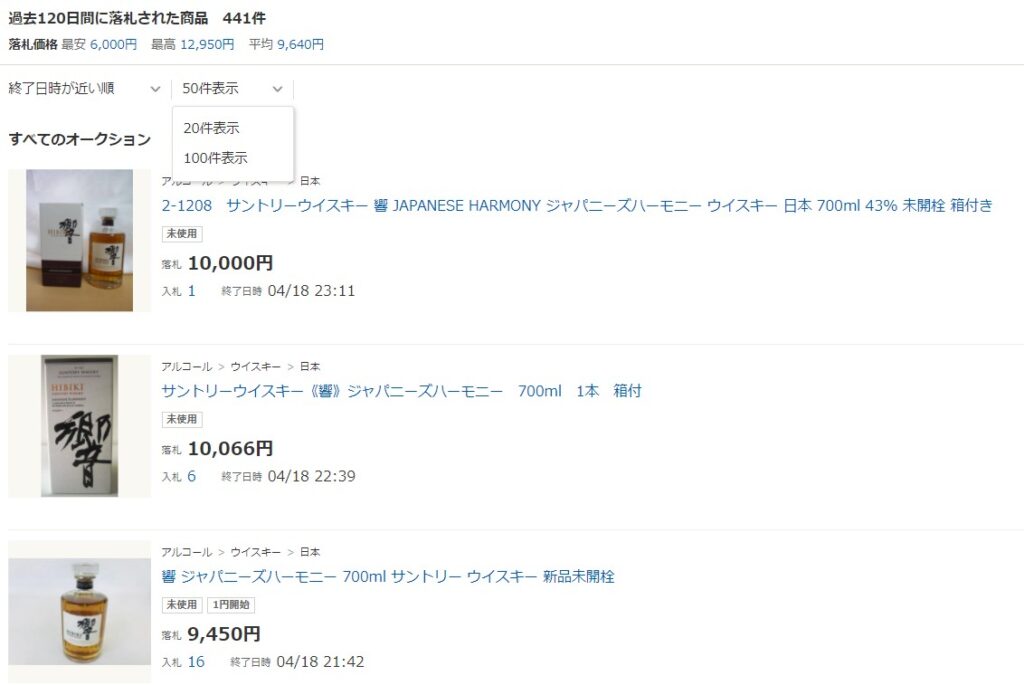 6-4. Rakuten, Yahoo Shopping, Amazon
Mail order sites also sell them for around 12,000 yen (*as of April 20, 2021)

¥14,300
(2023/03/21 07:45:16時点 楽天市場調べ-
詳細)
6-5. Price offered at BAR SHINKAI
At BAR SHINKAI, which is operated by this website, one cup, 45 ml: 1,650 yen is offered.
7. Summary
Hibiki Japanese Harmony is a sincere whisky with a very mild and gentle taste.
It has no peculiarities, so it will appeal to everyone. There is no floral aroma, fruit aroma, vanilla feeling, etc., but it is a perfect whisky taste. It is a hardcore whisky with a high degree of perfection.
This is a blended whisky that Suntory proudly calls the best. It is easy to drink, full-bodied, and has the potential to make whisky lovers and even those who are not fond of it fall in love with it.
Please check out the other articles about Hibiki.
Japanese Whisky Dictionary
Japanese Whisky Dictionary
Lastly: Recommended Books on Japanese Whisky
If you want to learn more about Japanese whisky, which is a global trend, we highly recommend these books.
In the December 2021 issue of Whisky Galore, published by the Whisky Culture Research Institute, we report on 11 Japanese craft distilleries, including some that are open to the public for the first time, under the title of "Japanese Whisky Craft Frontline," the first of three consecutive issues. Why did the popularity of Japanese whiskey and the craft boom occur? We will examine with interviews. Chichibu Distillery / Chichibu No.2 Distillery / Mars Shinshu Distillery / Mars Tsunuki Distillery / Kanosuke Distillery / Hioki Distillery / Ontake Distillery / Osuzuyama Distillery / Kaikyo Distillery / Hanyu Distillery / Konosu Distillery
¥1,320
(2023/03/21 01:01:51時点 Amazon調べ-
詳細)
This is a book written by Mamoru Tsuchiya, a world-famous whisky critic and representative of the Whisky Culture Research Institute, titled "Japanese Whisky as a Culture that Works for Business" .
The book covers the basics of whisky, the introduction of whisky to Japan, the birth of Japanese whisky, advertising strategies and the rise of Japanese whisky, and the current rise of craft distilleries. This is a book that summarizes Japanese whisky in a very easy to understand way.
Masataka Taketsuru, the founder of Nikka Whisky, devoted his life to brewing whisky in Japan. This is a revised and reprinted version of the autobiography of a man who simply loved whiskey and talked about himself. The book vividly depicts the days when he went to Scotland alone to study as a young man and overcame many hardships to complete Japanese whisky, as well as his companion, Rita.
Launching in 2019. With the world experiencing an unprecedented whisky boom, what were the managers of craft distilleries thinking and what were their thoughts as they took on the challenge of making whiskey? This book tells the stories of 13 craft distillery owners, including Ichiro Hido of Venture Whisky, famous for his Ichirose Malt, who inspired the birth of craft distilleries in Japan.
This is the Japanese version of Whisky Risng, published in the US in 2016, with much updated content. Not only does it describe the history of Japanese whiskey in detail, but it also includes data on all the distilleries in Japan, including the craft distilleries that have been founded in recent years. The book also includes descriptions of the legendary bottles that have been released, as well as information on bars where Japanese whisky can be found.