Following Yamazaki in the first issue, I would like to introduce Hakushu 18 Year Old, another single malt whisky from Suntory.
Keizo Saji, the second generation master blender, decided that he wanted to make a whisky with a different taste from Yamazaki, which was made at the oldest distillery in Japan, so he built a new distillery at the foot of Mt. In pursuit of the delicious water that is essential for whiskey production, he searched all over Japan for a suitable place for a distillery and arrived at Hakushu. We hope you will enjoy Hakushu 18 Year Old, which is poured after 18 years of maturation in an environment blessed with nature.
1. Manufacturer
Suntory Spirits Co.
Established

1899

Headquarters location
2-3-3 Daiba, Minato-ku, Tokyo 135-8631, Japan
Owned distillery
●Japan
Yamazaki Distillery, Hakushu Distillery, Chita Distillery
●Scotland
Ardmore distillery, Glengilly distillery, Auchentoshan distillery, Bowmore distillery, Laphroig distillery
●Ireland
Cooley distillery, Kilbeggan distillery
●United States
Jim Beam distillery, Maker's Mark distillery
●Canada
Hiram Walker distillery, Alberta distillery
2. Distillery
Suntory Hakushu Distillery
| | |
| --- | --- |
| Location | 2913-1 Toribaru, Hakushu-cho, Hokuto-shi, Yamanashi 408-0316, Japan |
| Start of operation | 1973 |
The Hakushu Distillery was completed in 1973, exactly 50 years after the first whiskey was produced in Japan, in a lush forest of 820,000 square meters at the foot of Mount Kai Komagatake in the Southern Alps, blessed with abundant nature.
The brewing water is surrounded by the moist atmosphere of the forest, and the Hakushu malt is made with pure and soft natural water from the Southern Alps, polished by granite. The malt is matured over a long period of time in the changing seasons that are unique to Japan, and is the source of the clean, aromatic Hakushu flavor.
In 2014, the company spent 1 billion yen to add four more pot stills, bringing the total number of stills to 16. A wide variety of pot stills of different sizes and shapes are used to make different types of sake. The storage room is a rack type with a high ceiling. The temperature and humidity are not controlled by hand, but are left to nature.
1973 Hakushu distillery was built.
1994 Release of Hakushu 12 year
2006 Release of Hakushu 18 year
2008 Release of Hakushu 25 year
Image credit: Suntory Official Forest Distillery
For more information about Hakushu Distillery, please see this article.
3. Product name and photo
Single Malt Hakushu 18year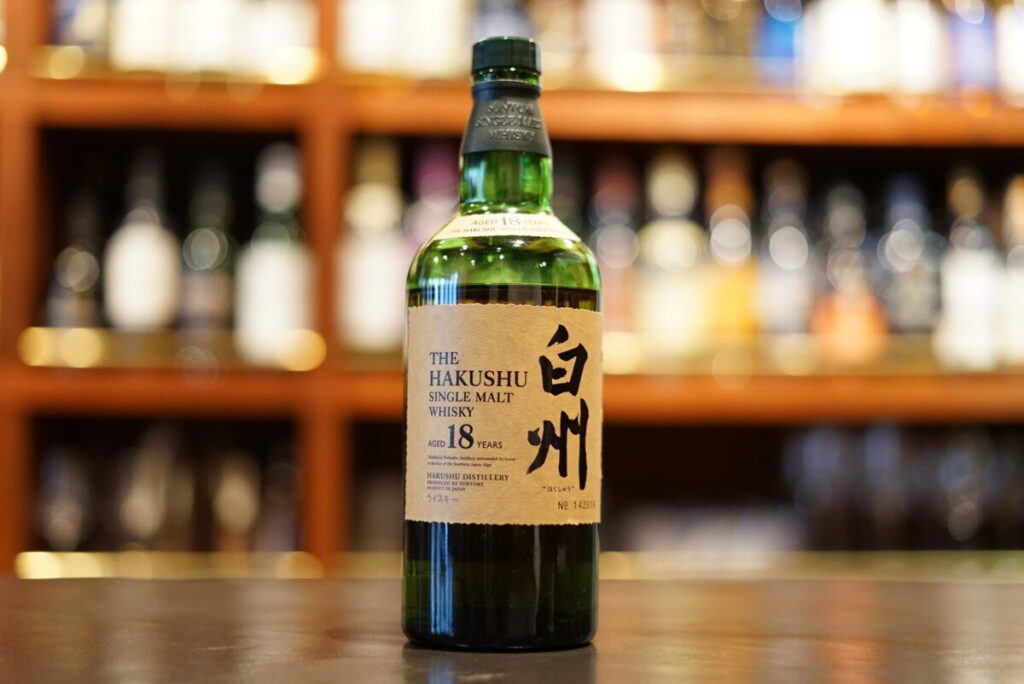 4. Features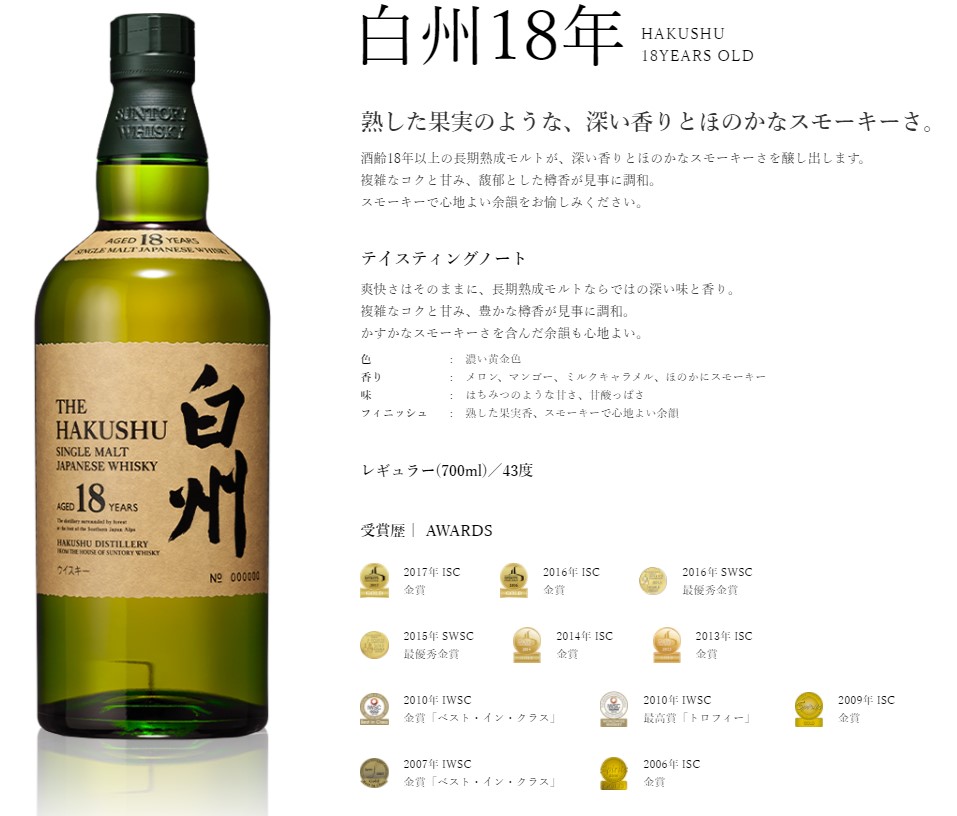 Deep aroma and a hint of smokiness, like ripe fruit
It has the deep taste and aroma that only a long matured malt can provide while maintaining its refreshing taste.
The complex richness, sweetness, and rich barrel aroma are in perfect harmony. It also has a pleasant aftertaste with a hint of smokiness. Long-aged malt, more than 18 years old, produces a deep aroma and a hint of smokiness.
The complex richness and sweetness of the malt and the aromatic scent of the oak are in perfect harmony.
Enjoy the smoky and pleasant aftertaste.
4-1. Tasting Notes
| | |
| --- | --- |
| Aromas | Melon, mango, milk caramel, and a hint of smokiness |
| Taste | Honey-like sweetness, sweet and sour |
| Aftertaste | Ripe fruit aroma, smoky and pleasant aftertaste |
4-2. Product Specifications
| | |
| --- | --- |
| Alcohol content | 43% alcohol by volume |
| By alcohol | Single malt whisky |
| Barrel type | Heavy peat, white oak, sherry casks over 18 years old, etc. |
| Contents | 700ml |
| Number of bottles sold | ー |
| Suggested retail price | 27,500 yen (tax included) |
| Release date | 2006 |
5. Award history
2020 ISC Gold Award
2017 ISC Gold Award
2016 ISC Gold Award
2016 SWSC Best Gold Award
2015 SWSC Best Gold Award
2014 ISC Gold Award
2013 ISC Gold Medal
2010 IWSC Gold Medal "Best in Class"
2010 IWSC Gold Medal "Trophy"
2009 ISC Gold Medal
2007 IWSC Gold Medal "Best in Class"
2006 ISC Gold Medal
(1) ISC: International Spirits Challenge (ISC)
(2) SWSC: San Francisco World Spirits Competition
(3) IWSC: International Wine & Spirit Competition
6. Price
6-1. Manufacturer's suggested retail price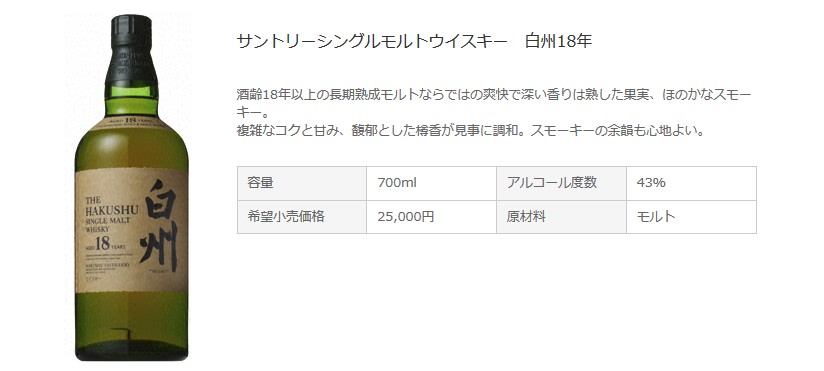 | | |
| --- | --- |
| Product Name | Suntory Single Malt Whisky Hakushu 18year |
| Volume | 700ml |
| Suggested Retail Price | Tax included: 27,500 yen |
As with Yamazaki '18, the product is in extremely short supply, so there are no retailers selling it at this price.
6-2. Resale price on Mercari
The resale price on Mercari is around 60,000 yen to 70,000 yen. (*As of April 20, 2021)


6-3. Sold price on Yahoo Auction
The lowest bid price on Yahoo Auction was 54,800 yen, the highest was 70,000 yen, and the average was 62,359 yen(based on statistics for the past 120 days from April 20, 2021).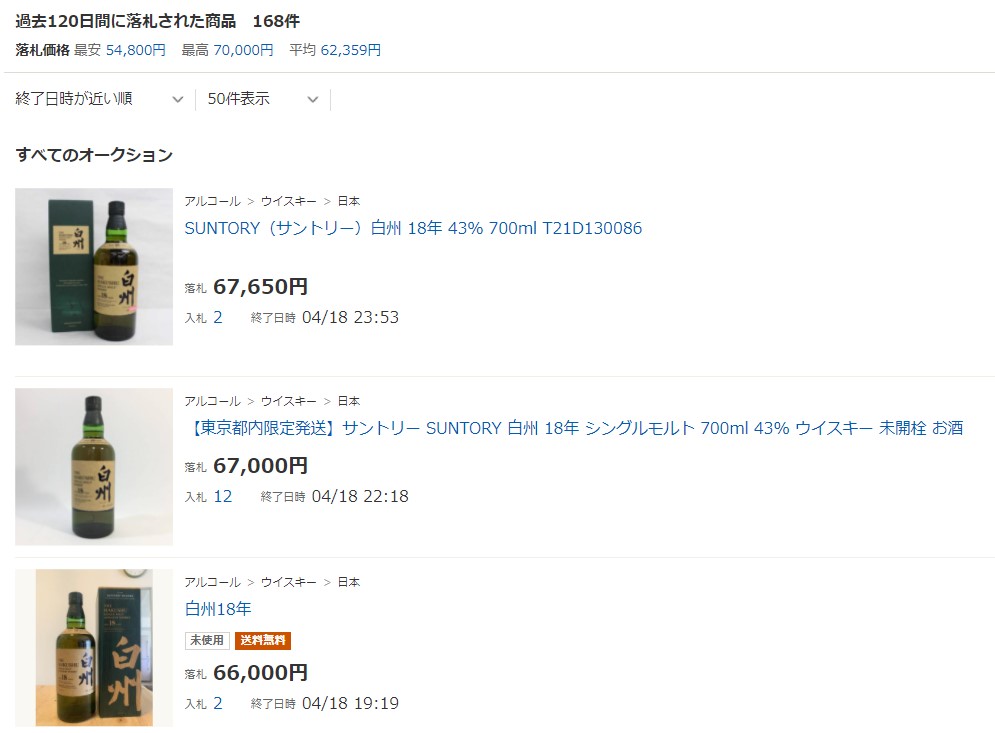 6-4. Rakuten, Yahoo Shopping, Amazon
Mail order sites also sell them for around 71,000 yen to 85,000 yen (*As of April 20, 2021)
6-5. Price offered at BAR SHINKAI
At BAR SHINKAI, which is operated by this website, we offer small amounts of our products such as 1 glass, 45ml: 9,130 yen, 30ml: 6,160 yen, 15ml: 3,080 yen
7. Summary
Although not as expensive as Yamazaki 18 year, Hakushu 18 years is also becoming a very expensive product. Naturally, there is no doubt that the "taste" is superb. I think it's safe to say that the taste is worth the price, which includes the scarcity value.
It was more than 18 years ago, in the year 2000, that the original spirit that produced Hakushu 18 Year was produced. At that time, whisky consumption in Japan was on a downward spiral, and no one predicted that whisky would explode in popularity in the future. I think it will remain high for at least another 10 years.
■Check out other articles about Hakushu.