This time, I'd like to talk about Yamazaki 18 years old, an 18-year old single malt whisky from Japan's first whisky distillery, the Yamazaki Distillery!
Yamazaki is probably the most famous whisky in Japan, as both whisky lovers and non-whisky lovers alike know at least its name. It is no exaggeration to say that it has become a synonym for Japanese whisky as Japanese whisky has become recognized worldwide.
So, I would like to explain in detail about "Yamazaki 18 years".
 1. Manufacture
Suntory Spirits Co.
Establishment

 1899

Head office location
2-3-3 Daiba, Minato-ku, Tokyo 〒135-8631, Japan
Owned Distillery

●Japan
Yamazaki Distillery, Hakushu Distillery, Chita Distillery
●Scotland
Ardmore Distillery, Glen Garioch Distillery, Auchentoshan Distillery, Bowmore Distillery, Laphroaig Distillery
●Ireland
Cooley Distillery, Kilbeggan Distillery
●United States
Jim Beam Distillery, Maker's Mark Distillery
●Canada
Hiram Walker Distillery, Alberta Distillery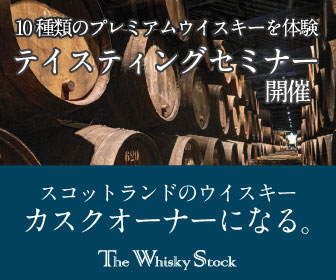 2. Distillery
 Suntory Yamazaki Distillery (1923)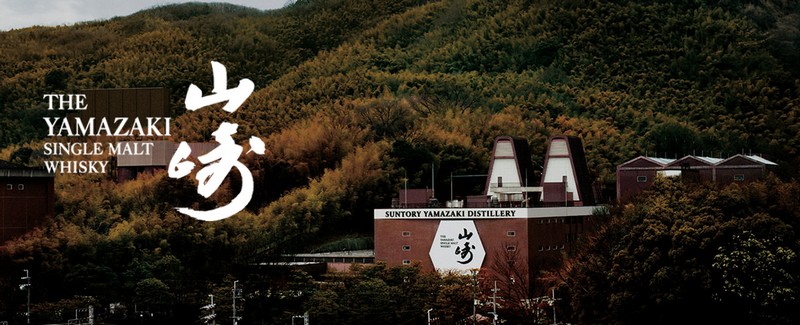 The oldest malt whisky distillery in Japan stands at the foot of Tennozan Mountain in the suburbs of Kyoto.
Japan's first whisky distillery was established in 1923 by the founder of Suntory, Shinjiro Torii, with his passionate desire to create a Japanese whisky that would suit the delicate tastes of the Japanese people.
5-2-1 Yamazaki, Shimamoto-cho, Mishima-gun, Osaka 618-0001, Japan
Opening hours: 10:00 – 16:45 (last admission 16:30)
Closed: Year-end and New Year holidays, factory holidays (temporary closures may occur)
https://www.suntory.co.jp/factory/yamazaki/
3. product name and photo
THE YAMAZAKI SINGLE MALT WHISKY AGED 18 YEARS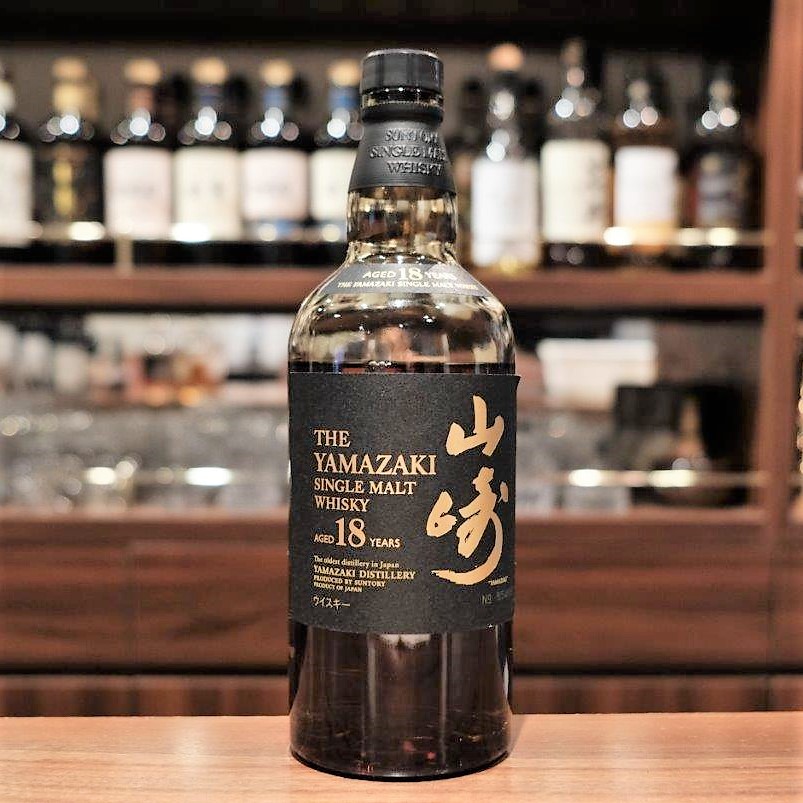 ¥118,800
(2023/03/20 21:32:16時点 楽天市場調べ-
詳細)
4. Features
Depth and an overwhelming sense of maturity!
This is a full-bodied wine made from sherry casks aged for more than 18 years. This is an excellent product that allows you to enjoy an overwhelming sense of maturity!
<Tasting Notes>
The aroma of sweet dried fruits and savory chocolate from the sherry barrel aging is impressive. It has an impressive aroma of sweet dried fruits and fragrant chocolate from sherry casks.
Color: Amber with reddish hues
Nose: Raisins, apricots, chocolate
Taste: honey-like sweetness, sweet and sour, spicy
Finish: Ripe fruitiness, sweet and sour, long and deep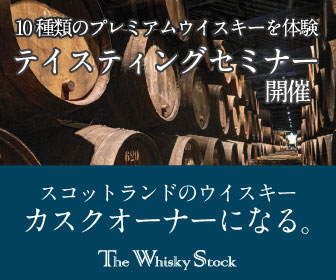 5. Awards
2018 ISC Gold Award
2015 SWSC Best Other Whisky Award
2015 SWSC Double Gold (Best Other Whisky)
2014 ISC Gold Award
2013 ISC Gold Award
2013 SWSC Double Gold (Best Other Whisky)
2012 ISC Trophy (Highest Award)
2011 SWSC Double Gold (Best Gold Award)
2010 SWSC Double Gold (Best Gold Award)
2010 ISC Gold Award
2009 SWSC Double Gold (Best Gold Award)
2008 SWSC Double Gold (Best Gold Award)
2007 ISC Gold Medal
2006 IWSC Trophy (highest award)
2005 SWSC Double Gold (Best Gold Award)
ISC : International Spirits Challenge
SWSC : San Francisco World Spirits Competition
IWSC : International Wine & Spirit Competition
6. Price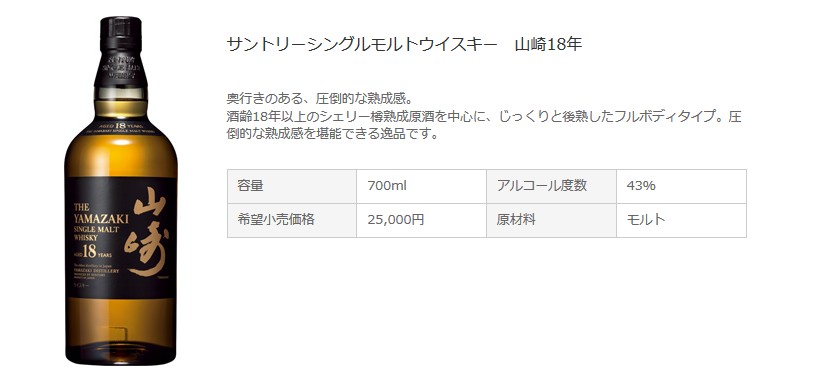 Manufacturer's suggested retail price: 25,000 yen
However, because of the super shortage, there are no retail stores selling it at this price.
The price seems to have gone up quite a bit in mail order and auctions. I'm not sure if this is a good idea or not. (As of November 6, 2018)
6-1. Rakuten
If you look up the market price circulating on Rakuten Market, you will find that it sells for approximately 76,000 yen to 90,000 yen, jumping up to 3 to 3.5 times the price of the regular price.(As of November 6, 2018)

6-2.  Amazon
The selling price on Amazon is also similar to Rakuten, about 75,000 yen to 85,000 yen.(As of November 6, 2018)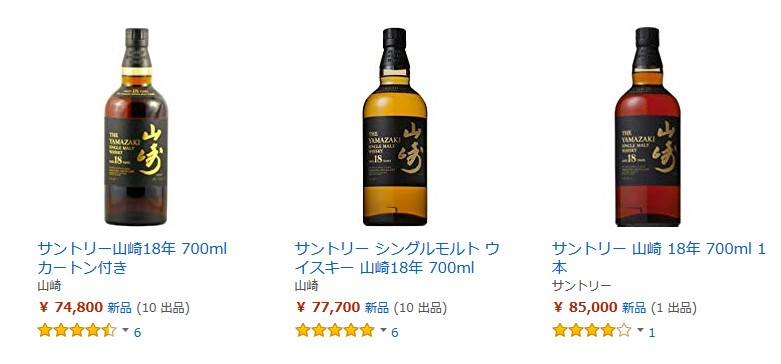 6-3. Resale Price on Mercari
When I checked on Mercari, I managed to find one in the 60,000 yen range. If you want to buy it through the general route, Mercari seems to be the cheapest place to get it.(As of November 6, 2018)


¥118,800
(2023/03/20 21:32:16時点 楽天市場調べ-
詳細)
7. Summary
In the past few years, Japanese whiskies have won numerous awards at international whisky competitions, such as the Yamazaki 18 Year Old, which has solidified their reputation in the world.
I think it was probably the international recognition that sparked the popularity of Japanese whisky in Japan.
Those of you who have worked in the alcoholic beverage industry know that the Japanese have been producing and selling world-class whisky at low prices since the beginning.
I don't think this means that Japanese whisky has become better in the past few years, but rather that the world has noticed the excellence of Japanese whisky and Japanese people have rediscovered it.
Unfortunately, the amount of whisky in circulation has drastically decreased and the price has risen so high that it is no longer easy to drink
Lastly: Recommended Books on Japanese Whisky
If you want to learn more about Japanese whisky, which is a global trend, we highly recommend these books.
In the December 2021 issue of Whisky Galore, published by the Whisky Culture Research Institute, we report on 11 Japanese craft distilleries, including some that are open to the public for the first time, under the title of "Japanese Whisky Craft Frontline," the first of three consecutive issues. Why did the popularity of Japanese whiskey and the craft boom occur? We will examine with interviews. Chichibu Distillery / Chichibu No.2 Distillery / Mars Shinshu Distillery / Mars Tsunuki Distillery / Kanosuke Distillery / Hioki Distillery / Ontake Distillery / Osuzuyama Distillery / Kaikyo Distillery / Hanyu Distillery / Konosu Distillery
This is a book written by Mamoru Tsuchiya, a world-famous whisky critic and representative of the Whisky Culture Research Institute, titled "Japanese Whisky as a Culture that Works for Business" .
The book covers the basics of whisky, the introduction of whisky to Japan, the birth of Japanese whisky, advertising strategies and the rise of Japanese whisky, and the current rise of craft distilleries. This is a book that summarizes Japanese whisky in a very easy to understand way.
Masataka Taketsuru, the founder of Nikka Whisky, devoted his life to brewing whisky in Japan. This is a revised and reprinted version of the autobiography of a man who simply loved whiskey and talked about himself. The book vividly depicts the days when he went to Scotland alone to study as a young man and overcame many hardships to complete Japanese whisky, as well as his companion, Rita.
Launching in 2019. With the world experiencing an unprecedented whisky boom, what were the managers of craft distilleries thinking and what were their thoughts as they took on the challenge of making whiskey? This book tells the stories of 13 craft distillery owners, including Ichiro Hido of Venture Whisky, famous for his Ichirose Malt, who inspired the birth of craft distilleries in Japan.
This is the Japanese version of Whisky Risng, published in the US in 2016, with much updated content. Not only does it describe the history of Japanese whiskey in detail, but it also includes data on all the distilleries in Japan, including the craft distilleries that have been founded in recent years. The book also includes descriptions of the legendary bottles that have been released, as well as information on bars where Japanese whisky can be found.