A representative Japanese single malt whisky that was introduced in 1984, the 60th year since the completion of the Yamazaki distillery, the birthplace of Japanese whisky.
We carefully selected mature malt suitable for tasting raw from among the treasured malt casks that have been aged for more than 12 years over the four seasons in Yamazaki.
Its taste is highly evaluated even overseas.
1. Manufacturer
Suntory Spirits Co.
Established

1899

Headquarters location
2-3-3 Daiba, Minato-ku, Tokyo 135-8631, Japan
Owned distillery
● Japan
Yamazaki Distillery, Hakushu Distillery, Chita Distillery
● Scotland
Ardmore distillery, Glengilly distillery, Auchentoshan distillery, Bowmore distillery, Laphroig distillery
● Ireland
Cooley distillery, Kilbeggan distillery
● United States
Jim Beam distillery, Maker's Mark distillery
● Canada
Hiram Walker distillery, Alberta distillery
2. Distillery
Suntory Yamazaki Distillery
| | |
| --- | --- |
| Location | 5-2-1 Yamazaki, Shimamoto-cho, Mishima-gun, Osaka 618-0001, Japan |
| Start of operation | 1923 |
Suntory's first venture into the whiskey business in Japan was in 1923, when it set up the Yamazaki distillery in Kyoto.
It was a place where three rivers, Katsura, Kizu, and Uji, converged, making it humid and very foggy. It was there that the first domestically produced whiskey, Suntory Shirofuda, was born in 1929.
However, the smoky aroma was not accepted by the Japanese taste buds at the time, and the product struggled.
In 1984, in the age of blended whisky, Yamazaki 12 year single malt whisky was born.
Image credit: Suntory official website
3. Product name and photo
Yamazaki 12 years old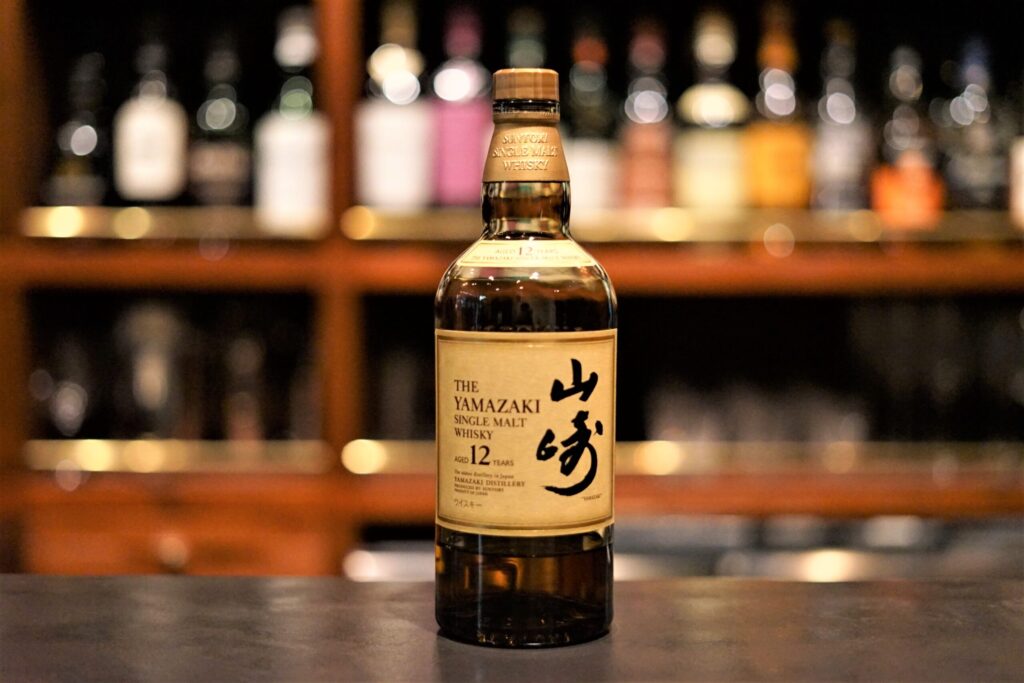 4. Features
Gold medal at the ISC in 2003. The first achievement for Japanese whisky.
This is a representative of Japanese whisky that has achieved excellent results in various competitions, starting with the award in 2003.
For maturing barrels, "puncheon barrels" "sherry barrels" and "Quercus barrels" are used.
The balance of the taste is excellent, and the fruity sweetness can be felt even when drunk on the rocks, with water, or in a highball.
4-1. Tasting Notes
| | |
| --- | --- |
| Aroma | Sweet aroma with hints of honey and vanilla. |
| Taste | Fruity sweetness, then woody and spicy with hints of Quercus serrata. |
| Aftertaste | Finally, an elegant sweetness reminiscent of fruit slowly follows. |
4-2. Product Specifications
| | |
| --- | --- |
| Alcohol content | 43% |
| alcohol category | Single malt whisky |
| Cask type | Puncheon, sherry and Quercus barrels |
| Contents | 700ml |
| Number of bottles sold | ー |
| Suggested retail price | 9,350 yen (tax included) |
| Release date | 1984 |
5. Awards
2003 ISC Gold Award
2009 SWSC Best Gold Award
2010 ISC Gold Medal
2013 SWSC Gold Medal
2014 SWSC Gold Award
2018 ISC Gold Award
6. Price
6-1. Manufacturer's suggested retail price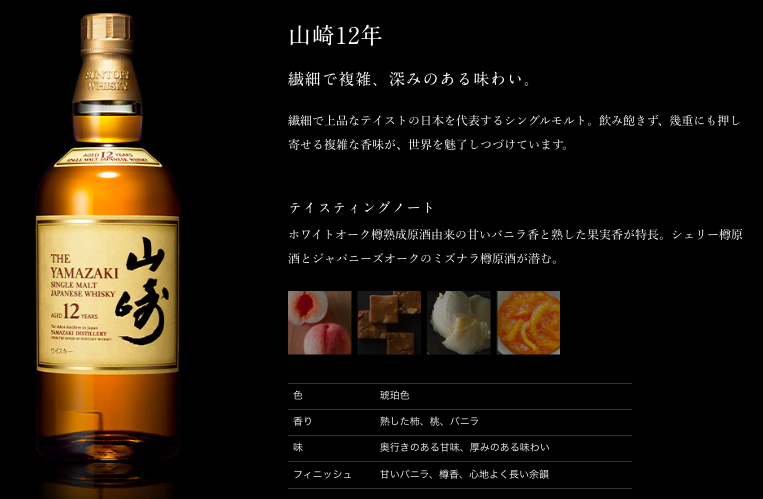 | | |
| --- | --- |
| Product name | Single Malt Yamazaki 12 years old |
| Capacity | 700ml |
| Suggested retail price | 8,500 yen (tax included: 9,350 yen) |
6-2. Resale Price on Mercari
The resale price on Mercari is around 18,000 yen to 20,000 yen. (*As of March 10 , 2021)


6-3. Yahoo Auction Sold Price
The winning bid price on Yahoo Auction is Lowest bidder: 12,500 yen, highest bidder: 21,000 yen, average bidder: 18,900 yen.
(*Statistics for the past 120 days since March 10 , 2021)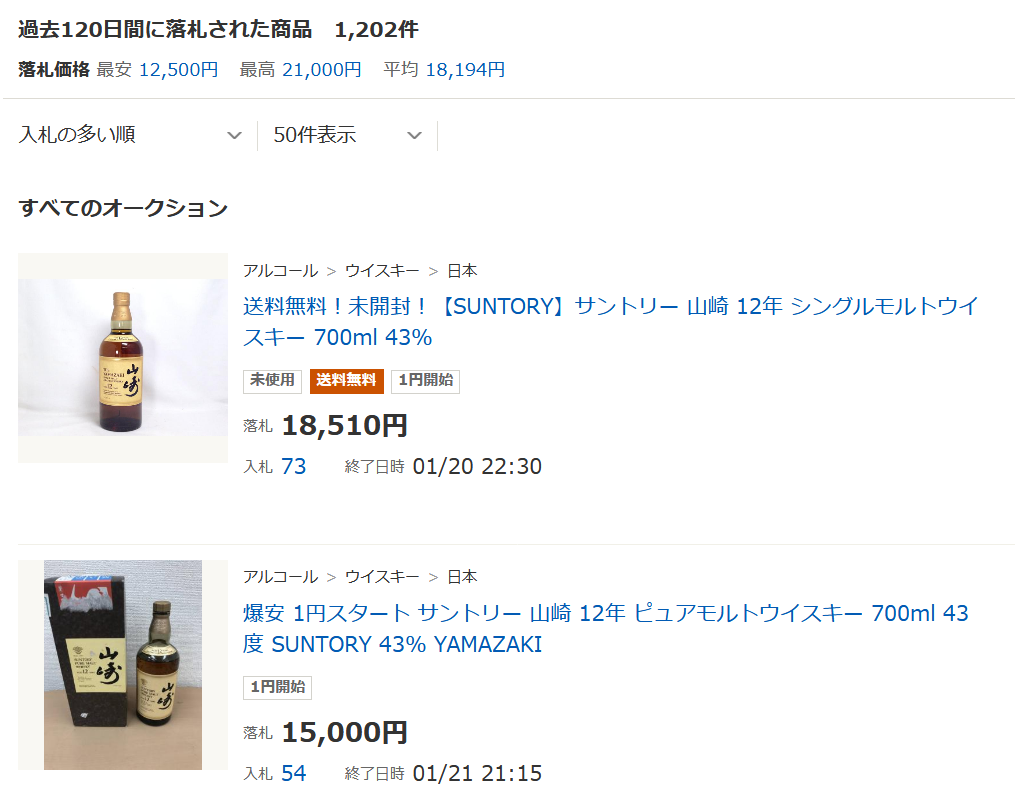 6-4. Rakuten, Yahoo Shopping, Amazon
Mail order sites also sell them for around 20,000 yen to 22,000 yen. (*As of March 10 , 2021)
It has become common for them to be traded for almost three times the regular price. I hope you will be able to buy it at the regular price soon, although it may be unavoidable because the amount of distribution to the market is small.
6-5. Price offered at BAR Shinkai
At "BAR Shinkai" , which is operated by this website, one cup, 45ml: 3,300 yen is offered.
7. Summary
It is no exaggeration to say that whisky is synonymous with Japanese whisky, and is very popular not only in Japan but also overseas. Nowadays, it is often sold at a premium price and is still in short supply, but many bars that sell Japanese whiskeys have it on hand.
If you haven't tried it yet, try comparing it with Yamazaki NV and you'll feel the difference in the aging and other characteristics.