8. 九州沖縄の蒸留所 (英語原本)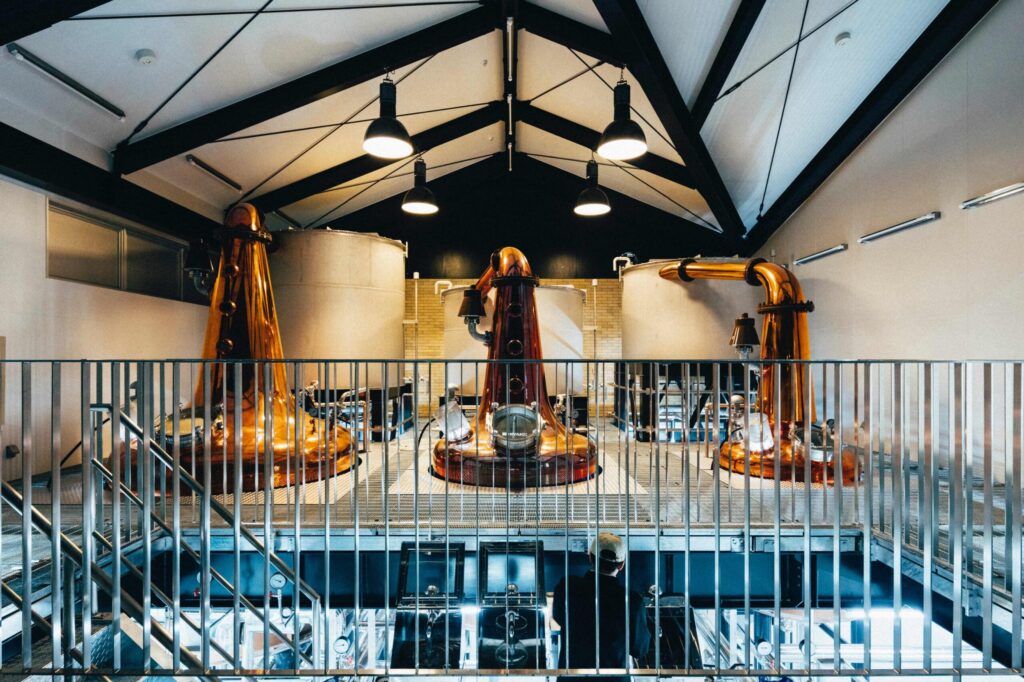 8. Kyushu and Okinawa Region
8-1. Kanosuke Distillery
Ltd. transferred its whisky production business at the Kanosuke Distillery to "KOMASA KANOSUKE Distillery Co.
Established in 1883, Kagoshima Prefecture's Komasa Brewery is a sake brewer focusing on the authentic shochu "Kozuru" .
As a challenge to a new stage, utilizing the authentic shochu production technology it has cultivated to date in abundance, the company obtained a whisky production license in 2017 and began operation of the "Komasa Jozo Kanosuke Distillery" .
In 2018, New Pot was released in limited quantities. Furthermore, "Kanosuke Newborn 2018" , stored for 8 months, was released.
In 2019, "Kanosuke Newborn 2019" stored for 16 months, will be released.
In 2020, the company will release "Kanosuke Newborn 2020 Peated" made with British peated malt and stored for 24 months.
Image source: Kanosuke Distillery KANOSUKE DISTILLERY
In addition, the company is actively selling craft gin prior to the sale of whisky.
Two types are currently on sale: "KOMASA GIN Sakurajima Little Mikan" and "KOMASA GIN Houjicha" .
Typical whisky from Kanosuke Distillery.
8-2. Hombo Shuzo Mars Tsunuki Distillery
Speaking of Mars whisky, "Mars Shinshu Distillery" , which operated in Nagano Prefecture in 1985, is famous, but the place where Hombo Sake Brewery, which owns the distillery, started producing distilled sake, was "Tsunuki" introduced this time.
In 2016, Hombo Shuzo renovated one of the storage facilities in the Tsunuki Plant, which has a history of producing shochu for more than 100 years, and operated "Mars Tsunuki Distillery" .
While Mars Shinshu Distillery matures slowly in a cool climate, Mars Tsunuki Distillery is thought to be dynamically aged in a warm climate. We also use various types of raw sake to be produced and barrel types used for maturation.
At Tsunuki Distillery, in addition to the adjacent storage, the company also stores 30 barrels every year at the Yakushima Aging Cellar owned in Yakushima. It is very interesting what kind of aging is progressing in Yakushima, which has a climate that is rare in Japan.
"Single Malt Tsunuki THE FIRST" will be released on April 27, 2020, and "Single Malt Tsunuki PEATED" will be released on January 18, 2021.

In addition, the former hombo family residence "Hojo" adjacent to the distillery is used as a SHOP selling bar where you can taste Mars whisky and original goods and liquors, and it was built in 1933 in a Japanese-style one-story mansion with traditional wooden architecture.With the beauty of the tiles that make up the roof unique to the old house and the majestic appearance of the luxurious finish, you can enjoy the garden that changes the expression every day every season.The wooden deck leading to the stone warehouse from the surrounding corridor is arranged, and the stone lanterns are casually arranged in the garden where you can enjoy the best time while looking at the scenery of the four seasons.
Typical whisky of Mars Tsunuki Distillery
8-3. Helios Sake Brewery
Helios Shuzo, a sake brewery in Okinawa Prefecture, had a history of making whisky in-house in the 1980s, and it was shipped both domestically and internationally. The whisky produced at that time remained stored after the whisky boom was under fire. In 2016, Lawson talked about selling whisky, and limited editions of "Calendar 15" and "Helios Whisky Calendar (200ml)" . This led to helios brewery's in-house whisky production.
Image Source:Sake brewery tour | Helios Shuzo Co., Ltd.
On December 31, 2020, we releasedOkinawa's first single malt whisky, Kyoda Kaskstrengths 2020.
Malt whisky, which was prepared and distilled in-house in 2017 using British pete malt as a raw material, is aged in oak barrels for three years. The label is designed to reproduce the atmosphere before dawn in the mountains near the distillery. The product name adopted Kyoda, the place name, and expressed it with powerful brush letters. Single malt whisky "Kyoda Kaskstrengths 2020" is a whisky with a smoky aroma and depth derived from Pete Malt. It is "Caskstrengths" that does not add water by 60.9% of the alcohol content of the barrel.
Image Source:Helios Sake Brewery Official Online Store
I would like to pay attention to what kind of whisky the company, which has a long history and tradition in the production of Awamori and rum, will make in the future.
Helios Brewery's representative whisky
8-4. Tsuzaki Liquor Store Kuju Distillery
Operation started in February 2021. The Craft Whisky Distillery "Kuju Distillery" was newly established in Kuju-machi, Takeda City, Oita Prefecture.
Shoji Utoda, who runs a liquor store in Kuju-machi, Takeda City, Oita Prefecture, renovated a warehouse of about 400 square meters on the premises of the store and built a distillery. We will introduce a distiller manufactured by Forsyth Scotland and start production in February 2021. Since it takes three years to mature until shipment, sales are scheduled to begin around 2024 and 2025.
Mr. Utoda consulted with Ichiro Akuto, a venture whisky who became world famous for "Ichiro's Malt", and learned manufacturing technology from 2017.
On The 5th of this month, we obtained our long-awaited whisky production license from the Takeda Tax Office, and production will finally begin.
8-5. Kuroki Main Store Osuzuyama Distillery
Kuroki Honten is a long-established shochu distillery known for "Hyakunen no Koroku" "Yamaneko" and "Yamazaru" . The distillery was built in the mountains by Toshio Kuroki, who was inspired by the Edradower distillery in Scotland. His son, Shinsaku Kuroki, who succeeded him, started making whisky in November 2019.
The barley used as raw material is made in-house, and they grow two varieties, Harushizuku and Haruka Nijo.
There are a total of four distillation machines: two for shochu, one for whisky (redistillation), and one for spirits.
Whisky is first distilled in the distiller for shochu, and then the distiller for whisky is used for redistillation.
OSUZU MALT NEW MAKE,
released in August 2020, sold out immediately after its release. It shows the high expectations and attention.
Representative Spirits of Osuzuyama Distillery
8-6. Nishi Shuzo Mitake Distillery
Nishi Brewery was founded in 1845. A long-established manufacturer of authentic shochu, known for such products as "Satsuma Hozan" and" "Tenshi no Temptation"with over 170 years of history in the mountains of Hioki City. Acquired Kagoshima Golf Resort in February 2011. In 2019, the company built a whisky distillation facility in the golf resort.
This will be the third distillery in Kagoshima Prefecture, following Hombo Shuzo's Mars Tsunuki Distillery and Komasa Brewery's Kanosuke Distillery. "Mitake" is Sakurajima, which seems to be the official name of Sakurajima since ancient times. There are two pot stills, one for first distillation and one for redistillation. Both have an upward line arm and produce a clean new pod with a fruity and deep aroma. All barrels used for aging are old sherry casks.
The release of the craft gin " 尽-tsukusu-"
in 2019, which is the result of extracting a total of 24 different botanicals, is also a hot topic.
8-7. Shinzato Shuzo Brewery
Founded in 1846, Shinzato Shuzo is Okinawa's oldest Awamori brewery.
The "Shinzato WHISKY"currently on sale is a whisky made by blending overseas blended whisky with a few percent of the so-called "spirits" from the Shinzato Shuzo brewery, Awamori that has been aged for 13 years in sherry casks.
"NEW MAKE Shinzato" distilled in-house will be released in April 2021. The limited run of 350 bottles sold out immediately.
Pot stills are used in combination with those used to distill Awamori. They currently have three pot stills. Three types of casks are used for aging (specifics are unknown, but probably sherry and bourbon casks), and they intend to sell it as whisky after three years of aging. The company produces one batch of the original whisky every day.
Typical whisky of the Shinzato Brewery
8-8. Shinozaki Shindo Whisky Distillery
The whisky business is a new project of Shinozaki, a long-established brewery in Asakura City, Fukuoka Prefecture, which also produces Kunigiku amazake, Asakura barley liqueur, and shochu, etc. The building was completed in May 2021, and distillation began in August. Pot stills made by Miyake Seisakusho are used.
The company aims to create an unprecedented Japanese whisky by utilizing about 200 years of sake brewing know-how.
The first craft distillery in Fukuoka Prefecture is scheduled to begin shipments in three years. The company aims to ship 200,000 bottles per year.
In the future, the company plans to use wood from its own forests to make the vats used during fermentation and the barrels used during maturation.
8-9. Yamaga Distillery Co.
Completed on November 6, 2021. The first whisky distillery in Kumamoto Prefecture.
Operations will begin in 2013. The parent company is MCA Holdings (Tokyo), which was established through the spin-off of the alcoholic beverage business of Minamikyushu Coca-Cola Bottling (now Coca-Cola Bottlers Japan). At the time of operation, the distillery produced shochu (distilled spirit), but switched to whisky production. The company aims to commercialize the product in 2024 or later with technical cooperation from Hombo Shuzo (Kagoshima City). The company expects to sell 150kl, 40,000-50,000 bottles per year.
The distillery was built on the site of the original shochu factory. It is a two-story steel-framed structure (total floor space 1,257 m2) with a 4.6-meter-high bulge-shaped pot still. The 1,043 m2 maturing warehouse can store up to 3,300 rack-type barrels with a capacity of approximately 200 liters. A passageway for visitors to observe the production process and a lounge for tasting are also provided.
Total construction cost is approximately 1.1 billion yen.
The facility uses high-quality deep groundwater from the Kunimi mountain range and the Kikuchi River system.
The temperature difference between -5 degrees Celsius in winter and 40 degrees Celsius in summer is utilized for maturation.
8-10. Kogane Sakagura Yokogawa Distillery Whisky Factory
The brewing water used at Yokogawa Distillery is called "aokimizu" which comes from the foothills of the Kirishima Mountains in Kirishima City, Kagoshima Prefecture, where there is an abundance of water sources. "Aokimizu" is said to have a good affinity with yeast and to accelerate the aging process.
We are planning to tie up with a major European winery in the future, which will enable us to purchase a wide variety of aging casks such as sherry and wine casks.
The company also has breweries in Yokogawa and Kokubu Shikine, areas within Kirishima City. Yokogawa is a relatively cool area at a high altitude and surrounded by trees, while Kokubu Shikine is close to Kagoshima Bay and has the scent of sea breezes. Sake aged in different regions can have different characteristics.
The Yokogawa distillery boasts ample capacity, with land the size of about 1.3 Tokyo Domesand two huge warehouses.
We aim to create a fruity and easy-drinking whisky by using a variety of brewing water, different types of yeast, different types of shochu breweries, barrels, different climates, and fermentation and distillation techniques developed over many years of shochu distilling.
Currently, we plan to produce it with non-peat malt. Basically, we plan to use non-peated malt, but we also plan to use peated malt.