6.中国の蒸留所(英語原本)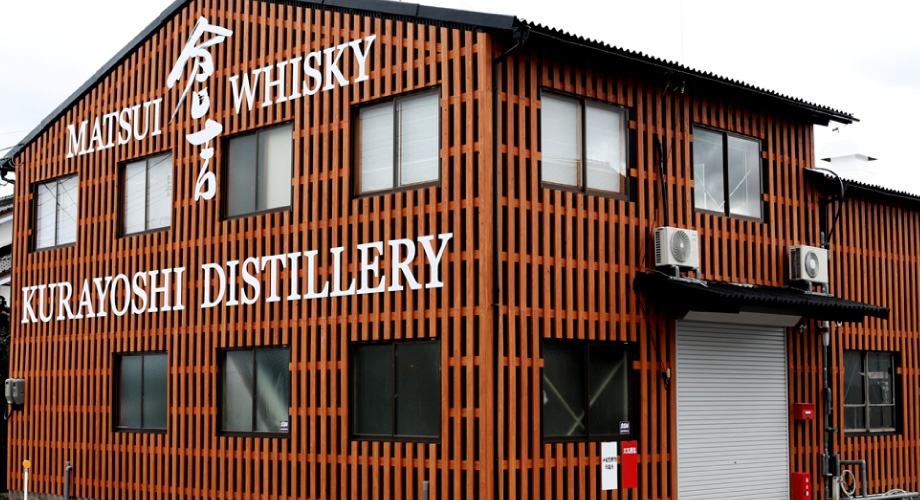 6. Chugoku Region
6-1. Matsui Shuzo Kurayoshi Distillery
Matsui Shuzo, a brewery in Kurayoshi City, Tottori Prefecture, founded in 1910, obtained a license to produce whisky in 2015; in 2017, it installed three pot stills and will begin full-scale whiskey distillation.
The whisky "Kurayoshi" which was first sold in 2016 before the company began distilling its own whisky, appears to have been made with imported original sake.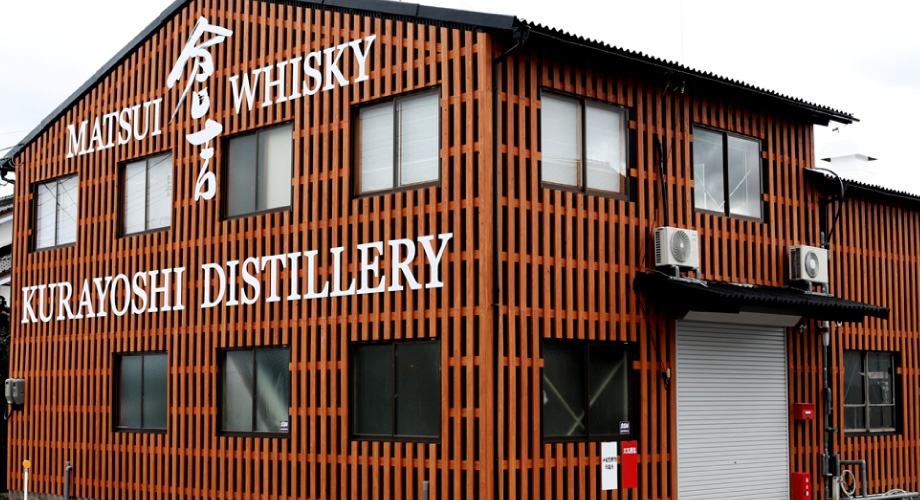 Address of Head Office
656-1, Kamikogawa, Kurayoshi, Tottori 682-0934
656-1, Kamikogawa, Kurayoshi City, Tottori Prefecture

Access
–
Start of operation
2015
Official HP
Matsui Sake Brewing Company Kurayoshi Distillery
Tours
No information
Products
Pure malt whisky Kurayoshi, blended whiskey Tottori, single malt whisky Matsui, blended whisky Sanin
Typical whisky from the Kurayoshi distillery
6-2. Miyashita Shuzo Okayama Distillery
Miyashita Brewery in Okayama Prefecture is a long-established sake brewer founded in 1915.
It has made sake, beer, shochu, and liqueurs, but in 2011 it obtained a license to produce whisky and began developing whisky.
In 2015, they installed a German-made pot still, a single distiller for whisky, and started full-scale operations as Okayama Distillery.
After three to five years of aging of the original sake distilled in-house, "Single Malt Whisky Okayama" was released in 2017.
Barley malt from Okayama Prefecture and subsoil water from the clear Asahikawa River are used to make the original sake, which is then aged in more than 10 different types of wooden casks, including sherry, brandy, bourbon, white oak, as well as domestic wooden casks represented by Mizunara oak. After much trial and error, Okayama Ginjo Whisky was completed, and is characterized by its youthful flavor and delicate, thirst-quenching taste.
Single Malt Whisky Okayama Triple Cask
won the Gold Award at the Meiningers International Spirits Award ISW 2019 in Germany. At the World Whiskies Awards 2020, it won Category Winner, the highest award in the Single Malt No Age category.
Address
Okayama 703-8258
184 Nishikawahara, Naka-ku, Okayama-shi, Okayama

Access
JR West Japan Sanyo Main Line, get off at Nishi-Kawahara/Shizumi Station, and walk 3 minutes.
Start of operation
2015 (License for whiskey production acquired in 2011)
Official HP
Ginjo Whisky Okayama
Miyashita Shuzo Brewery Co.
Tours
Tours are available. Reservations required through the Doppokan website.
Products
Single malt whisky Okayama
Typical Spirits of Okayama Distillery 
6-3. Sakurao B&D Sakurao Distillery
*The company name was changed from "Chugoku Brewery" to "Sakrao Brewery and Distillery" on March 9, 2021.
Chugoku Brewery in Hiroshima Prefecture is a long-established brewery established in 1918.
In fact, it has a deep history in whisky making, having produced and sold malt whisky from 1938 to 1989. At that time, the distilled spirit was stored in a warehouse in Togouchi that utilized a JR West Japan railroad exploratory tunnel.
In 2008, the company began selling Togouchi Whisky, a blend of the original whisky stored in the Togouchi storage facility and imported original whisky. (90% of the whisky is exported to Europe.)
Image source: Togouchi Whisky, Chugoku Brewing
Then, in 2018, in order to take on the challenge of new possibilities in Western-style distilling, new equipment was installed and a craft distillery from Hiroshima, "Sakurao Distillery (SAKURAO DISTILLERY)" was established.
Sakurao Gin, a craft gin, is currently the company's main product, and the company plans to release a single malt whisky aged for three years in 2021.
Image source: SAKURAO DISTILLERY | Hiroshima's Craft Distillery for the World
Address
Hatsukaichi, Hiroshima 738-8602
1-12-1 Sakurao, Hatsukaichi City, Hiroshima Prefecture

Access
[JR] 10 min. walk south from Hatsukaichi Station on the Sanyo Main Line.
[Private Railway] 8 min. walk south from Hiroden Hatsukaichi Station on the Hiroshima Electric Railway Miyajima Line.
Commencement of operations
1938 – Ended 1989
Newly in operation in 2018
Official HP
SAKURAO DISTILLERY | Hiroshima's craft distillery for the world
Tours are available.
Tours are available. reservations required through the website.
Tours are currently suspended (until December 29, 2020).
Products
–
Representative spirits of Sakurao Distillery
6-4. Miyake Honten
Miyake Honten, a long-established brewery that produces and sells "Senpuku" a Japanese sake known for its "How about a cup of Senpuku?" commercial, plans to produce whisky from 2022 in order to respond to the changing market based on a spirit of challenge.
The unused buildings in the factory will be renovated and used for whisky production. The cost spent on casks and distillation equipment was approximately 100 million yen.
The whisky will be named "Setouchi" which is also the production area, and single malt whiskey will be produced.
Using water from the Haigamine subsoil, the company aims to produce a whisky with a rich and distinctive flavor without daring to filter it. The annual production is estimated to be the equivalent of 100 230-liter casks.
Priced at 5,000-6,000 yen for 700ml, it is not wholesaled to bars or commercial use, and is sold only through the Miyake Honten website. The company will capture the demand for home drinking.
Although the distillery and malt information has not been disclosed, Miyake Honten has released "Craft Gin Setouchi" in September 2021, which has received high acclaim, so high quality can be expected in the whisky production.
Location
7-9-10, Hondori, Kure-shi, Hiroshima 737-0045
7-9-10 Hondori, Kure City, Hiroshima Prefecture
Access

Approximately 30 minutes on foot from Kure Station

1 minute walk from Azuma 1-chome bus stop

Start of operation
Whiskey production begins in 2022
Official HP
Miyake Honten
Tour
Please inquire
Products
–
6-5. Chiyomusubi Brewery
Founded in 1865, the Chiyomusubi Brewery, which mainly produced shochu and sake, obtained a license to produce whisky. Following the craft gin "Inpakuto" and craft vodka "Enjin" the company embarked on the production of Western-style whisky.
The whisky will be distilled and casked in June 2021, and is expected to be sold in the fall of 2024.
The whisky is called "Kurahuto" and is planned to be a 3- and 7-year-oldsingle malt whisky, priced at around 7,000 to 8,000 yen for the 3-year-old and around 10,000 yen for the 7-year-old, respectively.
By using sake yeast and Scottish whisky production methods, the company aims to produce a one-of-a-kind whisky.
The company plans to blend the whisky using Mizunara and cherry casks, but also plans to sell single casks. The price will be around 12,000 yen.
Currently, the company does not have a whisky distillery, but plans to invest approximately 200 million yen to build a distillery with a tasting corner and a tour course.
Location

131 Taisho-cho, Sakaiminato-shi, Tottori 684-0004

131 Taisho-cho, Sakaiminato-shi, Tottori

Access

2 minutes walk from JR Sakaiminato Station.

15 minutes drive from Yonago Airport
40 minutes drive from Yonago I.C. on Chugoku Expressway

Start of operation
Whisky production will start in 2021
Official HP
Chiyomusubi Brewery
Tour of the brewery
Tours are scheduled
Products