Kiuchi Brewery, which produces "Hitachino Nest Beer" and "Hinomaru Whisky", announces the opening of the visitor center at the Yasato Distillery on November 11, 2023.
1. What is Kiuchi Brewery?
The Kiuchi Brewery began operations in 1823 in Naka, Ibaraki Prefecture.
The company produces sake, shochu, wine, liqueurs, and the craft beer "Hitachino Nest Beer". In 2016, the company began producing a unique Hitachino whisky by utilizing "Kaneko Golden", a fantastic Japanese beer wheat that was revived in the process of producing "Hitachino Nest Beer". After maturation, it was first offered at directly managed stores, and in April 2019, it was commercialized as a highball in a can.
Currently,
The company manufactures its products in three main locations.
| | |
| --- | --- |
| Company Name | Kiuchi Brewery Co. |
| Founded in | 1823 |
| Head office address | 80 Minami-Sakeide, Naka City, Ibaraki Prefecture, 311-0132, Japan |
| Access | From Mito Station on the JR Joban Line, transfer to a train bound for Koriyama (Hitachi-daigo) on the JR Suigun Line, and get off at Hitachi-Konosu Station. 5 minutes walk. |
2. Yasato Distillery
Yasato Distillery was built at the foot of Mount Tsukuba to further explore Japanese whisky making. The Yasato Distillery is located in the Yasato district of Ishioka City, Ibaraki Prefecture, at the eastern foot of Mt. The area has low annual rainfall and a large temperature difference between day and night, making it an area where high quality crops are harvested. Kiuchi Brewery's whisky is born from this climate and the abundant, high-quality spring water from Mount Tsukuba.
3. Newly opened visitor center
The new visitor center is the main focus of this article.
It will feature an exhibition area, in-house cured ham and whisky pairings, sales of Hinomaru whisky, and the addition of a distillery tour course, which will be great for whisky lovers.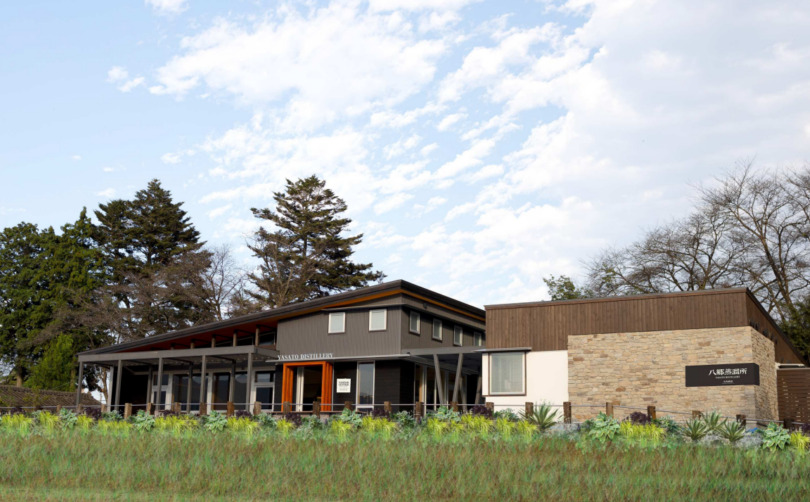 (Image exhibit: Hinomaru Whisky official website )
Kiuchi Brewery Co., Ltd. started whiskey production in 2016, and in 2020, the Kiuchi Brewery Yago Distillery started operation with the aim of producing true Japanese whiskey by using domestic ingredients and expanding the production scale.
The Yago Distillery Visitor Center will open on November 11, 2023 (Saturday) as an adjunct facility to the distillery.
 The Visitor Center will have an exhibition corner explaining the history of Kiuchi Brewery and its commitment to whiskey making, a food and beverage corner where you can enjoy our cured ham and whiskey, and a store where you can purchase these products.
 The Yago Distillery will also be open to the public for tours of the distillery and its production process. We look forward to seeing you there.
Reference: Hinomaru Whiskey official website
Outline of Hachigo Distillery Visitor Center
| | |
| --- | --- |
| Location | 1300 Sugama, Ishioka-shi, Ibaraki 315-0151 |
| Opening Date | Saturday, November 11, from 10:00 a.m. |
| Business hours | Thursday through Monday (including national holidays) 10:00-17:00 |
| Closed | Tuesdays and Wednesdays |
4. Paid tours with tasting
Below is the current (*2023/11/1) Yago Distillery's official website forum for reservations for tours.
If you are going to the Visitor Center, this is also a must experience tour.
Please note, however, that tours of the manufacturing process are available on a pre-registration basis.
Tours with tasting are available at the Yasato Distillery.
The outline of the tour is as follows. Please note that advance reservations are required to participate in the tours.
General Tours
Period:Saturdays, Sundays, and holidays

After 11/11/2023, the tour will be held on all days except Tuesdays and Wednesdays.
Time slots: (1) from 10:45 a.m., (2) from 2:25 p.m.
Time required: approx. 60 min.
Observation of the production process (approx. 35 min.) ⇒ Whiskey tasting (approx. 25 min.)
Meeting place: 1300-8, Sugama, Ishioka-shi, Ibaraki 315-0151

Yogo Distillery 1F Entrance

* This is different from the location of the Kiuchi Sake Brewery head office, brewery and beer factory in Naka City.

After 2023/11/11, the meeting place will be the Visitor Center on the premises of the YASATO Distillery.
Number of participants: 10 for each tour
Fee: 1,000 yen (per adult, tax included)
The fee will be paid in cash or by PayPay at the reception desk on the day of the tour.
For those who will be driving on the day of the tour and those who cannot drink alcohol,
If you are driving or cannot drink alcohol, you will be given a 500ml bottle of "grape juice" to take home as an alternative to tasting the wine.
Free of charge for those under 20 years old. However, we do not accept only those under 20 years old to participate in the tour.
For group tours of 15 or more people, please contact us via the "Contact Us" form or by phone.
Reference: Yasato Distillery Tour Reservation Site
For a list of other distilleries in Japan, click here↓.
List of Whisky Distilleries in Japan (updated in September 2023) (jpwhisky.net)