The first canned smoky highball developed and sold in Japan by the Saburomaru Distillery, which has been on sale at Seven-Eleven stores in Tokyo, Kanagawa, Chiba, and Saitama prefectures since February 14, 2023, has finally sold a total of 1 million bottles!
To show our appreciation, we launched the "One Million Yen Hospitality in Toyama" campaign.
1. "Twitter Campaign to Commemorate the One Millionth Can of Smoky Highball."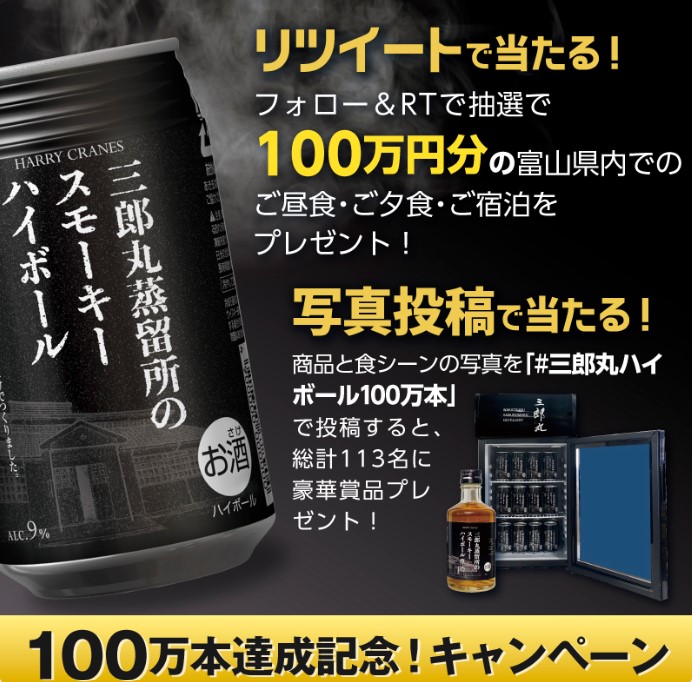 Two campaigns are announced on the official Twitter page of Saburomaru Distillery.
■Follow & Retweet Campaign [1,000,000 yen worth of hospitality in Toyama].
Special experience at Saburomaru Distillery, lunch, dinner, and lodging in Toyama Prefecture will be given away!
How to apply: Follow the official Twitter account of Saburomaru Distillery and retweet the target post.
Entry period: Friday, April 28, 2023 – Thursday, July 6, 2023, 6:00 p.m.
■Photo Submission Course [Goes well with food! Saburomaru Highball] Original table-top cooler and gorgeous prizes will be awarded!
How to apply: Follow the official Twitter account of Saburomaru Distillery, post a photo of you drinking "Saburomaru Distillery's Smoky Highball (ALC.9%)" and add "#Saburomaru Highball 1 Million Bottles" and post your impression of it.
Entry period: Friday, April 28, 2023 to Thursday, July 6, 18:00
Winning products: Prize A, Table-top cooler (refrigerator) with original logo mark for 3 winners
     Prize B, 10 winners will receive a gift of "Toyama's delicacies" that goes well with highballs.
     Prize C, 100 winners of highball sake
2. Smoky highball from Saburomaru Distillery
Craft highball made by the oldest distillery in Hokuriku

Saburomaru Distillery has been focusing on smoky aroma since they started producing whisky in 1952.
The Saburomaru Distillery was the first distillery in Japan to develop a canned smoky highball, and now it has become even more delicious.
Please enjoy the multi-layered peaty aroma and sharp taste.

Reference: HARRY CRANES Craft Highball / Saburomaru Distillery|Wakatsuru Shuzo Co., Ltd.
| | |
| --- | --- |
| Product Name | Saburomaru Distillery's Smoky Highball |
| By Sake | Highball |
| Ingredients | Malt, Grain |
| Strength | 9% |
| Price | Suggested retail price: 327 yen (tax included) |
ノーブランド品
¥3,124
(2023/06/08 16:50:09時点 Amazon調べ-
詳細)
Lastly: Recommended Books on Japanese Whisky
If you want to learn more about Japanese whisky, which is a global trend, we highly recommend these books.
In the December 2021 issue of Whisky Galore, published by the Whisky Culture Research Institute, we report on 11 Japanese craft distilleries, including some that are open to the public for the first time, under the title of "Japanese Whisky Craft Frontline," the first of three consecutive issues. Why did the popularity of Japanese whiskey and the craft boom occur? We will examine with interviews. Chichibu Distillery / Chichibu No.2 Distillery / Mars Shinshu Distillery / Mars Tsunuki Distillery / Kanosuke Distillery / Hioki Distillery / Ontake Distillery / Osuzuyama Distillery / Kaikyo Distillery / Hanyu Distillery / Konosu Distillery
¥1,320
(2023/06/08 20:06:01時点 Amazon調べ-
詳細)
This is a book written by Mamoru Tsuchiya, a world-famous whisky critic and representative of the Whisky Culture Research Institute, titled "Japanese Whisky as a Culture that Works for Business" .
The book covers the basics of whisky, the introduction of whisky to Japan, the birth of Japanese whisky, advertising strategies and the rise of Japanese whisky, and the current rise of craft distilleries. This is a book that summarizes Japanese whisky in a very easy to understand way.
Masataka Taketsuru, the founder of Nikka Whisky, devoted his life to brewing whisky in Japan. This is a revised and reprinted version of the autobiography of a man who simply loved whiskey and talked about himself. The book vividly depicts the days when he went to Scotland alone to study as a young man and overcame many hardships to complete Japanese whisky, as well as his companion, Rita.
Launching in 2019. With the world experiencing an unprecedented whisky boom, what were the managers of craft distilleries thinking and what were their thoughts as they took on the challenge of making whiskey? This book tells the stories of 13 craft distillery owners, including Ichiro Hido of Venture Whisky, famous for his Ichirose Malt, who inspired the birth of craft distilleries in Japan.
This is the Japanese version of Whisky Risng, published in the US in 2016, with much updated content. Not only does it describe the history of Japanese whiskey in detail, but it also includes data on all the distilleries in Japan, including the craft distilleries that have been founded in recent years. The book also includes descriptions of the legendary bottles that have been released, as well as information on bars where Japanese whisky can be found.