The first Smoky Highball can developed and sold in Japan by Saburomaru Distillery has been renewed and is now even tastier. The alcohol content has been changed from 8% in the previous version to 9% in this one.
It will be available at Seven-Eleven stores in Tokyo, Kanagawa, Chiba, and Saitama from February 14.
Like its predecessor, the authentic highball "Toyama Smoky Highball HARRY CRANES Craft Highball," it features a multi-layered peaty aroma and a sharp taste by using whisky made exclusively from heavy peated malt imported from Scotland and the world's first cast iron pot still "ZEMON" sake.
The highball is made with only whisky and soda, so it contains zero sugar, zero flavoring, and zero coloring.
Sold at 327 yen per bottle (tax included). This is not a limited edition product, but a year-round product.
1. Where can I buy it?
・Seven-Eleven stores in Tokyo, Kanagawa, Chiba, and Saitama began selling it on February 14. *Some stores do not carry the product.
・Saburomaru Distillery's official mail order site "Me and ALC"
Click here for 7,473 yen per case of 24 cans (tax included) (5% off if you buy by the case)
Click here for 12 cans gift set 4,329 yen (tax included)

2. Smoky Highball from Saburomaru Distillery
This highball can is made from the original sake distilled in the cast iron pot still ZEMON, and has a smoky aroma and clear sweetness that you will never find in other highball cans. The release of this new product at Seven-Eleven has made it more familiar to consumers.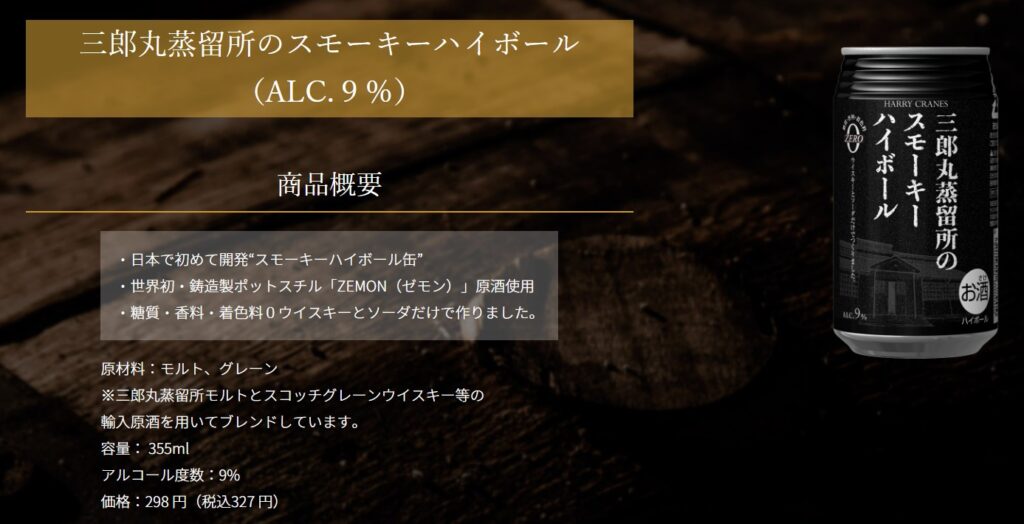 Craft highball made by the oldest distillery in Hokuriku.

Saburomaru Distillery has been focusing on smoky aroma since they started producing whisky in 1952.
The Saburomaru distillery developed Japan's first canned smoky highball, and now it has become even more delicious.
Please enjoy the multi-layered peaty aroma and sharp taste.

Reference: HARRY CRANES Craft Highball / Saburomaru Distillery|Wakatsuru Shuzo Co.
| | |
| --- | --- |
| Product Name | Saburomaru Distillery's Smoky Highball |
| By Sake | Highball |
| Ingredients | Malt, Grain |
| Strength | 9% |
| Price | Suggested retail price: 327 yen (tax included) |
■Click here for the previous "Toyama Smoky Highball HARRY CRANES Craft Highball"
Lastly: Recommended Books on Japanese Whisky
If you want to learn more about Japanese whisky, which is a global trend, we highly recommend these books.
In the December 2021 issue of Whisky Galore, published by the Whisky Culture Research Institute, we report on 11 Japanese craft distilleries, including some that are open to the public for the first time, under the title of "Japanese Whisky Craft Frontline," the first of three consecutive issues. Why did the popularity of Japanese whiskey and the craft boom occur? We will examine with interviews. Chichibu Distillery / Chichibu No.2 Distillery / Mars Shinshu Distillery / Mars Tsunuki Distillery / Kanosuke Distillery / Hioki Distillery / Ontake Distillery / Osuzuyama Distillery / Kaikyo Distillery / Hanyu Distillery / Konosu Distillery
¥1,320
(2023/03/21 01:01:51時点 Amazon調べ-
詳細)
This is a book written by Mamoru Tsuchiya, a world-famous whisky critic and representative of the Whisky Culture Research Institute, titled "Japanese Whisky as a Culture that Works for Business" .
The book covers the basics of whisky, the introduction of whisky to Japan, the birth of Japanese whisky, advertising strategies and the rise of Japanese whisky, and the current rise of craft distilleries. This is a book that summarizes Japanese whisky in a very easy to understand way.
祥伝社
¥1,760
(2023/03/21 09:13:29時点 Amazon調べ-
詳細)
Masataka Taketsuru, the founder of Nikka Whisky, devoted his life to brewing whisky in Japan. This is a revised and reprinted version of the autobiography of a man who simply loved whiskey and talked about himself. The book vividly depicts the days when he went to Scotland alone to study as a young man and overcame many hardships to complete Japanese whisky, as well as his companion, Rita.
Launching in 2019. With the world experiencing an unprecedented whisky boom, what were the managers of craft distilleries thinking and what were their thoughts as they took on the challenge of making whiskey? This book tells the stories of 13 craft distillery owners, including Ichiro Hido of Venture Whisky, famous for his Ichirose Malt, who inspired the birth of craft distilleries in Japan.
repicbook(リピックブック)株式会社
¥1,870
(2023/03/21 01:58:24時点 Amazon調べ-
詳細)
This is the Japanese version of Whisky Risng, published in the US in 2016, with much updated content. Not only does it describe the history of Japanese whiskey in detail, but it also includes data on all the distilleries in Japan, including the craft distilleries that have been founded in recent years. The book also includes descriptions of the legendary bottles that have been released, as well as information on bars where Japanese whisky can be found.
小学館
¥4,620
(2023/03/20 19:55:18時点 Amazon調べ-
詳細)