This Single Malt Tsunuki 2023 Edition is a single malt whisky vatted with malt whisky aged in a variety of barrels, mainly bourbon barrels.
It has a deep and complex flavor with a full-bodied thickness and fresh fruity taste.
Release date. Mid-January 2023. Lottery applications have started on the official website.
47,000 bottles will be sold at a suggested retail price of 8,800 yen (tax included).
The single malt Tsunuki 2022 Edition released last year is also the same as the current edition, with 50% alcohol by volume, mainly from bourbon barrels. Are there any other differences in the vatted raw alcohol that bring about changes in the flavor? I am very much looking forward to it.
1. Lottery application
The lottery application has started on the official website of Hombo Shuzo.
Click here for the application page.
Application period: Friday, January 13, 10:00 a.m.
Lottery results: Scheduled for Wednesday, January 18. Only the winners will be notified by e-mail to the e-mail address they entered during the application process.

2. Single Malt Tsunuki 2023 Edition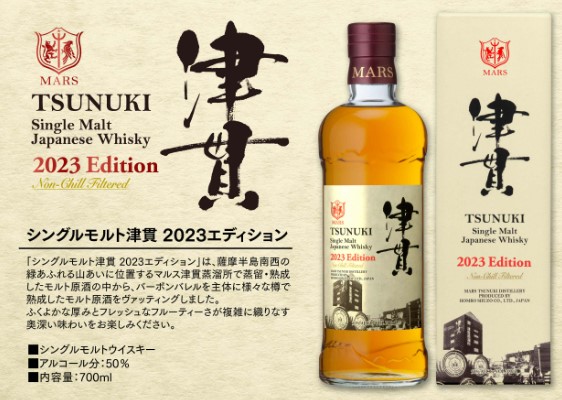 | | |
| --- | --- |
| Product Name | Single Malt Tsunuki 2023 Edition |
| Sake distillation | Single Malt Japanese Whisky |
| Ingredients | Malt (made in Japan) |
| Barrel type | Mainly Bourbon Barrel |
| Number of bottles | Limited to 47,000 bottles |
| Frequency | 50% |
| Price | Suggested retail price: 8,800 yen (tax included) |
| Manufactured at | Mars Tsunuki Distillery |
| Manufacturer | Hombo Shuzo Co. |
3. About Mars Tsunuki Distillery
"Tsunuki" is located in Kaseda, Minamisatsuma City. Mars Tsunuki Distillery, the southernmost whisky distillery on the mainland, is located in the mountains full of greenery in the southwest of Satsuma Peninsula.
Tsunuki, located in the southwestern part of the Satsuma Peninsula, is in a long basin along the Kaseda River, a tributary of the Manose River. Surrounded by Mt. Kurata (475m) to the east and Mt. Nagaya (513m) to the west, the basin-like topography makes the summers hot and the winters cold, which are extremely severe in South Satsuma.
The area has a natural environment that is a "blessing from nature" with good water resources (Mt. Kurata spring water), and is known as "Tsunuki Mikan" (mandarin orange), which is cultivated by making effective use of the mountain slope.
Blessed with a mild climate and good water resources, Tsunuki is the birthplace of the Honbo Shuzo. It has been more than 100 years since the brewery started making shochu using Satsuma sweet potatoes, one of Satsuma's representative specialties.
Reference: Mars Tsunuki Distillery official website
4. Products released by Tsunuki Distillery in the past
4-1. Single Malt Tsunuki 6th Anniversary
4-2. MARS The Y.A. #01
¥18,800
(2023/03/20 22:45:16時点 楽天市場調べ-
詳細)
4-3. single malt tsunuki 2022 ed.
Lastly: Recommended Books on Japanese Whisky
If you want to learn more about Japanese whisky, which is a global trend, we highly recommend these books.
In the December 2021 issue of Whisky Galore, published by the Whisky Culture Research Institute, we report on 11 Japanese craft distilleries, including some that are open to the public for the first time, under the title of "Japanese Whisky Craft Frontline," the first of three consecutive issues. Why did the popularity of Japanese whiskey and the craft boom occur? We will examine with interviews. Chichibu Distillery / Chichibu No.2 Distillery / Mars Shinshu Distillery / Mars Tsunuki Distillery / Kanosuke Distillery / Hioki Distillery / Ontake Distillery / Osuzuyama Distillery / Kaikyo Distillery / Hanyu Distillery / Konosu Distillery
¥1,320
(2023/03/21 01:01:51時点 Amazon調べ-
詳細)
This is a book written by Mamoru Tsuchiya, a world-famous whisky critic and representative of the Whisky Culture Research Institute, titled "Japanese Whisky as a Culture that Works for Business" .
The book covers the basics of whisky, the introduction of whisky to Japan, the birth of Japanese whisky, advertising strategies and the rise of Japanese whisky, and the current rise of craft distilleries. This is a book that summarizes Japanese whisky in a very easy to understand way.
Masataka Taketsuru, the founder of Nikka Whisky, devoted his life to brewing whisky in Japan. This is a revised and reprinted version of the autobiography of a man who simply loved whiskey and talked about himself. The book vividly depicts the days when he went to Scotland alone to study as a young man and overcame many hardships to complete Japanese whisky, as well as his companion, Rita.
Launching in 2019. With the world experiencing an unprecedented whisky boom, what were the managers of craft distilleries thinking and what were their thoughts as they took on the challenge of making whiskey? This book tells the stories of 13 craft distillery owners, including Ichiro Hido of Venture Whisky, famous for his Ichirose Malt, who inspired the birth of craft distilleries in Japan.
This is the Japanese version of Whisky Risng, published in the US in 2016, with much updated content. Not only does it describe the history of Japanese whiskey in detail, but it also includes data on all the distilleries in Japan, including the craft distilleries that have been founded in recent years. The book also includes descriptions of the legendary bottles that have been released, as well as information on bars where Japanese whisky can be found.