Lotte has released the 6th edition of "YOIYO," [Japanese craft sake chocolate] sold by Lotte. After Mars Shinshu Distillery, Akkeshi Distillery, and Gaiaflow Shizuoka Distillery, the next one is "Mars Tsunuki Distillery".
The 6th YOIYO present campaign is "Mars Tsunuki distillery goods set of 3 items + YOIYO Mars Tsunuki distillery set of 10 items".
1.What is "YOIYO"?
Get drunk on Japan, Chocolate.

There is a Japan you have not yet discovered.
It is the taste of pure water, local ingredients, and traditional techniques.
We have packed carefully crafted sake into a single piece.
Enjoy it at dusk or after dinner, as if you were going on a trip.
This is a chocolate for adults.
Have a good night, feeling a little tipsy.
"YOIYO" is a [Japanese craft sake chocolate] or so-called "whisky bonbon" sold by Lotte Co. The wonderful taste of Japanese whisky and the passion of the whisky maker and the chocolate maker are packed into a single piece of chocolate.
The package design of each product has a fashionable design printed with the regional scenery of each distillery and distillation equipment.
The first stage, "YOIYO <Marus Shinshu Distillery> Komagatake," has been a hot topic among whisky fans since its release.
This time we will introduce the 6th stage, "YOIYO <Marus Tsunuki Distillery> Single Malt".

2.YOIYO <Mars Tsunuki Distillery> Single Malt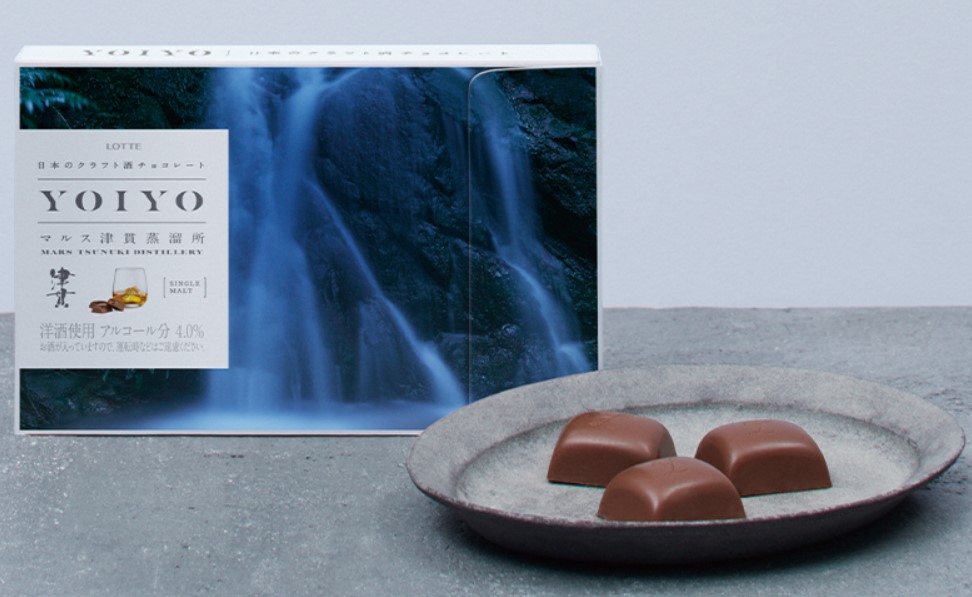 Product name

YOIYO <Mars Tsunuki Distillery> Single Malt

Release date
September 13, 2022
Retail price

Set of 10 (in gift box): 6,278 yen (6,780 yen including tax)

Set of 4 (in box): 2,760 yen (2,980 yen including tax)

Purchase site

Set of 10 x 10 pieces (10 pieces in a box)
3.~Have a nice night at YOIYO~ "Mars Tsunuki Distillery Goods + YOIYO Chocolates" Campaign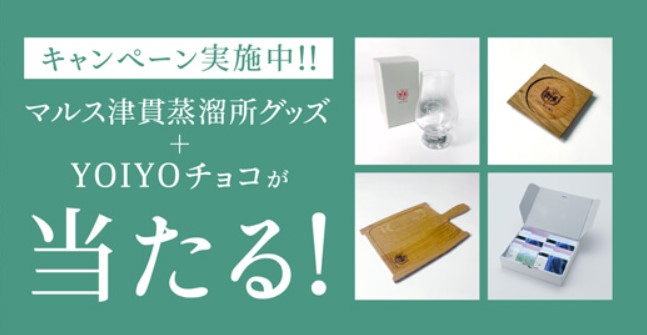 10 winners will win Mars Tsunuki distillery goods + YOIYO chocolates!
[Entry period] Tuesday, September 13, 2022 00:00 – Friday, October 14, 2022 23:59:59
(Prizes will be shipped in late October 2022)
The conditions for entry are as follows.
(1) Purchase the following eligible products at the Lotte Online Shop.
Purchases made outside of the Lotte Online Shop are not eligible.
1.YOIYO <Marus Tsunuki Distillery> Single Malt 10-pack set
2.YOIYO <Mars Tsunuki Distillery> Single Malt 4 pieces set
[
Click here
to purchase]
(2)Register as a member of LOTTE Membership
500yen coupon will be given for new member registration.
(3) Lotte Online Shop Mail Magazine Registration
You can apply for 2 units for a set of 10 or 1 unit for a set of 4. Each person may enter as many times as they like.
application form.
For more information, please visit the official website here.
4.Subject product review

4-1. YOIYO <Mars Tsunuki Distillery> Single Malt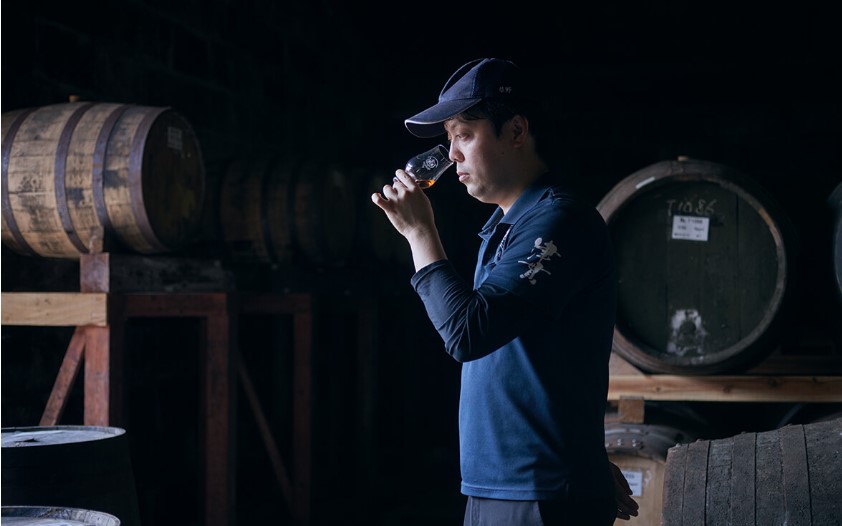 I think it is a bitter and heavy marriage that has not been seen in YOIYO so far.
I think we have created a bitter and heavy marriage that has never been seen before.
First of all, we would like you to take your time and immerse yourself in it on its own.
And for Mars whisky lovers, I would like to recommend
Komagatake and Tsunuki tasting with this YOIYO.
Komagatake is clean & rich, Tsunuki is deep & energetic.
And then there is the aggressive taste of YOIYO original covered with chocolate.
Tsunuki, YOIYO's original blend with an aggressive taste.
Please enjoy the difference in taste as if you were on a trip to each place.
Tatsuro Kusano, Blender, Mars Tsunuki Distillery

Taken from Lotte's official website
A unique 6-year-old cask with a sweet and sour red fruit aroma is used as the key malt, and multiple peaty casks are mixed to create a single malt that is not too cohesive.
By wrapping it in YOIYO's first semi-bitter chocolate, in which the cocoa stands out, a powerful piece was created that complements each other.
Tsunuki Distillery's whisky is characterized by its robust and heavy body, so it is easy to match the sweet bitterness of the bitter chocolate. The use of 6-year-old casks shows how serious they are about this whisky. I would definitely like to taste it.
5.Whisky of Mars Tsunuki Distillery
For more information about MARS Tsunuki Distillery's whisky, please click here.

¥14,500
(2023/03/22 21:05:59時点 楽天市場調べ-
詳細)

¥19,800
(2023/03/22 21:05:59時点 楽天市場調べ-
詳細)
本坊酒造
¥28,512
(2023/03/22 21:06:00時点 Amazon調べ-
詳細)
Lastly: Recommended Books on Japanese Whisky
If you want to learn more about Japanese whisky, which is a global trend, we highly recommend these books.
In the December 2021 issue of Whisky Galore, published by the Whisky Culture Research Institute, we report on 11 Japanese craft distilleries, including some that are open to the public for the first time, under the title of "Japanese Whisky Craft Frontline," the first of three consecutive issues. Why did the popularity of Japanese whiskey and the craft boom occur? We will examine with interviews. Chichibu Distillery / Chichibu No.2 Distillery / Mars Shinshu Distillery / Mars Tsunuki Distillery / Kanosuke Distillery / Hioki Distillery / Ontake Distillery / Osuzuyama Distillery / Kaikyo Distillery / Hanyu Distillery / Konosu Distillery
¥1,320
(2023/03/23 03:10:42時点 Amazon調べ-
詳細)
This is a book written by Mamoru Tsuchiya, a world-famous whisky critic and representative of the Whisky Culture Research Institute, titled "Japanese Whisky as a Culture that Works for Business" .
The book covers the basics of whisky, the introduction of whisky to Japan, the birth of Japanese whisky, advertising strategies and the rise of Japanese whisky, and the current rise of craft distilleries. This is a book that summarizes Japanese whisky in a very easy to understand way.
Masataka Taketsuru, the founder of Nikka Whisky, devoted his life to brewing whisky in Japan. This is a revised and reprinted version of the autobiography of a man who simply loved whiskey and talked about himself. The book vividly depicts the days when he went to Scotland alone to study as a young man and overcame many hardships to complete Japanese whisky, as well as his companion, Rita.
Launching in 2019. With the world experiencing an unprecedented whisky boom, what were the managers of craft distilleries thinking and what were their thoughts as they took on the challenge of making whiskey? This book tells the stories of 13 craft distillery owners, including Ichiro Hido of Venture Whisky, famous for his Ichirose Malt, who inspired the birth of craft distilleries in Japan.
This is the Japanese version of Whisky Risng, published in the US in 2016, with much updated content. Not only does it describe the history of Japanese whiskey in detail, but it also includes data on all the distilleries in Japan, including the craft distilleries that have been founded in recent years. The book also includes descriptions of the legendary bottles that have been released, as well as information on bars where Japanese whisky can be found.