The official website of Gaia Flow Shizuoka Distillery has released information on the "Single Malt Japanese Whisky Shizuoka Pot Still K Pure Japanese Barley First Edition" to be released in mid-June 2022.
Since distillation with Japanese barley malt is still a small part of the overall production, this release will have a domestic sales volume of 2,500 bottles, which is less than what has been released so far (5,000 bottles). In addition, the barley-growing regions in Japan are limited and harvested in small quantities, and Japanese malt is more expensive than foreign malt, resulting in a suggested retail price of 18,150 yen (tax included), which is more expensive than Prologue K and Prologue W.
There are no plans to sell it at the Shizuoka distillery, and it will be sold by lottery on the mail order site " WHISKY PORT", so don't forget to sign up for the mail magazine if you haven't already.
1. Single Malt Japanese Whisky Shizuoka Pot Still K Pure Japanese Barley First Edition
The innovation of 100% Japanese barley

The main feature of this product is the use of 100% Japanese barley malt in the raw malt. Shizuoka Distillery began brewing with Japanese barley malt when it began operations in 2016 and continues to use it every year.

Currently, many Japanese whiskies are made with barley malt from overseas, and Japanese barley malt is rarely used. This is because Japanese barley malt is more expensive than foreign barley malt due to limited domestic barley production and smaller harvests.

However, because of the flavor potential of Japanese barley and the importance of terroir (the character of the land) as a Japanese alcoholic beverage, we are committed to making whisky from Japanese barley malt, which is expensive. The whisky produced from Japanese barley has a delicate, soft, smooth, and sweet taste that is uniquely Japanese. It is a terroir-rich sake that is different from barley produced overseas. http://www. gaiaflow.co.jp/blog/product/14288
Product name
Single Malt Japanese Whisky Shizuoka
Pot Still K Pure Japanese Barley First Edition
Sake by
Single Malt Japanese Whisky
Ingredients
Malt (made in Japan)
Cask type
Bourbon casks, wine casks
Number of bottles sold
2,500 bottles (sold in Japan)
Number of bottles
55.5% (sold in Japan)
Content volume
700ml
Price
18,150 yen (tax included)
Manufacturer
Gaia Flow Distilling Co.
2. Distiller "K" born in Japan
The first whisky released by Shizuoka Distillery, "Single Malt Prologue K", uses only the original spirit distilled by distiller "K" (right photo), which was moved from the closed Karuizawa Distillery. This product follows the same style, using only the original distillate from distiller "K." The distiller's unique feature is the use of an indirect distillation system.

This distiller is characterized by indirect distillation (heating by steam passing through pipes in the distiller) and a long, thin line arm (a pipe leading from the distiller to the cooling system). First distillation (first distillation) in this "K" produces a light and floral sake. In this product, the "K" distiller further refines the delicate and luscious flavor of Japanese barley to an even more elegant level. This flavor is unique and only Shizuoka Distillery can produce it.
3. Birth of pot still "K"
The distilled spirit is then aged for a minimum of three and a maximum of five years in the rich natural environment of the Shizuoka region to produce a beautiful pale amber-colored whisky. This product is the result of blending various casks that meet the same requirements (Japanese barley malt, distiller "K" used).

The product is named "Pot Still K" to indicate that it is the successor to Prologue K and that it is made from the original spirit from a single first distiller. We then added "Pure Japanese Barley" to indicate the use of 100% Japanese barley malt and "First Edition" to denote the first edition.
4. Other single malts from Shizuoka distillery
Over 50% Japanese barley malt is used, vatted with malt from England and Canada. It has a woody taste with a light peaty aroma and a pleasant aftertaste.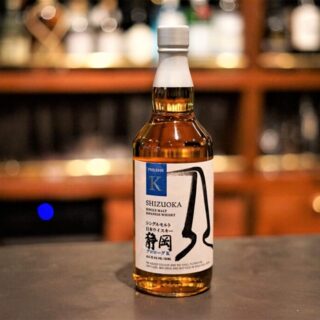 [Review] Gaia Flow Single Malt W...
Released on December 19, 2020 from Gaia Flow Shizuoka Distillery. More than 50% Japanese barley malt is used.
W is the nickname for the one and only wood-fired distiller. Made primarily from Japanese barley malt with Scottish peated malt and beer malt, it has a youthful yet gentle aroma from its three-year aging, a thick flavor unique to wood-fired distillation, a firm body and light smokiness, and a long, gentle finish.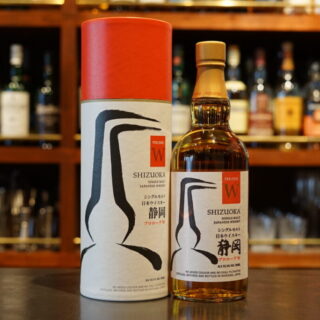 [Review] SINGLE MALT JAPANESE WH...
W is the nickname for the one and only wood-fired direct-fired distiller. There are only a few open-flame distillers in the world, and the only one of its kind ...
4-3. single malt whisky Shizuoka Contact S.

Shizuoka Distillery used two first distillers, K (a distiller transferred from the Karuizawa distillery) and W (a wood-fired distiller), to blend for the first time two different types of malt whisky with different characteristics.
The steam-heated K has a fruity aroma and light flavor, while the wood-fired W gives a heavier taste and a longer finish.
https://en.jpwhisky.net/2021/11/29/shizuoka_contact_s-2/
Lastly: Recommended Books on Japanese Whisky
If you want to learn more about Japanese whisky, which is a global trend, we highly recommend these books.
In the December 2021 issue of Whisky Galore, published by the Whisky Culture Research Institute, we report on 11 Japanese craft distilleries, including some that are open to the public for the first time, under the title of "Japanese Whisky Craft Frontline," the first of three consecutive issues. Why did the popularity of Japanese whisky and the craft boom occur? We will examine with interviews. Chichibu Distillery / Chichibu No.2 Distillery / Mars Shinshu Distillery / Mars Tsunuki Distillery / Kanosuke Distillery / Hioki Distillery / Ontake Distillery / Osuzuyama Distillery / Kaikyo Distillery / Hanyu Distillery / Konosu Distillery
This is a book written by Mamoru Tsuchiya, a world-famous whisky critic and representative of the Whisky Culture Research Institute, titled "Japanese Whisky as a Culture that Works for Business" .
The book covers the basics of whisky, the introduction of whisky to Japan, the birth of Japanese whisky, advertising strategies and the rise of Japanese whisky, and the current rise of craft distilleries. This is a book that summarizes Japanese whisky in a very easy to understand way.
Masataka Taketsuru, the founder of Nikka Whisky, devoted his life to brewing whisky in Japan. This is a revised and reprinted version of the autobiography of a man who simply loved whisky and talked about himself. The book vividly depicts the days when he went to Scotland alone to study as a young man and overcame many hardships to complete Japanese whisky, as well as his companion, Rita.
Launching in 2019. With the world experiencing an unprecedented whisky boom, what were the managers of craft distilleries thinking and what were their thoughts as they took on the challenge of making whisky? This book tells the stories of 13 craft distillery owners, including Ichiro Hido of Venture Whisky, famous for his Ichirose Malt, who inspired the birth of craft distilleries in Japan.
This is the Japanese version of Whisky Risng, published in the US in 2016, with much updated content. Not only does it describe the history of Japanese whisky in detail, but it also includes data on all the distilleries in Japan, including the craft distilleries that have been founded in recent years. The book also includes descriptions of the legendary bottles that have been released, as well as information on bars where Japanese whisky can be found.