On December 19, 2020, Gaia Flow Shizuoka Distillery will release a fully-fledged version of this product.
The Karuizawa whiskey distillery, once owned by Mercian, was regrettably closed in November 2011.
The distillery was then put up for auction and the successful bidder was Gaia Flow Distilling Co.
After selecting usable equipment in the Karuizawa distillery, repairing and refurbishing it, the third distiller was reborn as [Distiller K].
Its memorable first whiskey is this "Prologue K" .
1. Manufacturer

Gaia Flow Distilling Co.
| | |
| --- | --- |
| Established | October 8, 2014 |
| Head office location | 555 Ochiai, Aoi-ku, Shizuoka-shi, Shizuoka 421-2223, Japan |
| Owned distillery | Gaia Flow Shizuoka Distillery |
2. Distillery
Gaia Flow Shizuoka Distillery
| | |
| --- | --- |
| Location | 555 Ochiai, Aoi-ku, Shizuoka City, Shizuoka Prefecture 421-2223, Japan |
| Start of operation | 2016 |
Established Gaia Flow Distilling, Inc. on October 8, 2014.
August 9, 2016, Gaia Flow Shizuoka Distillery was completed.
Production of whiskey started on October 28 of the same year.
The distillery is located in the Tamagawa district of Okies (Oku-Shizuoka area) in Shizuoka City, Shizuoka Prefecture, and stands by the Abe Nakakochi River, a tributary of the first-class Abe River.
With an elevation of around 200 meters and surrounded by beautiful 400-meter mountains, the temperature is always two to three degrees lower than the city, making it a perfect location.
The building was designed based on the theme of a fusion of Japanese beauty and Western culture, and in collaboration with Derek Baston, an American architect living in Shizuoka, the interior and exterior are made of Shizuoka wood, making it a beautiful whiskey distillery.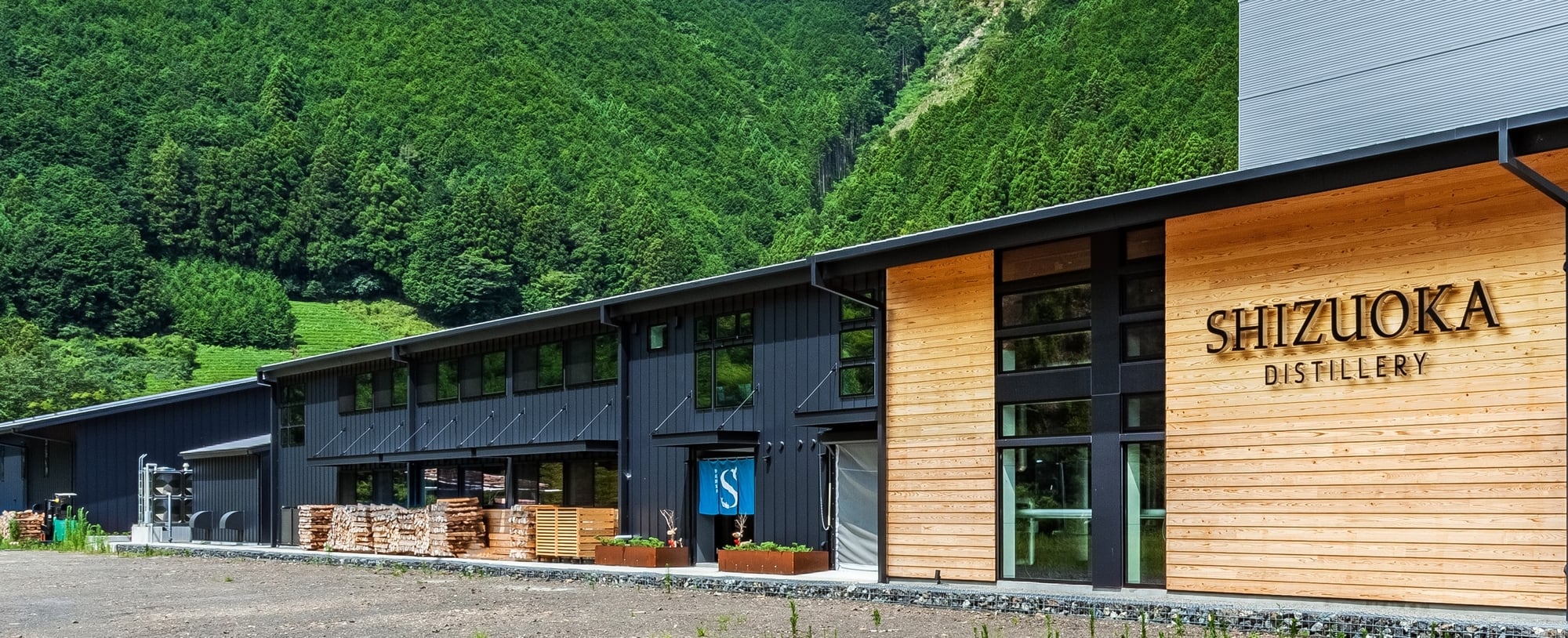 In addition to the aforementioned distiller K, there are many other things worth mentioning. The English malt mill inherited from the Karuizawa Whiskey Distillery is a vintage made by Porteous.
There is even a legend that the Porteous malt mills were so sturdy and unbreakable that the company went bankrupt due to lack of orders, and there are only three of them left in Japan: the Yamazaki, Hakushu and Shizuoka distilleries of Suntory.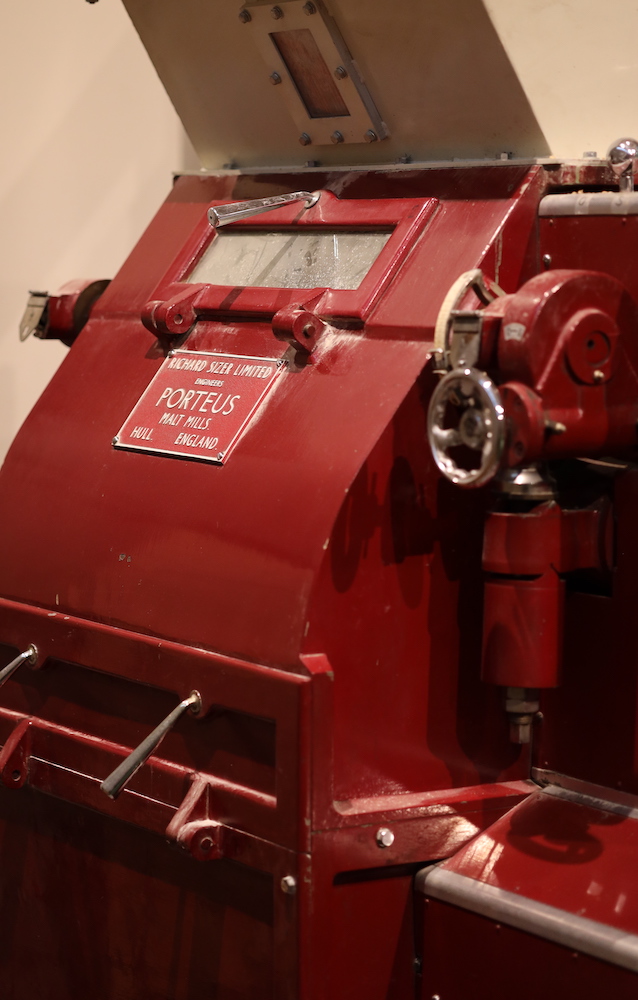 The washback (fermentation tank) is made of Shizuoka cedar, which seems to add depth to the fermentation process.
The distillery also has the world's first wood-fired distillation machine made by Forsythe, which is a very rare distillation machine that literally distills over an open fire.
For more information about Gaia Flow Shizuoka Distillery, please click here.
3. Product name and photo
single malt japanese whisky shizuoka prologue k


¥64,800
(2022/09/25 04:48:53時点 楽天市場調べ-
詳細)
4. Characteristics
Made with over 50% Japanese barley malt and vatted with malted barley from the UK and Canada.
In addition to the delicate and delicate taste of Japanese barley malt, the British and Canadian pilsner malts help to bring out the rich sweetness that only Prologue K can offer.
In addition, the light peatiness of the English peated malt adds to the overall flavor.
4-1. Tasting Notes

| | |
| --- | --- |
| Nose | Vanilla aroma characteristic of First Hill bourbon barrels, peppery spices, with a slight smokiness. |
| Taste | Slight honey, aromatic spices, slightly smoky peat, slightly youthful alcohol. |
| Aftertaste | Moderate sweetness, spice on the nose, peat on the finish. |

4-2. Product Specifications
| | |
| --- | --- |
| Product Name | Gaia Flow Single Malt Whisky Shizuoka Prologue K |
| Sake category | Single malt whisky |
| Raw material | Malt |
| Barrel Type | First Hill Bourbon Barrel |
| Number of bottles sold | Limited to 5,000 bottles |
| Number of Degrees | 55.5 percent |
| Volume | 700ml |
| Price | 8,943 yen (tax included) |
| Manufacturer | Gaia Flow Shizuoka Distillery |
5. Awards
No awards have been received at this time.
6. Price
6-1. Manufacturer's Suggested Retail Price
| | |
| --- | --- |
| Product Name | Single Malt Japanese Whisky Shizuoka Prologue K |
| Volume | 700ml |
| Suggested retail price | 8,130 yen (tax included: 8,943 yen) |
6-2. Resale Price on Mercari
The resale price on Mercari is around 46,000 yen to 76,000 yen. (*As of February 14 , 2021)


6-3. Yahoo Auction Sold Price
The winning bid price on Yahoo Auction is Lowest bidder: 24,800 yen, highest bidder: 45,500 yen, average bidder: 31,881 yen.
(*Statistics for the past 120 days since February 14 , 2021)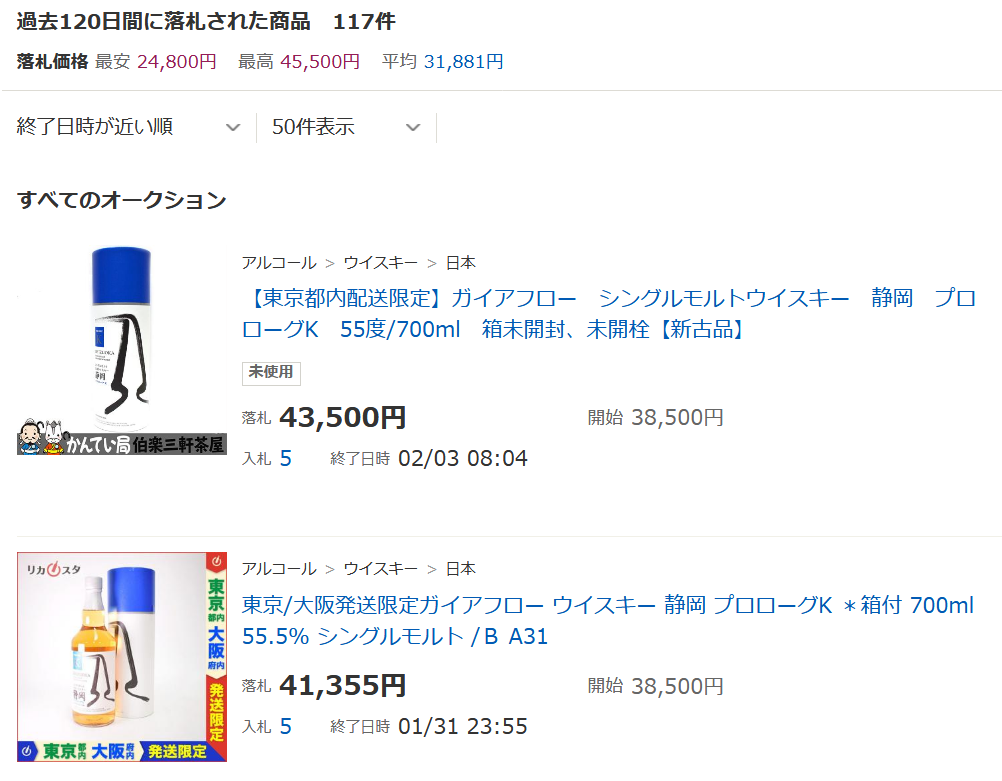 6-4. Rakuten, Yahoo Shopping, Amazon
6-4. Rakuten, Yahoo! Shopping, and Amazon: Mail order sites sell for around 76,000 yen. (*As of June 1 , 2021)


¥64,800
(2022/09/25 04:48:53時点 楽天市場調べ-
詳細)
6-5. Price offered at BAR SHINKAI
At "BAR SHINKAI" , which is operated by our website, we offer even small amounts such as 1 glass, 45ml: 3,300 yen, 30ml: 2,200 yen, 15ml: 1,100 yen.
7. Summary

It is recommended for everyone from whiskey beginners to experts, and can be drunk on the rocks or with soda.
The depth and maturity of this whiskey in just three years is astonishing.
The combination of Mr. Nakamura's diligence, who used to run a machine parts manufacturer, and his love for his hometown Shizuoka, has produced a bottle of supreme quality.
I can't wait to try W, the world's first wood-fired distillation machine.
I'll be keeping a close eye on Gaia Flow Distilling in 2021.
Be sure to check out the rest of our articles on "Shizuoka" .
Lastly: Recommended Books on Japanese Whisky
If you want to learn more about Japanese whisky, which is a global trend, we highly recommend these books.
In the December 2021 issue of Whisky Galore, published by the Whisky Culture Research Institute, we report on 11 Japanese craft distilleries, including some that are open to the public for the first time, under the title of "Japanese Whisky Craft Frontline," the first of three consecutive issues. Why did the popularity of Japanese whiskey and the craft boom occur? We will examine with interviews. Chichibu Distillery / Chichibu No.2 Distillery / Mars Shinshu Distillery / Mars Tsunuki Distillery / Kanosuke Distillery / Hioki Distillery / Ontake Distillery / Osuzuyama Distillery / Kaikyo Distillery / Hanyu Distillery / Konosu Distillery
¥1,320
(2022/09/25 13:57:54時点 Amazon調べ-
詳細)
This is a book written by Mamoru Tsuchiya, a world-famous whisky critic and representative of the Whisky Culture Research Institute, titled "Japanese Whisky as a Culture that Works for Business" .
The book covers the basics of whisky, the introduction of whisky to Japan, the birth of Japanese whisky, advertising strategies and the rise of Japanese whisky, and the current rise of craft distilleries. This is a book that summarizes Japanese whisky in a very easy to understand way.
Masataka Taketsuru, the founder of Nikka Whisky, devoted his life to brewing whisky in Japan. This is a revised and reprinted version of the autobiography of a man who simply loved whiskey and talked about himself. The book vividly depicts the days when he went to Scotland alone to study as a young man and overcame many hardships to complete Japanese whisky, as well as his companion, Rita.
Launching in 2019. With the world experiencing an unprecedented whisky boom, what were the managers of craft distilleries thinking and what were their thoughts as they took on the challenge of making whiskey? This book tells the stories of 13 craft distillery owners, including Ichiro Hido of Venture Whisky, famous for his Ichirose Malt, who inspired the birth of craft distilleries in Japan.
This is the Japanese version of Whisky Risng, published in the US in 2016, with much updated content. Not only does it describe the history of Japanese whiskey in detail, but it also includes data on all the distilleries in Japan, including the craft distilleries that have been founded in recent years. The book also includes descriptions of the legendary bottles that have been released, as well as information on bars where Japanese whisky can be found.